Many beginners find the different codes or formats of the game rather complex and difficult to follow. The sport has two distinct codes, namely the Rugby Union and Rugby League. Each code has its specific set of rules and is targeted at a different audience.
In this article, we'll highlight all you need to know about these codes, as well as the basic betting rules. We'll also give you a few rugby betting tips, pointers on the best rugby betting sites and highlight a few popular competitions to be aware of. At the end of the article, you should be more than confident to wager money on your favourite sport!
---
Understanding the rules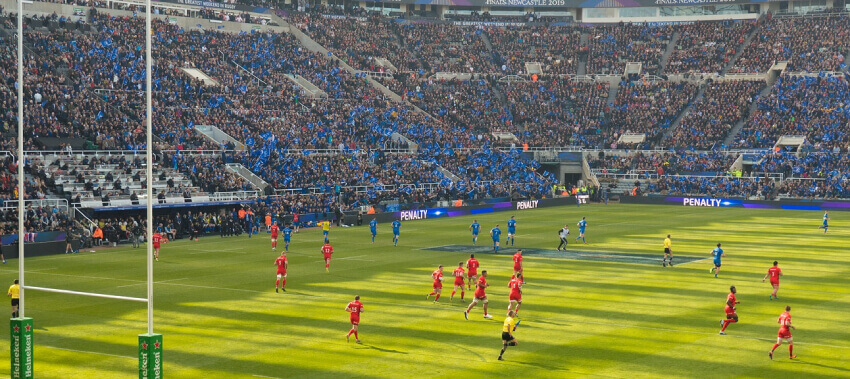 To better understand how rugby betting works, you need to know the basic rules of the sport. These rules will help you to analyze the mentioned codes and ultimately help you with your betting strategy. Generally, a rugby game lasts for 80 minutes, with each half lasting 40 minutes.

Depending on the type of game, each team can have up to 15 players with 7 substitutes. The game has one referee and two judges. Players should never pass the ball forward, and they can't tackle above the shoulders. If the ball goes into touch, a line out is called, and 7 players can form this line out. A successful conversion occurs if a player kicks the ball through the top section of the ball.
Rugby Union rules
Moving on to the codes, we'll start by taking a closer look at the Rugby Union rules. Rugby Union comprises two teams with 15 players each. Games last for 80 minutes with 40 minutes for each half. The main goal of this game is for a team to get the ball past the opposition's try line. If the team succeeds, it wins 5 points. Once the team successfully records a try, they have the chance to kick the ball through the two posts—known as a conversion — to gain two additional points.
Defenders try to hold off the attacking team by tackling them to the floor. If the attacker falls to the ground, it's called a ruck. If the attacker remains to stand, it's called a maul. If at any point an infringement occurs, such as tackling over the shoulders or pushing the ball forward, an offside decision results. In this case, the opposing team has the chance to kick the ball downfield to form a line out or opt to form a scrum.
Rugby League rules
With Rugby League betting, rules are similar to Rugby Union games, where the game's duration and how teams score points are concerned. The difference lies in the fact that Rugby League games have a quicker pace. Also, where a try gives a team five points in Rugby Union, the team gets only four with Rugby League games. Conversions also have two points. A drop goal has one point, whereas it attracts three points in Rugby Union.
Rugby League games have only 13 players for each team. There are no rucks or mauls in Rugby League games. Instead, if a player is tackled, he retains possession of the ball and rolls it back to his teammate. In addition, with League games, players have a limited time to hold the ball. Also, players can only be tackled six times before turning over the ball. Plus, there are no line-outs.
---
Where to find Rugby betting websites?
Even though rugby betting websites are popping up everywhere, not all of them are created equal or worth your time. As such, to get the most of your betting experience, you need to sign up with a site that provides the best rugby betting opportunities. In our table below, you can find the top bookmakers for rugby betting with the best odds.
So, what makes the best rugby bookie, you might ask? Well, first, you need to check if the site offers a generous welcome bonus. Then you must check if the bookie puts forward the rugby betting odds early. Such sites are trustworthy and prove their reliability than those that update odds minutes before the game starts. You also want to pick a website that offers competitive odds.
Also, check if the betting platform offers several major competitions and a wide range of betting markets. You'll also want to pledge allegiance with the site that offers things like in-play betting, where you can bet during the game.
---
Which are the most popular competitions?
As we mentioned before, you must look for a betting operator that offers significant competitions. In essence, that means not all rugby competitions are as popular. Major tournaments happen across the northern and southern hemispheres. Some concentrate on age group-specific competitions, while others are gender-specific.

You'll also find one-off competitions as well as ongoing tournaments that can occur either annually or once every four years. Of the numerous competitions you'll come across in the world of rugby, the Six Nations, World Cup, and Rugby League are the most popular rugby competitions. We'll unpack them a little further below.
---
Short history and facts
Rugby is believed to have started back in 1845 at a Rugby School in Rugby, Warwickshire in England. The game is said to have started during a game of football when William Webb Ellis decided to pick up the ball and run with it towards the opposite goal post instead of passing it to a teammate. While this theory is hearsay, and there's not much evidence to back this story, the Rugby World Cup Trophy is now named after William Webb Ellis. In 1895, Rugby Football split to form two distinct groups, namely Rugby Union and Rugby League, which we explained earlier.
By the 20th century, the game started increasing in popularity. However, it was still played as an amateur sport by people who worked other jobs. It's not until 1995 that rugby became a professional sport. Since then, several nations mentioned earlier have been participating in the game.
---
Final thoughts
No doubt, the game of rugby has won the hearts of many punters. Betting on the game need not be a complex task. You just need to have a deeper understanding of how both codes of the game work. That will help you analyze the games better and formulate your betting strategy. As you're probably aware, like with any sport, rugby also has multiple betting options, and punters need to understand where to place their bets. You can either bet on the team you think will win or the total number of points scored in a match, to mention a few options.
But overall, it's crucial to align yourself with a legit and reputable betting site to avoid being ripped off. Look for a verified and licensed betting site where possible that provides you with the most competitive rugby lines for each fixture at any given time. With that said, are you ready to dive into the world of rugby betting?
---
FAQ
How to bet on rugby games?
Rugby has numerous betting options, such as the Outrights or Win bet, where you bet on the team that'll win. Then you have rugby league handicap betting, where you place a handicap on the underdog that the opposing team must surpass. Players can also predict the half-time/full-time result.
Can I bet on rugby games live?
Yes, some bookies allow punters to bet on rugby games live. In this case, you can watch the match you bet on live because the bookmaker streams the game.
Can I find any dedicated rugby betting apps?
Yes, some bookies design native rugby betting apps for their customers. However, you can also find independent sports betting apps featuring rugby.
How do you find the best odds in rugby betting?
You'll need to ensure the bookie provides rugby odds for a game. Use these odds to figure out which bet will give you the highest profit. That'll help you determine how much money you place on a bet.
What are 3-way bets in Rugby betting?
3-way bets are when punters predict the number of points that'll be scored in a match with three different lines set by the bookie.