As exciting team sports are, they always involve a multitude of factors. There are just too many things going on at the same time, and it can be hard to follow them all. That's why tennis betting might prove to be a great solution. It's played either in 1v1 or 2v2 form, so you can do extensive research about the athletes. At tennis betting sites, your research and preparation mean something.
With that in mind, we wanted to show you how to get started. Our guide will teach you about the rules while also giving you insight into the best bookies and the most popular competitions. After just a few days, you'll be able to turn your bets from faults into aces. Ready to take control of your slips? If so, let's dive right in.
---
Understanding the Rules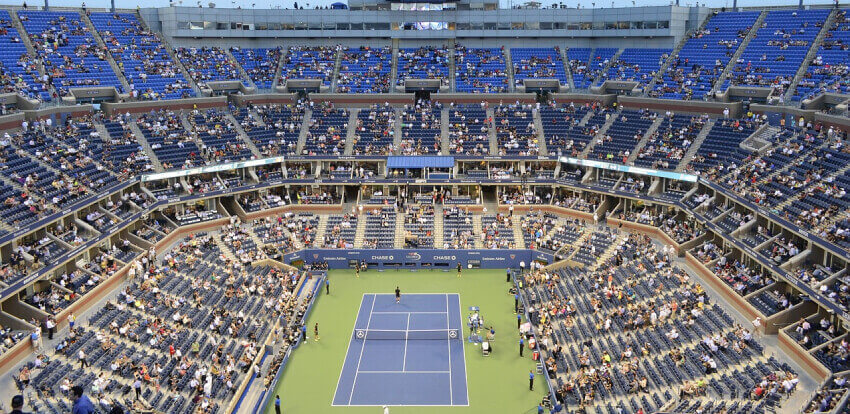 It's hard to sum up decades of history and development into just a few lines, but that just happens to be our speciality. The NostraBet team condensed the rulebook into a few essential pointers. Study them thoroughly, and you'll be able to make use of any tennis odds you encounter.

Tennis is played on a rectangular court, separated in two equal halves by a net. The net is relatively short in height, and its bottom part is placed at ground level. Each half has several components to it. There's the baseline, which marks the outer limit of where a ball is allowed to land. The service area is just beyond the net, and players have to serve the ball in that exact spot. Also, it's worth mentioning the tramline. It goes right down the length of the court and separates the service area from the sideline.
A tennis court can be made out of several different surfaces. Grass, hard, clay, and artificial grass are the most common ones. They all cause the ball to bounce differently and affect the players' movement and decision-making.
The sport can be played in both singles and doubles. Singles allow tennis players to move anywhere they want in their own half. On the other hand, doubles restrict each player in the pair to a quarter of the court. They can move when the ball is served, but the same player cannot touch the ball with their racket two times in a row. So, if they defend a shot, they must fall back and let the other person take the next shot.
As for the objective of tennis, it's to score four points and win a game. Unlike other sports, where 'game' means 'match, duel, sporting event,' it's just a unit in tennis. In each game, a different player serves. The exact order is determined by a coin toss at the beginning of the match. The tennis player who wins the coin toss gets to pick who serves first or who will play. This is important, especially during outdoor events during the daytime. Having the sun shining in your face for a whole set can be a detriment.
A server must hit the diagonally opposite serving area, and he/she mustn't make a mistake two times in a row. After the first attempt, they get another try. However, if they fail the second one, it's a double fault, and the opponent gets the point.
When the ball is served or hit in any way, it can only bounce one time before the player has to hit it. If they manage to return it right away, the ball is still alive. If it bounces two times or goes out of bounds after the first bounce, you lose the point.
When a player serves during a game, he or she has several chances of reaching the four points. They aren't scored in the form of 1, 2, 3, and 4, but instead go like this — 15, 30, 40, and the winning point. A player can only win the game if they win by two points or more. If the score is tied at 40-40, it's a deuce. Then, a game can theoretically last for an infinite amount of time until someone scores two points in a row.
Games comprise a set. To win a tennis set, you have to win at least 6 sets by a difference of two or more. The only exception is when there's a 6-6 score. Some tournaments required you to always win by two games or more, which created multiple hour-long battles on the court. To shorten the duration of tennis matches, the tiebreak was introduced. It's basically like a game, but points are counted regularly (from 1 to beyond). The player or double that scores 7 points first, and leads by 2 points or more, wins. So, if the score is 6-5, a normal game is played. If the score is 6-6, the set ends by either 7-6 or 6-7.
A tennis match is finished when a player wins the most sets in a best of 3 or a 5 system. In tennis betting, you'll find that all women's events are played in a best of 3 due to the increased stamina that men possess. However, it's also worth mentioning that men only play the best of 5 at Grand Slam tournaments. Masters, challengers, the ATP 250 Series — everything else is a best of 3.
The only thing left to discuss is the equipment. You need a racket to hit the tennis ball. It's a carbon fiber tool with a round area at the top, covered by highly-strung strings made out of various types of material. Since they are so tight, a ball that's struck can bounce off with lots of velocities. As for the ball, it's always fluorescent yellow and can be up to 2.7 inches in diameter and 2.1 ounces in weight. Special tennis shoes are also used.
---
Basic Terms
See, those rules weren't so hard, were they? If you want to try tennis betting online, there's no way around them. Even when they do become ingrained in your mind, it's still hard to navigate the glossary. That's why we went on a journey to see what are the most essential tennis terms.
We found a bunch and explained them in as few words as possible. Whether it's tennis spread betting or something else, you're going to need them. So, here are the essential terms.
Break – When a player loses the game during which he's serving.
Deep shot – Any shot that first touches the opponent's side of the court near the baseline.
Chip – A block was performed with the racket on a backspinning ball.
Down the line shot – A shot that's parallel to the sideline.
Drop shot – A shot that's placed to fall just beyond the net and is considered hard to reach.
Forehand – Hitting the ball with a swing that impacts the ball when it's behind your body, to the side.
Backhand – When you hit the ball with a swing that goes across your body and hits the ball just as it's in front of you.
Hold – When the server wins the game and prevents a break.
Jam – Striking the ball right into the opponent's body, preventing them from hitting it properly. It's considered a dirty play.
Out – Whenever the ball's first bounce occurs outside the permitted area of the court.
Forced/unforced error – An error that occurs without the influence of an opponent's play is an unforced one. A forced error is when the other player hits the ball so that you can't return it properly.
Game/set/match point – When only one point is needed for a tennis player to win the game, set, or match.
---
Where to Find Tennis Betting Websites?
NostraBet's list of the top-rated bookmakers for tennis betting has everything you need. We did all the work just so you don't have to put up with all the hassle. Not only did we create accounts and look around, but we also chased down countless tennis betting lines, claimed bonuses, and much more. So, once you master the rules and watch a few matches, you can choose from our recommended tennis bookies and start playing. Good luck!
---
Which Are the Most Popular Tournaments?
Make no mistake. Tennis isn't a niche sport. As it's being played worldwide, on multiple levels, you can always find something to bet on. However, the NostraBet team has a bit of advice for you. Only base your strategy around the top events. Not only do they feature the best players, but they also have excellent coverage in terms of stats or tips. Choose between these tournaments:
---
Short History and Facts
Modern tennis can be traced all the way back to 12th century France, where King Louis X fell in love with the 'game of the palm'. It was a favourite of European nobles at the time and was the same as tennis, except that they used to hit the ball with their palms. It wasn't until the 16th century when the first rackets were used, that the game started evolving.
We can also trace the modern game back to 19th century Britain, where the invention of the lawnmower led to the first grass courts appearing. However, when talking about tennis history, we usually think of the Open Era. It was only in 1968 when all Grand Slams allowed anyone to qualify, regardless of professional status. Basically, it's the first time tennis was standardized. It allows bettors and fans to realistically compare and analyze matches and events in a linear fashion.
And top it all off, here are some fun facts you might not have known:
Yellow balls are used for better visibility on TV. White ones were used up to 1986.
Initially, women had to wear dresses during matches.
Arthur Ashe is the first African American player to prevail at the US Open and is considered an icon and a trailblazer.
The average tennis player runs a whopping 3 miles during a match, despite the fact that they mostly move in short bursts.
---
Final Thoughts
Tennis betting is a great solution for any punter looking to eliminate a lot of risks. If you bet on singles, you only have to focus on two players and two different strategies at a time. And the best part? There are no draws, so there can only be two outcomes, as well. It's also one of the fastest and most fun sports you can play, watch, and bet on. It will make your time at online bookies fun and worthwhile.
---
FAQ
How to bet on tennis?
Pick one of our recommended tennis betting sites, learn the rules, prepare, and find odds that suit you.
Is it easy to bet on tennis matches?
Yes. There aren't any convoluted rules or things that you have to watch out for. However, you still have to do research and avoid overly big risks.
Where can I find tennis betting markets for Wimbledon?
All the best tennis bookmakers offer lines for Wimbledon matches. Whether it's the qualifiers or the main event, you'll find a lot of action.
Can I bet on tennis doubles matches?
Of course, but we believe singles are easier, have better odds, and are more fun to watch.
What are the best tennis betting sites?
Everyone has a different taste, but you can check out our custom-made list to see what we think are the best picks.
Can I profit from tennis betting?
Yes, if you play things smart and don't pounce on markets without doing the necessary research. Be patient and don't chase losses.
Should I only bet on the favourites?
Not always. Sometimes, the bookie gets things wrong and overlooks some important factors. Differences in style, nagging injuries, and coaches are important too, believe it or not.