For those of you that like blistering offensive actions and mind-boggling dribbles, futsal betting is for you. Even though it's still less popular than its big brother, this sport has attracted lots of attention through online sportsbooks. We understand that you might be a bit sceptical, but don't worry — placing bets on futsal matches is much easier than it might seem at first.
If you don't believe us, you'll get to see for yourself by reading out beginner's guide to futsal betting. We didn't leave any stone unturned, so you'll find out everything about rules, the history of the game, as well as the most prominent futsal competitions. Oh, and we'll also provide some tips on finding the best futsal betting sites out there.
Sounds good? If so, then get your game on and prepare to learn how to make the most out of every futsal bet you place. Just soak everything in, and you're good to go! Without further ado, let's take a look at what the rules are…
---
Understanding the Rules
While futsal is basically a scaled-down version of regular football, this really doesn't do the sport justice. The best way to describe futsal is 'indoor football, with some basketball, water polo, and handball elements.' What do we mean by this? Well, the sport's creator took inspiration from these sports, and their influence is seen in the following rules:
A futsal match is 40 minutes long and is played by five players, just like in basketball. You can also use timeouts.
The goalkeeper has 4 seconds to get rid of the ball, and he may not touch it again unless there's a stoppage of play or if an opposing player gains possession. The same rule exists in water polo.
A futsal field (125–138 ft x 66–82 ft) is a little bigger than a handball field, and the goals are the same size.
While, on paper, this seems like a strange idea, the combination of influences from these other sports is precisely what makes futsal so exciting. It seemingly addresses all the flaws of football/soccer without diverging from the core principles of the game too much.
How Does a Futsal Match Work?
A futsal match lasts a total of 40 minutes, which is divided into two 20-minute halves. There's a 15-minute break between them, and teams can use one 1-minute timeout per half. There are five players on the field at any given moment, with one of them being the goalkeeper.
In official matches, there are also nine substitute players on the bench. 12 total players can be used during the game, but the number of substitutions is unlimited. Theoretically, a coach can make changes every minute. This is because futsal is extremely fast-paced and taxing on the body, so frequent rest is encouraged.
The objective of the game is to score more goals than the opponent. In football, draws are possible unless it's a match in the knockout stage of a tournament. Some futsal competitions have eliminated this outcome. Thus, if two teams scored the same number of goals, they proceed to shoot penalty kicks. However, this varies from country to country.
Futsal Fouls, Kick-ins & Refereeing
Just like in football, players are called for a foul if they impede an opposing player with any sort of illegal contact. This includes kicking, tripping, pushing, holding, and everything else of the sort. These fouls result in a direct free kick — the ball is placed exactly where the foul took place, and any of the four outfield players can shoot at the goal directly.
Some fouls warrant an indirect free kick, which means the free-kick taker must pass the ball to someone before a shot is attempted. They usually happen because of dangerous play, time-wasting, and verbal abuse of the referee or other players. If a foul is flagrant enough, a player receives a yellow card. Two yellow cards in one game result in a red card, resulting in immediate removal from the game.
When a ball exits the borders of the field, the players kick it in from the touchline. Opponents must be at least 16 ft. from the ball until the kick-in is complete. The guy returning the ball into play has 4 seconds to kick it in. Otherwise, the ref awards the opposing team a free-kick.
As for the officiating, futsal matches are overseen by two or three refs. One is placed near the timekeeper's table, while the other moves along the opposite touchline. If there's a third ref, he's usually tasked with monitoring benches. They have the right to award yellow or red cards in case of fights, illegal entrances onto the field, verbal altercations, and other types of misconduct.
See? That wasn't so hard, was it? Futsal was made to be as simple as possible, which is one reason why futsal betting is so enticing. 80% of the rules and elements are probably already familiar to you, so there's no need for too much preparation.
---
Where to Find Futsal Betting Websites?
Even though mastering the rules is essential, the success you can achieve greatly depends on bookmakers. Why? Well, it's all about value and convenience. If a site offers good futsal betting odds, you will win much more in the long run. Also, if a bookie has a crappy and unusable website, an enjoyable hobby can turn into a proper nightmare.
That's why the NostraBet team compiled a list of all the top bookmakers for futsal betting. Each site you'll see has been thoroughly reviewed, just to ensure it's worth your time. And don't worry about things such as security, licensing, and customer support. These things are very important to us, and we don't even bother looking at sites that don't have this covered.
So, the only thing you need to do is check out our guide, pick a site that you like, claim a bonus, and the stage is all yours. Good luck and bet wisely!
---
Which Are the Most Popular Competitions?
Most futsal betting sites offer a variety of competitions to bet on. And that's great — there's nothing we love more than diversity. However, you shouldn't just pounce on every single market you see. Less-coveted tournaments often get less coverage, so it's hard to find a sufficient amount of information to base your bets on.

That's why we would advise you to only bet on the following competitions. Not only are they the pinnacle of this sport, but many bookies also offer free futsal live streaming for such matches. Choose one of our bookies, sit back, catch a good stream, and focus on these events:
---
Short History and Facts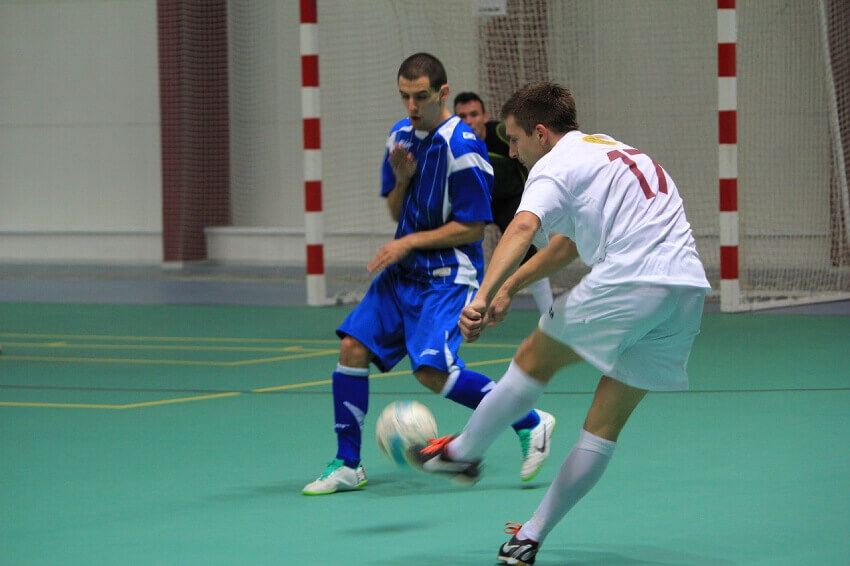 Let's talk about the etymology of the name first, shall we? The word futsal comes from the expression fútbol sala/ fútbol de salón, which basically means 'indoor football' or 'hall football' in Spanish. Italians call it 'Calcio a 5,' meaning 5-a-side football. Initially, many organizations were using the name fútbol sala, but FIFUSA (the predecessor to the AMF) trademarked the term futsal in 1985. Soon afterwards, FIFA also started using the term, and it was adopted as the common moniker for the sport.
What about the origins? Well, that's an even more exciting story. It all began in 1930 with one man, an Uruguayan PE teacher named Juan Carlos Ceriani. He invested a lot of effort into trying to show his kids the health-related benefits of sports. However, he often encountered a problem — it was hard to find an easily accessible grass pitch.
He then had a brilliant idea — why wouldn't the students try to play football on basketball courts? Not only were they much easier to set up, but there were hundreds of them in Montevideo. That's when he started taking his students to basketball courts. To resolve the issue of goals, he used a couple of smaller, easily portable ones in use for handball matches at the local YMCA. The world quickly spread around, and more and more people started playing futsal all across South America. João Lotufo is credited with bringing the sport to Brazil.
It was a perfect solution. Since basketball courts were made out of concrete, no rain would stop people from playing outdoors. Grass pitches, on the other hand, take days to dry out and can often be literal swamps. Futsal also addressed the safety issues present in football, as it was often dangerous to play on muddy pitches.
The rules were a bit ambiguous at first. Still, two Brazilians from São Paulo finally standardized it to allow for competitive play. Luiz de Oliveira published the 'Book of Rules of Futsal' in 1956, and it became the norm across the globe. 1965 saw the birth of the first international futsal organization — the Confederación Sudamericana de Fútbol de Salón AKA the South American Futsal Confederation. Uruguay, Brazil, Paraguay, Peru, Brazil, and Argentina were the founding members.
Since then, the game's accessibility, simple rules, and incredibly skilled players have turned it into a global phenomenon. As a result, futsal betting has been trending upwards, with a meteoric rise that began in the 21st century.
---
Final Thoughts
So, how do you like the prospect of futsal betting? As you were able to see, it's simple to understand, and it's quickly moving away from its 'niche sport' status. There are great odds all over the place, as well as all the exotic markets you might have seen whilst placing bets on futsal. Therefore, you shouldn't hesitate. Pick a betting site, read up on the teams and the players, and try your luck as your immerse yourself in exhilarating goals and otherworldly dribbles.
---
FAQ
How to bet on futsal matches?
Betting of futsal is easy. You just need to choose a good bookmaker, create an account, and deposit money to play with. Of course, NostraBet advises you to always be diligent and conduct research before placing any real money wagers.
Is futsal betting profitable?
Whether or not futsal betting is profitable is completely up to you. While it's generally easy to win money in the long run, it depends on how much you wager, what matches you bet on, and how informed you are before placing an actual bet. Be smart.
What is the difference between football and futsal?
Football is played on a large grass pitch, features 11 players per team, and is played in halves of 45 minutes. On the other hand, Futsal requires a much smaller field, is played indoors, has 5 players on each team, and matches are split into two halves of 20 minutes each.
Is there an offside rule in futsal?
No, there is no offside rule in futsal. Since the field is so small, there's no point in restricting player movement. Thus, cherry-picking is allowed.
Which country is the best in futsal?
Brazil, Spain, and Argentina are considered the best national teams in all of futsal.
Do I need to conduct research before starting with futsal betting?
YES. And we can't stress this enough. Even though sports betting is still gambling, you can drastically increase your chances of winning if you have stats and information to guide you in the right direction.
Should I claim a futsal betting bonus?
You don't need a bonus to bet on futsal, but it's a good idea if you want to extract some extra value from your betting sessions. Just make sure the terms and conditions are fair.
Is using futsal betting tips a good idea?
While using futsal betting tips isn't mandatory, they can help you understand what to expect. Only source your tips from verified sites with publicly available success percentages and player ratings.