---
Understanding the Rules
Darts is a simple sport to understand, and new beginners can pick it up in no time. The game aims to reach a score of zero before your opponent by throwing darts at a dartboard.

The dart board's centre is placed at five feet, and eight inches off the ground and players stand at about seven feet nine inches away from the board. Each player has three throws before switching to the next player.

Scores begin at 501 or 301, with the maximum score per round of throws set at 180 (three triple 20s). To get to zero, the final throw must hit a double number. Exceeding the number needed will end your go, and the points will not be deducted from that throw.

Games can be played in either a 'legs' or 'best of format'. The following sections will dive deeper into the differences in darts events and darts terminology.
---
Basic Terms
Break
When the person throwing a second wins the game.
Bull/Bullseye
The centre of the darts board worth 50 points for the inner red circle and 25 for the outer green.
Busted
Scoring more points than needed to checkout. Doing so will end your turn and reset your score to what it was before going over the needed amount.
Checkout
The number of points needed to win the game. This must be achieved to win the game and cannot be exceeded. Checkouts must end with a double.
Nine Dart Finish
Minimum amount of darts required to win a game. This is very rare and difficult to achieve.
---
Where to Find Darts Betting Websites?
All the top sportsbooks will likely offer darts betting markets in some form. It's not too tricky to find betting websites with darts coverage, so which you choose to go with is largely down to personal preference. There will be variations between sites regarding odds for each selection, betting markets offered, competitions covered, and things like user interface and payment options. It's often a good idea to compare odds for selections and bet across multiple platforms depending on which offers the best odds for that specific event.
Above all else, make sure that your chosen sportsbook is reliable and safe. You can read user reviews online to get a better idea of a platform's performance. Always make sure they are fully licensed by a credible authority before giving away personal information or making a deposit.
---
Which Are the Most Popular Competitions?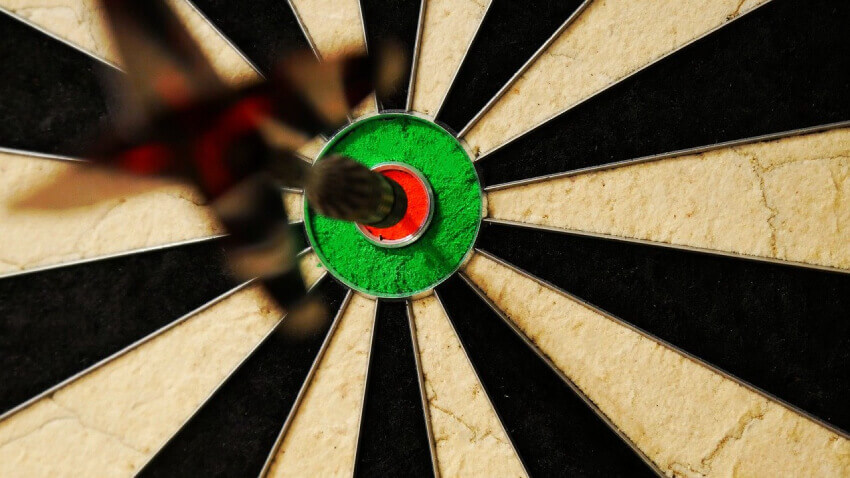 ---
Short History and Facts
Darts first started in pubs and clubs before rising to become the global sport it is today. The best darts players earn seven figures a year and compete in tournaments across the world. Betting in darts has become increasingly popular as the sport has grown and shows little sign of slowing down.
---
Final Thoughts
Betting on darts is similar to betting on any other sport, given the types of popular markets on offer. The more knowledge and experience you acquire about betting on the sport, the smarter your selections will become. Gaining a strong understanding of the sport is vital to long term success, and there are plenty of resources at your disposal online to help you do just that.
---
FAQ
How to bet on darts?
The more darts coverage and statistics you consume, the better placed you will be to make well-informed bets. The rules are relatively simple, so it's all about soaking in information and being able to spot value bets.
Which are the most famous markets in darts betting?
There are several popular betting markets in darts. Still, some of the best include match winners, handicaps, the most 180s, correct score, nine-dart finish, and highest checkout.
Where can I get darts betting tips?
There are tonnes of resources online that offer darts betting tips, including this very page. As well as reading up on darts and betting, it is worth watching a lot of events and absorbing as much as you can.
What are virtual darts betting?
Virtual darts betting uses 3D graphics to recreate the experience of watching a real game of darts. You can tune in to these events and bet on various markets just like you would on a real darts event.
Where can I find the world cup of darts odds?
Darts betting odds can be found on bookies sites or on comparative websites where you can see which bookmakers offer the best odds for a specific selection.
Can I bet on live darts?
Yes, like most other sports, betting in play is an option with darts. You may find that this isn't possible for every darts betting market, but there will be markets where you can make bets as the play unfolds.
What is the best darts event to bet on?
There are loads of great darts events to bet on, but the most popular is probably the annual World Darts Championship. These best names in darts compete in this competition, which attracts a lot of bettors. As such, you will find a wide selection of betting markets across the top sportsbooks when it is on.