---
Understanding the Rules
Professional cycling events come in many different forms. From road cycling to track cycling, there are a lot of variations in events and competitions. The general aim, regardless of the type of race or terrain, is to get from point A to point B faster than the rest of the race.

The following section will dive deeper into the differences in cycling events and what each entails starting with road cycling race types.
---
Road Cycling Race Types
Single Day
Pro single day race distances can be very long. These can reach as far as 180 miles and be made up of several laps or a straight A to B. Races that take place over small circuits in cities are called criteriums. There are sometimes handicapped races where different ages and abilities are balanced out with differing start times.
Individual Time Trials
These races aren't against other competitors per se but against the clock instead. They can be solo or small team events. Traditionally, time trials take place on public roads, and the racers wear streamlined clothing to give themselves an edge. Events can range from 10 miles to 100 miles.
Stage Races
These are made up of multiple races/stages that are ridden consecutively. Whoever has the lowest overall time for completing each stage at the end of the event is the general classification winner.

Stage races often have other awards such as individual stage winners, mountain classification winner, and sprint point classification. These races can take place over several days.
---
Track Cycling Races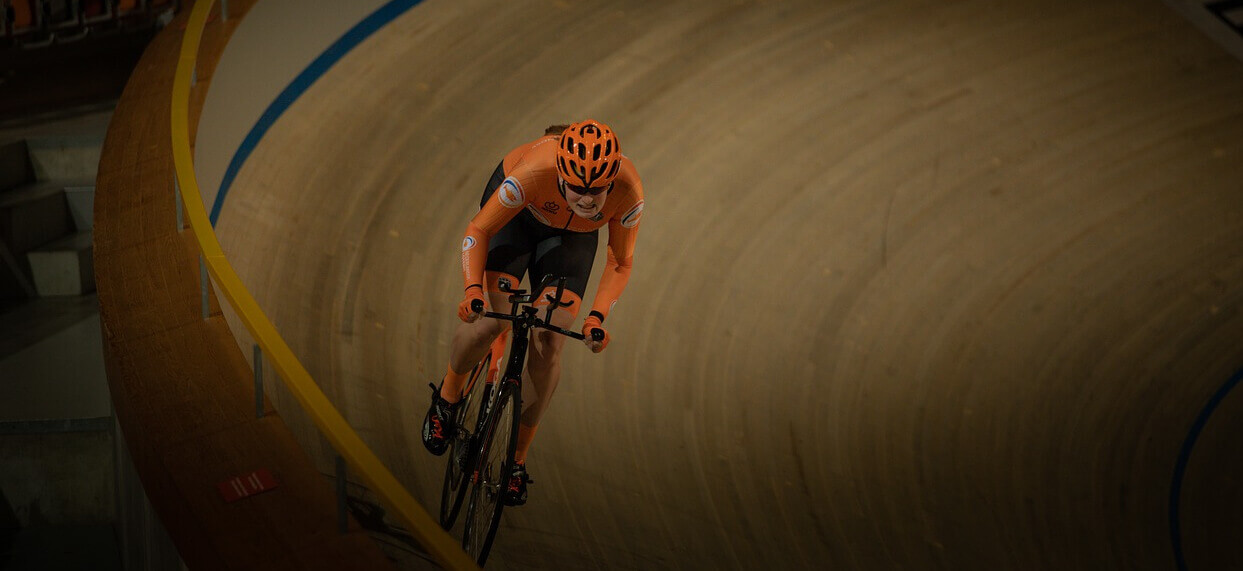 Sprint
Often this race features pairs of racers who begin the race at the same time. The winner is the first person to cross a line at a set distance from three attempts. Sprints often begin from a rolling start, and riders are very tactical with regards to when they choose to sprint and how they use the draft.
Pursuit
This is a type of time trial where riders usually compete in pairs. Riders start at different points on the track, with the winner often knocking the other racer out from the competition.
Time Trial
Time trials are a race to complete a set distance (often one km) in the fastest time possible. These can be solo or group races and usually start with a standing start.
Points Race
Laps are nominated as sprints laps and indicated as so by a bell or a whistle. Points are given for performance on these laps. The first four to finish one of these laps are awarded 5, 3, 2, and 1 points as they finish. Any rider who laps the field gets an additional 20 points, whilst riders who are lapped lose 20 points.
Scratch Race
This race begins with all races level with places given depending on the order of the finish. Gaining a lap on the rest of the group until the finish line puts you ahead of the other racers with fewer laps done. These races often take place over 15 km.
Madison
First hosted in Madison Square Garden in the US, this race is 50 to 60 km and features two riders per team. Every 20 laps, there is a sprint for points. The team with the most points is the winner.
Keirin
This is a mass-start event with between six and nine riders taking place. Lots are drawn to decide on the starting position. There is a pacer on a motorbike that cyclists must remain behind until they leave at around 600 to 700 meters before the end of the race. The race takes place over around 50 km.
Omnium
This track event is made up of six different races. These include a time trial, a points race, a scratch race, an elimination race, an individual pursuit, and a flying lap race. The racers who finish each race receive points based on their position, with the overall total lowest points being crowned the winner.
---
Where to Find Cycling Betting Websites?
You will likely find that all the big-name sportsbooks offer some form of cycling-related betting. It isn't difficult to find a top bookie with cycling betting markets, so which one you opt for will come down to personal preference.
Always remember to make sure that your chosen sportsbook is trustworthy and reliable. Look online for user reviews and make sure they are fully licensed by a legitimate authoritative body before giving away personal information or making a deposit.
---
Which Are the Most Popular Competitions?
---
Short History and Facts
Cycling has a growing audience thanks to its diverse and varied events across both road and track. The sport is popular all over the world, but many of the top events take place in Europe. Betting on cycling is an increasingly popular pursuit for cycling fans, and you will find betting markets scattered all over the top sportsbook websites.
---
Final Thoughts
Betting on cycling isn't too dissimilar from betting on any other competition or sport. The more experience you gain from watching and betting, the more informed your bets will become. It's worth getting to grips with relevant betting terms and understanding cycling betting markets to find the best value bets. There are loads of top resources that will help you with cycling betting tips.
---
FAQ
Reasons to bet on cycling?
Suppose you're into cycling or want to start watching competitive cycling. In that case, betting can be a great way to add a new element of excitement. In addition, you could win money from watching your favourite racers compete.
What are the most profitable markets for cycling betting?
This very much depends on the selections you make as a bettor. Some markets will have longer odds and are, as a consequence, a lot harder to be successful on. Markets with shorter odds are easier to predict but will take longer to accumulate a strong bankroll.
Where can I bet on cycling online?
Yes, you can bet on cycling via your web browser or via a mobile app for any top sportsbook.
Can I bet in play during cycling events?
Yes, live betting on cycling events can add another exciting way to win money on cycling events.
Where is the best place for online cycling betting?
This very much depends on your personal preference. Make sure to check if your chosen sportsbook is reliable and trustworthy before giving payment details.