The NostraBet team decided to create an all-purpose guide to greyhounds betting to bring you up to speed. We left no stone unturned. From the rules and the glossary, all the way to the most popular cups and derbies, you'll get the ultimate preparation.
---
Understanding the Rules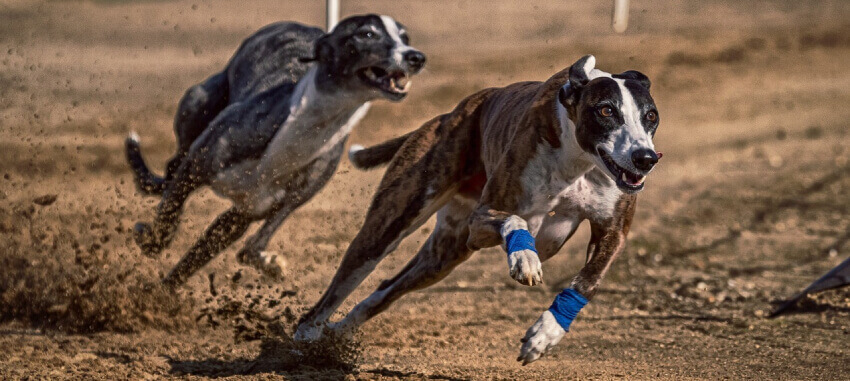 Greyhounds betting is pretty straightforward, at least in terms of rules. The average greyhound race can have anywhere from 2 to 8 runners, but races in the UK always have precisely 6 runners. Coincidentally, almost all the popular racetracks are in this region, so this is the format that you'll encounter most of the time. Other than that, here's what you have to know about the rules:
Every dog starts from his cage, which is called the greyhound trap. Before the race, they are placed in their traps, with a door open remotely. So, when the race starts, all the trap doors open at the same time, either manually or remotely, and the hounds come flying out.
How do the race organizers actually coax the dogs to race? Well, it's all due to a mechanical hare that's used as a lure. It moves along a fixed-line at a pace that's faster than the one the dogs can realistically reach.
Because the track is oval-shaped, with four bends and four straights (in most big competitions), the hounds that start from the traps that are nearer the rails are falsely believed to have a small advantage. However, another factor that you should consider is the dogs' preferences. Some are railers (R), while others are middle runners (M) or wide runners (W). These monikers all relate to where the dogs prefer to run on the track.
The dog who crosses the finish line is the winner. While this seems obvious, it's important to remember that it's not about who has the best start but more so about which dog is able to maintain its speed throughout the entire race.
Performance-enhancing substances are strictly forbidden. All dogs that participate in a race are tested extensively, both before the race and at random times throughout the year. There are also strict rules and regulations to ensure that no animal cruelty takes place. So, regulatory bodies regularly visit the places where dogs are kept to ensure that their mental and physical well-being is top-notch.
When it comes to knowing which dogs will actually participate in a race, it's quite impossible to predict this. At least when the race is still a few weeks ahead. Take the 2016 Irish Greyhound Derby as an example. Initially, over 80 dogs were listed as competitors. Of course, it's not physically possible to fit so many dogs in six traps. So, the owners and the race organizers select who will compete, depending on several subjective and arbitrary conditions and factors.
See, that wasn't so hard, was it? That's the beauty of online greyhound betting. It's quite possibly the most straightforward sport in existence. There are no tactics, boring rules, regulations, and whatnot. You just have a bunch of dogs, and your goal is to predict who will win (or something else, depending on the market).
While this comprises the crux of the rules, racetracks and regulatory bodies are also free to implement their own. So, before you embark on a greyhound betting session, make sure you know the track well, as well as what it requires from the hounds and their owners.
---
Basic Terms
Even though you can literally grasp the whole sport of greyhound racing in just a few seconds, it still has many unique terms surrounding it. Mastering these bits of slag is essential if you want to make your time spent betting more efficient. Not only did we scour some of the best greyhound bookies, but we also took a look at various forums. So, without further ado, here's your essential glossary for betting on races involving man's best friend:
Open race -This is a race with no clear favourites or underdogs (pun intended). Anyone can win, so it's a great way to find odds that are way higher than they really should be. It's worth noting, however, that open races are extremely rare.
Box – Another term for trap/cage, albeit seldomly used.
Box bias – A common misconception that many punters still believe. Despite a hound being in a box that's the closest to the rails, that doesn't mean it's going to be a winner. Like we've mentioned above, dogs have different preferences in terms of where they like to run. So, suppose a particular pup is a wide-runner. In that case, it will immediately move to its preferred location, regardless of the box it starts from.
Puppy – When you're looking for the best greyhounds betting strategy, you'll encounter this term frequently. It's used for dogs that are younger than two years old. Keep in mind that hounds are allowed to race only if they're 15-months old. So, a puppy is any dog that fits in that time window of 9 months. In most races, they are considered favourites.
Shortened odds – Whenever something changes, whether it's an injury or if there are rumours about a dog potentially overperforming, the bookies shrink the odds. So, if a hound is priced at 10/1 and the odds go down to 8/1, they are considered shortened.
Pricing – It's the act of assigning odds to a hound. A low-priced dog is touted as the favourite, while a high-priced dog is considered the underdog.
Jolly – The dog with the shortest/lowest odds, aka the favourite.
Overlay – When the oddsmakers get the odds wrong, and a dog is priced higher than it should be, that's an overlay. It's basically the wet dream of every greyhound's betting enthusiast.
Ante-post betting – Everyone knows when the most important races are. To build up hype, bookies allow players to take punts weeks or months in advance. This is basically ante-post betting. Consider it a form of the popular 'future' market, as it's known in other sports. Keep in mind that this is a risky endeavour, as dogs can easily drop out or get injured. Follow the news to stay safe.
---
Where to Find Greyhounds Betting Websites?
Good question! Fortunately, we have the perfect solution — our list of the top-rated bookmakers for greyhounds betting. Don't worry, we didn't just put together a bunch of sites we like. On the contrary, the list results from months of research, hundreds of bets, and lots of cool bonuses and fun experiences. So, if you're looking to get into online dog betting, they are the way to go. And, of course, they're all 100% legal. So, have fun and good luck!
---
Which Are the Most Popular Competitions?
There's a ton of greyhound races throughout the world, regardless of the time of year. However, not all events are created equal. NostraBet's advice is to focus only on the most popular ones. They get the most press coverage, and you can find any news without too much effort. It's all about making your life easier while still watching the cream of the crop. So, just add these competitions into your greyhounds betting system, and you'll have a fun (and potentially profitable) time:
---
Short History and Facts
Greyhound racing is a direct descendant of coursing. This noble dog species has always been a hunting companion, which led to almost every nobleman in post-Middle Ages Britain having one. At a certain point, huntsmen realized that they could do a sport out of this, so they started releasing hares and multiple dogs after it, just to see which dog is the fastest.
Modern greyhound races started in 1920 when Owen Patrick Smith created the first mechanical hare. This allowed races to be much more standardized, as all the dogs had the same objective. The peak of the sport's popularity was in the 1950s and 60s when tens of millions of people used to watch live races every year. Despite the subsequent decline, the rise of online greyhounds betting and free tips has brought it back into the limelight.
---
Final Thoughts
What's not to like about greyhounds betting? Not only is it the simplest thing in the world, but you also get to marvel at these magnificent creatures running at blistering speeds. Don't forget to watch a few races before you start betting, and make sure to pick a proper bookmaker. Afterwards, just develop a good system, and you should be able to see some fine results. Good luck!
---
FAQ
How to bet on greyhounds and win?
Pick a good greyhound betting site, be smart about your budget, don't go crazy on the risky bets, and there's no reason why you shouldn't win fairly consistently.
How should I use the Two-Trap betting system?
While this is a great system that allows you to save time, you shouldn't rely on it entirely. Always study the stats first and then consult the TT system to see whether you're on the right track or not.
Is greyhound racing profitable?
If you play it smart and pick the right markets, there's no reason why it shouldn't be!
Is the dog's trap an essential factor in greyhounds betting?
Contrary to popular belief, no. Dogs have their own preferences about which part of the track they want to run, so they'll always gravitate to that part. Traps don't matter. Don't believe the box bias.
Is ante-post betting a good idea?
If you have a bit of money to spare and you're feeling lucky, why not try it? However, it's not meant to be a pillar of your strategy.
Wait, isn't greyhound racing illegal?
Some countries and jurisdictions have banned actual races but allow bets to be placed on events that take place elsewhere. Check your local laws just to be sure.
What is the fastest greyhound of all time?
While it's impossible to pick just one dog, most people agree that Rapid Ranger, Patricia's Hope, and Ballyregan Bob are the pups that have a right to this title.