Tote betting is a famous betting market for U.K and Ireland bettors and one that is preferred by casual and professional punters hoping to turn a minimal bet into a sizable payout. As tote bets are placed into a pool, this article will explain how a tote bet works and how to place a tote bet.Additionally, we include rules to tote betting, different types of tote bets, explain how to win a tote bet and include the best 5 bookmakers for tote betting.
---
Best 5 Online Bookmakers for Tote betting
Due to the style of parimutuel betting tote bets represent, UK bookmakers offering totes are constantly vying for punters' attention. As this is such, we have included a list of the top online bookmakers for Tote betting.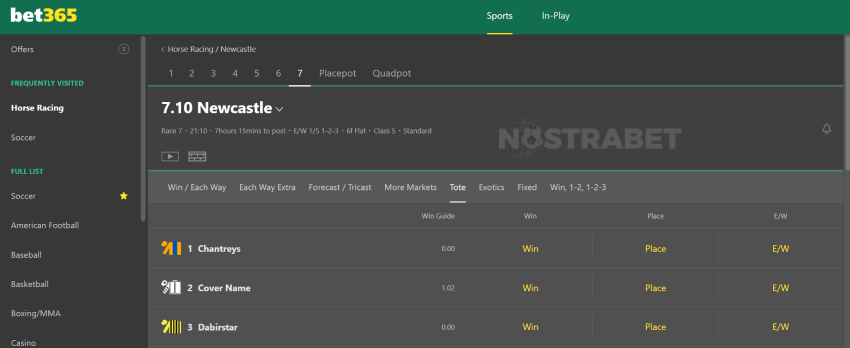 Pros
Features a wide variety of tote bets
Exclusive promotions
Offers singles and multi-leg Totes
Cons
Do not provide tote bonuses
Pros
Best odds guaranteed for the UK, Ireland horse racing
Build your own racecard feature
Live streaming and in-play betting
Cons
Tote Bets limited to UK/Ireland races only
Pros
Daily horse racing promotions suitable for Tote Betting
Best odds guaranteed for UK/Ireland races
Free access to Betting TV
Cons
Limited post-race analysis
Pros
Excellent availability for Tote betting Trixie
Offers pre-race statistics
Live streaming and In-play betting
Cons
Tote Betting only available for the UK and Irish horse racing
Pros
A large variety of Tote bet types
Special Tote bet promotions
Single and multi-leg tote bets are available
Cons
Tips for Tote betting not offered
---
What is a Tote Bet?
A Tote bet is a race or an event whereby all bets are put into a pool. At the conclusion of the race or event, those who have backed the winner win a share of the prize pool. This is divided by the amount a bettor wagered on a runner, the winning tickets, less the amount is taken by the house.
---
How Does the Tote Bet work?
The way a Tote bet works is you are not making an individual bet but are betting into a pool. That means that every bet received contributes to the size of the pool. After a race, those winning tickets will win a share of the pool, depending on the amount they staked.

The main difference with a Tote bet is you are betting against bettors versus the bookmaker. Unlike traditional sports betting, the Tote does not set any odds for a horse you back. The returns are based on how many bettors backed a specific runner, meaning more winners means smaller payable dividends. Likewise, the fewer punters backing the winner results, the higher the payable dividend.
How to place a bet on the tote?
When it comes time to place a bet on the tote, the act itself couldn't be any easier. While the process will vary based on the bookmaker, you will find the steps below to follow the usual betting process for Tote bet.
Select "Tote" to access the Tote Odds.
Click the runner you want to bet on.
Add it to your Bet Slip.
Enter the amount you wish to stake.
Submit your Betslip.
What Tote Place rules exist?
The attractive side to Tote place betting is that there are not many rules that punters need to worry about except for the places paid. In this case, the rules for a Tote place bet are based on the number of runners that determine the places eligible to earn a payout. As such, these are based on the following:
5 to 7 runners – 1st and 2nd places paid
8 or more – 1st, 2nd, and 3rd places paid
16 or more non-handicap – 1st, 2nd, and 3rd places paid
16 or more handicap – 1st, 2nd, 3rd and 4th places paid
Tote Betting on Singles or Multiples
Tote betting on singles or multiples is essentially the same. The difference is that one is betting on a single selection, while the other is betting on multiple selections. While Tote betting is the same for either singles or multiples, each will require a separate bet for each selection. Therefore, it is essential to take this into consideration as the more selections you make, the more your tote bet will cost.
---
Pros & Cons of Tote Betting?
If you are new to Tote betting, it is worth doing your homework and considering the pros and cons. As you might have expected from this article, the majority are favourable. Still, some cons should be taken into account beforehand.
Pros
Available on UK/Ireland horse races
Offers excellent potential for sizeable wins
A large variety of bet types
Cons
Odds can change right up to the start of the race
Does not offer fixed pricing
---
What Kind of Tote bet types there are?
There are many different types of Tote bet types that are available to punters. Here is a list of those available and a brief explanation:
Totewin – betting on a horse to finish in first in an individual race.
Toteplace – betting on a horse to finish in second, third or fourth.
Each way – a combination of a tote place and Tote win the bet.
Trifecta – betting on the horses that will finish first and second and third.
Reverse Trifecta – betting on the horse that will finish in the top three positions in any order
Exacta – betting on the horse that will finish in first and second.
Reverse Exacta – betting the two selections to finish the race in the top two positions in any order.
Combination Exacta – betting on any two horses to finish in first or second in any order.
Placepot – a tote placepot bet is betting on the horses to finish first for the first six races of an event.
Quadpot – a bet on the horse in the third, fourth, fifth and sixth race.
Jackpot – the tote jackpot rules require picking the winners in the first six races.
Scoop 6 – selecting the winner for six specific races to win a share of or the entire pool.
Swinger – betting on two horses to place in any order in the top three positions.
---
Does the Tote bet provide better Odds than Online betting sites?
What is essential to understand is online bookie odds do not differ from the Tote provider as the Tote provider sets the odds before the race begins. However, online bookmakers offer a variety of Tote sport promotions that enhance their overall tote bet odds. Therefore, Tote betting with an online bookie is preferable to a Tote bet provider.
---
How to Win with a Tote bet?
A tote is an exciting form of horse race betting that can return serious dividends. As a result, some tips and advice on how to win keep Tote betting fun and non-problematic. Here are a few tips you can follow:
Bet on the Non-Favourites
Remember, When Tote betting, bet on the non-favourites as if non-favourite wins. You could be in for a serious payday.
Betting on multiples improves your odds of backing a winner. While more costly, it can produce multiple winning tickets.
When Tote is betting, back the favourites. Even though the size of the share will be less, it can be a great bankroll builder.
Always research runners before Tote betting – the more you know, the better you can pick a winner.
---
FAQ about Tote Bet
What is a Tote bet in horse racing?
Tote betting horse racing is when you bet into a pool that is divided amongst the winners.
How does the Each-way bet work on the Tote?
An Each-way bet is a combination of a Tote place, and a Tote win bet.
When is the right time to prefer a Tote bet than a fixed-odds place bet?
The right time for a Tote bet versus a fixed odds bet is when the Tote Pool offers a substantial prize pool.
Where can I find the Tote?
The Tote can be found at any of the top bookmakers we recommend for tote betting.
What is a tote trifecta?
A tote trifecta is betting on a horse you think will finish in first, second and third.
Is there a tote bet app I can download?
Yes, there are Tote bet app bookmakers available for Android and iOS devices.
---
Summary for Tote betting
Tote betting is an attractive parimutuel market that can produce favourable wins, similar to a group lottery. The main attraction is a small bet is all it takes, and for casual bettors, it is a viable form of entertainment that requires some thought and effort. If tote betting, our recommended top 5 for tote betting offer excellent promotional opportunities that complement the tote.