Fantasy football betting has become quite popular. Most people who participate in these games are avid football fans, and they are able to evaluate different players adequately. You can test your knowledge of the leagues by joining fantasy football betting sites. Although the results will depend on luck to a certain extent, there are certain tips you can apply to maximise your chances of winning. You should make sure you understand the scoring system as that will help you choose players. In this guide, we will look at fantasy football betting in detail.
---
Fantasy Football Betting vs Traditional Betting – What Are the Differences?
Fantasy football betting differs from traditional betting in the type of competitors you'll be against, as well as the size of commissions charged.
You will be betting against other punters
In fantasy football betting, you will not be placing bets against the bookies but will instead be playing against other punters. Since these are unlikely to be professional bookmakers, you will have a decent chance of winning some money from the wagers. In traditional betting, a professional bookmaker will be paid large sums of money to ensure they come up with accurate odds. With this system, it is almost impossible for regular punters to make consistent profits on the sportsbooks. It is also worth noting that the bookies will usually ban you from the platforms if you consistently make huge profits, and the reason given will be that you are a professional player.
Commissions in fantasy football betting are slightly higher
Another difference can be seen in the commissions charged by the sportsbooks. The commissions charged are fairly low in traditional betting, but they vary from one bookie to another. The commissions in traditional betting are simply charged in terms of lower odds. For example, a market with a 50/50 probability will not be given odds of 2.0 but will instead get a lower value like 1.90. In fantasy football, all participants have to pay a commission of about 10%, and this is charged on the entry fees.
---
Best Bookmakers for Fantasy Football Wagers
We have our list of the best online bookmakers for betting on fantasy football. Below, you can read more about our top recommendations and see their advantages/disadvantages regarding the Fantasy Football betting league.
Hollywoodbets Fantasy Pros
Hosted on its own platform
Great prizes
Easy mobile accessibility
Hollywoodbets Fantasy Cons
The website is not available in many countries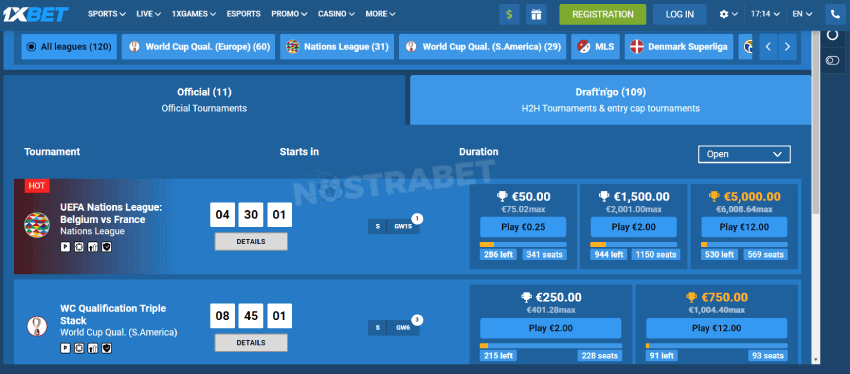 1xBet Fantasy Pros
A top-class platform for Fantasy Football Bets
Various ways to play, including different leagues and single matches
Great option to play through your mobile
1xBet Fantasy Cons
Not available in many countries
Betway Fantasy Pros
Fantasy Games organised by a reputable operator
Great prizes every month
One big prize at the end of the season
Betway Fantasy Cons
The platform is not hosted on the website
Unibet Fantasy Pros
There is a prize every month
There is an individual prize at the half of the campaign and one prize at the end of the season
Unibet Fantasy Cons
The Fantasy platform is not hosted on the website
Not available in every jurisdiction of Unibet
---
What Are the Pros of Fantasy Football Betting?
Fantasy football betting is enjoyable, offers lucrative rewards, is profitable to experienced football fans, and is perfect for players who prefer stimulating real-life fixtures and leagues.
A More Enjoyable Alternative
Fantasy football betting is organized for shorter periods, and this means you can collect your reward sooner. Every week, you can experiment with different strategies and line-ups. You will also be more engaged in real-life matches, as these will determine how well you perform in the league.
Perfect for Players Who Prefer Simulating Real-Life Leagues and Fixtures
If you are excited about certain football leagues and matches, you will find fantasy football betting quite exciting. With fantasy football, you will feel like you are part of the actual football matches and leagues. Actions that happen in the game will affect your position in the league, and this will prompt you to pay more attention to the games.
Fantasy Betting Is For More Experienced / Expert Punters
If you consider yourself an experienced punter, you should sign up for fantasy football betting sites. With more experience, you will have the edge over other punters. This means you will be more likely to make profits with these wagers.
Although fantasy football sites take large commissions from punters, you will still make excellent profits from the wagers. More people are becoming interested in fantasy football betting, and that means the pot size will be quite large.
---
How to Bet With Real Money at Fantasy Football?
First, you will need to sign up on a suitable site, pick your fantasy football team, collect points, and cash your winnings.
Sign Up
There are a number of fantasy football betting sites available today, so you can go through reviews before picking one. After that, you should sign up by providing certain personal details. The websites are likely to ask you to send copies of your ID card or driving license, indicating that you are at least 18 years old. The next step would be to select a deposit method and send your payment.
Pick Your Fantasy Football Team
You should be very careful when selecting a fantasy football team. In this process, you should not be blinded by loyalty to your favourite team and focus on making profits. When creating your team, you should also be wary of new signings. You should give them some time to settle in before adding them to your team. To beat all other punters, you will have to think outside the box and apply non-standard rules.
Gather Points
At the end of the match, your players will get or lose points. All players will get points for goals and assists, but only defenders, midfielders, and goalkeepers will get points for clean sheets. If a player misses a penalty kick or gets a yellow card, they will lose points. For the best results, you should study the past behaviour of different players to determine how they will perform in the future.
Win Awards
If you can get higher points than other punters, you will be rewarded with cash prizes. The exact amount will be determined by the wagers placed by other punters.
---
Fantasy Football Markets
There are three main fantasy football betting markets, and we will cover them in this section.
Weekly Tournaments
Weekly tournaments are extremely popular since they are determined by one or two match days. These tournaments are reset every week, so you will change your team and players after the matches. The advantage here is that you will not be stuck by the same players for the entire season, as you may have made a mistake when picking them.
Player Tournaments
With player tournaments, punters will have to place stakes on individual players, and these bets will pay out if your chosen player proves to be the best performer of the week. The players will collect points based on the goals scored, their assists, and the clean sheets they have. Specific actions like collecting yellow cards will lead to the loss of points. If you think a player may offer a surprising performance over the week, you can place small stakes on them and win high amounts of money.
Season Tournaments
Unlike weekly tournaments, these ones will only be settled at the end of the tournament. While you may get less flexibility with these tournaments, they have been known to yield massive results. If you opt for these tournaments, you will have to remember that you will only be allowed a few transfers every week. If you exceed this limit, you will lose points.
---
What Are Some Dedicated Fantasy Football Betting Bonus Offers?
You can use various fantasy football betting offers, and these include welcome bonuses or free bets.

Most fantasy football betting sites grant new players match bonuses. For example, a bookie may give you a 100% welcome bonus when you make the first deposit on the platform. You should note that such bonuses have maximum limits to ensure responsible gambling. Similarly, the bookies will impose a minimum deposit requirement, which you must meet in order to qualify for the bonuses.

You should carefully go through the terms and conditions of these match bonuses to determine whether any banking options are excluded from the promotion. Also, you should ensure that players from your country are able to claim the bonuses.
Other fantasy football betting sites will give you a free bet instead of a match bonus. These promotions are usually less generous, but they will be granted even before you make a deposit.
However, you will only be able to use the free bet to place wagers and cannot withdraw the bonus amount. You can only withdraw the winnings obtained with the free bet. Remember that you will be required to first deposit and wager real money before you request a withdrawal.
When joining fantasy football betting tournaments, you may be required to observe a minimum betting limit. To prevent players from developing gambling problems, the bookies may also set a maximum betting limit. You should take into account these betting limits when punting with bonuses and promotions.
---
Criteria to Keep in Mind When Betting on Fantasy Football
You should keep the following tips in mind when betting on fantasy football.
Check for Injured Players
Before picking players for your fantasy football team, you should check pregame news and other sources to make sure you don't pick an inactive player. Those who are listed as out or on injured reserve will usually be unable to play future games. If you are participating in-season fantasy football markets, you will have to constantly check the injury reports of your players.
You can't win a fantasy football bet if you don't have money, and this is why you should create a bankroll management strategy. Since wins are never guaranteed, you should split your bankroll so that you play over a number of weeks. When creating these strategies, make sure you research the minimum bet limits.
Always Pay Attention to the Statistics
Before choosing a player, you should study their statistics. One thing you should know is the number of goals the player scores on average. With this information, you will be able to make a prediction on the number of goals they can score, given the strength of their opponent.
You should also study the scoring system before you choose your players. Learn how many points the players earn you when they score goals and how many they lose when they get yellow cards. This way, you can determine how much risk a particular player will expose you to.
---
Overview – Is it Worth Betting on Fantasy Football?
Yes, you should strongly consider betting on fantasy football. This will not just make the football season more exciting, but it can also earn you good money. If you are experienced in football, you will have the edge over your competition. You can also tap into the fantasy football betting odds offered on other bookies to see what the professionals are forecasting. This information should always be combined with your own thorough research. For example, you should carefully evaluate the strengths and weaknesses of specific players. Also, make sure you understand the scoring system before adding players to your team.
---
Fantasy Football Betting FAQ
Is It Legal to Bet on Fantasy Football?
Yes, although traditional sports betting is illegal in several countries, fantasy football betting is not restricted. However, you should use a reputable betting platform to place bets.
Can I Earn Real When betting on Fantasy Football?
Yes, you will have to place real money wagers to win real money in fantasy football betting. You can also use bonuses to bet on these markets, and your winnings will be paid out in real money.
How Can I Receive Fantasy Football Points?
You will receive points for goals and assists. Goalkeepers, midfielders, and defenders will also get points for clean sheets.
Must I Make a Deposit if I Want to Enter Fantasy Football Tournaments?
You can enter these tournaments with free bets, but you will be required to deposit money before you withdraw your winnings.