Football live betting is one of the most popular trends in the world. The betting feature allows punters to gamble on an event after kick-off, thus increasing their chances of making likely predictions. Throughout this guide, you will find information regarding the best live betting sites, famous live betting odds, and some of the features of football live betting. Hence, make sure you go through this read carefully to learn more about in-play betting as it is otherwise known.
---
Which Are the Top 5 Football Live Betting Sites
Below is a list of some of the top five football live betting sites with information on what makes them unique from other bookmakers.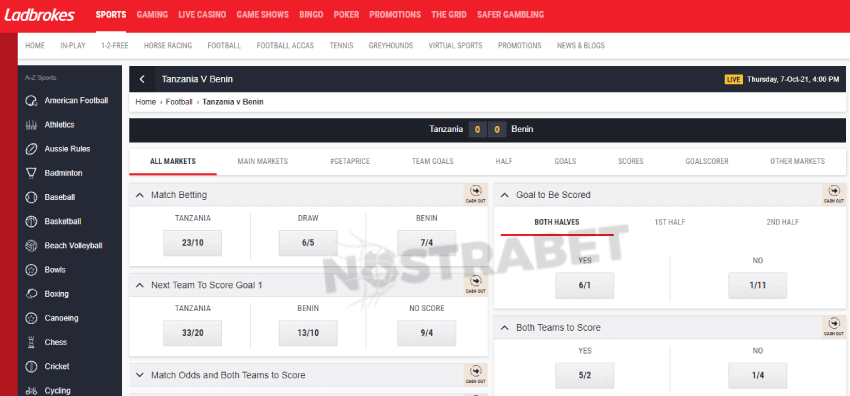 Ladbrokes Pros
Offers cash-out feature
Allows live streaming of particular events
Offers sizeable live betting odds
Provides punters with live betting statistics
Ladbrokes Cons
Betting options are relatively few
888Sport Pros
Offers live streaming feature on select matches
Has a cash-out
Covers a variety of live markets
Provides a live score feature
888Sport Cons
Live betting odds are not generous
Bwin Pros
Has a wide variety of live betting options
Offers live streaming services on select events
Has a live cash-out feature
Offers live score services
Bwin Cons
Live betting odds are low
Bet365 Pros
Live betting events come with diverse markets
Offers cash-out feature
Has a live streaming option
Offers fantastic live animations
Bet365 Cons
Live betting options have low odds
Betway Pros
Provides live streaming to bettors
Offers live score services
Allows both partial and full cash-out
Offers multiple betting options
Betway Cons
In-play odds are relatively low
---
Live Betting Markets Worth Trying
In-play betting events bear an incredible list of markets ranging from complex options to basic or traditional betting options such as correct score, total goals, and anytime scores, not to mention the markets detailed below.
1X2
Deciding whether the results will be a home win, draw, or away win is relatively easy when dealing with live betting. That is because you can see the game's direction live, which is why this betting option is so popular.
Goal Line
Goal-line entails predicting how many goals will be scored in a game. It can be over or under a specific number. Even though it seems easy, making the correct goal line prediction can be tricky, especially if both teams show winning potential.
Over / Under
Similar to the goal line betting option, Over / Under requires you to predict how many goals will be scored in an event. Deciding the number of goals expected per match is fun, especially if you are gambling live since all you need to do is follow the game keenly.
To Win the 2nd half
As the name suggests, the live betting market requires you to decide which team will score the most goals during the event's second half. In live betting, the odds for this market tend to be high before the second half of the event begins.
Next Team to Score
The next team to score involves picking a team likely to score the next goal in a particular match. In most cases, you just need to look at the team with the most attacks, but that is not often the team that scores the next goal, thus making the market tricky and exciting.
---
Why Is Cash Out So Important for Live Betting?
Cash out is an essential feature for live betting since it allows you to either increase your winnings or minimise your loss if the match turns out to be taking the direction you did not expect. The feature permits you to withdraw part of or your entire stake as the event proceeds. Total cash out means the event becomes utterly independent of the outcome. However, it is vital to note that the function is not always available.

For instance, the operator may halt the cash-out feature when there are events such as a red card or a penalty due to blocked markets. However, as soon as the markets become active, cash-out resumes. But then, before opting for the option, you need to carefully time the match so that you can get the most out of the function. Note that in case of a successful cashout, the amount of money you will earn will depend on the football live betting odds when you initiated the action.
---
Live Animations – Is It Good to Have Them?
Live animation is one of the essential live betting features that nearly all top-tier football live betting sites offer. The feature provides gamblers with current statistics of the event as it continues. Thus, you can know which team has the most attacks and which one has numerous shots on target, thanks to live animations.

Furthermore, live animations display outstanding graphics that makes it feel like you are following the actual event. One of the reasons the feature is so important is because it provides punters with the information needed to place successful live bets. In addition, it is the best replacement for the live streaming feature, a rare function in most football live betting sites. When using live animations to place live bets, you need to be observant and good at analysing stats to know what is likely to happen.
---
What Are 5 Features Reputable Live Betting Sites Offer?
Some of the features a reputable live betting site should offer include fantastic football live betting odds and live animations, not to mention the detailed features below.
Live Statistics
A football live betting site with live statistics reduces the amount of time you could have wasted researching while trying to punt on a particular live event. That is because the feature gives you access to valuable data, which you just need to analyse to end up with the likely outcome.
Available Markets
An excellent live betting site should offer multiple markets so that you have a variety of options to punt on. The provided betting selections should consist of complex and fundamental betting markets, such as 1X2, Correct Score, Both Teams to Score, and Totals, among many other choices.
Live Betting Offers
Betting sites are currently offering their clients football live betting offers to increase their gambling activities while minimising their expenditure. Standard football live betting offers include welcome bonuses, reload offers, cashback promotions, and live free bets.
Live Streaming
Live Streaming is one of the most popular features among live betting sites. The option allows gamblers to stream football events as they continue, thus increasing the chances of placing correct bets. That is why you need a site with the function.
In-Play Mobile Betting App
Live betting apps are becoming increasingly popular since they allow in-play punters to access and punt on live matches on the go. That means a gambler gets to enjoy the action regardless of their location.
---
Positives and Negatives of Live Betting on Football
So many advantages come with the football live betting option, which punters can barely overlook. To prove football live betting is advantageous, below is a comparison of the main football live betting pros and cons that you should note.
Pros
A Wider Range of Markets – You can take advantage of a wider range of markets when you choose to place live bets. Thus, the probability of making a successful bet increases.
Greater Value – Even if a fixture offers mediocre odds, once the game starts, that changes. As a result, punters will be able to find some competitive odds in different markets.
It Is More Fun – Live betting is more thrilling due to the fact that bettors can see how the game unfolds and change their bets in real-time.
Cons
Live Betting May Lead to Emotionally Placed Bets – Although live betting is more fun, it can lead to some emotionally placed bets, especially if you are watching your favourite team play. This is why you should try to keep in mind the data and statistics before the game starts. After all, emotion is punters' greatest enemy.
---
Live Betting Odds Explained
Football live betting odds play a significant role in deciding how much you will win in case you make a likely prediction. Once you win, the operator multiplies the odds levels with your stake to get the amount they have to disburse in your account. That is why it is crucial to check the odds sizes when choosing football live betting sites.

But you should note that live betting odds don't remain constant throughout the event. Instead, the operator changes the odds levels more often, especially after a red card or goal is scored. Also, the odds shift as time goes by, which is why you need to pay more attention to the odds sizes at all times.
---
Is it Possible to Place Live Bets from Your Smartphone?
It is possible to place live bets from your smartphone. Bookmakers are trying to make sure punters are not restricted to when and where they can punt on their favourite live events. Additionally, live betting on the go makes sure you keep up with the action regardless of your location. This has seen the number of sportsbooks offering mobile sites and apps that support the feature increase drastically. However, not every smartphone can accommodate live punting functionality.

That is why you need to make sure your phone has a capable browser and the latest operating system if possible. On the other hand, you need to consider specific aspects when choosing the best live betting mobile site. For instance, the live betting mobile site should have a live streaming feature and live animations. Most importantly, it should offer cash-out functionality. These elements will determine the ease of placing live bets.
---
Which Are the Best Leagues for Football Live Betting?
Some of the best leagues for football live betting include Premier League and La Liga. Furthermore, leagues such as UEFA CL and UEL are recommended when placing live bets. That is because they offer multiple markets with fantastic odds. Furthermore, they have enough data to analyse and increase your chances of placing likely bets. But that does not mean that country-specific and region-specific leagues are not recommended. After all, bookmakers tend to provide fantastic odds to country-specific leagues to attract a broader market. Thus, when selecting the best league for football live betting, make sure you understand the competitions to ease live betting.
---
Helpful Live Betting Tips
Some helpful betting tips you need to consider when gambling on live events include watching the action as it unfolds to understand the game's flow and cashing out when necessary to maximise your profits. Furthermore, you need to:
Read the Statistics Correctly
Make sure you go through the statistics carefully before placing live bets to know what is happening so that you may deduce what might happen next.
Bet on Fixtures and Players You Know
To increase the chances of making the correct prediction, consider punting on fixtures and players you know and understand. That is because the step makes it easy to do your research and analysis.
Using your free live bets is the best idea if you want to increase your winning chances while spending less of your actual money.
---
Final Thoughts
The popularity of football live betting is rising, especially among expert punters who understand how fun it is to gamble on in-play matches. But then, to enjoy the form of gambling, you need to pick the right football live betting site which has all the necessary features. Furthermore, this piece provides you with the best live betting tips that you need to increase your winning chances.
---
FAQ
When to bet live?
You bet live when the event you want to punt on has already kicked off. You should also try to bet on teams and leagues you are familiar with.
Why Is There a Delay in the In-Play Betting Feature?
Sometimes a delay may occur during in-play live betting due to a change in odds or a specific event, like a change in the score.
Can I Use the Cash Out Feature for my Live Football Bet?
You can use cash out on your live football bets to either increase your winnings or minimise your loss.
How Are Odds Calculated?
Some odds are calculated using advanced software, while others are based on the operator's decisions.