So, you've finally decided to give baseball betting a shot? Not a bad choice, we have to say. With the MLB season in full swing again, there's no shortage of opportunities to have fun. However, it's not enough to have a fine time and money on your hands — you need good baseball betting sites to play at.
Why is this so important? Well, you can be the best bettor in the world, but there's only so much you can do without a bonus or with only the basic markets. As you probably know, spending several hours looking for the best bookie can be a bit of a chore.
To help you make the process much smoother, we at NostraBet decided to release a guide on the top-rated bookmakers for baseball betting. In the next few minutes, you're going to learn all about baseball gambling sites, markets, and much more. It doesn't take much to become a pro, and that's what we're here to show you. Don't believe us? See for yourself!
---
Baseball Betting Explained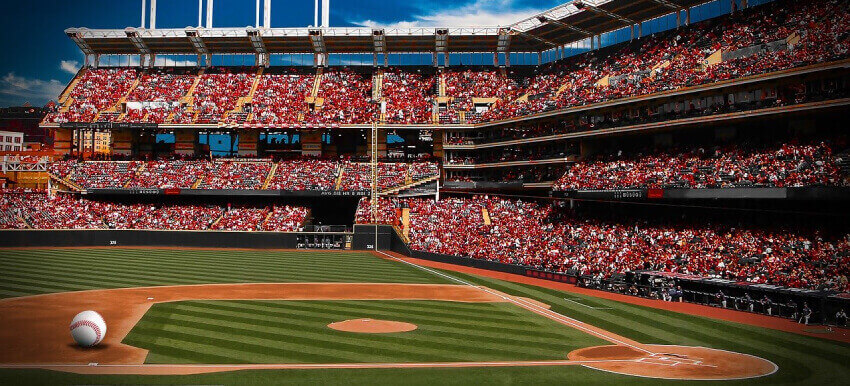 We don't like using big words or expressions with a lot of weight, but there's no denying that baseball betting is a major cash cow nowadays. It's just facts, although it seems like we're embellishing. With 2,430 games during each regular season, you get much more opportunities than you otherwise would with the NFL or the NBA.

Even though the season lasts just six months, there's a game to bet on every day. That's why we love online baseball betting sites. From the comfort of your home, you can pick any day of the week and focus on the best MLB markets. For instance, when you zero in on American football betting, you have to prepare in advance if you don't want to wait for an extra week or two.
Although baseball is in many ways different from other sports, betting on it is very easy. You can apply the same principles and strategies to MLB bets, and you can still hope for a decent result in the long run. Of course, there will still be growing pains, but that happens whenever you take up a new sport. Overall, It's a forgiving pastime that is easy to understand. But now, let's talk about the baseball betting sites that deserve a chance.
---
Recommended Baseball Betting Websites
Everyone can start a sportsbook nowadays. Although the free market allows anyone to be an entrepreneur and conduct business, which is a good thing, there are still question marks. Since there are so many baseball betting sites popping up, the players have it quite difficult to choose. And that shouldn't happen. MLB betting should be easy and fun, not a hassle.

To show you that such an experience is possible, we tested some of the best bookies that accept US players. We've also created a beginner's guide to baseball betting; check it out!
The top baseball betting sites have what it takes to accommodate all your needs and preferences. This list is a subjective one, which means you might be more interested in some options beyond the number one sport. Regardless, you can go wrong with either one. Good luck!
Pros:
You can use some of the promotions while wagering on baseball
There are events outside of the MLB
Punters can utilize different features while betting on baseball
Cons:
Sometimes, there are not that many markets
Pros:
William Hill has detailed guides for betting on baseball
Good odds for betting on baseball
You can punt on numerous MLB events
Cons:
There aren't that many makers for betting on baseball
Pros:
You have the opportunity to bet on different baseball events
Experienced and novice punters can use intriguing features
The popular payment solutions are accessible to baseball bettors
Cons:
There aren't any long-term promotions for baseball and the MLB
Pros:
You can take advantage of Cash Out while betting on baseball
You can find good live betting options for baseball
Betway offers a decent number of markets for baseball
Cons:
There aren't any offers that only work if used on baseball

Pros:
You can punt on baseball events from several countries
Some of the selections offer hundreds of betting markets
The odds are good
Cons:
There aren't any baseball promotions
Pros:
You can wager on more options than just the MLB
The platform allows you to read rules about betting on baseball
You can use the popular Ladbrokes features while betting on baseball
Cons:
There are only a handful of betting markets for baseball, besides those for the MLB
---
What Betting Markets Are Available?
When it comes to spending time on baseball betting sites, there are many factors that can make that time well spent. There's the knowledge of the rulebook and, of course, money management. However, both of these factors pale in comparison to one thing — betting markets. These bet types are the pillars of every good baseball betting strategy.
And, after all, market diversity opens up MLB betting to people of different playstyles. There are lots of bets for people who like to keep it simple. You also have a plethora of exotic bets if you want to switch things up and take bigger risks. Today, we're going to focus on the most popular ones. These MLB bets are the ones you should aim for:
Moneyline Betting
As many bettors like to say, baseball is mainly a game of moneylines. Since it's not the most predictable of sports, you can realistically win even if you're only betting on who will win. Usually, you will find money lines looking something like this:
Tampa Bay Rays +160
Boston Red Sox -130
These numbers signify the possible outcome of each bet if you bet $100. If the odds on the Rays are +160, that means that you can win $160 by betting $100. The plus next to the number means that the team is an underdog, hence the possibility of getting more money. If the odds are negative, like the -130 on the Sox, that means that you have to bet $130 to win $100. The Red Sox are the favourites, basically.
Totals – Over/Under
Total bets are the second most popular market in all of baseball. Sportsbook baseball betting has taken off in part because of this neutral bet. It's also known as 'over/under. It means that you're not betting on who will win but on the total number of runs during the game.
The so-called 'border number' is determined by the bookie and is always accompanied by a .5 decimal. It's there so that the outcome is either over or under the border. For instance, if the Yankees are playing the Blue Jays and the over/under is 9.5, you're betting that the total number of runs will be either more or less than 9.5.
Run Lines
Don't worry; the run line is not some new bet that'll confuse you. Run lines are simply baseball's name for spreads, AKA handicap bets. They exist to provide players with lower odds and are especially popular with casual bettors. How do they work then? Well, you'll see them in a format similar to money lines:
New York Yankees -1.5 (-120)
Boston Red Sox +1.5 (+110)
The '-1.5' means that the Yankees are favourites and that they have to win by 2 runs or more (since it's the only whole number bigger than 1.5). Since the odds are -120, you have to bet $120 to win $100. As for the '+1.5,' it means that the Sox are underdogs and that they mustn't lose by more than 2 runs if your bet is to win.
Betting on Innings
Suppose you're not able or willing to go through an entire game. In that case, baseball betting sites also offer bets limited to a single inning. You can basically bet who will win the inning, who will strike out first, or who will score a run first. Inning-specific bets are an excellent tool for improving your live betting sessions, too. That way, you can just focus on just a few minutes of gameplay and buy yourself a larger margin of error. If your bet doesn't win, there's always the next inning, right?
First Team to Score
This is an easy one. You're betting to see which team will score a run first. The best way to determine this correctly is to take a look at the squads before the game. Follow the reports up until the beginning of the first inning, just to see what the starting lineups will be. From there, you will be able to gouge what will happen depending on the pitcher-batter matchups.
Props Markets
In baseball betting, it can sometimes be difficult to correctly gouge team-related outcomes, such as wins, runs, and the outcomes of each turn. If you're tired of subpar batters messing up your slip, you can always try out prop bets. They focus on specific players and often deal with their stats, such as batting percentages and other contributions. If you want to stop depending on wins and losses to save your betting slip, start following individual players, and you'll be able to bat every bet right out of the park.
Futures
Perhaps the only negative aspect of baseball bets is that they always seem to get resolved so fast. You place a bet, it either wins or not, and it's a done deal. In the futures, you can inject a little bit of excitement at most baseball betting sites. Futures are bets on outcomes far in the future, such as 'who will win the 2025 World Series' or 'who will be the 2024 AL MVP.' The odds on these bets are always juicy, but it's because you can never know what might happen until then.
---
Advantages and Disadvantages of Baseball Betting
Pros
There is a lot of information about the Baseball matches
There are a lot of betting options for each of the games
Cons
The sport is not popular everywhere, so you may need to read a lot about it before placing any bets
Looking at the bigger picture, it's not hard to determine why baseball betting is enormously popular. Perhaps the biggest advantage of this exciting pastime is that there's always something to bet on. You'll never feel like there's a shortage of tips and analytical pieces to immerse yourself in. With a solid strategy and a good mix of basic and exotic bets, even an absolute beginner can score some home runs in the betting department.
As for the disadvantages, the only one we can think of is baseball's uniqueness. While not a flaw per se, the sport does require some time to get used to. And that's completely okay. If you give baseball the time and respect it deserves, it will prove to be a great way to enjoy legal sports betting.
---
Baseball Betting Tips and Things to Consider
Any bettor can win every now and then, thanks to a stroke of luck. But the very best bettors do so consistently. There's no particular secret to accomplishing this, but there are things that can move the needle a little bit. We asked a couple of experts and seasoned players what they think is the key to winning baseball bets. Here's their advice to you:
Learn the strengths and weaknesses of the teams
With 25 players in each squad, MLB rosters are a mishmash of players with different qualities. Learn how all these players work together, and you'll know the strong and weak points of each time you're betting on or against.
Consider the pitchers
A good pitcher with an eye for tricky balls can be a game-changer. Clayton Kershaw, Max Scherzer, and similar super-pitchers can defy the odds, even if bookmakers don't think so.
Pay attention to the batters
The other part of the equation, the batters, also has a big role in determining baseball bets. Check the batting percentages of a team's batting roster, and you'll be able to tell if they have what it takes to fend off opposing pitchers.
Be careful when betting on rivalries
Rivalries are much more than roster quality and recent results. MLB rivalries are decades of history, hatred, and epic matchups. Even if a team is an underdog, they will most certainly rise up to beat their rivals. Keep an eye on such games.
Check injury news
Every team has multiple players for each role on the field. However, when a key player is pronounced out in the last second can turn great odds into bad ones, and vice versa. Follow a couple of MLB beat reporters on Twitter, and you'll be able to keep track of any injuries that might impact your bets.
---
Why Should You Consider Betting on the MLB?
The MLB is one of the busiest and most exciting leagues in all sports, not just baseball. With 2,430 games plus the playoffs, there's no shortage of excitement. It's also very much data-driven, which gives you an ample opportunity to come out ahead thanks to various betting tools. And, honestly, you couldn't have chosen a better time to be on the lookout for baseball betting sites. More than ever, this type of competition almost always results in players getting bigger bonuses and better odds. You in?
---
---
FAQs
How to register at a bookmaker and place baseball bets?
To register at baseball betting sites, click on the 'Register/Sign Up' box on the bookie's homepage. Then, you just need to provide some basic personal information, such as your first and last name, address, phone number, and email. Once you complete the registration process, you can make a deposit, pick up a bonus and start betting.
What should I look for in baseball betting sites?
The first thing you should look for in an MLB bookmaker is a valid license. Whether it's a US one or from a foreign regulator, it doesn't matter. The most important qualities the site has to have are market diversity, 24/7 customer support, and a good collection of bonuses. All of this together makes betting on the MLB so much fun.
Which MLB markets are the most popular?
Moneylines are generally the most popular, while totals have also seen a rise in popularity these last few years. Futures are also fun if you don't mind risking a bit of money for some great odds. Betting on innings is worth trying out, too.
Can I bet on MLB futures at baseball betting sites?
Yes, the best baseball betting sites usually have a set of futures. These usually involve the winner of the World Series in the upcoming seasons and the potential recipients of the MVP and Cy Young awards.
What are the signs of a bad MLB bookmaker?
Usually, you can determine a bookie's worth by looking at player reviews. Miscommunication isn't uncommon, but if there are many complaints about withheld winnings, late payments, and slow response times, you should be worried.
How to find the best baseball betting site?
The easiest way to find the best MLB betting sites is to look at our list of the top baseball bookmakers, of course! We've tested every popular site and created a ranking to help you see what's at your disposal.