The quality of your preferred bookmaker can make or break your betting endeavours. Sure, you can soak in all the statistics and be in tune with the latest news, but that doesn't guarantee that you'll find value in your punts. To extract as much value as you can, you need to play at the best horse racing betting sites.
We tested some of the best horse racing gambling sites, tried their bonuses, and analyzed their markets. All of this, just so you can just relax, pick a bookie, and start placing bets. Does that sound good to you? We thought so. Let's start from the basics.
---
Horse Racing Betting Explained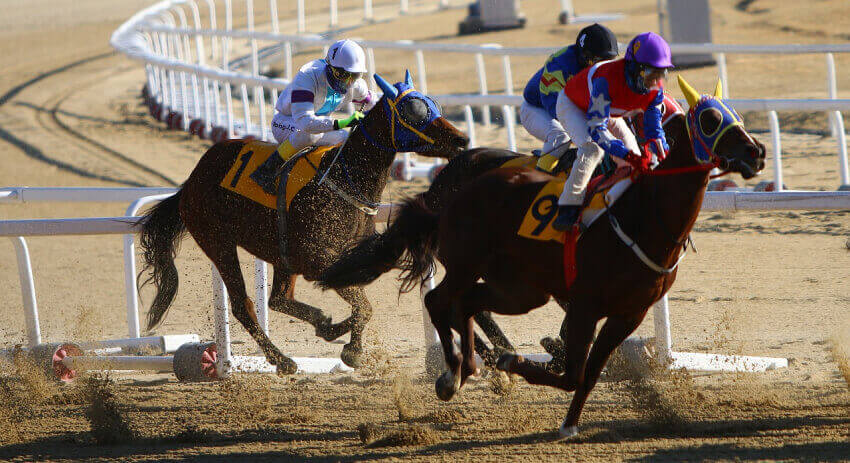 Unlike most sports, where there's a steep learning curve, horse racing can be understood even by a complete layman. It can't be simpler, really. You have a bunch of horses, which are ridden by jockeys, and they race on a track to see who will finish first.

There are flat races, which feature a regular round track covered in either grass, sand, or synthetic materials. Another popular form of horse racing is jump racing, where horses have to traverse obstacles such as hurdles, fences, water ponds, and many others. Harness and endurance racing are also popular but don't garner as much attention as the first few types.
To find out more and get more great insight, check out your beginner's guide to horse racing betting. Combine that knowledge with the bookies that we'll provide below, and you'll put yourself in the best position to succeed. It really is that important. Taking punts in more than just research. Every top pro likes to cover all the possible factors that might lead to potential wins.
---
Best 6 Horse Racing Betting Websites
Here's the part you've been waiting for. Whether you're playing on your desktop or you have a horse racing betting app, the conditions are the same. Both need to come from verified bookmakers that are approved by governments and regulatory bodies. All the best bookies have a license, so there's no point spending time on grey-area websites.

Furthermore, the online betting websites we recommend offer great bonuses and have some of the industry's best horse racing odds. Basically, you can't go wrong with any of these trusted online bookmakers. The only thing you have to do is explore the list a bit, take a look around, and make a choice depending on your preferences. Easy, right? Definitely. May luck be on your side, fellow punter!
Pros:
Plenty of bonuses for horse racing
Numerous horse racing events to bet
Good odds for this sport
You can watch most horse racing events in real-time
Cons:
Sometimes, you can't use every feature while punting on this sport

Pros:
One of the largest selection of horse betting promotions
You can add a specific horse to favourites and keep track of its performance
There are loads of races to punt on
Cons:
No betting tips for horse racing
Pros:
Horse racing events from several countries
There is a horse racing guide
Some events offer a live stream
Cons:
No special rewards for horse racing
Pros:
You can punt on live horse racing events
Specific promotions for horse racing
You can find horse races from different parts of the world
The bookie offers one of the most extensive selections of markets for this sport
Cons:
Some promos may work only if you punt on a specific race
Pros:
High horse racing betting odds
More than enough races to choose from
Live Streaming for some races
Individual promotions for horse betting
Cons:
Sometimes, you can't find any analysis after the race
Pros:
Top-notch live streaming coverage
Fantastic betting markets
Dedicated horse betting promotions
You can learn more info about horse betting
Cons:
Horse betting fans from some countries may be unable to use this platform
---
What Betting Markets Are Available?
Despite what many people will tell you, playing at horse racing betting websites is much more than just picking the winner. In fact, there are some bets that completely disregard whether or not a horse will pass the finish line first. You can mix and match a lot, and that's one of the things we simply adore about this sport. So, here are the most common markets and their explanations:
Race winner
You're choosing a horse that you think will win the race. When there's a favourite, you have to risk a lot to win a small sum. Underdogs are longshots to be victorious but will get you a high return if they manage to pull it off. Sure, a favourite is a favourite for a reason, but the middle-ground can also be good. A relative outsider can win under certain circumstances. If you bet on such a horse, you can get your money's worth and then some.
Place only
Many top horse racing betting sites allow you to disregard the winner altogether. One way to stop paying attention to it is the place-only bet. It lets you pick the exact spot where a horse will finish. Whether it's 2nd or 20th, there are odds for everything. As risky as it may be, this market is a high-return one.
Each way – win and place
If you want to risk a small amount of your bankroll but win high, this is the bet for you. In horse racing, it allows you to pick a horse to both win and place. Let's take the 2021 Grand National as an example. Bookies offered Minella Times the opportunity to finish 1st, 2nd, 3rd, or 4th and win. It's like a double bet. Since she won the race, you would have won the full amount. If she finished, let's say, 3rd, you would only win a portion.
Tote betting
A tote bet is the same as the market, but you receive your winnings from a pool of placed bets, not according to fixed odds. It can only be placed on races with more than two runners. The requirement placement range increases the more horses there are.
Forecast
Forecast markets let you bet on the winner and 2nd-placed horse, in exact order. If they switch places in any way, shape, or form, you lose. So, you pick precisely who's 1st and who's 2nd. It's riskier than the race-winner bet, but the odds are much higher.
Tricast
The same as the forecast, but you also guess which horse will be 3rd. It's one of the riskiest markets, especially at the best online horse racing betting sites. Since they offer odds on anything, tricast odds will be the highest. Don't rely on this bet too much, as it's very hard to get it right. You may use a horse racing bet calculator to save you some time.
Swinger
Pick two horses to end up in any of the top three spots when the race is finished. 1st and 2nd / 2nd and 3rd / 1st and 3rd are the available options. It's a cool variation of the forecast bet, and it gives you the opportunity to take a bigger risk.
Reverse Forecast/Tricast
The reverse version lets you pick the top 2/3/4 horses, but not in a particular order. NostraBet believes this a market you can rely on pretty frequently. It's not hard to give an excellent estimate of the best contenders, and you can get a decent return.
Placepot betting
Unlike the previous markets, this one involves multiple races. You can make a bet for six races in a single event. Also, you pick how many selections you want to assign to each race. The more selections you have, the higher the chances of a horse placing within that race. It's like the Tote bet, but for six races, not one.
Tote Jackpot
Basically, it's the Placepot bet, but you pick just the winners for six races, and you get your winnings from a prize pool.
Quadpot
A variation of the jackpot. Instead of picking the winner of races 1 through 6, you can choose a horse to place in the top 2/3/4 races 3 through 6.
Antepost
Antepost markets are found at all the top horse racing betting sites. It's the same as the future in football or eSports. You're betting on who will win an event that is days, weeks, or months away.
---
Advantages and Disadvantages of Horse Racing Betting
Pros of Horse Racing Bets
Easy to follow sport
Excellent sport for beginners
Varios sports betting markets
Cons of Horse Racing Bets
You need time to be successful
We've already said it, but horse racing is indeed an easy sport to follow. Whether it is jump races or flat races, the goal is the same. To Win. With that in mind, it's excellent for beginners. There's also a lot of bets to mix, which gives you more chances to win. There's also something for every level of risk. Want a surefire win in the form of a small amount? Go for the match-winner market. Want to go crazy? The trifecta it is.
As far as disadvantages go, the number of bets can be overwhelming. If you want to be really good, it's going to take some effort. Also, it's not like football, where teams that are losing have the whole game to turn it around. Horse races last only a minute or less, and one right or wrong decision by a jockey can doom you.
---
Horse Racing Betting Tips and Things to Consider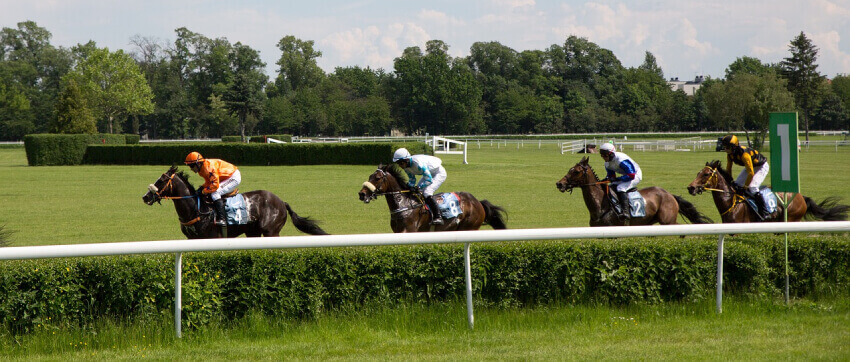 Once you've honed your craft and picked one of your horse racing betting sites, consider these tips. They can steer you in the right direction and allow you to see beyond the odds. It can be the difference between a trap and a big win.
Study the horse's form
It's simple. Horse racing is all about form. If a horse is feeling good, it shows in the results. 5-10 races is a great sample size to start from.
Follow the news around the race
Injuries, horses pulling out, disqualifications — all this can happen on the day of the race. Follow blogs, sites, and journalists to be up to date.
Be careful with weather changes
The surface, especially at jump races, doesn't respond well to rain, snow, or overly hot/cold temperature. Study how the ground behaves and pick your poison accordingly.
Check the history of the horse and jockey
Just like checking the form, this is establishing a sample size. Some jockeys and horses are better than others, and they are favourites for a reason.
Don't avoid the outsiders
Gambling is largely reliant on luck, no matter how prepared you are. That doesn't always have to be a bad thing. If you can afford to lose a small wager, pick an outsider and see what happens. The losses are barely felt, while a win will feel good.
If you can, watch the races
Believe it or not, this is the most important thing. Horse racing is not just a means to earn money; it's an experience. So, grab a stream or visit your local racetrack, ideally. There's just nothing like spending time with your mates, reading the program, and cheering for a Thoroughbred horse to make you a happy man.
---
Live Betting on Horse Races – Is It a Good Choice?
Not really, if you're in it for the cash. Races often last a short amount of time, and everything happens so fast.

Nevertheless, following how the odds change and picking an outsider can be fun. Try it, but don't make it an integral part of your betting system.
---
FAQ
How to bet on horse racing online?
Pick one of our recommended bookies, study the rules, pick a market that suits you, and go from there.
What is the best way to bet on horse racing?
There's no single system that works for everyone. Different strokes for different folks. However, NostraBet is always a proponent of the middle ground. A proportionately lucrative risk level is the way to go if you ask us.
How to find the best bookmakers for horse racing betting?
Our list has all the verified bookmakers you need. They're the best in the business and will provide you with all the tools you need for a great time.
Can I place live bets on horse races?
Yes, you can, but not too many bookies offer this option. Check before you create an account if in-play betting is essential to you.
Is placepot betting too risky?
It doesn't have to be. Just don't be too greedy.
Are statistics important in horse racing betting?
Things like form, records, and the horse's parents can tell you a lot about its chances during a particular race. That's a yes.
Should I place ante-post bets?
Why not? If you feel strongly about a horse, back it and get some good odds while you're at it.