Are you a guy/gal that needs some proper golf betting sites? Well, it just so happens that the NostraBet team has been secretly working on a top list of our own for the last few months. We thoroughly tested all the best bookies on the market, focusing solely on what they have to offer in golf markets.
Aside from the number of available bets, we've also considered things like licensing, reputation, aesthetic appeal, and much more. If you decide to bear with us, you'll find out about all that in just a bit.
---
Golf Betting Explained
Golf is mostly an individual sport, aside from the Olympics and some other competitions. Despite this, it offers more betting options than even some of the most elaborate team sports, such as American football. This is the case because 50-100 golfers all face off against one another. With so many things going on simultaneously, you will have ample opportunities to seize the day and break the bank.

If you haven't spent time at golf betting sites, then the sport might be a novelty to you. Don't worry, though — our beginner's guide to golf betting contains everything you need to get up to speed. Also, it's a very stat-based sport, and correlations between various factors and their outcomes are pretty straight-forwards.
And the best part? Oddsmakers sometimes have a hard time gauging the playing field, so it's easy to snatch some great value bets. But before we check out all the available markets, let's focus on the top golf gambling sites, shall we?
---
Recommended Golf Betting Websites – Best 7
So, how does one find trusted online bookmakers for golf betting? Well, first and foremost, you should look at licensing and reputation. All the top betting sites are monitored and audited by reputable regulatory bodies. If something goes wrong, these organizations will provide assistance. But even the best license isn't worth anything if the players aren't happy with what they see.
Additionally, the best bookies for golf have to offer lots of exotic bets. Nobody wants to bet on one or two futures and call it a day. Thus, these sites have to have the full package. It's the only way to make your betting sessions fun and dynamic, right?
Well, with that (and much more) in mind, we tested hundreds of licensed bookmakers. The result of our test is the table you see below. All the sites you see in front of you are the cream of the crop when it comes to golf betting.
Pros:
Large selection of golf events that you can bet on
There are more than enough markets for every type of golf bettor
You have access to a betting guide for golf
Cons:
888sport does not have a betting promotion for golf
Pros:
Exclusive golf betting promotions
The operator will provide you with a wide range of betting markets for golf
William Hill has special features
Cons:
Golf betting fans from some countries may have problems accessing William Hill

Pros:
Usually, 1xbet offers several big golf tournaments that you can bet on
The site has a great live betting section allowing you to punt on golf
Everyone who wants to bet on golf can access a wide range of markets
Cons:
1xbet lacks any long-term Golf-exclusive promotions

Pros:
Some golf events have more than 120 betting markets
One of the leading sites when it comes down to golf betting features
You can bet on golf using this platform while being on the go
Cons:
None of the promos is exclusively available for golf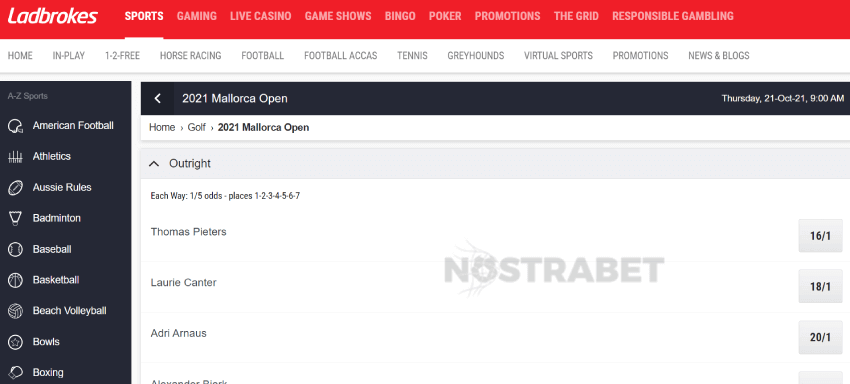 Pros:
By choosing Ladbrokes, you can punt on The Masters' Tournament, as well as other big gold events
Ladbrokes offers good odds to those who decide to punt on golf
You can use different features while betting on golf
Cons:
The bookie does not provide golf promotions

Pros:
Choosing 22bet will guarantee you can wager on every popular golf event
Sometimes, there are more than 100 betting markets for this sport
You can switch between six odds formats while punting on golf
Pros:
A wide range of golf events to bet on
You can read a golf betting guide
Some of Betway's promos can be used while punting on golf
Cons:
There aren't any golf bonuses
---
What Betting Markets Are Available?
Now, it's time for the juicy part. We've scoured the top golf betting sites online and determined that these markets are the most common. Our advice is to mix them up regularly. Sure, waiting for just one big bet is fun, but that leaves a lot of room for error. Instead, you should target different facets of a golf tournament and use them to your advantage. So, without further ado, here are the essential bet types found at most golf bookies.
Tournament Winner
This one is as simple as they come. It's basically a future bet, but some sites offer it while the tournament is underway. You're betting on a single golfer to win the whole thing. The best way to approach this is to analyze said golfer's opposition, whether the course suits him, and his placement in the draw. So, you shouldn't just look at golf betting odds. Observe the whole picture, and your picks will be more successful.
First-Round Leader
Everyone knows that closing out a majors tournament on a Sunday is one of the toughest things in all sports. Many things can happen, and there's a lot of research to be done to accurately predict a golfer's performance over the course of four days.
That's why the first-round leader market is a great alternative. While FRL golf betting odds might sometimes be directly proportional to tournament winner odds, it's not always like that.
Simply put, some guys perform better when they aren't under pressure. Couple that with factors such as weather and the luck of the draw, and it's entirely possible to see an underdog take the lead on Thursday.
Some notable examples of FRL longshots include Joel Dahmen, Sam Saunders, Tony Finay, and Keither Mitchell. With this market, you can easily find 70-1 and even 100-1 odds and hit on them if everything goes your way.
Each Way
Tournament winner bets are almost always risky. If you want to bypass this risk, each way bet is a perfect solution. It allows bettors to pick an approximate ballpark where a golfer will finish, aside from touting them as the one to take home the crown.
So, let's say Rory McIlroy is competing, and you aren't sure whether he will win the competition or not. With each-way bet, you can also bet that he will finish in the top 6/7. If he doesn't emerge victoriously, you will still win some money if he places high enough.
Top 10 or Top 20 Finish
A close 'relative' of the tournament winner market and each way one, this particular bet gives you much more breathing room. Of course, the odds are usually lower, as there is a bigger margin of error.
However, you can also find some nice lines if you're betting on an underdog or a younger golfer. Don't bet on the favourites to finish in the top 10/20, as they're almost a shoe-in for that position. Finding a proper middle-ground and a nice risk-to-reward ratio is entirely realistic.
Hole in One
This one is a bit of a long shot and isn't found on all golf betting sites. Hitting a hole in one, even on a par-3 hole, is very, very rare. So, why not wager just a bit of money, just so you can get a gargantuan return? The best way to approach this one is not as a future, but after seeing what unfolds on Thursday or Friday.
If a golfer is on a roll and has hit an Eagle or two, there might be a chance that Lady Luck will be on your side. Just don't rely on hole-in-one markets too much. View them as an addition to your strategy, and don't think about it too much.
54 Hole Match
If a tournament is plagued by bad weather and other factors, it might not go on as normal. That's why bookies allow punters to bet on the leader after 3 rounds/54 holes are completed. Since end-result bets get voided if the competition hasn't gone until the end, the 54 hole match market lets to avoid this and still win a bit of money. Follow the weather forecasts for each tournament you're betting on, and you should be okay.
---
Advantages and Disadvantages of Golf Betting
Pros
Wide range of markets
High odds
There is a lot of information and statistics
Cons
The golf's rules are different from other popular sports
The main advantage of playing at golf betting sites is the abundance of markets and things that can happen. Upsets are pretty common, and punters have always deemed golf as a sport that can yield potentially big profits. Golf is also heavily data-driven, which means there are no ambiguous predictions or shots in the dark.
As for the disadvantages, one significant downside is that golf is unique. For instance, if you already know about rugby and football, Gaelic football can be easily mastered. Golf, however, doesn't have any close relatives. So, there might be a steep learning curve. However, as you progress, this will become increasingly easier.
---
Golf Betting Tips and Things to Consider
You've come so far, congratulations! Now, the only thing left to do is to focus on all the knowledge we've provided so far. The best way to accomplish this is to follow these tips. They are the pillars that can make or break your time on golf betting sites. Follow them closely, and you should be able to achieve your maximum potential.
See the players' form and statistics
The gameplay doesn't tell the whole story. If a golfer does well on a Thursday or a Friday but they have a history of choking in the final two rounds, you shouldn't bet on them to win. If you think something might happen, check the golfer's recent form and scores. It should give you a clear answer on what to do.
See the draw of the tournament
Draws mean everything in golf. If one player is selected to drive in the morning, he might perform well when the weather is good, even if he's mediocre. On the other hand, if a golfer drives in the afternoon when there are strong winds, his talent might be neutralized by the weather. So, follow the forecast and cross-reference it with the draw.
See the draw of the tournament
Study the course
Watch footage from previous tournaments there, analyze the obstacles and correlate them to each golfer's strengths and weaknesses. This can make or break your bets, so be careful.
Choose experienced golfers
In golf, more so than in other sports, experience is key. A seasoned veteran knows how to handle the pressure, whether it's getting himself out of a bunker or performing well on a Sunday. Some bookies don't account for this, but the stats are almost always on the side of experienced athletes.
---
Why Should You Bet on Golf Majors?
The four majors are the cream of the crop when it comes to this sport. Golf betting sites tend to offer limited-time promotions and free bets for the US Open and the Masters, so you ought to take advantage of that.

There's also a lot of info, data, and pre-tournament shows to discuss what will happen. All of this puts you in an ideal position to watch some of the best golfers in the world and win while you're at it.
---
Is It Worth It to Bet on Golf?
We get asked this a lot, but in reality — there's no definite answer. Whether or not you earn money by playing at golf betting sites is entirely up to you. It depends on how much work you invest in preparation, what's your budget, how risky are your bets, and so much more. You are in control, and you alone can make golf betting worth it. Just be smart, don't get greedy, and you should definitely be fine in the long run.
---
Questions and Answers
How to find the best sites for golf betting online?
It's simple — use NostraBet's list of the top-rated golf bookmakers, and you'll be in the best position possible.
Should I bet on hole-in-one markets?
No, not always. If you have money to spare, you can place a small wager, but golf betting has other markets too.
What happens if I bet on a golfer and he hasn't teed off?
Your bet gets voided, and the odds don't count if it's a parlay. If it's single, you get your money back.
Are match-up bets a good idea in golf betting?
This depends on who the two golfers are. Betting on a rookie versus Rory McIlroy is obviously not a good idea, but the opposite is also not recommended. You should find the right balance between good odds and a realistic chance to win. Evenly matched golfers are what you should be aiming for.
Is golf betting hard?
Not at all. If you're new, it might take some time getting used to, but golf as a whole is pretty straightforward.
Which tournaments are the best for golf betting beginners?
The majors. You get to see the best players in action, plus there's a lot of coverage.
Does the course play a significant role in golf betting?
Yes, you should always study it before taking a punt. Get to know the obstacles, the par score of each hole, and everything else that might affect your bottom line.