Although it may not be as appealing as other mainstream sports like football and tennis, volleyball is still one of the most popular events at the Summer Olympics. For fans who're looking to double their fun, numerous online volleyball betting sites offer a range of markets with attractive odds.
You will also find that some of the best websites feature live streaming for particular matches to enhance your punting experience. Nevertheless, gamers must bear in mind that not all sportsbooks are as fair as they claim. Let's find out more about how you can identify the best volleyball betting sites.
---
Volleyball Betting Explained
In volleyball, two teams, both with 6 players each, battle it out on a court divided by a high net. Three team members, a libero, and 2 setters play defensively and take the back row. The other three players, left, right, and middle hitters, take the offensive line. A team will earn a point if the ball hits the opponent's side of the court or if the opponent commits a foul. More details about the rules of this sport you can read in our volleyball betting guide where we describe some of the basic terms too.
A team has to score 25 points before its opponents to win a set, with a 2-goal difference. A match normally consists of 5 sets. Bettors then predict the different outcomes, such as which team will win the match or how many will be scored. Volleyball betting sites facilitate different opportunities for punters to predict a wide variety of outcomes during a match or tournament.
---
Best 7 Recommended Volleyball Betting Websites
Competition in the gaming industry is overwhelming. Every volleyball betting site has a marketing strategy and will, therefore, look and sound promising. A bettor can use some simple benchmarks to identify top bookies. Suitable professional websites typically offer the most lucrative betting odds in various markets.
Before making a commitment, check to see if a site includes the major volleyball tournaments, such as the Olympics and FIVB World Championships. The best online operators have licenses from reputable gambling authorities. Trusted bookmakers also offer sizable bonuses and promotions without manipulative fine print.
We recommend that punters research thoroughly and find out as much information on a volleyball betting website before making their first deposit. Other benchmarks to consider are customer service and banking options available. To get a kick out of your hard-earned cash, always take some measures to ensure that you're playing at trusted betting sites.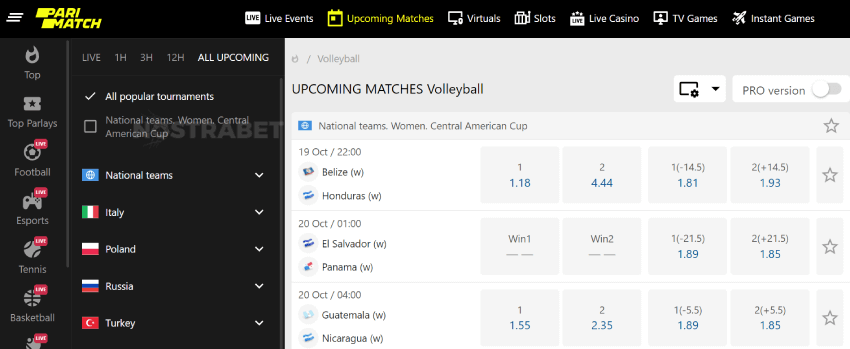 Parimatch Pros:
Live betting options for volleyball
Various markets for different volleyball matches
You can use several features while punting on volleyball
Parimatch Cons:
There aren't any volleyball-related promotions

888Sport Pros:
You can bet on volleyball while using the app
A good number of events
Sometimes, you could use bonuses for betting on volleyball
888Sport Cons:
There aren't a lot of markets for some volleyball events
22bet Pros:
You have access to every popular volleyball league
Certain events offer multiple markets
Competitive volleyball odds
22bet Cons:
No proposals exclusively available for volleyball
Betway Pros:
You can read a guide for betting on volleyball
Numerous live betting opportunities
A wide range of volleyball leagues and competitions
Betway Cons:
The site can't be accessed in some countries
1xbet Pros:
Dynamic volleyball live betting odds
Solid range of volleyball tournaments
Different statistics and features
1xbet Cons:
Absence of volleyball-specific promotions
BetWinner Pros:
The platform gives access to almost every volleyball competition
Live coverage for most volleyball events
Plenty of markets, even for the lesser-known volleyball tournaments
BetWinner Cons:
You won't find specialized volleyball promotions
BoyleSports Pros:
Live betting options for volleyball
A large number of events to bet on
Helpful features you can use while punting on volleyball
BoyleSports Cons:
Not enough markets for some volleyball events
---
What betting markets are available?
You can forecast several possible outcomes related to a particular volleyball match or an entire tournament. For example, punters can bet on which team will clinch the first set or the match or even the entire tournament. You may also try and guess the accurate score if you're up to it.
These bet types are called betting markets, and each bookmaker will have a specific selection. A volleyball betting site will set the potential payouts for accurate predictions for each market, also known as odds. These are some of the most typical betting markets for volleyball.
Match Winner
This is when you put your money on which team will win a particular match. Also known as the money line bet, this is the most common market because of its straightforward nature. Backing the underdog usually pays better than betting on the favourite.
Total Points – Over/Under
This bet type gives players a chance to predict the cumulative number of points that both teams will score throughout a match. The average total points for each match are somewhere around 135 points. Instead of stating the actual figure, bettors can wager either over or under the total points. For instance, if you predict that a Match will total + 134,5, your bet wins if the total points are 135 and above.
Handicap markets
A match may be one-sided and have almost obvious results if a great champion is playing against a novice. The bookmaker, therefore, gives the underdog an imaginary lead. For example, if you place a +2.5 handicap for the USA, you win even if the USA team loses the match with a 1-point deficit.
Sets Betting
To make things exciting, you can bet on the outcome of a particular set regardless of the entire match. You can predict which team will win the first match. This is a potentially profitable market for the keen bettors who are well versed with teams and tournament statistics.
Winning Margin
This is a market for punters who are confident with their predictions. Not only will you predict which team to win, but you must also foretell what the winning margin will be. It may be relatively easy to predict the winner of the match, but guessing the goal difference will take a genius.
Double Result
This is when you make a single bet on two outcomes. In volleyball, you may predict the winner of the first match and the winner of the entire match. Both predictions have to be correct for the bet to payout. And the odds will typically be greater as it is a complex bet.
Correct Score
To win the bet, you have to predict which team wins and the correct scoreline at the end of a match. This is one bet type that will require punters to spend more time researching and gathering statistics and is, therefore, not ideal for novice bettors.
Outrights
Outright bets are wagers based on the results of an entire competition. You can back the United Kingdom Women's team to win gold at the Olympics, for example. You must place your bets before the tournament starts and wait for the end of the season. Some of the results will unravel before the competition ends.
---
Advantages and Disadvantages of Volleyball betting
In all forms of betting, you cannot have a run of luck but not face some kind of adversity. Punters need to manage their expectations. Betting can be a source of entertainment, but if you do not take care, you may fall off the edge. Here are a few pros and cons of betting on volleyball.
Advantages
Volleyball is an enthralling sport that creates a wide range of enticing markets from a diverse collection of tournaments.
With the right attitude and financial restraint, this is an excellent form of entertainment.
Although there can never be a sure way to win, a bettor can learn some tricks to improve their chances of winning.
Disadvantages
There are no guarantees, bettors cannot control the outcome of the matches or tournaments. For example, sometimes, an underdog will clinch a miraculous win defying all odds.
Betting on volleyball, especially online, maybe addictive as it gives a false sense of confidence.
---
Volleyball Betting Tips and Things to Consider
By using comprehensive research techniques, punters can play at different volleyball betting sites and have the time of their lives while pulling in some decent cash wins. However, there are no real guarantees as betting also requires luck.
Follow the team news
An intensive evaluation of the teams playing against each other will help you make more valid decisions. Find out detailed information about which players are out on injuries or any new additions to the team.
Consider the strenghts and weaknesses of the teams
Remember that volleyball is a team sport. Do not make decisions based solely on how individual players are performing, but rather consider the strengths and weaknesses of the team as a unit.
See statistics
Before each bet, take a long hard look at the general statistics. For example, find out how many medals a team has won and so forth.
---
Live Betting – is it a good choice?
Live betting at online volleyball sites is the most invigorating gaming experience and has many benefits compared to pre-match wagering. The wonderful thing about live bets is that you can observe the form in which a particular team is in and factor that into your decision making. This method of gaming is more exhilarating as you get to watch a piece of the match unfold before wagering.
Some spontaneous occurrences may emerge and change your perception of the entire match. For example, during the first set of a match, a crucial team member like the libero or the spiker may get an injury, pushing the game differently. This form of betting creates a new level of fun, intrigue and spontaneity.
---
Is it worth it to bet on Volleyball?
Volleyball, the sport, is an amazing discipline that attracts global attention although less popular than football. The game is fast-paced and presents plenty of enticing betting opportunities. Suppose you can pick the right betting website. In that case, you will be able to enjoy quality betting odds that are potentially lucrative.
Volleyball betting online is convenient as the bettor can do it without leaving the comfort of their home. Although there are some disadvantages to volleyball betting, it is one of the most enjoyable forms of sports betting. So, yes, it is definitely worth it to bet on volleyball.
---
FAQ
How to find the best volleyball betting site?
You must set some benchmarks to help you find the best website. Check and evaluate the following; licensing, variety of markets and profitability of odds and quality of customer service.
Can you place bets on Olympics Volleyball?
Yes, you can. Depending on the betting site you choose, you can bet on numerous local, regional and global tournaments, including the Summer Olympics.
Can you also bet on beach volleyball?
Yes, you can bet on various beach volleyball leagues. However, take heed that the rules of beach football are a bit different from the indoor game.
What do over and under mean in volleyball betting?
This is when you make a prediction of whether the total points that will be scored collectively by both teams will be over or under a certain threshold. It is not about who wins.
Can I place my volleyball bets on different websites?
Certainly, you can join multiple sportsbooks and bet on volleyball at each of them. We advise beginners to stick with one site initially to avoid adding complications until they are more experienced.