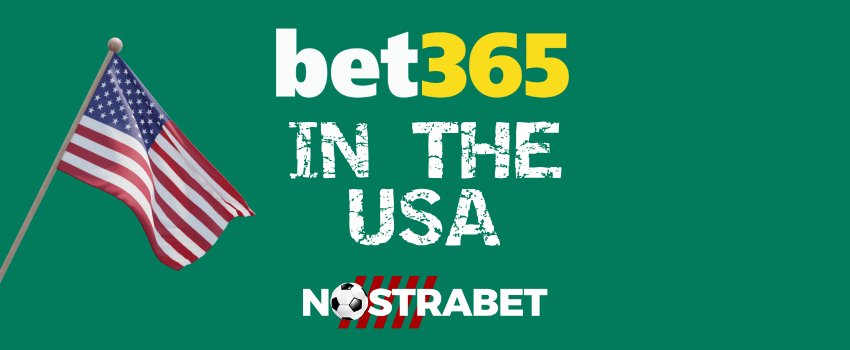 Ad disclosure
Commitment, professionalism and trustworthiness are the core values of NostraBet (NB). We manage to deliver cutting-edge betting products to our readers thanks to our affiliate business model. It is true that NB uses affiliate links to drive traffic to bookmakers. What you must know is that these are free for you to use. Their main purpose is to earn us commissions that will ultimately be invested in the betterment of our product. Visit our
Ad Disclosure
page to learn all the details.
As one of the most recognised online sportsbooks, Bet365 is in huge demand in Asia, Canada, Africa and Europe. Fortunately, Bet365's expansion efforts now allow Americans in Ohio, Iowa, Colorado, New Jersey and Virginia to legally access the sportsbook. The odds are that Bet365 will become legally accessible in other states, but for now, let's look at those states the bookmaker is legally allowed to operate.
Ohio
On January, 1st 2023, the signing of House Bill 29 by Ohio Governor, Mike DeWine, saw the state of Ohio become the 5th state to allow legalized sports betting online. The bill allows bettors to legally place sports wagers with licensed online bookmakers, such as Bet365, within the state.
However, while Bet365's allows bettors to legally place bets online, the license issued to Bet365 does not extend to retail betting outlets. Furthermore, Bet365 must adhere to the Ohio Casino Control Commission restrictions that prevent the bookie from taking any bets on amateur or high school sports.
Likewise, Bet365 is prevented from offering bets on referees, coaches, groups or persons not directly involved in a sporting event, and eSports may only be offered if approved by the Ohio Casino Control Commission.
Iowa
On June 5th, 2023, the state of Iowa became the 3rd state added to Bet365's expansion efforts into the U.S after it entered into a multi-year partnership agreement with Casino Queen Marquette. The agreement, which was approved by the Iowa Racing and Gaming Commission, allows Bet365 to act as Casino Queen Marquette's second online sports betting skin.
While the agreement does not provide Bet365 with an official license within the state, it does allow the bookmaker to accept bets from Iowa residents who are 21 or older via its multi-year partnership agreement with Casino Queen Marquette.
Colorado
In September 2022, Bet365 continued its expansion efforts into legalizing sports betting in the U.S with the signing of a partnership agreement with Century Casino to allow the bookmaker to use one of the casino's master licenses with the State of Colorado.
Similar to its Iowa partnership, Bet365 is required to adhere to the state's online gambling regulations and laws. Specifically, this includes laws relating to amateur and eSports betting, and similarly, Bet365 is not permitted to offer player prop bets or accept bets on who will win the Heisman Trophy.
New Jersey
In August 2019, Bet365 began offering mobile and online sports betting services via its partnership agreement with the Hard Rock Casino. Similar to other agreements, Bet365 is bound by the laws that govern the Hard Rock Casino and likewise, all betting services are overseen by the New Jersey Division of Gaming Enforcement. In order to access Bet365 New Jersey, customers must be a resident of the state and be over 21.
Virginia
In August 2022, Bet365 launched its sports betting operations within the state of Virginia after the company was granted an official licese by state regulators. Overseen by the Virginia Lottery Board, Virginia is the fourth of five states where the operator offers its services.
---
Alternatives to bet365 In Other States
While our experience has shown that Bet365 is one of the best online sportsbooks in the U.S., those in other states have some great alternatives. Fortunately, our list of the United States' best online betting sites highlights the alternatives to Bet365 legal in USA. For now, let's quickly summarize some of those alternatives.
Unibet
Good bonuses
Big range of sports betting options
Different casino games
Mobile apps
License:
Malta Gaming Authority (MGA)
Unibet is a fantastic alternative to Bet365 in other states that is licensed, regulated and operationally responsible. Known for its intuitive online sportsbook and casino, the bookie offers a reliable platform that features pre-match betting, in-play betting and a competitive selection of betting features, such as live streaming.
888Sport
Fantastic bonuses
Good sportsbook
Amazing casino games
Many payment methods
License:
UK Gambling Commission
888Sport is another of the alternative sites to Bet365 in the U.S., that has established itself as a responsible bookmaker. With a wide range of online betting products such as live betting and live streaming, it offers an intuitive layout and multiple mobile betting opportunities.
William Hill
Wide range of casino games
Hundreds of sports betting markets
Lots of other betting options like bingo and poker
Cash Out option
With a history that dates back decades, William Hill has been cementing its reputation as a competitive U.S. bookmaker for years. With a user-friendly platform, William Hill offers a professional environment that features sports betting, casino, bingo and poker as its primary online betting options. Likewise, the bookie also offers U.S. players in-play betting, live streaming options and a variety of player-intuitive betting features.
Bet America
Established in 2008, Bet America is an online betting platform that caters to sport, casino and horse racing enthusiasts. As an alternative to Bet365 legal in the USA sites, the bookie offers a user-friendly interface, an extensive selection of live betting opportunities and betting features, such as parlays, accumulators and others. Likewise, the bookie includes an early cash out feature and downloadable mobile apps.
BetMGM
Trusted Betting Site
High Odds for Various Markets
Different Sports Betting Features
Mobile App is Available
License:
USA, New Jersey, Ontario
BetMGM is a respected and reputable online sportsbook that provides betting services within regulated U.S. markets. Along with Arizona, Colorado, Illinois and Iowa, BetMGM offers betting services in 19 other states. Along with an extensive selection of pre-match events, bettors looking for an alternative to Bet365 will find BetMGM offers live betting and includes options for parlays, accumulators and more.
Fanduel
Trusted betting website
Wide range of Sports & Markets
Various Betting Features
Casino Games are Available
License:
Ontario, United States
Recognized globally as a leader in sports entertainment betting, FanDuel is an excellent alternative to Bet365 for those in Ohio, Iowa, Colorado, New Jersey and Virginia. Featuring an abundance of top sports betting markets, Fanduel offers bettors a highly intuitive online sportsbook layout that features multiple online betting features, such as an early cash out feature, live betting, live streaming and an online casino.
Caesars Casino
Caesars Casino is a great alternative for punters residing in Virginia, Michigan, New Jersey and Pennsylvania. Licensed, regulated and compliant within the U.S., Caesars offers a reliable platform that includes a sportsbook and online casino. In terms of features, Caesars delivers a world-class sports betting experience that includes both in-play and live betting. Likewise, the bookie includes a generous reward program and other features such as live streaming, same-game parlays, and microbetting.
BetRivers
Bet Rivers is another alternative online betting site for bettors interested in an alternative to Bet365 U.S.A. Licensed in fourteen states, including Colorado, Iowa, New Jersey and Ohio, the bookie delivers a rock-solid platform that includes a large selection of pre-match and live sports betting opportunities. In addition, the bookmaker offers live streaming, house specials and an online casino.
DraftKings
DraftKings is the last of our recommended alternatives to Bet365 in the U.S. Known as a fantasy sports betting site, DraftKings expanded its inventory of online betting options to include various sports betting and live betting markets. With competitive odds and a highly-intuitive design, the bookie offers dedicated mobile apps, a secure professional online banking environment and user-friendly features such as same-game parlays, early cash out options and live streaming.
---
Bet365 Other Legal Countries
Similar to other bet365 legal in USA alternatives for U.S. players, Bet365 also offers its services in other legal countries. Currently, this includes multiple countries within Europe, Africa, Asia, and Oceania. Below is a summary of those countries.
Europe
Europe is home to fifty countries, many of which Bet365 is legally permitted to operate within. Resultantly, it has become Bet365's largest market with many countries, such as the U.K., Denmark, Italy, Sweden and Spain offering different welcome offers and online betting options. Resultantly, here is a list of countries in Europe bet365 is legal:
Austria
Andorra
Albania
Bulgaria
Cyprus
Croatia
Denmark
Estonia
Georgia
Germany
Greece
Iceland
Hungary
Latvia
Lithuania
Liechtenstein
Luxembourg
Italy
Malta
Montenegro
Moldova
Macedonia
San Marino
Serbia
Slovenia
Slovakia
Sweden
Spain
Switzerland
United Kingdom
Africa
Similar to Europe, Africa is another country that is home to an interesting collection of 54 culturally diverse countries. Fortunately, it is legal for Bet365 to operate within most African countries, although South Africa and Zimbabwe and several others are excluded from that list. Here is a list of countries in Africa where bet365 is legal:
Algeria
Botswana
Benin
Burkina Faso
Cameroon
Central African Republic
Djibouti
Egypt
Gabon
Ethiopia
Gambia
Guinea
Lesotho
Kenya
Madagascar
Liberia
Mali
Malawi
Mauritius
Mauritania
Morocco
Niger
Namibia
Rwanda
Nigeria
Senegal
Seychelles
Togo
Tanzania
Uganda
Tunisia
Zambia
Asia
Like Europe and much of Africa, it is legal for Bet365 to operate within most Asian countries. While this does not mean the bookie accepts players from the Asian countries we have listed below, they are legally permitted to offer their services within the following countries in Asia.
Armenia
Azerbaijan
Bangladesh
China
Indonesia
Maldives
South Korea
Pakistan
Vietnam
Japan
Malaysia
Cyprus
Thailand
Kyrgyzstan
Sri Lanka
Kazakhstan
Oceania
Oceania is another region where Bet365 has developed a loyal following among sports bettors. Comprised of fourteen countries, such as Australia, Papua New Guinea, and Vanuatu, Bet365 is free to operate at its discretion within most Oceania countries. The likes of which include the following:
Australia
Fiji Islands
New Zealand
Solomon Islands
Indonesia
New Caledonia
Papua New Guinea
French Polynesia
Vanuatu
---
Conclusion
Since establishing its operations in 2000, Bet365 has grown into an internationally recognised brand that continues to see the brand expand as it enters newly regulated markets. As the company looks to expand to newly regulated states, it is expected that expansion will remain a focus and that the brand's reputation will help it to develop stronger ties within the U.S. as those expansion efforts are met. Ultimately, they are a trusted brand whose success speaks for itself.
FAQ
Why is bet365 not legal in more states?
Bet365 is not legal in more states due to each state having the jurisdictional control to legalize sports betting within their borders. Resultantly, some states are opted to legalize sports betting, while others have not.
Will bet365 be legal in NY?
Unfortunately, New York state only licensed land-based casinos, At this time, it is unknown if Bet365 will become legal in the state of New York.
Can I place bets using the Bet365 mobile app in the U.S.?
Yes, you can play bets using the Bet365 mobile app in the U.S. where available.
Is it free to download the Bet365 mobile app in the U.S.?
Yes, there is no cost associated with downloading the Bet365 mobile app in the U.S.