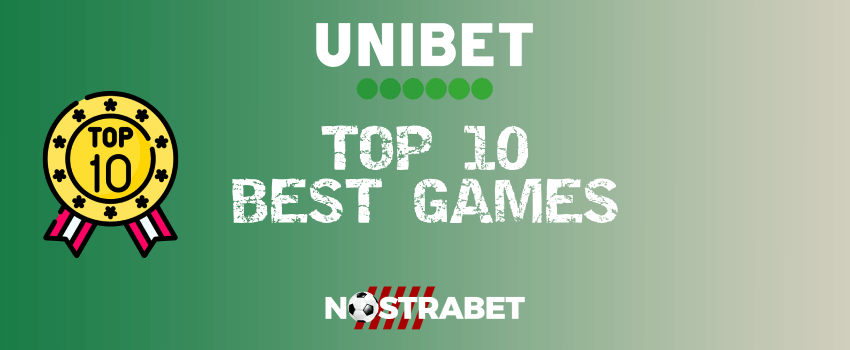 Ad disclosure
Commitment, professionalism and trustworthiness are the core values of NostraBet (NB). We manage to deliver cutting-edge betting products to our readers thanks to our affiliate business model. It is true that NB uses affiliate links to drive traffic to bookmakers. What you must know is that these are free for you to use. Their main purpose is to earn us commissions that will ultimately be invested in the betterment of our product. Visit our
Ad Disclosure
page to learn all the details.
Since 1997, Unibet casino has been offering different gaming verticals. One of these sections is a online casino that offers over 3000 slots and live games. However, there are leading games you could try out among these.
Nostrabet has sampled all Unibet casino games to bring you a list of the top 10 best games on Unibet casino. Let's discuss these games.
---
Unibet Games: Best Picks
Among the thousands of games at Unibet Casino, some stand out for some reason. While compiling the below list, various factors were considered. Such include game theme, RTP, interface, playing mechanism and simplicity.
With these in mind, Nostrabet brings you the below top 10 games to play at Unibet casino.
Aviator
Spaceman
1000x Busta
Boxes
Panda Gold 10,000
Scratch! Platinum
Slingo Da Vinci Diamonds
Hit N' Miss
Mines
Slingo Centurion
Let us go into more detail to get a better idea of each game.
#10 – Slingo Centurion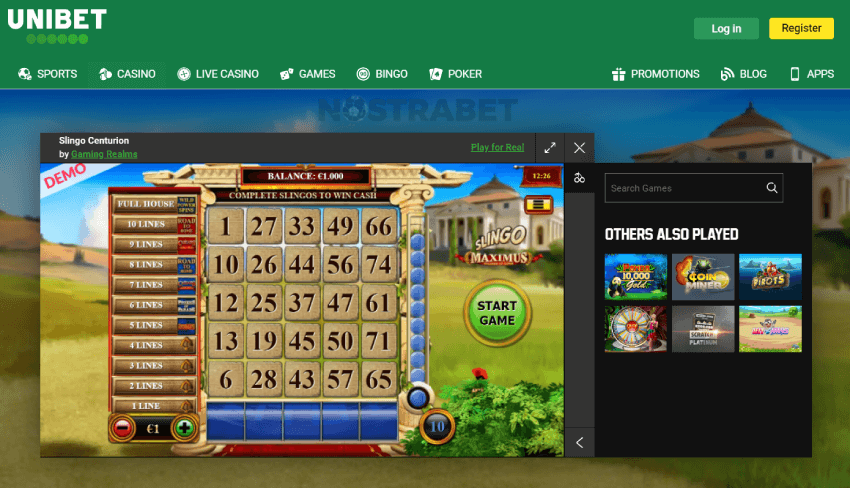 Slingo Centurion is a popular game that shows a perfect combination of slot and bingo while taking the bingo format. Slingo Originals developed the game, and the objective here is to match and mark off your numbers with those on the grid. When you match them, you trigger bonus rounds. As you play, free spins, extra number matches and jokers help you on your way up.
This Roman-themed game was released in 2020. It brings you an RTP of 95% and medium volatility on a 5 by 5 grid. Besides, it has 12 pay lines.
Pros:
Has seven bonus casino features
Has exciting and fast game play
Cons:
You may win nothing on bonus games
#9 – Mines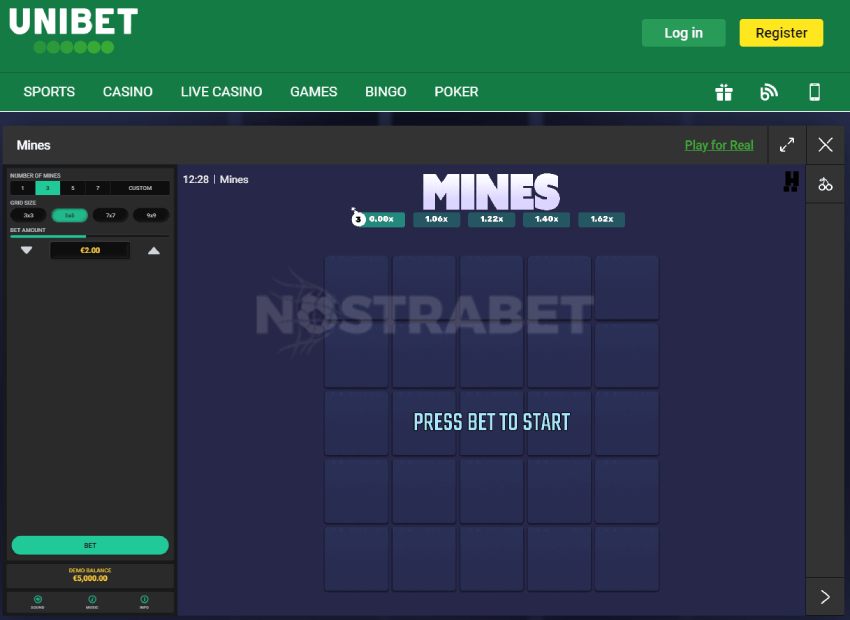 Mines is a simple online casino game by Hacksaw Gaming. It allows you to rake in wins by uncovering hidden grids grid. Upon launching the game, you get a grid with covered bombs and diamonds and your task is to uncover them. Every time you uncover a diamond, your win goes up. If you uncover a bomb, the game round ends.
Interestingly, there is no theme behind Mines, but it is built on the premise of classic Minesweeper. Hacksaw Gaming released it in March 2022. With an RTP of 98% and adjustable variance, the maximum you can win here is x10,000.
Pros:
Win up to x10,000
Multiple customization options
#8 – Hit N' Miss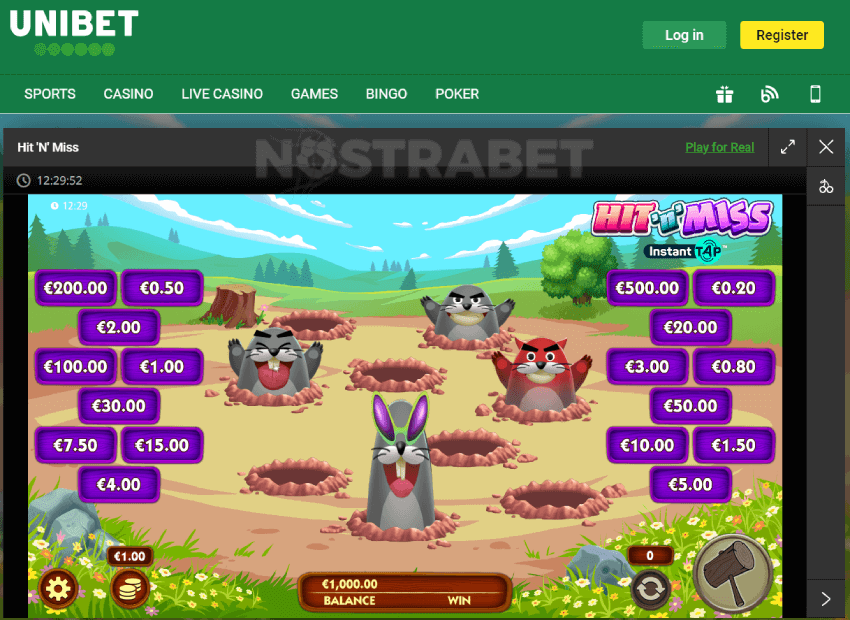 SG Digital released Hit N' Miss video table game in May 2022. The game brings you the challenge of whacking some moles that live underground using a wooden club. Whenever you succeed in hitting the mole's head, you get a win. Here, you could hit up to five moles at a go, winning up to 500x your bet.
The Hit N' Miss game has an RTP of up to 94.98%. Volatility is not defined, but you could win a maximum of 500x your stake. The grid has a total of 9 holes.
Pros:
Beautiful up country setting with hills
Can multiply your stake 500x
#7 – Slingo Da Vinci Diamonds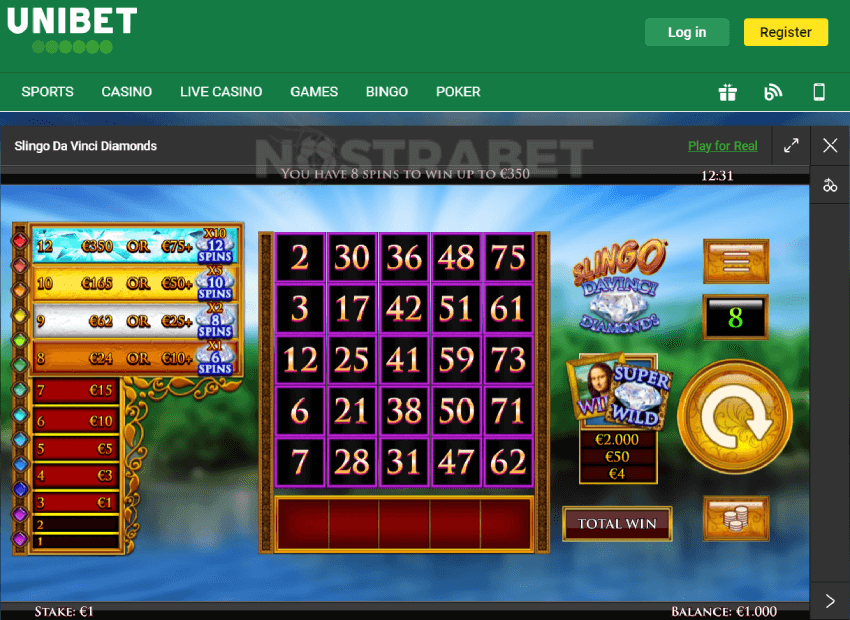 Slingo Da Vinci Diamonds is an iconic and sparkling game by Gaming Realms and Slingo Gaming. The game's central premise is to catch the winning numbers on the cascading reels so that they match those on the main table.
The game has medium volatility and an RTP of 96.6%. As you try matching the numbers, you will enjoy a range of bonus features like multipliers, free spins, scatter, and wild, and the maximum win you could get is 2,000x your stake.
Slingo Da Vinci Diamonds has a 5 by 6 layout and 12 slot lines. It is built-on jewellery as the sub-theme, while the Renaissance highly inspires it as the central theme.
Pros:
Offer avalanche function
Volatility ranges from low to medium
Cons:
No jackpots available
#6 – Scratch! Platinum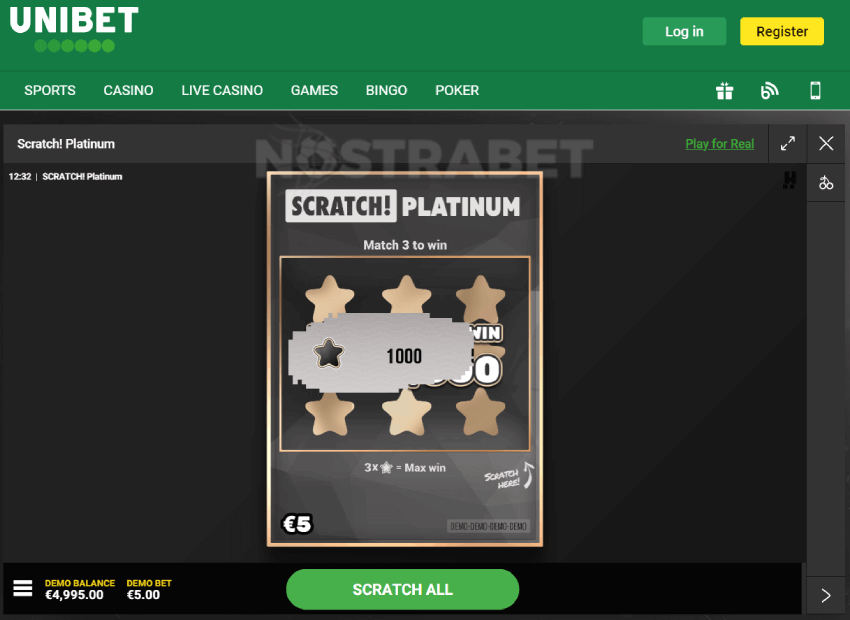 Scratch! Platinum is a simple game to play at Unibet casino and win. This is a challenge to unveil three similar game types on a 3by3 grid to win. There are nine platinum stars, and when you match three of them, you will get a prize indicated on one of the three stars.
When playing, you will reveal the symbols by scratching either manually or automatically using a scratch button.
Scratch! Platinum was released in October 2018 by Hacksaw Gaming. It is built on a scratch cards theme, and It features a low RTP of 76.67%
Pros:
You could win up to 100,000x your bet
Simple to play
#5 – Panda Gold 10,000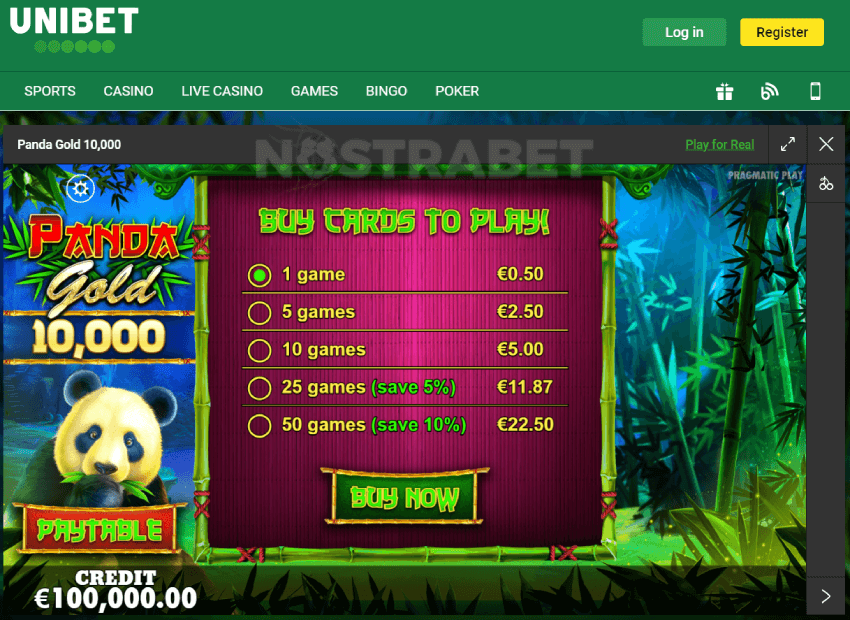 Panda Gold 10,000 is an exciting scratch card game. To play, purchase your cards and scratch to read the instructions given. If you scratch and match three cards, you will win the prize indicated per instructions.
The Panda Gold 10,000 game was released by Pragmatic Play and is lottery themed. The theoretical RTP of the game ranges between 85.59 and 95.1%. This could give you a maximum prize of up to 10,000 coins.
Pros:
Easy gameplay
Discounted prices when buying many playing cards
#4 – Boxes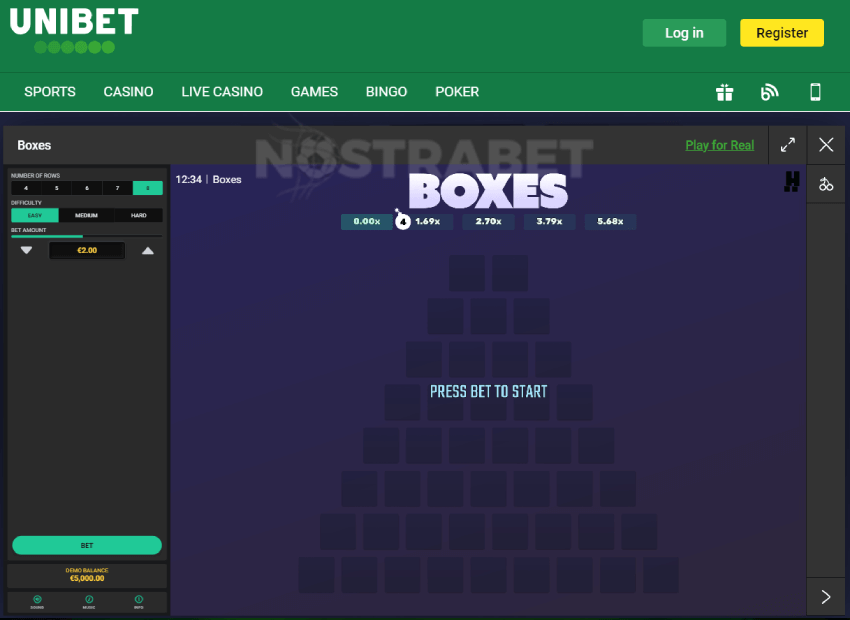 Boxes is a simplistic yet exciting game. The game is built on the premise of discovering Diamonds by picking boxes in different rows on a pyramid grid. After discovering Diamonds in a row, you have the chance to move to the next level, and this increases your win. With this game, you can get 537x of your stake. On the other hand, if you pick a box and get a bomb, you lose the game round.
The Boxes game was released in March 2022 by Hacksaw Gaming. It features an RTP of 96%. However, the RTP is not fixed.
The game is built on the theme of Diamonds and bombs.
Pros:
Maximum win of 537x your stake
Simple to play
Cons:
No special bonus features
#3 – 1000x Busta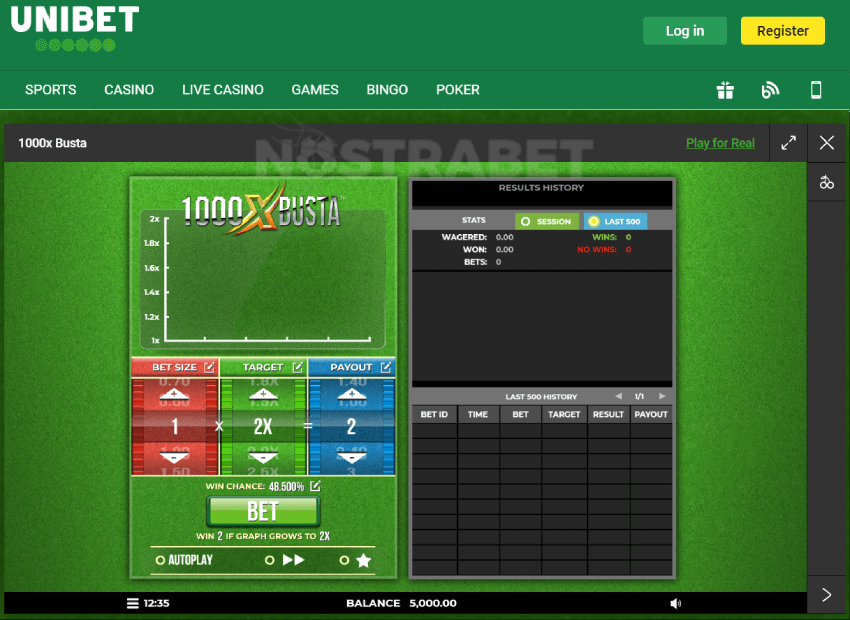 The game involves a graph and rising multipliers. The objective is to start the game and let the multiplier rise to the maximum. This gives you a chance to cash out before the curve goes 'Busta' During the game, the multiplier can go as high as 1000x.
4ThePlayer released 1000x Busta in May 2022. It has an RTP of 96% and a hit frequency of 96.04. In addition to enjoying features like Burst and Mechanic, you will love the information technology theme.
Pros:
Multiplier can reach 1000x your stake
A great RTP range
Cons:
Not easy to get the 1000x on the game
#2 – Spaceman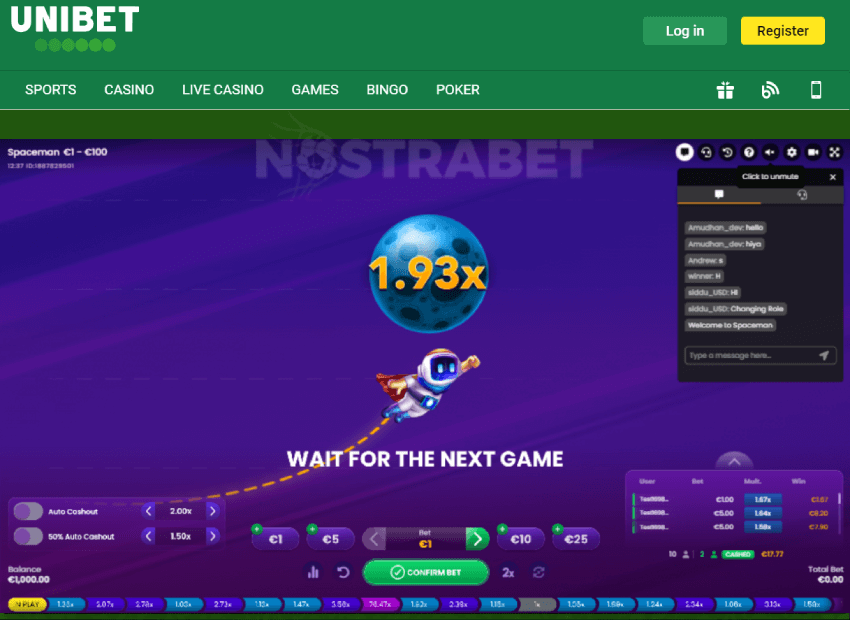 The Spaceman is a slot game developed by Pragmatic Play, a provider which produces some of the best slot games. This game allows you to fly into space and cash out your bet before a crash occurs. The higher you go up the sky, the higher the multiplier value. One of the biggest prizes in the game is getting 5,000x during a single round. But, achieving this is not an easy task.
The Spaceman game has a great space theme. Here, you will meet an adventurous spaceman who goes across planets, generating a multiplier for you during the adventure. The game has a 96.5% RTP and offers you different cash-out options.
Pros:
Offers a 50% cash out option
Has a multiplayer chat
Cons:
Hard to win maximum multiplier
#1 – Aviator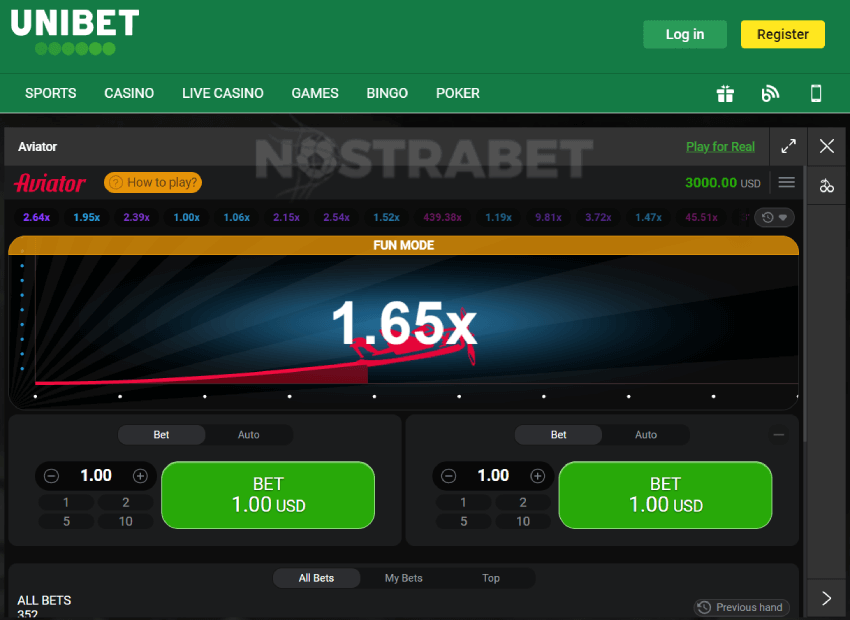 The Aviator game at Unibet casino is easy to play and majorly similar to the Spaceman game. The basic principle is placing a bet before the plane takes off. When the plane accelerates in the sky, the multiplier increases, and your objective is to initiate a payout whenever the plane lands. You lose your bet when the plane takes off before you cash out.
Aviator is an aviation-themed game released in February 2019 by Spribe. You will enjoy features like live bets, live statistics, in-game chat, and tournaments when playing it. Moreover, you will love the 97% RTP.
Pros:
Easy and fun to play
Relatively high RTP of 97%
Cons:
Zero bonus casino features
---
Nostrabet's Tips on Playing Casino Games on Unibet
Unibet casino has lots of exciting online casino games to try out. When playing any of them, you need to understand several tips that will help in maximising your player experience.
Some of these tips include:
Always choose casino games with a low-house edge
Take advantage of bonus features on the games you choose.
Never chase losses, as you may lose more.
Next, always play casino games within your budget.
Finally, always take advantage of the jackpots if your online casino game has one.
---
Conclusion
Unibet Casino has a rich lobby. Choosing a game from among the thousands is not a walk in the park. However, we have given you some suggestions of the best Unibet casino games and you might want to try them out. Besides, we have given you tips that will ensure you get some coins amid your enjoyment and interaction with beautiful themes.
---
FAQs
How is the ranking of the above games done?
The ranking is based on the simplicity of playing the game, player reviewers and our experience testing the games for you.
What is the maximum payout one can get at Unibet casino?
The maximum amount depends on the casino game you choose to play. It could be as high as 5,000x, especially when you win a jackpot.
How do I use free spins at Unibet casino?
You can use free spins to try out new casino games and slots.
Must I be a registered punter to play at Unibet casino?
Yes, you must be a registered player to enjoy gaming at Unibet casino. Also you will have the chance to claim a welcome bonus.
Can a Unibet casino bonus be used on the games mentioned?
Yes, you can play our Unibet casino bonus on most games but before you do check the T&C to make sure.
Can I play at the Unibet casino from my phone?
Yes, you can open the Unibet casino website from your mobile device.