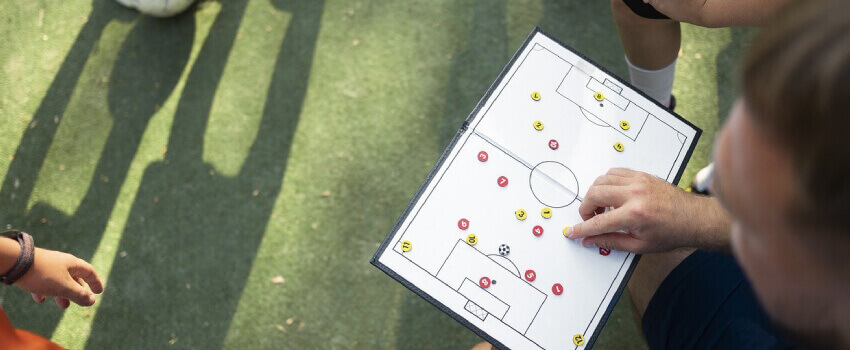 No one can deny the fact that Football is the world's biggest sport. It is prevalent in places like Europe, Asia, and Africa, but after the most recent transfers of world-class players like Messi and Ronaldo, the sport is becoming even more popular in places like the Middle East and the USA. Many people are interested in club football, but when it comes down to the national team of every country, fans are more than happy to watch them in action.
Speaking of the national football team, Nostrabet.com shows that around 36% of respondents in the UK aged 16-80 think that fans should elect the national coach. There have always been debates about that, but it seems like more and more people are supporting the idea. "The fact that more people than ever want to choose their country's head football coach shows that they are not happy with what's going on. Whether this is a good idea, however, is up for discussion", said Veselin from NB.
What's interesting is that this survey was done in several other countries. In France, 26% of participants think that fans should do that, whereas the percentage in Germany goes up to 30%. 35% of Italians think the same, whereas 41% of people in Spain and 43% in the USA agree with it. Interestingly, China has the highest percentage of people (55%) who think fans should elect the national football team's coach.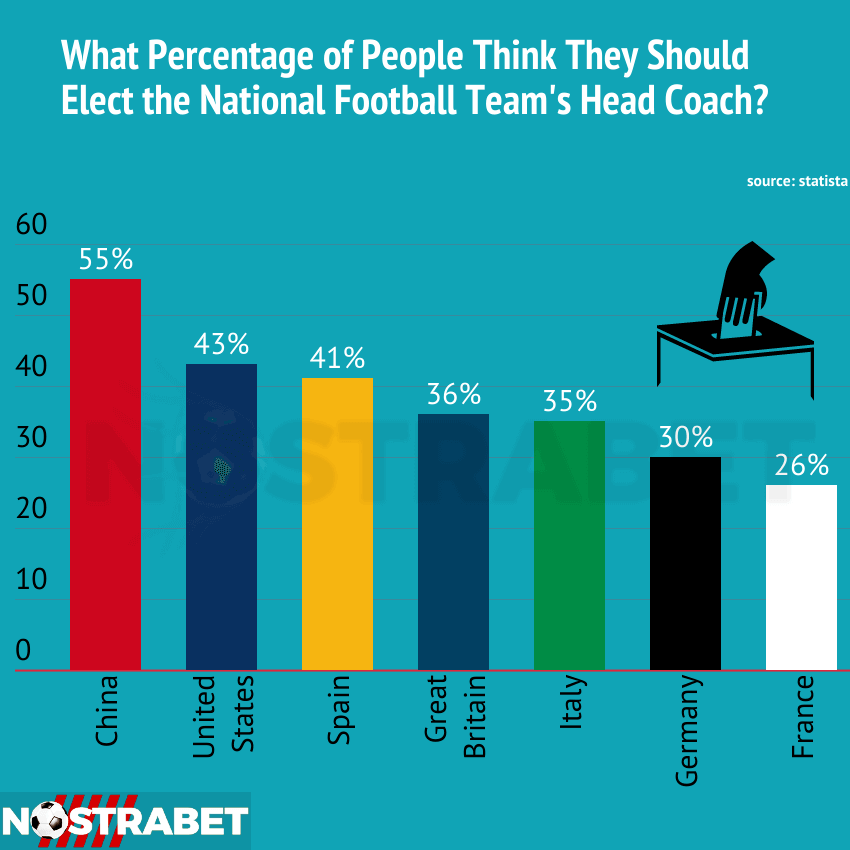 Like most things, this has its pros and cons, so let's go through both things and see which one prevails.
---
The pros
When it comes down to elections, people want to have control over those who will be responsible for something. With a few exceptions, almost all countries around the world have elections for all kinds of things. However, this does not include things like national sports teams' coaches.
The biggest advantage of choosing the national football team's coach is that you can pick someone you trust. Usually, the specific country's federation is responsible for this choice. Some federations know what they are doing and will only appoint people fit for the job. However, we've seen many examples where the federations do not make the right decision. They appoint people who are not good at what they do. There are also cases where they are corrupt and appoint a person whose sole purpose is to get as much money as possible.
Another perk of electing the national team's football coach is that this person won't be associated with the football authorities. In corruption cases, the head coach will usually have to do something to return the favor for being appointed. Fortunately, if the fans elect this person, he will not need to do anything, meaning he will have more freedom.
If you look closely at the chart, you will see that the countries that want to appoint their national coach after voting haven't had the best results lately. Since most of them probably blame the coach, it's no surprise they want a change.
---
The cons
After analyzing some pros, it's time to address the cons. The bad news is that there are a lot of them. Starting with the most obvious one – the fact that everyone will have the option to vote for the next football coach means that a lot of people will vote despite not knowing anything about the sport or the people they're voting for. Many people will be interested in taking part, but since they do not have the experience or knowledge, they wouldn't know who to put in charge. Consequently, there will be situations where the head coach could become someone who has no idea about the sport.
Another big con that a lot of people forget about is related to money. Unless you can vote online, which is impossible in most countries, the government must spend millions for the elections. Considering that there are tons of economic crises worldwide, spending millions over who's going to be the football team's head coach does not seem like a good idea.
The next con that needs to be addressed is the new head coach's responsibilities. The fact that the fans will elect him means that this person will not report to anyone, resulting in too much freedom. On the other hand, if there's a governing body responsible for his actions, there's no point in having elections when those people can always sack him for no reason.
Lastly, we need to address the situation when there's a foreigner in charge of the given country's national football team. A lot of people may not be a fan of the idea, but the country itself may not have a person who has enough experience to be in such a position. However people may not realize it and could appoint someone that won't help.
---
What will change if fans can choose the football team's head coach?
Besides the fact that we could see some interesting names in charge of a given country's national football team, those changes can also affect online bettors. Today, many of the world's leading gambling websites offer many options for football. However, if those changes become a reality, all bookmakers will have even more opportunities for people to bet on.
Like now, choosing the right online bookmaker for the job will be important. Some companies will have better odds than others, but this does not mean you should choose them. After all, there are many other important criteria to keep an eye on.
Another thing that could change if we can appoint new coaches is the sport's popularity. Football is trendy almost everywhere, but it will become even bigger if fans appoint the coach. That's why we wouldn't be surprised if some countries decide to introduce this option in the future.