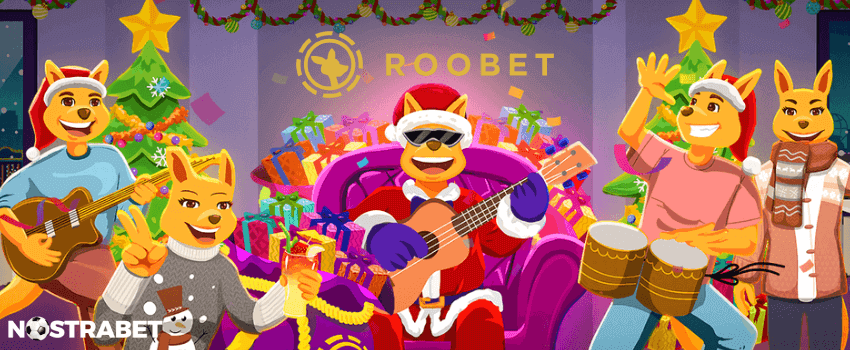 If you're familiar with Mr. Roo, you know that he's always coming up with new ways to keep Roobetters satisfied and coming back for more, not just at Christmas but all year round. This year, he's decided to go all out for his favorite holiday and do something a little more special… he's officially declared it Christmas every day of the month at Roobet!
This means that you won't need an advent calendar to count down the days to open your presents, as Santa Roo's making sure every day feels like December 25th.
'Twas the night before December and all through the house
a creature was stirring, and it wasn't a mouse.
It was a kangaroo named Roo making party plans with care
In the hopes that Roobetters like me and you would all make our way there.
The plan was simple, Roo thought, as he laid in his bed
With visions of Christmas everyday, every week, danced in his head.
"A party here, a party there, every day for every Roo member",
"Presents and gifts given out every week, long past December!".
The clock struck 12 and the old Roo disappeared
Now donned in red, with a great white beard.
"Christmas is here!", he shouted, though it only be December One
But something tells me this month of Christmas, everyday, will be a whole lotta fun!
So, forget about the 12 days of Christmas… Santa Roo's bringing you 25 days of Apple products! Yep, you read that right – amid the festive wonderland of raffles, free balance and crypto promos, your favorite kangaroo's also got something to keep the doctor away…
Every day until December 25th, our merry marsupial will be lightening the load on his sleigh, thanks to his Apple product prize drops! This means that you'll have the chance to snap up awesome goodies like AirPods, an Apple watch 8, the latest iPhones and iPads, as well as a MacBook Pro! How do you like them apples?
All you have to do is play your favorite games at Roobet to get Santa's attention, and who knows, you could be one of the lucky winners to celebrate the holidays with a shiny new Apple gadget!
Whether you've been craving the latest iPhone or could do with a new pair of AirPods, you never know when luck could strike…. It is the most magical time of the year, after all.
Here's all you need to know to get a hold of some juicy Apple products at Roobet this December:
Promotional Period: December 1st – December 25th
1-2 Apple products will be distributed daily during the promotional period
Players can win multiple prizes during the promotional period
Winners will be chosen at random and notified via onsite inbox
Players have the option to choose a cash alternative
---
More Christmas Fun Every Day at Roobet
Whether you're a fan of the festive season or not, you'll never feel like a grinch where Santa Roo is involved. He'll be making the rounds all month long, and way past January 1st too, spreading the Christmas cheer to all Roobetters near and far with his awesome crypto gifts.
Keep an eye out for his weekly raffles, with massive prize pools of up to $100,000 plus a special, once-in-a-lifetime prize to ring in the New Year in the best way possible.
---
Crypto Goodies All Year Round
When all the celebrations are done and dusted, you won't be feeling the post-holiday blues when Mr. Roo's ready to make a comeback with more crypto goodies.
Between King Roo's visit and RoobetLIVE parties every fortnight as well as weekly Twitter giveaways and Streamer of the Week contests, there's always something to look forward to when you play at Roobet. There's even a Slot Potato tournament that takes you on a spin across multiple slot games at Roobet to win more cash prizes.