This game is not suitable for people under

18
When looking for an online casino available in many countries, a lot of people will come across Roobet. Known for its world-class crypto platform, the site has a wide array of betting categories and plenty of promotions.
While it's true that the operator has a lot to provide to its new and registered clients, a lot of people are becoming more interested in Dice. This is one of the special games that Roobet created, and it has become one of the most attractive options, with millions of bets. The game has much to offer, so let's dive into the Roobet Dice Strategy you have to keep in mind.
---
Best Roobet Dice Strategies
Having a proper Roobet Dice Strategy once you start playing will allow you to maximize your result. This game has numerous bets for a reason, but only a handful of people follow tactics that allow them to become more successful. Thankfully, our team's many years of experience allow us to share a few things that can help you out.
Try not to bet with more money than you're comfortable with
The first tip is general and should be applied to everything you're doing while playing at Roobet. Dice is one of the more intriguing games, but this doesn't mean you should not be responsible. On the contrary, always wager with an amount of money you are comfortable with and do not use more than you have.
Choose the best mode for your needs
One of the things that we should point out when discussing the Roobet Dice strategy is that the game has different modes – Auto and Manual. Each one has its pluses and minuses (more about them in a bit), so you must pick the most appropriate option before betting.
Applying the Martingale or Paroli betting strategies
Some people who like Roobet and its Dice option will probably be intrigued in applying popular betting strategies, such as the one from Martingale. The Martingale strategy will require you to double your bet when you lose because once you win, the latter will cover all your losses. The bad thing about it is that it requires a large budget.
Since not everyone is interested in this tactic, some players prefer to try the so-called "Paroli strategy". This one is also about increasing your wagers, but instead of doing it when losing, you do it when you win. The idea here is to get a certain amount of money and then make a withdrawal request or start betting again, but using the amount you've started with.
---
Additional Tips to Play Dice on Roobet Casino
In addition to the popular Roobet Dice Strategy used by a lot of people, we have a few other tips that will come in handy:
Check for any active bonuses – Roobet is unique in terms of its offers, so the brand may come up with special deals aimed at Dice players.
Check whether there are special features – Gambling companies like this one will often update their features so that more people like what they offer. Consequently, it is possible to find new options for this game.
Experiment with different bets size – If you're not a fan of a specific betting tactic, you can always come up with your own. Try experimenting with other bets to see what works best.
---
How to Play Roobet Dice?
To play Dice at Roobet , you have to follow a few steps listed below.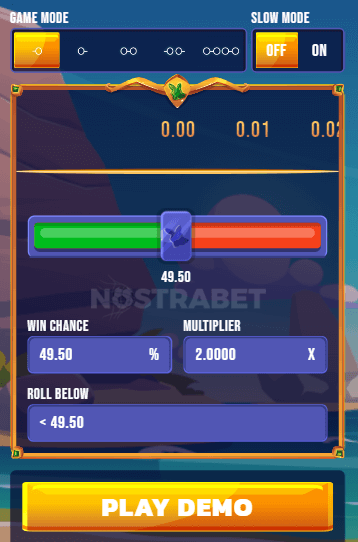 Start by going to Roobet using our exclusive link.
After you are there, you must complete the registration process.
Next, select one of the payment options offered by Roobet and make a deposit.
Once that's resolved, find the Dice game inside "Roobet Games" and open it.
Choose whether you like Real Mode or Fun Mode from the toggle in the bottom-left corner and click "Play Game".
Select the "Manual" or "Auto" option, choose your bet amount, and start playing. Dice from Roobet also offers a Slow Mode and 5 types of Game Modes.
The game is created in a way that allows inexperienced gamblers to start playing right away. It's easy to understand, so don't worry if you do not have any previous experience.
---
Roobet Dice Odds and Payouts
Before coming up with a solid Roobet Dice Strategy, all users must go over the odds and payouts. When it comes down to the odds, they are a lot more competitive than most people think. Usually, websites that create their own casino games may not offer good odds because they do not have anyone to compete with, but Roobet managed to be different.
Since the odds are good, you can also expect high payouts as long as you predict your bets. In fact, before placing a bet, you can check your win chance and multiplier, which give you an overall idea of what to expect.
---
Roobet.com Dice Features and User Interface
When it comes down to the user interface, Roobet Dice is a game that you can play without the need to be an expert in online gambling. The relaxing sound effects and good graphics are welcoming, meaning you won't have problems navigating and experiencing the various features.
Speaking of the devil, Dice from Roobet has a lot of things to offer, some of which are really interesting. As mentioned, the game has a Manual and an Auto option. Choosing the first one means you must provide the bet amount and then spin manually, whereas the second option does that for you. Of course, it will also require you to provide additional details, such as the number of bets, stop on profit, stop on loss, and more.
Roobet Dice game also has a slow mode, and it will change the way the game looks (most people will probably have it on because it looks more interesting). Of course, you can also switch between the For Free and Real mode, change your seeds, check your account balance, mute the sound, and more. Roobet will even allow you to check the big wins as well as the luckiest wins.
---
FAQs
Is it possible to play Roobet Dice in a Demo Mode?
Yes, this feature is available from Roobet, and you can try this game without using real funds.
How can I check if Roobet Dice is fair?
To check if Roobet Dice is fair, look for a tab called "Fair". Once there, read the specific instructions and you will see that this, as well as every other casino game available at Roobet, is fair.
Is Roobet Dice available on a mobile device?
Yes, Roobet is available on mobile devices, similar to all of Roobet's products. You can use almost any Android and iOS smartphone to access the company's mobile website.