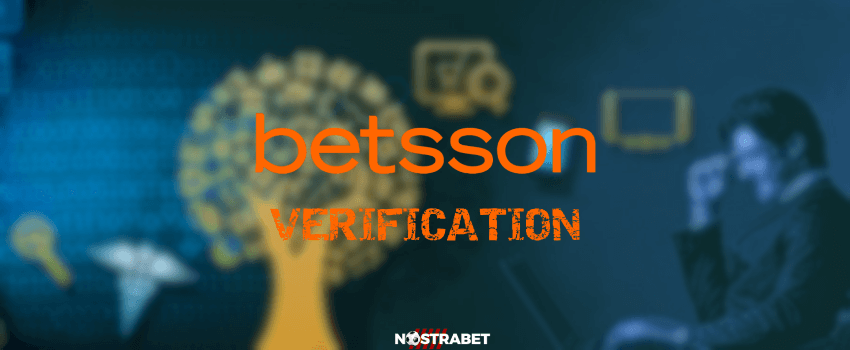 Ad disclosure
Commitment, professionalism and trustworthiness are the core values of NostraBet (NB). We manage to deliver cutting-edge betting products to our readers thanks to our affiliate business model. It is true that NB uses affiliate links to drive traffic to bookmakers. What you must know is that these are free for you to use. Their main purpose is to earn us commissions that will ultimately be invested in the betterment of our product. Visit our
Ad Disclosure
page to learn all the details.
Europe has a few big iGaming brands that provide quality services, but certain companies, such as Betsson, are in a league of their own. The betting platform is available in several countries and provides some of the world's best services. One of the reasons why people are having fun using Betsson Online is because of the strict verification process , ensuring all players are real.
Speaking of verifications, the Know Your Customer procedure is one of the pillars on which all legit betting operators are based. Every real betting website requires people to verify their accounts because this allows bookies and casinos to ensure their clients are real.
Unsurprisingly, the Betsoon verification procedure is integral to the iGaming operator. There are a lot of important details about it, so let's learn more about everything and see how it works.
---
Step-by-Step Guide to Betsson Verification
Whether you are using the Betsson app, desktop site, or something else, you must complete the Betsson verification process. The latter is needed when you want to withdraw your winnings or do other things.
To begin the Betsson verification, the first thing you need is to sign up. Since you will need to verify this information, it is essential to provide real details. Once ready, the bookie will require you to prove your payment method, address, and identity. All of those things require you to send documents, which can be done using the account page.
Depending on when you decide to complete the procedure, it could take up to 24 hours. Fortunately, you only have to do it once, so here is how it works:
First, you need to prove your identity. This means Betsson will wa nt a copy of a passport or an ID, depending on your choice.
In terms of verifying your address, you can do this by sending some form of a utility bill. Of course, the latter needs to have your address on it.
Depending on the situation, you could need to verify your payment details.
Finally, Betsson will most likely require you to send a selfie where you are holding some or all of the documents sent earlier.
---
Why Verification is Necessary
Completing the Betsson verification process is necessary because the gambling operator has to adhere to various laws and regulations. Those things require it to ensure that they know who you are. That's one of the reasons why Betsson could even run a third-party search against you to ensure you are a real person. Betsson follows strict rules, so it needs to know you are real and you are not laundering money or doing something else that is illegal.
Aside from the legal aspect of the verification procedure, you will need to complete the KYC process if you want to withdraw your winnings. Whether you have used a Betsson bonus and won something or simply got lucky, the operator will want to know more about you.
---
Betsson Verification Requirements
The only way to complete the Betsson verification process is by submitting the required documents. However, since the operator is available in several countries, it is possible that some users may have additional requirements. Generally speaking, Betsson will need the following:
Passport
ID Card
Phone Verification (optional)
Face Verification (optional)
Payment Details Verification (such as a front/back copy of the credit card)
After registering, you will also have to verify your email address. Swedish residents will also need to use their personal identification number as a part of the Betsson verification process done via third-party providers.
---
More About Betsson Verification Process
The Betsson verification process is necessary, so everyone must do it. Yet, some people have problems, whereas others are unsure why it is needed, so here are a few things to keep in mind.
Common Verification Issues and Solutions
One of the most common verification difficulties you may face is related to the pictures you've sent with your documents. The information has to be visible and readable, so Betsson may require you to make new copies.
Another common mistake people make is related to not sending the right documents. If that's the case, Betsson will let them know that what they've used is not what the site needs.
Benefits of Completing Verification
The verification process's big advantage is that you will have a secure betting experience at the Betsson casino, regardless of what you are using. You will be able to make secure withdrawals and not worry about problems that non-verified users are going through.
---
FAQs
How long does the verification process on Betsson usually take?
The Betsson verification process should take no more than a couple of days.
What happens if my verification is declined on Betsson?
You will probably have to submit the needed documents again. However, your account could get closed, depending on the problem.
Can I start betting on Betsson before completing the verification process?
Yes, you should be able to do that if you reside in some countries.
Is my personal information safe during the verification process on Betsson?
Yes, your personal details are secure during the Betsson verification process.
Can I skip the verification process on Betsson?
No, you can't skip this process because Betsson requires all users to complete it.
What should I do if I face issues during the verification process on Betsson?
You should contact the customer support team and ask for more information.