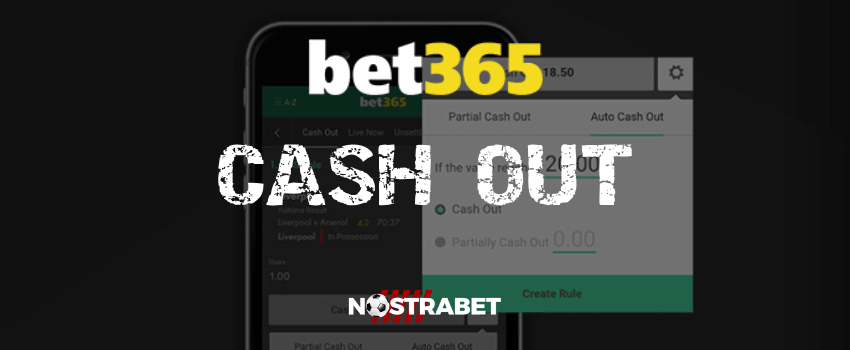 Ad disclosure
Commitment, professionalism and trustworthiness are the core values of NostraBet (NB). We manage to deliver cutting-edge betting products to our readers thanks to our affiliate business model. It is true that NB uses affiliate links to drive traffic to bookmakers. What you must know is that these are free for you to use. Their main purpose is to earn us commissions that will ultimately be invested in the betterment of our product. Visit our
Ad Disclosure
page to learn all the details.
After betting online for years at Bet365, one of the things we love most is the flexibility of the bookie's cash out feature. The cash out is one of those features that helps you to minimize your losses by giving you more control over your bets. In this Bet365 Cash Out article, we will go over the different cash out options offered by Bet365. We also explain how to use the cash out feature and include some pros and cons based on my experiences using this feature.
---
When is Cashing Out Useful
We have found cashing out is useful as it allows you several options to settle your bet in advance of the bet being settled by Bet365. We typically use the cash out as a bankroll management tool when we feel it is to our advantage to do so.
Let's say we bet on Arsenal to win against Manchester United, and at the halfway mark, Manchester United is ahead, the odds of Arsenal winning are not looking favourable. If we stick to our guns in hopes of a turnaround, we could turn a profit. However, if we think that Manchester United will win, then cashing out early is useful.
The reason is, we can settle our bet early for a pre-determined amount. From a bankroll management perspective, that is better than sticking to my guns versus possibly losing the bet altogether.
---
What is Bet365's Cash Out Feature About
The Bet365 cash out feature is designed as a tool to give you control over your bets and to provide you the option to settle your bet before a game ends. We should mention though that Bet365 does not always offer this option, nor does it guarantee profits. With that said, let's take a look at the three bet365 cash out options Bet365 offers below, a full cash out, partial cash out and an auto cash out.
Full Cash Out at Bet365
When it seems like all hope for a favourable outcome is lost, we will usually opt to fully cash out. Essentially, this is the same as walking away in exchange for a partial return on the original bet.
For example, let's say we bet on Chelsea to win against Liverpool in the morning on Saturday. At the time we placed our bet, Chelsea was the favoured to win, but by the afternoon, there was a lineup change. Based on that change, the odds changed and the odds of Chelsea winning were less favourable.
As the match got underway, we could tell Chelsea was struggling and that Liverpool was capitalising on the lineup change. Therefore, the odds of a win were no longer favourabe so we opted to cash out in full. While that wasn't the ideal ending we had hoped for, we felt it was better to take a portion of the bet back versus losing it entirely.
Partial Cash Out at Bet365
Unlike the full cash out at Bet365, the partial cash out option allows you to cash out a portion of your bet versus the full cash out amount and keep the bet with the remaining active stake. This is ideal if you are unsure whether the outcome you bet on will turn into fruition. Essentially, it lets you cash out a percentage of your bet while simultaneously keeping the remaining portion in the game.
Let me explain, say we staked $50 to win $100 on Fulham to win against Newcastle, but at the halftime mark, Fulham and Newcastle were tied 1-1. After looking at the stats and reviewing footage during the break we decided the odds were 50/50 that Fulham would win.
If at that point we opt for to partially cash out and get $25 back, then the risk is reduced but the bet remains active, albeit the cash out amount we can win is greatly reduced. However, if Fulham wins, then we would win $50, and turn a profit. However, if Fulham loses, our losses have been reduced by 50%, so essentially, it is a win/win.
Auto Cash Out at Bet365
The last of the three Bet365 cash out options available is the auto cash out feature. This essentially allows you to create an auto cash out request on your bet that will go into effect if the cash out value meets or exceeds the threshold.
If the threshold is met, your bet will be settled automatically by Bet365 and the amount refunded will reflect in your balance. What we like about this option is that it is easy to use as we only have to set the threshold under the "If the value reaches" and click the "Create Rule" tab to register my request.
We also like the fact that once we have clicked the "Create Rule" tab, and my request has been accepted that a green indicator will appear on the cog icon. Likewise, should we decide to cancel the request before the events start time, we are free to avail that option.
---
Bet365 Cash Out Terms & Conditions
When the cash out feature is available and is optioned, its use is governed by the bet365 cash out terms and conditions. While we have found these to be minimal, we believe and it is the opinion of the team at Nostrabet, that it is important to include them within this article. They are as follows:
The cash out feature is only useable if the "Cash Out" figure is shown for your bet.
The Cash out option is only offered for select pre match bets and in-play fixtures, events and markets.
Partial cash outs are only offered for select single and multiple bets.
The amount displayed for full or partial cash outs is non-negotiable and the amount payable in the cash out request is accepted.
The cash out option is not offered on teasers, fixed teaser cards or parlay cards.
The bet365 cash out may not be availbel for some events, so check if it is before you place any funds or free bets.
Cash out options are limited to 5x for eligible parlays and 10x for single bets.
The minimum cash out amount for partial cash outs must be equal to or 10x the minimum wager.
Any time delay or price changes may result in the suspension of a cash out request.
---
How to Cash Out at Bet365
To understand how to cash out at Bet365, we thought it would be helpful if we included the cash out steps below. Bear in mind, in our opinion at Nostrabet, these are pretty straightforward so you shouldn't have any difficulty cashing out. However, you can bookmark this article should you wish to review the cash out steps at a later date. this page by bookmarking this page for future reference. For now, here are the bet365 cash out steps:
Log into your Bet365 account and place a bet on your favourite sporting event.
After the event gets underway, monitor the action and keep an eye on the odds.
If the odds are unfavourable, click the "Cash Out" button beside your selected sporting event.
Select "Full Cash Out" or "Partial Cash Out" and submit your request.
---
Common Cash Out Issues
At times, you may experience a variety of common issues while using the cash out feature at Bet365. Typically, you will find not find many issues with the cash out feature, but there are a number of issues that can pop up. Here is a summary of a few of the issues we have experienced.
The cash out feature may be unavailable for the market I wish to select
The cash out feature may be removed due to unforeseen game conditions
The match may be postponed or cancelled resulting in the removal of the cash out feature.
The market you selected is no longer available after the event starts.
You may have staked an amount of Bet Credits Stake" whereby the amount received is more than the amount you staked when placing your bet.
---
Pros & Cons of Using Cash Out
Like any betting feature, we have come across a number of pros and cons while using the cash out feature. To share those with you, we have listed them below.
Pros:
Allows you to partially cash out bet or retain your it fully before the settlement of a match
If you accidentally place a bet, you can cancel it without forfeiting your entire bet amount.
Allows you to effectively manage your bankroll when conditions are less favourable.
Allows you to take control of your qualifying bets should match conditions change.
Cons:
If you cash out early and the match ends in your favour, you lose profit.
Cash out options are time sensitive and require bettors to make decisions quickly.
---
Conclusion
Overall, it is the opinion of the team at Nostrabet that the cash out feature is simple to use and easy to understand. The allowances it offers us to simultaneously manage our bets and bankroll effectively is invaluable. While we may not use it often, when we do it helps with the feelings of uncertainty that our bet may end unfavourably. At the end of the day, that is what matters as it means we have some reassurance that not all is lost should our predictions fail to materialise.
FAQ
What markets can you cash out on?
The markets you can cash out on at Bet365 range from UK Horse racing, International Horse racing, Greyhound racing, Football, Badminton, and Tennis, to name a few.
What are the minimum and maximum amounts I can cash out?
At the moment, there are no minimums or maximums for full cash outs, but the minimum partial cash out must be equal to or more than 10x the minimum stake.
Can I use bet365 cash out on my phone?
Yes, Bet365 will allow you to use cash out feature no matter the device.