Usually, people have different favourites when choosing the best at something. However, when it comes down to football, most fans can agree that Pelé is in a league of his own.
According to Nostrabet.com, Pele has 1279 goals in 1363 games, making him the most successful soccer player in the world. "Pelé is a living legend and will always be one of the greatest players. In addition to his numerous goals, he is the only player who's won 3 World Cups. Unsurprisingly, FIFA considers him the greatest, which is one of the reasons he was named Athlete of the Century in 1999", said Kristiyan, the football expert at Nostrabet.
The Brazilian soccer player Pele will always be a legend, which is why many people are interested in him. Here are some crucial facts every Pelé fan should be aware of.
---
The beginning
Before going through Pele's goals over the years, learning more about his humble beginnings is essential. Born as Edson Arantes do Nascimento in 1940, Pelé was the son of a footballer from Fluminese. He grew up in São Paulo, where he worked in tea shops and several other places.
Interestingly, Pele started playing indoor football, a sport that gained a lot of popularity at the time. In fact, he took part in the first-ever football championship held in the state where he lived and even won it.
Following his performance, Pelé got the chance to become a professional footballer for Santos FC at the age of 15. He played his first game for the team in September 1956 and even scored his first goal. This was the beginning of the most impressive football career in history.
---
Popularity
There is no arguing that the Brazilian soccer player Pele is the most famous footballer in history. Besides Santos FC's coach at the time, even the local media in Brazil was impressed with his skills and started promoting him. Needless to say, Pelé quickly rose to the top and became one of the most popular players in the game.
After joining Santos when he was just 15, Pele also became a part of Brazil's national team when he was just 16 years old. The Pele age did not prevent him from shining because he quickly proved he was the best.
Following his career, Pelé won 3 World cups, and he became the all-time leading goalscorer of Brazil with 77 goals. Furthermore, he is Santos's all-time top because he scored 643 goals in 659 matches.
Speaking of Santos, he and his club became a global phenomenon and participated in numerous matches worldwide. Pele was so famous back then that every football fan wanted to see him in action.
Pele even stopped the war in Nigeria
As mentioned, Santos played in many countries around the world, and one of them is Nigeria. During that time, the country was torn apart by the civil war, but Pele's arrival allowed both sides to cease fire so that people could watch Pele in action.
---
Pele and the FIFA World Cup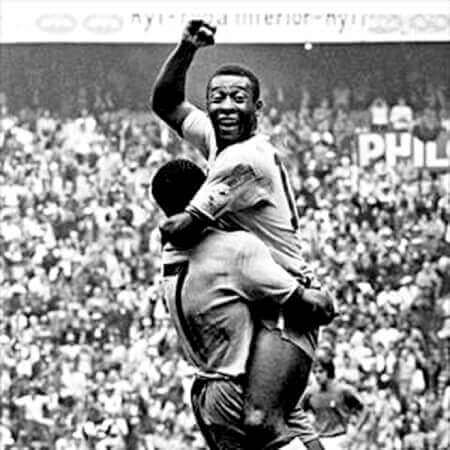 Although Pele's stats in Brazil's domestic championship are impressive, his international career is second to none. His debut for Brazil's team took place on 7 July 1957, and it was against none other than Argentina. After Pelé scored his first goal at the age of 16, his team won, and he became the youngest goalscorer.

One year later, Pelé made his World Cup debut in Sweden. Despite having a small injury, the legendary player broke tons of records. Ultimately, the Brazilian superstar and his team won the 1958 World Cup after defeating Sweden.

Following his glamorous performance, many people regarded Pele as the best in the world, despite his young age. Naturally, he was also a part of Brazil's squad for the 1962 Word Cup and scored a goal in the first match. However, he couldn't help his team later on due to an injury in the second match. The good news was that Brazil had terrific players at the time and won the event.
Following the 1966 World Cup, where Pele was injured, the GOAT was his country's star in 1970. According to the statistics, he was responsible for 53% of his country's goals. Needless to say, Pele was one of the main reasons why Brazil defeated Italy in the final. After the event, Pele won the Golden Ball for being the best.
Interestingly, Pele's last match for the Brazilian national team was against Yugoslavia in 1971. During his jaw-dropping career, Brazil got 67 wins, 11 losses, and 14 draws.
---
Why was Pele not a part of any European football team?
One of the questions that people often ask themselves is why Pele was never a part of any big European team. Following his dominant performance in Brazil's domestic championship and the international team, Pelé became the number one transfer for all European powerhouses. Clubs like Real Madrid probably did everything in their power to get his signature, but this never happened.
One of the reasons why the Brazilian soccer player Pele didn't join a team from Europe is because of Brazil's president. He declared him a "National Treasure" to prevent him from going abroad. In other words, clubs couldn't get his signature because this would be considered a crime.
Having said that, after Pelé announced his retirement from the national team, he was convinced to join the New York Cosmos. Unsurprisingly, the player was top-rated, and everyone wanted to meet him. Besides helping the team win, Pele's arrival in the U.S. paved the way for other soccer stars to join the soccer league in the USA. This includes Eusebio, Franz Beckenbauer, Johan Cruyff, and more.
---
Outside the pitch
As you can imagine, Pele was one of the most influential people in the 20th century. He was friends with almost every important person at the time, including Popes, Kings, Political leaders, and more. People often regarded him as the ambassador of football, and it was for a reason. Pelé won tons of awards, including the World Player of the Century, the FIFA Ballon d'Or Prix d'Honneur, the Laureus Lifetime Achievement Award, and much more.
In terms of his personal life, the player has 7 children and was married three times.
---
Health
As mentioned, Pele received a lot of injuries as a player. However, he had many other problems because, in 1977, the media reported that he had his right kidney removed. Aside from that, Pelé had to go through a hip operation in 2012. 5 years later, during the 2018 World Cup in Russia, the Brazillian star appeared in a wheelchair.
Pele also had problems with kidney stones in 2019, and in 2021, he had surgery to remove a tumour. Although his elder daughter said he was doing well, he began chemotherapy in 2021. In 2022, Pele was hospitalized after having cardiac issues.
---
Final Thoughts
There is no arguing that Pele is football's best player and one of the most influential people alive. His performance on and off the pitch has had an impact on the world and will go down in history. Modern footballers can only hope to become as good as him.