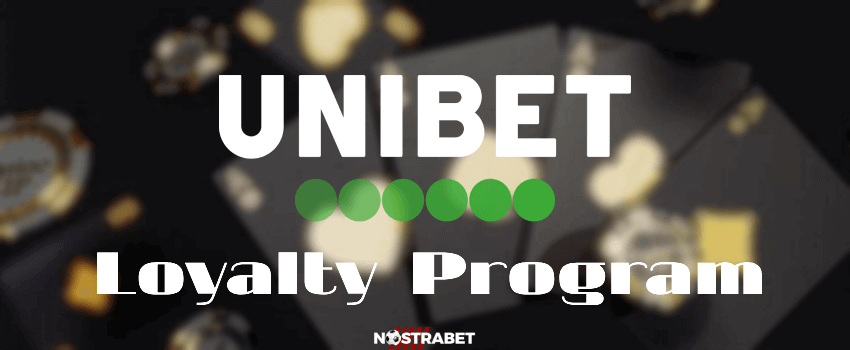 Ad disclosure
Commitment, professionalism and trustworthiness are the core values of NostraBet (NB). We manage to deliver cutting-edge betting products to our readers thanks to our affiliate business model. It is true that NB uses affiliate links to drive traffic to bookmakers. What you must know is that these are free for you to use. Their main purpose is to earn us commissions that will ultimately be invested in the betterment of our product. Visit our
Ad Disclosure
page to learn all the details.
Unibet is an outstanding betting platform that offers everything online wagering, from casino games to poker, bingo, and a sportsbook. The loyalty program at the site lets you redeem all sorts of rewards, including Unibet bonuses, cash, tickets, and more.
With the revamped loyalty program, Unibet sought to simplify the program and give rewards equally to all players. The revamp also comes with an all-new Game Lab to keep you updated about all the stats and figures about your progress.
---
Unibet Loyalty Program Explained
The new loyalty system is much more simplified since you get a loyalty point every time you generate 1c of rake. With 69% of consumers saying that the kind of rewards they get influence their purchasing decisions, a loyalty program like Unibet's is much needed. Keep increasing your loyalty points, and you enter new levels of the bonus program. Leveling up also comes with more access to the Game Lab, where you can check your stats and personal achievements and unlock a bonus points multiplier.
Requirements
You join the loyalty program automatically when you Sign up for Unibet. Your rake starts as soon as you start playing your first game at the casino — this way, you never have to worry about whether you are collecting vip points or not. However, users should note that redeeming points requires them to click on the loyalty program and redeem them. Bonus rewards are not given automatically when you hit enough XP to claim them.
Loyalty Points
Earning loyalty points at Unibet works pretty much as it does at most gambling sites. Play games for real cash, and this adds to your rake. Each coin of rake you play earns you a point on the loyalty program. Keep playing games in the casino, sportsbook and poker rooms to keep your points growing.
Your loyalty points bring different perks that you get as you keep accumulating them. Some of the perks you can look forward to include exclusive tickets, cash, bonuses with multipliers and a rake-back that keeps going up as you go to higher levels of the loyalty program.
Points reset every quarter of the year starting from 1st January going to 1st April, 1st July, and 1st October. Carryover happens from quarter to quarter, and points are credited according to what rewards they would have attracted.
| | |
| --- | --- |
| Loyalty Level | Bonus Point release increments |
| 1 | 0 |
| 2 | 2 |
| 3 | 10 |
| 4 | 25 |
| 5 | 50 |
| 6 | 100 |
| 7 | 100 |
Rewards
The Unibet loyalty program rewards players with different kinds of exclusive gifts. For starters, users get free roll access each month. This is tagged to an amount of cash that depends on how high up the loyalty program you are. The free roll is combined with a point multiplier that starts going up at level 2.
From 2x the multiplier reaches to 18x when you get to level 7, which is the highest level of the rewards program. The bonus point multiplier carries rewards which also increase with a higher multiplier. Knowing how to calculate your loyalty points is important, and Unibet makes it simple.
All you need to remember is that 1c of bets equals 1 point. Go up the rewards program, and you get a playthrough bonus of a set amount each time you are at a new level. The playthrough reward is a cash bonus that starts at level 4 where you get €20, and reaches as high as €3,000 at level 7. VIP Players from Germany and Belgium should note that they are not eligible for monetary rewards.
---
Unibet Game Lab
The Game Lab is a new feature Unibet introduced with the new loyalty rewards program. It is the new way to keep tabs on your stats and figures when you play poker. In this site section, you get information on different metrics to do with your gameplay. It is also where you see the achievements you have made and the facts and figures behind them. The Game Lab has five areas to explore:
School: This is where you see your stats. All your stats are based on your activity in the previous month. To see your stats, you will have to unlock this section and play enough hands to log in your data.
Achievements: Your achievements include the number of hands you play and the winning streaks you get. This section also holds your personal best.
Hall of Fame: The Hall of Fame keeps track of all players' achievements. Get high game and tournament scores to earn your spot in the Hall of Fame. Check this section to see all the royal flashes players get.
Hexapro: These are unique kinds of games that earn you Hexapro tickets as well as better winnings. Your Hexapro tickets help you get to higher ranks on the rewards program.
MTT – This game format comes with perks of its own. Gain multipliers when you land more wins on MTT games.
---
FAQ
Can I use the app for participating in the loyalty program?
Yes, Unibet keeps a count of your points no matter what platform you play on; thus the games you play on mobile add to your rake.
How do I cash-in my points?
Cashing in your points is easy. Simply click on your profile to see how many points you have. Click on the points to access the options you have and redeem them into various rewards.
What is Unibet Club Sports?
This is a loyalty program for sports betting fans that puts you in line for $10 in bonus money. You have to opt into the program to be eligible for the rewards.
Can I redeem real cash with my loyalty points?
Yes, the bookie offers the chance to claim real cash when you have enough points. Players in different tiers of the rewards program get varying redeemable cash.
How long does it take before points reset?
Your points reset every three months, and you get your remaining points converted to prizes depending on the prize you would have won.
---
Conclusion
The loyalty program at Unibet is unique. That the bookie took away the challenges made the program much more practical to play. You don't have any hurdles to worry about before claiming your loyalty rewards. The addition of the Game Lab and new game formats make the loyalty program much more interesting.
Cash rewards are great to see; it gets even better when you get the rakeback on your losses. Overall, the loyalty program at Unibet is one of the best you will find at online gambling sites. There are many reasons to be excited about the Unibet loyalty program for players who sign up for the platform. That the loyalty program enjoys good reviews among players only goes to show how well the betting site has it planned out.