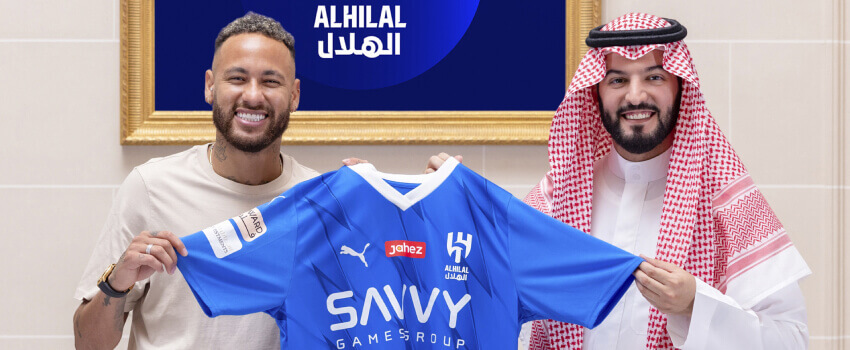 Everyone is well aware that football is a lot more than just a sport. In fact, it's one of the most lucrative businesses in the world, which explains why some clubs spend insane amounts of money. Although clubs in England, Spain, and Italy are the ones that usually spend more than the rest, some of the leading names in Saudi Arabia have been on another level in the last couple of years.
The information from Nostarbet.com shows that Neymar's most recent transfer to Al Hilal for €90 is the latest addition of a top-tier Western Player to the Saudi League. The latter is involved in the biggest transfer in 2022 and 2023 because players like Cristiano Ronaldo and Karim Benzema became a part of the local championship.
"What's interesting about Neymar's transfer is the perks he gets. Besides the amount Al Hilal had to pay to PSG, Neymar's also going to get around a €100/year salary. But that's not everything because the player had a list of other requirements that the club had to fulfill. It probably doesn't come as a surprise that a lot of people do not approve of those kinds of deals and think they're bad for the sport", said Kristiyan, NB's football expert.
But what are the perks that Neymar will get in addition to his jaw-dropping salary? Let's dive in. Don't forget that this is another big transfer for Al Hilal this year because the club also spent around $55M for Ruben Neves, and $60M for Malcom. That said, it had to give PSG a whopping $98.6M to get Neymar's signature.
Top 10 Most Expensive Player Transfers to Saudi Arabia (since 21 August 2023)

| | | |
| --- | --- | --- |
| Player | Joined | Fee |
| Neymar | Al-Hilal | €90M |
| Malcom | Al-Hilal | €60M |
| Ruben Neves | Al-Hilal | €55M |
| Aleksandar Mitrovic | Al-Hilal | €52.60M |
| Fabinho | Ittihad Club | €46.70M |
| Sergej Milinkovic-Savic | Al-Hilal | €40M |
| Riyad Mahrez | Al-Ahli | €35M |
| Sadio Mane | Al-Nassr | €30M |
| Roger Ibanez | Al-Ahli | €30M |
| Jota | Ittihad Club | €29.10M |
Source: transfermarkt.com
---
The additional Perks Neymar will get in Saudi Arabia
Most football players worldwide will be more than happy with getting a €100m/year salary. In fact, Neymar's recent transfer makes him one of the highest-paid footballers in the world. However, it seems like this was not enough for the Brazilian superstar because he received tons of other perks.
First and foremost, he will get a massive house in Saudi Arabia with 25 bedrooms. According to the information, the house comes with 3 saunas, a giant 40x10m swimming pool, and 5 staff that will take care of everything.
All football players like fast cars, so it's probably not a surprise, Neymar also requires a couple of them. To be precise, the ex-PSG player will receive a Bentley Continental GT, a Lamborghini Huracan, and an Aston Martin DBX. Each of these supercars is worth more than $300,000, but those will most likely be just some of the cars he'll have in the fleet.
If everything mentioned so far doesn't seem impressive, the next thing will surprise you. In addition to the house and cars, Neymar will also get a private plane that he can use to travel. Furthermore, all bills for hotels, restaurants, and other kinds of things made while he is off work will be paid by Al Hilal.
Neymar will also get 500K EUR per post on his social media that promotes Saudi Arabia. Considering he has more than 200M followers on Instagram alone, it's no surprise that Saudi Arabia is interested.
Lastly, Brazil's superstar will also be able to live with Bruna Biancardi, although they're not married. This may not seem that significant, but Saudi Arabia is known for its strict laws, so it's huge.
---
Are Neymar's transfer and the perks he gets good for football?
The answer to this question depends entirely on who you ask. Yet, there is no arguing that most people who love this sport do not support such things. Some of them even think that things are getting out of control.
Everyone agrees that the best football players in the world should get tons of money for what they do. However, Saudi Arabia's most recent transfers have raised the bar so high that it just seems ridiculous.
Football is the biggest sport in the world, so attracting some of the best players will increase your country's and local league's popularity. Saudi Arabia is doing just that, and it's definitely paying off. After the insane transfer of Cristiano Ronaldo, many other top players have followed his footsteps. Neymar is the last jewel in the country and will play against the likes of Kante, Benzema, and more.
Old-school football fans don't like that the clubs in Saudi Arabia use their endless resources to get the best players. Even though some names in Europe also have a lot of funds, even the likes of Real Madrid and Manchester City are yet to reach the financial resources of the Saudi clubs. In other words, some European football fans are afraid that the best players will be lured by the money they'll get in the Middle East and decide to play there instead of in Europe.
Another argument that people make about the most recent football salaries is that they're way too high. Even though we're talking about some of the best players in the world, if we compare the salary of people like LeBron James and Cristiano Ronaldo, we can see that the latter earns almost 3x that amount. The difference is even more impressive if you check the top athletes in other sports, such as MMA.
---
What's the future of football going to look like?
Cristiano Ronaldo's transfer to Saudi Arabia paved the way for many other top-tier football players to join the league there. Lionel Messi's decision to become a part of the MLS also shocked the world a few weeks ago. Therefore, it will be very interesting to see what's going to happen to our favorite sport.
There is no arguing that the top-tier European football competitions will continue to be the go-to option for fans worldwide. However, we can see that the Saudi League and the MLS are getting way more attention than before. If the top clubs continue with their transfers, we wouldn't be surprised if they surpass the top European championships.
Another thing that we expect to see is a new kind of cross-continental club championships. The UEFA Champions League is the biggest competition, but it does not include any clubs from the MLS. Forming a new league will allow us to watch the world's best in one place. Needless to say, this will attract tons of new fans, including people who will want to bet on these games.