The English Premier League is where you can find some of the best football clubs in the world. Considering it is one of the most popular sports competitions globally, it shouldn't be surprising that most clubs here are also rich. That's because they're owned by some of the world's wealthiest people.
According to Nostrabet.com, Newcastle United's owners and estimated net worth of $620B make this the richest club in the EPL. "This information will probably surprise some because people often consider Manchester City the wealthiest. However, if you compare the two clubs, you can see that Newcastle is on another level. No wonder the club is linked with some of the most expensive transfers in the next couple of years", said Kristiyan from NB.
Newcastle is in a league of its own, but this doesn't mean other EPL clubs and their owners aren't rich. On the contrary, there are loads of exciting data to look at, so let's go through every team in the English Premier League and learn more about its owners and their net worth.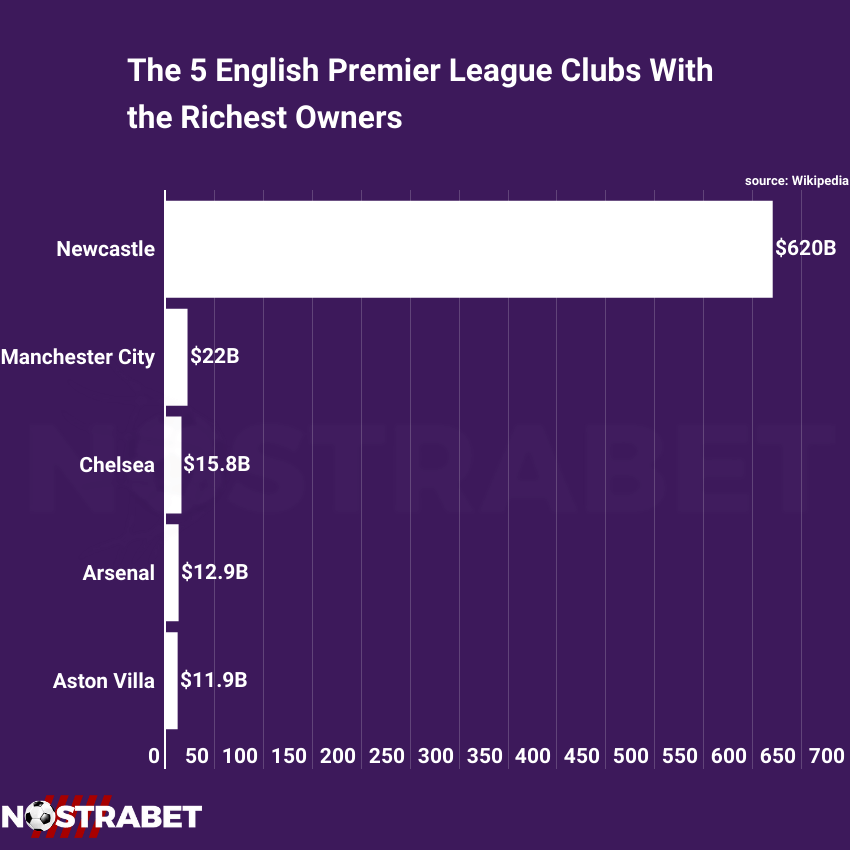 ⚽ Team
🏅 Owner/Owners
💸 Net Worth (Combined)
Newcastle United
Public Investment Fund (80%) (state-owned)
RB Sports & Media (10%)
PCP Capital Partners (10%)
$620B
Manchester City
Abu Dhabi United Group (81%) (state-owned)
Silver Lake (18%)
China Media Capital and CITIC Group (1%)
$22B
Chelsea
Clearlake Capital Group (Behdad Eghbali and Jose Feliciano
Todd Boehly
Hansjorg Wyss
Mark Walter
$15.8B
Arsenal
Stan Kroenke
$12.9B
Aston Villa
Nassef Sawiris
Wesley Edens
$11.9B
Liverpool
John W. Henry
Tom Werner
$9.8B
Fulham
Shahid Khan
$7.9B
West Ham
David Sullivan
Daniel Kretinsky
$7.3B
Wolverhampton
Guo Guangchang
Liang Xinjun
Wang Qunbin
$6.9B
Tottenham
Joe Lewis (60%)
Daniel Levy (25%)
$5.8B
Crystal Palace
Steve Parish (10.74%)
Joshua Harris (18%)
David S. Blitzer (18%)
John Textor (40%)
$5.5B
Manchester United
Glazer Family
$4.7B
Leeds United
Andrea Radrizzani (56%)
49ers Enterprises – York Family and others (44%)
$4B
Everton
Farhad Moshiri (94%)
$2.9B
Leicester City
The Srivaddhanaprabha Family
$1.7B
Bournemouth
William P. Foley
$1.6B
Brighton
Tony Bloom (75.61%)
$1.3B
Southampton
Sport Republic (80%)
Katharina Liebherr (20%)
$1.3B
Nottingham Forest
Evangelos Marinakis
$620M
Brentford
Matthew Benham
$30M
---
Newcastle United – $620B
Starting with the elephant in the room, we've already mentioned that Newcastle United's owners have more than $620B. 80% of the club belongs to the Public Investment Fund of Saudi Arabia, whereas RB Sports & Media has 10%, and the PCP Capital Partners also has 10%.
According to the information online, the source of wealth of Newcastle's owners is sovereign wealth. This shouldn't come as a surprise because Saudi Arabia is one of the richest countries globally.
Before the club's acquisition in 2021, its owner was Mike Ashely, but he sold it for 305M GBP.
---
Manchester City – $22B
The second place on the list goes to Manchester City. The club's owned by the Abu Dhabi United Group (they have 81%), Silver Lake (18%), and the China Media Capital and CITIC Group, which have 1%. The clubs' owners estimated net worth is around $22B. As you can see, there is a substantial difference between them and Newcastle.
The data shows that the owners of Manchester City got their net worth from investments and sovereign wealth. Interestingly, this was the richest club in the English Premier League before the acquisition of Newcastle. Sheik Mansour acquired the club in 2008, and because of him, the Sky Blues became one of the biggest clubs in Europe.
---
Chelsea – $15.8B
Chelsea was owned by the famous Russian billionaire Roman Abramovich until around 1 year ago. He took over the club many years ago and transformed it into one of the best in the EPL. However, the ongoing war in Ukraine forced him to sell the club to the following new owners:
Todd Boehly
Clearlake Capital Group
Hansjorg Wyss
Mark Walter
Chelsea's new owners have an estimated net worth of around $15.8B. Their wealth comes from an Investment consortium and the Los Angeles Dodgers.
---
Arsenal – $12.9B
Stabn Kroenke owns one of the big favourites to win the 2022/2023 English Premier League Season. Arsenal's owner's net worth is around $12.9B, making the cub the 4th richest in the league.
Stan Kroenke's net worth comes from commercial property, the Kroenke Sports & Entertainment (KSE), and Walmart. What's interesting about the KSE is that it has multiple sports teams, such as the Denver Nuggets, Los Angeles Rams, Colorado Mammoth, and more.
---
Aston Villa – $11.9B
Some of you probably didn't expect Aston Villa to be so high on the list. Still, the club's owners, Nassef Sawiris and Wesley Edens, have a net worth of around $11.9B. These two acquired the team in 2018, so it will be interesting to see what the future will be like.
Villa's owners got their wealth from investments and industry. In fact, Wesley Edens is one of the founders of the Fortress Investment Group LLC, located in New York City.
---
Liverpool – $9.8B
The next name on the list is Liverpool, owned by John W. Henry and Tom Werner. Their net worth is around $9.8B from the Fenway Sports Group. The latter started in 2001, and its headquarters is in Boston, USA.
What's interesting about the FSG is that it's also linked with the likes of LeBron James, an investor in the sports holding conglomerate. The company also owns Fenway Park, Pittsburgh Penguins, the Boston Red Sox, and more.
---
Fulham – $7.9B
Shahid Khan is Fulham's owner, and he has around $7.9B. Interestingly, his net worth comes from the Flex-N-Gate Corp, one of the biggest automobile parts manufacturers in the world. A portion of his wealth is also from the Jacksonville Jaguars and the All Elite Wrestling. The latter is the second-largest wrestling organization in the USA, just after WWE.
---
West Ham United – $7.3B
West Ham United is a club that David Sullivan and Daniel Kretinsky own. These two have a net worth of around $7.3B and owe it to the Daily Sports, Sunday Sports, and EPH. The first two are among the most popular media websites in the world.
---
Wolverhampton Wanderers – $6.9B
Interestingly, Wolverhampton is the only club in the English Premier League (at least for now) owned by Chinese investors. Guo Guangchang, Liang Xinjun, and Wang Qunbin have a combined net worth of around $6.9B.
Their net worth comes from Fosun International, a big company founded in 1992. One of the biggest conglomerates in China works in 16 countries.
---
Tottenham Hotspur – $5.8B
Tottenham is among the few football clubs whose owners got their net worth from Currency Trading. Joe Lewis and Daniel Levy have a combined net worth of around $5.8B, which is impressive, to say the least. These two are a part of the ENIC Group and purchased the club in 2001.
---
Crystal Palace – $5.5B
The following football club on the list is
Crystal Palace, and it has 4 owners
in total:
Steve Parish
Joshua Harris
David S. Blitzer
John Textor
These four people's net worth is around $5.5B from the Tag Worldwide Investments.
---
Manchester United – $4.7B
Even though there have been many rumours recently about Manchester United's future owners, the Glazer Family continues to be in charge. The latter has a net worth of $4.7B, mainly due to the First Allied Corporation.
Interestingly, this company is one of the big real-estate holding brands with loads of shopping malls all over the U.S. Furthermore, the Glazer Family also owns the Tampa bay Buccaneers, one of Florida's big NFL teams.
---
Leeds United – $4B
Leeds United's owners are Andrea Radrizzani and 49ers Enterprises.
Combined, these owners have a net worth of
$4B
, and they owe it to a couple of things:
Aser Ventures
San Francisco 49ers
DeBartolo Corporation
Investing in Zappos & YouTube
---
Everton – $2.9B
Farhad Moshiri is Everton's owner, and his net worth is around $2.9B. Most of his wealth comes from Steel and Energy and Theatre production. Moshiri bought 49.90% of the club in 201 and increased his shares to 68.6% in 2018. At present, he holds 94% of the club's shares.
---
Leicester City – 1.7B
Leicester's owner is the Srivaddhanaprabha Family, which has a net of around $1.7B. They owe it to the King Power International Group, a famous duty-free shop that is over 34 years old and operates in Thailand.
---
Bournemouth – $1.6B
This is another English Premier League club with an owner from the USA. William P. Foley is behind Bournemouth, and his net worth is around $1.6B. His wealth comes from Fidelity National Financial, INC, which is a Fortune 500 company. Furthermore, this is the person behind the Vegas Golden Knights, an ice hockey team based in Las Vegas.
---
Brighton & Hove Albion – $1.3B
Around 75% of Brighton & Hove Albion belongs to Tony Bloom, whose net worth is around $1.3B. Interestingly, it comes from Property, Land Development & Investing, as well as online gambling. The 52-year-old owner is a popular sports bettor and a poker player often called "The Lizard". He acquired the club in 2009.
---
Southampton – $1.3B
80% of Southampton belongs to Sports Republic, whereas the other 20% goes to Katharina Liebherr. Together, these two have a net worth of $1.3B, and they owe it to inheritance and the United Group. The latter is one of the popular telecom providers in Southeast Europe, and it was founded in 2007.
---
Nottingham Forest – $620M
The second-last spot on the list is for Nottingham Forest's owner Evangelos Marinakis. The Greek businessman's net worth is around $620M, and he owes it to the Capital Maritime & Trading Corp. This big shipping company focuses on seaborne transportation.
---
Brentford – $30M
The last place on the list when it comes down to the richest owners of the English Premier League teams goes to Brentford. The latter is owned by Matthew Benham, whose net worth is estimated to be around $30M. His net worth comes from gambling firms.
All the data for the owners and their net worth shown on this page are actual as of 20.03.2023! Source of information: Wikipedia.