Unlike many years ago, people worldwide are interested in all kinds of eSports and video games. Many of them play daily, but millions of fans watch their favourite games on some of the leading streaming platforms, such as Twitch.
The data from Nostrabet.com reveals that League of Legends was the most popular game on Twitch in February 2023, with around 175K average viewers. This number is impressive, especially compared to the second option on the list. "Some of you may be surprised by League's results, but those who keep a close eye on Twitch know this isn't new. LoL has always been one of the most popular games in the world and one of the leading eSports titles", said Kristiyan from NB.
Although League of Legends is the most popular game and eSports on Twitch, it's not the most viewed category. This honour goes to "Just Chatting", where you can find all kinds of things. Some streamers use it to play music, read books, sing and do other things.
Of course, League of Legends is just one of the many video games with a huge Twitch fanbase. The platform offers many other options, so let's look at them.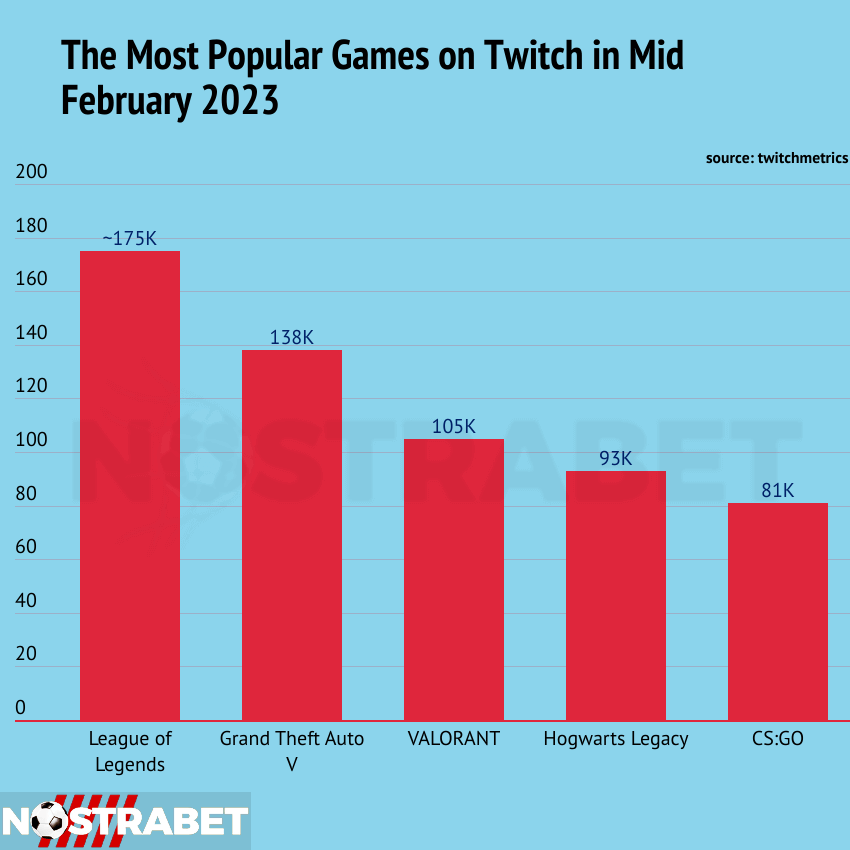 ---
Grand Theft Auto V
Even though most of you probably expected to see some of the other eSports titles here, the second place goes to Grand Theft Auto V. Despite celebrating its 10th anniversary in 2023, GTA 5 continues to be one of the most popular games in the world. With millions of players offline and online, GTA 5 offers a unique experience.
If we look at the data from Twitch, we can see that the game has an average of ~138k viewers. This is extremely impressive because most of the biggest streamers in the world don't focus on GTA 5 that much. We can only imagine what will happen with the franchise once GTA 6 becomes available.
---
VALORANT
The third spot on the list is for one of the leading eSports titles in the last 2 years. VALORANT is Riot Games' answer to CSGO, and it's safe to say that it has been extremely successful. People worldwide have been playing the game since it became available, and it seems like it's becoming even more popular.
With an average of 105K viewers in February 2023, VALORANT is the 2nd most popular eSport on Twitch. Some people may think that these numbers are so high because of a big tournament. This is true up to a point because the VCT 2023: LOCK/IN Sao Paolo started just a few weeks ago, but it will end in early March.
---
Hogwarts Legacy
Harry Potter fans from all over the world, received an early Christmas gift in 2023. Hogwarts Legacy is a role-playing action game that became available on February 10. Needless to say, it didn't take long before it exploded in popularity because everyone was eager to play.
Hogwarts Legacy is more attractive than any other Harry Potter game because it features an open-world environment. Unsurprisingly, fans of the franchise are more than happy that they can explore the world and have fun.
Even though Hogwarts Legacy has been around for several weeks, the game took over Twitch by storm. Consequently, it has around 93K average viewers, which is impressive for such a "young" game. With that said, it will be interesting to see if it will keep its impressive stats in the upcoming months.
---
Counter-Strike: Global Offensive
The next spot on the list is for a game that we all love and play. CSGO is one of the world's leading eSports titles and the most popular shooter. The game has been around for over 10 years, but the franchise has been a part of the video game industry for ages.
Everyone knows that CS: GO has always been one of the top games on Twitch. With that said, the game had an average of 81K viewers in February 2023, which is pretty impressive. Besides the usual CSGO streamers, many people watched the Intel Extreme Masters Katowice 2023, one of the year's most important events.
---
The Video Game Live Streaming Industry in 2023
It's safe to say that the video game live-streaming industry has never been as big as it is today. Many sources claim that it will have a global audience of around 1.4B by 2025, which is impressive.
Several reasons exist for the massive growth of video games' live streaming in the last couple of years. Besides the arrival of many new and exciting options, people have access to better hardware that allows them to stream. You probably need a powerful CPU, a lot of RAM, and a good GPU to play and stream games.
Of course, we must also mention the global COVID-19 pandemic that hit the world a couple of years ago. Since people had to stay home, platforms like Twitch became much more attractive for gamers of all ages.
---
Esports, Live Streaming & Gambling
In addition to everything mentioned above, another reason why some video games are more popular than others is because of online gambling. This applies mainly to the eSports titles because bookmakers focus on them.
If you look at any modern sports betting website, you will find at least a couple of eSports. Some companies even have a stand-alone section offering the likes of CSGO, League, Dota 2, VALORANT, Overwatch 2, StarCraft II, Arena of Valor, PUBG, and more.
Aside from the games, these companies also integrate live streams so that people can watch the matches they bet on. Some companies try adding their own streams, but most betting operators add Twitch to their platforms. Unsurprisingly, this has a massive effect on the popularity of some eSports titles.