Ad disclosure
Commitment, professionalism and trustworthiness are the core values of NostraBet (NB). We manage to deliver cutting-edge betting products to our readers thanks to our affiliate business model. It is true that NB uses affiliate links to drive traffic to bookmakers. What you must know is that these are free for you to use. Their main purpose is to earn us commissions that will ultimately be invested in the betterment of our product. Visit our
Ad Disclosure
page to learn all the details.
Since MyStake is among the world's leading betting websites, it shouldn't be surprising that it has a lot to offer. With numerous betting sections and a casino category, users can try things like MyStake Dino and other gaming options. Naturally, many users want to know more about this popular title, so let's go through the things you should be familiar with.
---
What's the Game About?
The Dino game My Stake is a popular title that allows people to place a bet before the beginning of the "Race". Once that happens, the Dino starts "running," reflecting the amount you win. Speaking of winning, the only way to do that is if you Cash Out before the meteor hits the Dino.
This game is very popular right now, but it is just one of the many crash games out there. Most of them offer the same features, but there are differences in the graphics, gameplay, and RTP.
---
Rules of Dino Crash on MyStake
Before playing MyStake Dino, you should be familiar with the rules. There are many things to be aware of, such as:
The game allows you to bet 0.20 EUR or up
The lowest multiplier is 10x
The maximum multiplier at Dino is 10.000x
Dino will enable you to place up to 2 bets per round
The maximum you can bet per spin is 10000 EUR
Dino allows you to set up each bet manually and collect them
To win, the Dinosaur shouldn't get hit by the asteroid before your multiplier
The game allows you to automatically collect each bet (it should be greater than 1)
Dino's RTP is around 95.0-95.9%
The game allows you to check what happened in the last 100 spins
You will receive your stake if there is a problem with the game
---
Interface & Layout
When it comes down to the game dino My Stake, you'll first see the min bet, max bet, and max profit. If you look on the right side, you will find the number of current bets, a section called "My bets" and "Highrollers". Interestingly, there is also a chat feature where you can communicate with other players.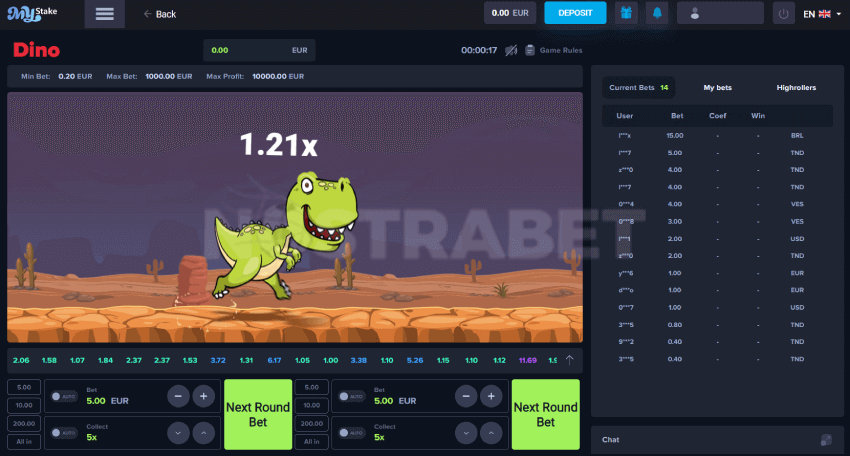 A quick look beneath the game itself will show you the betting panel. It will allow you to choose the current amount you want to bet and decide whether to use the auto-connect feature. Furthermore, you can see the last 100 multipliers, which can help you before betting.
---
MyStake Dino Game Features & Tips
Although the Dino MyStake game may seem straightforward, you must consider many small things before playing. Some people think that there aren't any tactics here, but after playing it for a while, we came across the following tips:
Use Cash Out – Dino allows you to Cash Out whenever you want a huge plus. If you don't predict your original bet, you can always use the Cash Out feature and get something out of it.
Autoplay is your friend – Even though many of you may want to place your bets by yourself, this can get tedious after doing it multiple times. Fortunately, Dino at MyStake offers an autoplay feature, which saves you from manually placing a bet.
You can use the Martingale betting strategy – Some people use different betting strategies when playing Dino, such as the Martingale one. Although doubling your bet after each loss is risky, winning should make up for all of it and give you a profit. Of course, you must ensure you have enough funds to use this strategy.
Skip some bets – One of the things that makes Dino such a fantastic game is that you can check the results in each of the 100 rounds before that. If you pay close attention, you will see a pattern where the meteorite hits the Dino almost instantly a few times in a row. If the same thing happens again, you can skip this round.
---
Summary
Overall, MyStake Dino is a fantastic game that definitely deserves more attention. It's fun, easy to understand, and can provide massive winnings. Yet, it is also risky, so people have to be careful when playing.
---
FAQ
Is MyStake Dino free?
No, MyStake Dino is not free because you have to place bets with real money. However, you do not need to pay anything to use the game in the first place.
What are cash games?
Crash games are popular casino games where users must predict when the round will end and win beforehand. There are different kinds of Crash variations to choose from.
How to play Dino at MyStake?
To play Dino at MyStake, you need to have an account, go to "Mini Games", and choose this title.