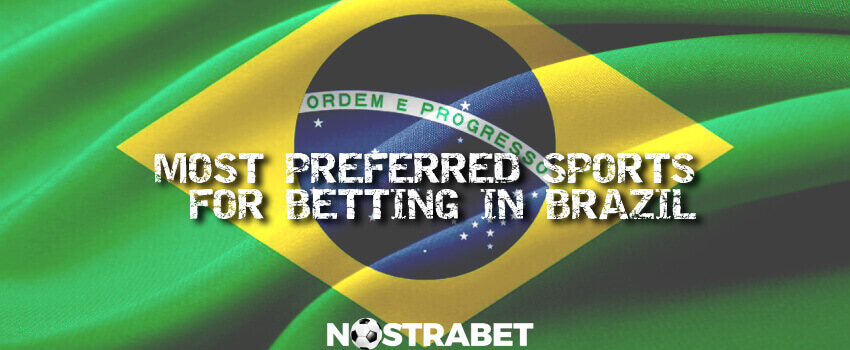 Brazil is the largest country in South America and has more than 214.3M residents. This place is famous for its beautiful nature, rich history, amazing food, and sports. After all, some of the world's biggest athletes come from Brazil.
Speaking of sports in the country, Nostrabet.com reveals that 81% of Brazilians bet on soccer, which is also the most popular sport in the country. On the other hand, volleyball only has 23% online betting fans, even though Brazil has one of the strongest national teams globally.
"Soccer has a special place in every Brazilian heart because the country is the leader regarding World Cup trophies. Unsurprisingly, this also has an effect on the betting industry, which explains the huge difference between soccer and every other sport", said Kristiyan from NB.
The betting industry grows daily in Brazil, so more people decide to punt on their favorite sport. So, let's learn more about the hottest options in the country and why people choose them.
---
Soccer
As mentioned, soccer is Brazil's most popular sport because the national football team is among the best in the world. The team has the nickname "Seleção" and has 5 World Cup trophies, which is really impressive.
In addition to its national team, the country is famous for having some of the best players. Starting with Pele, who passed away recently, we also have to include Rivaldo, Ronaldinho, Ronaldo, Roberto Carlos, Neymar, and more.
Besides betting on the country's national team, the big European championships also have a lot of fans among locals. Of course, they also punt on the Campeonato Brasileiro Série A, also known as the Brazilian Championship A series. Even though the league is not as big as those in Europe, it is home to loads of top-tier players.
Aside from everything mentioned, 81% of online bettors wager on football because the sport offers more options. Every punter knows that this is the sport where you can find abundant matches and markets. Moreover, bookies often provide special bonuses and even more exciting features.
---
Basketball
Basketball is second in Brazil's list of sports people bet on because 33% are interested in it. Although this sport is not that big in Europe compared to football, it has numerous fans in North and South America. Unsurprisingly, Brazil has one of the best national teams in the world.
What's interesting about Brazil's national basketball team is that it hasn't missed a FIBA Basketball World Cup so far. The squad shares this honour with the U.S., which probably doesn't come as a surprise. Betting on basketball has perks because people can choose from unique markets and excellent options. However, only some online bookmakers will offer enough alternatives, so bettors must be careful which brand they choose. Nowadays, most top-tier basketball betting websites will include at least a couple of big leagues, including the Campeonato Brasileiro de Basquete.
---
eSports
The third spot on our list will surprise some of you, especially if you don't know much about the eSports industry. 29% of Brazilians bet in eSports, which explains why even regular online bookmakers started paying way more attention to those things. Nowadays, players can find an abundance of options to choose from and even use special bonuses and features.
The eSports industry in Brazil is in a league of its own compared to other South American countries. Home to some of the best CSGO players in the world, such as Gabriel "FalleN" Toledo, computer games have become incredibly popular in the last few years. In addition to the millions who play daily, they also wager on all eSports.
Aside from CSGO, Brazil has popular Dota 2 players, such as Tavo. The country also hosts many tournaments, including the famous IEM Rio, among the biggest and most important CSGO Majors.
In addition to the popularity of eSports, Brazilians often punt on those things because of the special market and high odds. Whether they choose a standard bookie or something else, they can wager on exclusive markets and even use one-of-a-kind features.
---
Poker
Even though some people may argue that poker is not really a sport, some countries disagree. It seems like Brazil is one of them because 26% of online bettors are interested in poker and punt on it regularly.
When it comes down to betting on poker, people have the chance to choose from a lot of things. Some of them focus on wagering on different poker tournaments that take place around the world. However, you can also find a lot of gamblers who want to participate in numerous online competitions.
Most iGaming websites offer 2 kinds of poker. The first one is called "video poker," and it features games that look like slots. Aside from that, some iGaming brands also provide live poker rooms where players can compete against other. Interestingly, these rooms are often home to numerous poker tournaments with attractive prize pools.
---
MMA
There is no arguing that MMA is growing in popularity every day. People bet on it all the time thanks to leagues like the UFC, especially in countries like Brazil. In fact, 23% of online bettors prefer the sport, which makes MMA among the go-to options.
There are a couple of reasons why the sport is so popular among Brazilians, and one of them is that the country is home to Brazilian jiu-jitsu, one of the go-to sports among fighters. Of course, we also have to remember that the South American country is the birthplace of some of the best fighters in the world. Anderson Silva, for example, is regarded as one of the most legendary MMA fighters.
Betting on MMA gives people access to new markets and special promos. Even though there aren't as many options as in other sports, the odds are second to none.
---
Volleyball
The last sport on the list also attracts around 23% of online bettors, despite Brazil having one of the best teams in the world. With 3 Olympic Gold medals, 3 World Cup Championships, and 9 World League victories, Brazil is one of the most successful nations in the world regarding volleyball. Consequently, many people in the country place bets on it when possible.
Albeit less popular than football or basketball among online bookies, many websites provide more than enough options for this sport. Besides punting on popular competitions worldwide, locals also wager on the Brazilian Volleyball Super League. The latter is one of the most prestigious in the world.