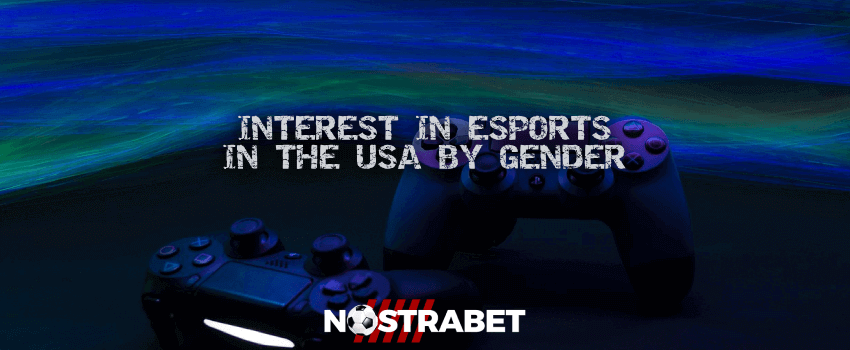 The United States is one of the biggest markets for all sorts of things, especially entertainment. The country's also home to some of the biggest companies in the gaming industry, which explains why a lot of people follow eSports. Many of the top players and organizations are based in the USA and compete against players from all over the world.
What's interesting is that the data from Nostrabet.com reveals that only 17% of Men consider themselves avid fans of eSports. 22% are casual fans, and 62% say that they're not a fan at all. The percentage distribution is even more interesting if we look at the female audience because only 2% of them say they're avid fans. 12% consider themselves casual fans and 86% are not interested in eSports.
"These percentages may seem shocking to some of you, but people following the eSports industry up close will not be surprised. The number of people interested in video games grows daily. It's just a matter of time before the female audience becomes as interested in eSports as the male", said Kristiyan from Nostrabet.
But what's the reason for this massive difference in the stats, and how is eSports becoming more popular in the USA? We're about to find out more about the entire process.
---
The difference between eSports for men and women in terms of Games
Everyone who has some experience with eSports in the last couple of years is aware that men dominate this industry. Regardless of which eSport title you look at, there will be at least a few top-tier players and teams. With some exceptions, almost all of them are men.
This does not mean that the female eSports industry is nonexistent. On the contrary, some games have a lot of fans, which explains why the number of fans who watch female eSports events grows every year.
Naturally, there are many differences between the male and female eSports industries, such as the number of popular games. Everyone knows that CSGO and Dota 2 are two of the biggest games in the world and have prize pools that reach millions of dollars. Even though CSGO is also big among female gamers, the game is dominated by male players (Dota 2 does not even have a solid female pro scene). The same applies to almost any other big title, such as PUBG, Fortnite, League of Legends, Valorant, Overwatch 2, and more.
However, a few titles are more popular among female gamers than males. StarCraft II is one of them because if we take a look at some of the most successful female eSports players, we can see that they focus on this game. Other titles also include Halo: Reach, Dead or Alive 4, Street Fighter, Apex Legends, and Teamfight Tactics.
Since there will be even more eSports titles in the future, it will be interesting to see if some of them will appeal to both male and female fans. Since the most popular titles are more prevalent among male players, it's no surprise that there are more male eSports fans in the USA.
---
There's a massive difference in the prize pools of most eSports events for male and female players
One of the things that always has an effect on the popularity of something is money. Even if people can't win anything, the fact that they watch others compete for a massive prize pool makes everything more interesting.
Esports may not be the first thing that comes to mind when discussing money, but some games here are known for offering jaw-dropping prizes. Games like Dota 2 have had tournaments whose prize pool reached more than $40M. In fact, this game is the leader in terms of prize money awards because all events so far equal around $335M, which is more than 2x than the number 2 spot on the list.
While it's true that some of the eSports events organized for women also have high rewards, the latter doesn't even come close. A quick look at the top eSports earnings reveals that the top female StarCraft II player has earned around $322K so far. This number may seem impressive, but the highest-earning male Dota 2 player has made more than $7.1M.
The difference in the prize pools definitely has a role in the popularity of eSports between men and women. Male players consider this a career opportunity and are more interested in keeping an eye on everything. Sadly, some female gamers are unaware of such events, so they do not pay any attention.
---
The Role of Gambling in eSports
We have to address the elephant in the room regarding eSports's popularity – gambling. People worldwide have been gambling on eSports for years, but after the legislative changes in the USA, more and more Americans are also becoming more interested in it. This makes the entire industry more sought-after, even among people who don't necessarily play video games.
Naturally, a large number of sports bettors are men, and they want to know what they're wagering on. As a result, they decide to learn more about eSports and follow all of the top-tier tournaments. The number of women who like betting on sports will also increase in the future, which may have an effect on the popularity of eSports.
Since most gamblers are male, the leading betting websites will only feature eSports events with male players. There may be some exceptions for games like CSGO because of its popularity, but gamblers rarely have the opportunity to wager on female eSports. It will be intriguing to see what's going to happen a few years from now.
---
What else can make eSports more popular among female players?
One of the things that we expect to see in the USA in the next couple of years is ad campaigns that target female gamers. Considering that more than 86% of them are not interested in eSports, it means this is a massive market that can earn game developers and advertisers billions.
In addition to the ads that will try to make eSports popular among female gamers, we also expect to see a rise in the popularity of streaming. Nowadays, you can find popular female streamers that attract a lot of new fans to eSports.
We also expect some of the biggest names in the video game industry to release new updates that target female players. They can include new skins, game modes and other kinds of things that will appeal to them.