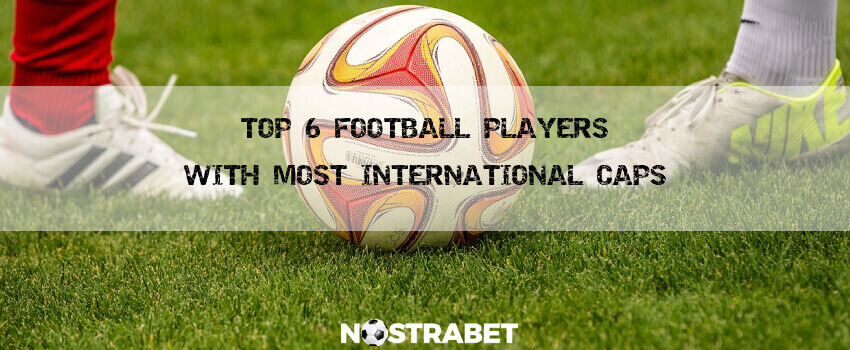 Usually, football players are more than happy when they have the opportunity to represent their country's national team. Whether it's a friendly match or an important game for a big event, such as the World Cup, footballers give everything they got so that their country can win.
Speaking of players, the data provided by Nostrabet.com shows that Sergio Ramos has 180 matches for Spain's National Team, which is impressive. However, he is not even in the top 5 because there are people with more games for their national team. "Ramos is one of the world's best defenders and among Spain's most important players. He has had a key role in the team's success over the years, including the 2010 World Cup victory", said the football expert Kristiyan.
Although Ramos's 180 matches for Spain are impressive, there are players with more than that. So, let's go over the top 5 players with the most caps for their country's national soccer team.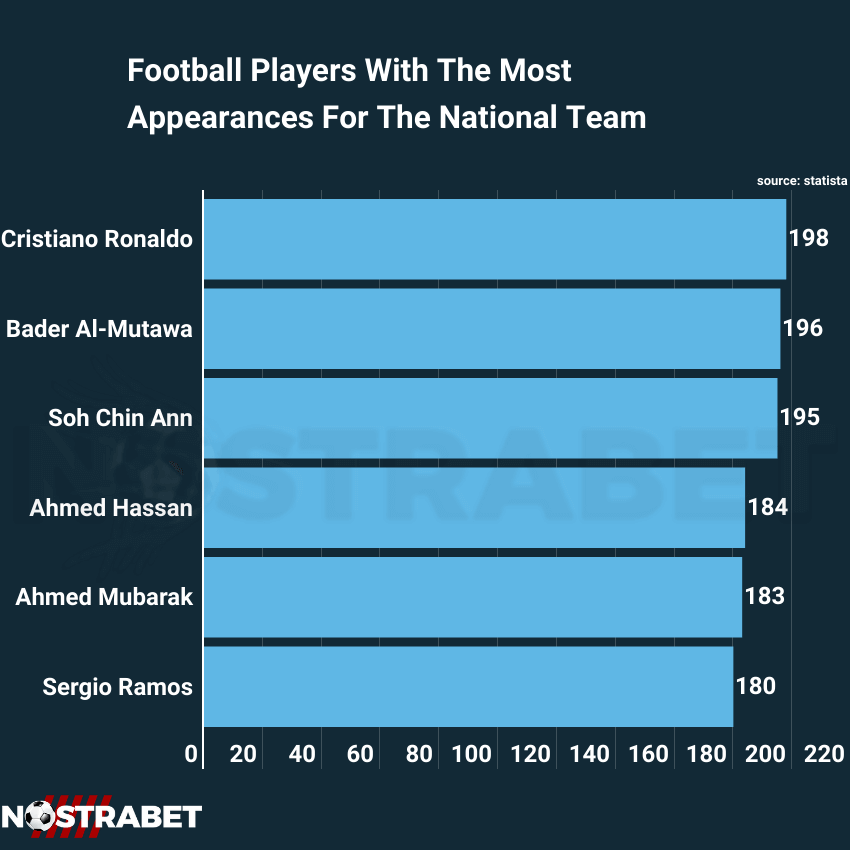 ---
Cristiano Ronaldo – 198 Games for Portugal
The number 1 spot on the list for the football player with the most matches for his national team is for the living legend Cristiano Ronaldo. At the time of writing this article, the GOAT has 198 matches, just a few more than the person who's second on the list. Of course, we expect Ronaldo to accumulate even more matches in the next couple of years.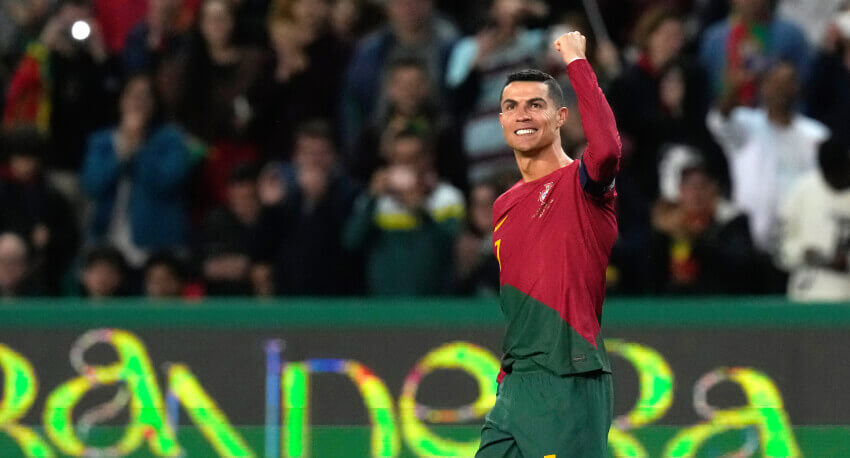 As you can imagine, the 5-time Ballon d'Or winner is also Portugal's captain. He is the country's most successful player, and one of the big reasons for his impressive results in the last couple of years.
In addition to the Grand Final of Euro 2004, Cristiano Ronaldo also helped his country win the Euro 2016 after defeating France's amazing team in the Final. Sadly, the player and his team couldn't shine during Qatar's 2022 FIFA World Cup.
---
Bader Al-Mutawa – 196 Games for Kuwait
The next spot on our list is for Bader Al-Mutawa. This player was also part of Al Nassr (Cristiano Ronaldo's current Saudi Arabian team). What's interesting about this player is that he used to hold the record for the most games with a national football team. However, his 196 matches for Kuwait give him second place on the list because CR7 surpassed him.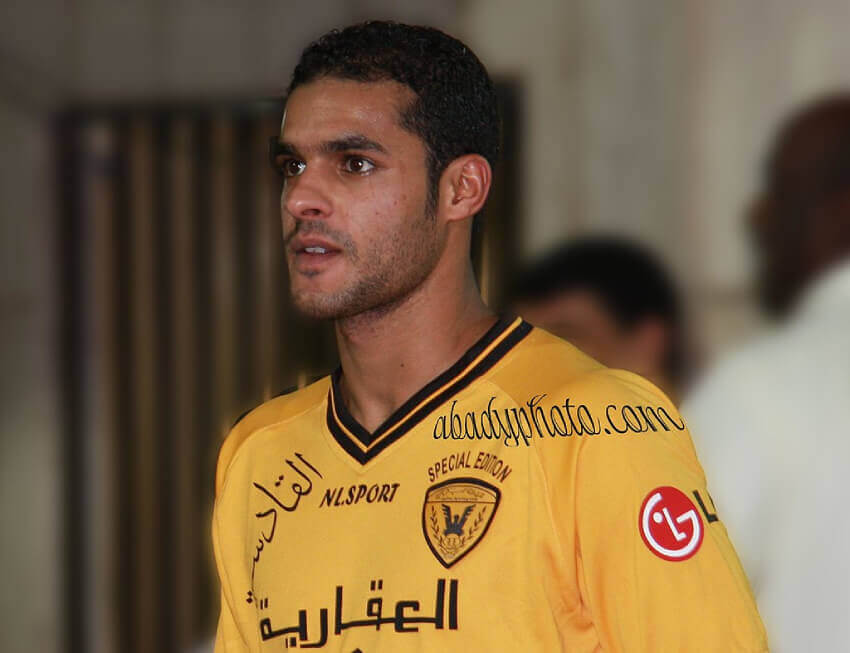 Al-Mutawa is a 38-year-old forward who has been a part of a couple of big teams in the Middle East. In fact, he was going to join Nottingham Forest in 2012, but he couldn't get a valid work permit. Consequently, he had to stay in his home country.
Besides his numerous games from his national team, what's interesting about Bader Al-Mutawa is that he scored his 300th career goal in 2021. That said, he only has 56 goals for Kuwait.
---
Soh Chin Ann – 195 Games for Malaysia
The third spot on the list is very interesting because it belongs to a player from Malaysia. Albeit not the strongest football nation in the world, the country is home to several top players, including Soh Chin Ann. The latter is a 72-year-old football legend often called "Towkay", meaning "Boss".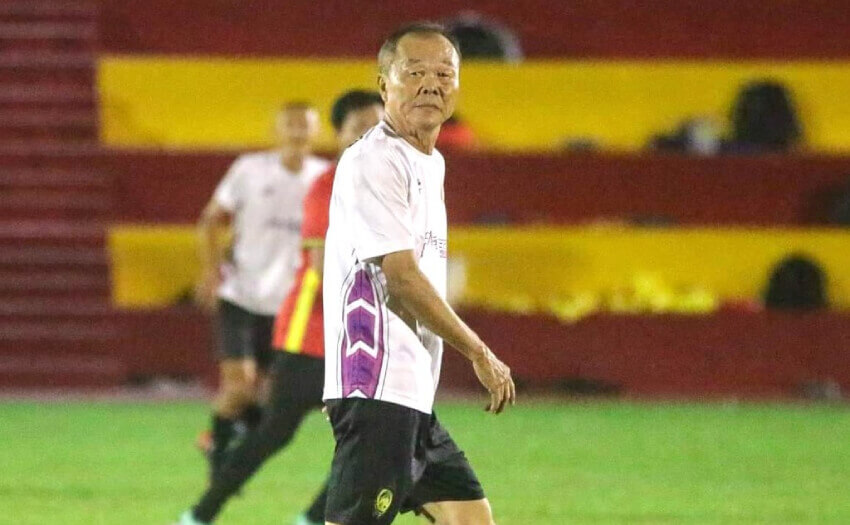 What's very interesting about this player is that he had 195 official caps for Malaysia throughout the years. However, some organizations consider him the player with the most international appearances, with 219 matches.
Soh Chin Ann started his international career when he was just 19 years old. The centre-back has a total of 13 goals for his country and will go down in history as one of the best Malaysian footballers.
---
Ahmed Hassan – 184 Games for Egypt
The next name on the list is the 47-year-old Egyptian midfielder Ahmed Hassan. Known as one of Egypt's top-tier football players, he has 184 matches with the national team and scored 33 goals. Unsurprisingly, many people consider him one of the best in Africa.
Aside from his impressive career with Egypt's international team, Hassan played for several clubs. He played for several top-tier Turkish footballs between 1998 and 2006, after which he became a part of Anderlecht. After spending 2 years there, he moved to Al Ahly, followed by Zamalek SC, where he ended his career.
---
Ahmed Mubarak – 183 Games for Oman
Ahamed Mubarak, also known as Ahmed Kano, is next on the list. The 38-year-old player has been a part of numerous teams in the Middle East over the years. However, he's most famous for his 183 matches for Oman's national team.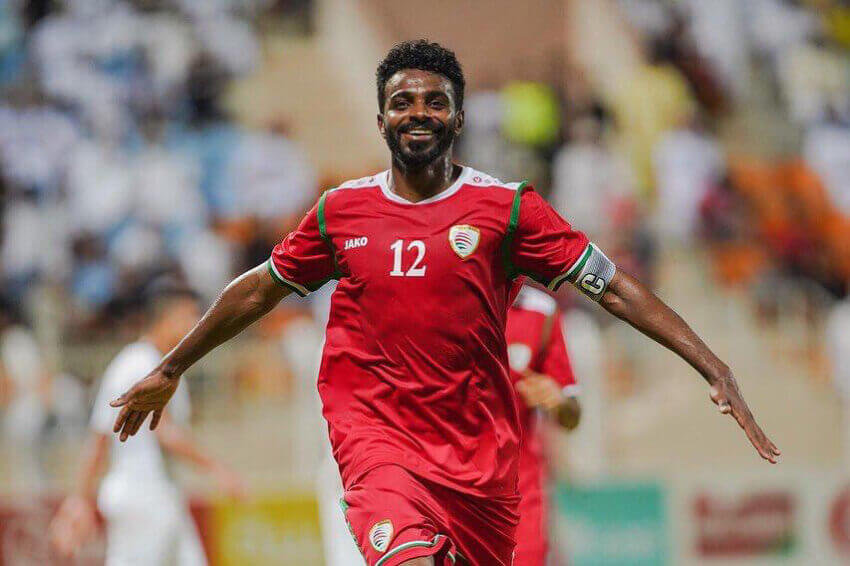 Despite his age, the defensive midfielder is a part of Al-Markhiya, where he wears the number 12 shirt. As for his history with Oman's national team, his first appearance for his country came in 2003. Since then, he has participated in 8 Arabian Gulf Cups, where he scored several important goals, such as the one against the UAE in 2003.
Interestingly, Mubarak also won the most valuable player award following the 2017 Gulf Cup.
---
Sergio Ramos – 180 Games for Spain
The last player we have on the list is none other than Sergio Ramos, one of the world's best defenders in football. The 37-year-old superstar is among the most famous Spanish players in the world, so it probably doesn't come as a surprise he has the most caps for his team. With 180 games in total over the years, Ramos has been a part of Spain's most prominent international football achievements.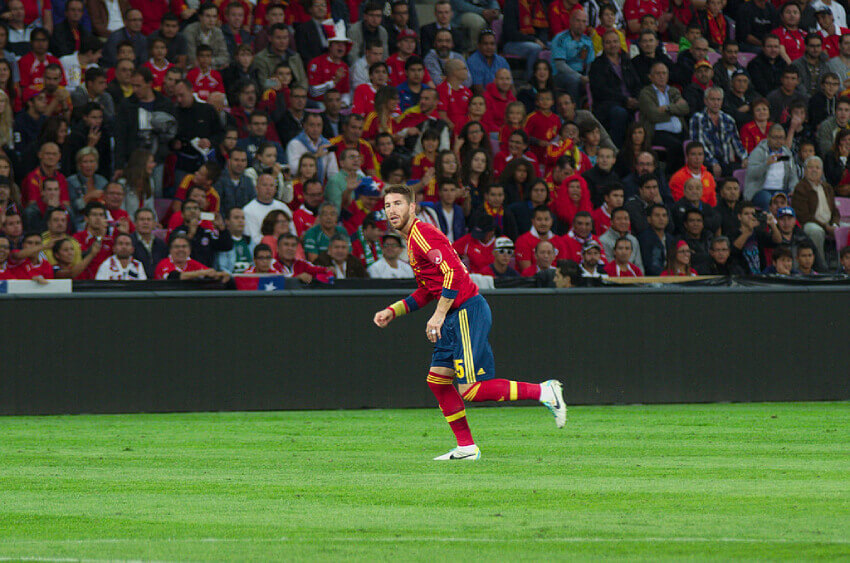 Ramos started his international career for Spain in 2005 and ended in 2021. In addition to his 180 matches, he also scored 23 goals. As for his club career, he's been a part of a few teams. That said, he's mostly known for his stay with Real Madrid, where he spent 18 years.
With that said, Ramos moved to Paris Saint-Germain in 2021 and has been a part of the team ever since. Needless to say, the player has won pretty much anything in football, including the FIFA World Cup in 2010.