The transfer window in January 2023 was very interesting in England because clubs spent more than £815M for transfers. We saw several intriguing moves, but when it comes down to the most impressive transfers, Chelsea is in a league of their own. The club spent an insane amount of money and got the signatures of several prominent players.
According to Nostrabet.com, Chelsea's decision to obtain Enzo Fernández's signature for £106.M made him the most expensive transfer in the English Premier League. "To be honest, we expected to see Fernández in one of the top European football clubs. The Argentinian wunderkind was terrific during the FIFA World Cup 2022. In other words, it was just a matter of time before he left Benfica. In the end, Enzo chose Chelsea, and the club from the EPL paid a hefty amount", said Kristiyan from NB.
Born in 2001, the 22-year-old central midfielder had a key role in Argentina's successful World Cup run. Although he was more or less in Messi's shadow, Enzo made a name for himself during the event. No wonder he won the Young Player Award.
Before joining Chelsea, the talented Argentinian star became a part of Benfica in 2022. The Portuguese club got his signature from River Plate and paid 44.25M EUR for Enzo. One year later, Chelsea had to pay 3 times that amount. This transfer will most likely affect the odds when betting on Chelsea because the club should improve its results.
This £106.8M move from Benfica to Chelsea broke the previous record from 2021 when Manchester City signed in Jack Grealish from Astron Villa. With that said, let's learn more about it and all of the other top transfers in the English Premier League.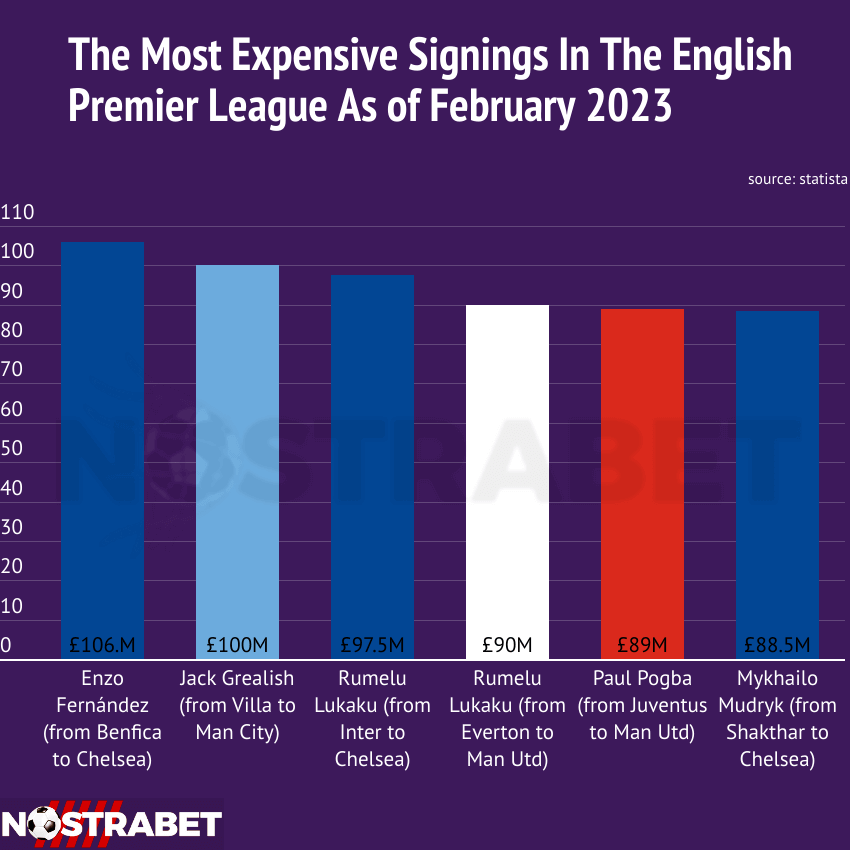 ---
Jack Grealish's £100M move from Aston Villa to Manchester City in 2021
Enzo Fernández is officially the most expensive transfer in the English Premier League's history. However, before that, the record belonged to Jack Grealish. The latter is a 27-year-old Winger who is part of Manchester City. Before joining the club, the footballer had a key role in Aston Villa with 185 games and 29 goals.
Since he joined City in 2021, Grealish got the honour of wearing the number 10 shirt, which belonged to none other than Sergio Agüero. His first goal for his new football club came in August 2021 when Jack scored against Norwich City.
---
Romelu Lukaku's £97.5 transfer from Inter to Chelsea in 2021
There have been many controversial English Premier League transfers in the last couple of years. However, it is safe to say that Rumelu Lukaku and his transfer to Chelsea 2 years ago are among the most notable.
In 2021, Chelsea needed a striker, so the team decided to get none other than Romelu Lukaku. The English club had to pay the jaw-dropping amount of £97.5M for the Belgian superstar because he had a fantastic season with Inter Milan. Interestingly, Chelsea had Lukaku in the team between 2011-2014. Still, he only played 10 matches for the club and didn't score any goals.
Even though fans were hyped about Lukaku's arrival, the Belgian striker failed to live up to the expectations. He couldn't show his prowess, so he only played 26 matches and scored 8 goals. It was clear that Lukaku wouldn't be the manager's top priority, so Chelsea decided to loan him to Inter Milan.
---
Romelu Lukaku's £90M move from Everton to Manchster United in 2017
When you thought it couldn't get any more interesting, Lukaku finds himself on the list of the most expensive EPL transfers for the second time. Before Chelsea paid almost £100M for his signature, Lukaku moved from Everton to Manchester United in 2017. Back then, the Red Devils paid £90M, making Lukaku the most expensive EPL player.
Lukaku's move to Manchester United occurred just a day after Wayne Rooney joined Everton, which meant that the Belgian had to take his role in the club. During his time with Manchester United, Lukaku played in 66 matches and scored 28 goals. In 2019, united sold him to Inter Milan, where he spent another 2 years before joining Chelsea.
---
Paul Pogba's transfer £89M transfer from Juventus to Manchester United
One of the football transfers that shocked the English Premier League several years ago was Paul Pogba's move from Juventus to United. The French midfielder was one of the best players in the world at the time. Hence, United's decision to break the EPL's transfer record by paying around £89M for his signature did not come as a surprise.
One thing that not that many people know is that this was Pogba's second time at Manchester United. The Red Devils' youth academy was home to the French player in 2009, but he eventually found his way to the first team. However, he only played in 3 matches before moving to Juventus in 2012.
After joining united in 2016, Pogba became a key part of the team. He spent 6 years there before moving back to Juventus in 2022. Pogba won the World Cup 2018 with France during his time with United.
---
Mykhailo Mudryk's £88.5M transfer from Shakhtar Donetsk to Chelsea
As mentioned, Chelsea spent jaw-dropping money during the 2023 January transfer window. Besides signing in Enzo Fernández for £106.8M,
the English club also spend £88.5M for Mykhailo Mudryk
.
The 22-year-old Ukrainian was a part of Shakhtar Donetsk between 2018 and 2023 and played 29 matches for his club. That said, it seems like Chelsea has paid close attention to the young Ukranian because the club decided to get his signature in early 2023.
Following the transfer, Mudryk became the most expensive Ukrainian footballer of all time and even surpassed the transfer of Fred who was part of Shakhtar Donetsk. The latter became a part of United in 2018 for around £52M.
---
Conclusion
Following the transfer window in January 2023, we can see that Chelsea has spent a lot more money than the rest on transfers. The club's results in the EPL haven't been that impressive lately, so it will be interesting to see whether the new signings will affect the club's results. One thing is certain, The Blues won't go down without a fight.