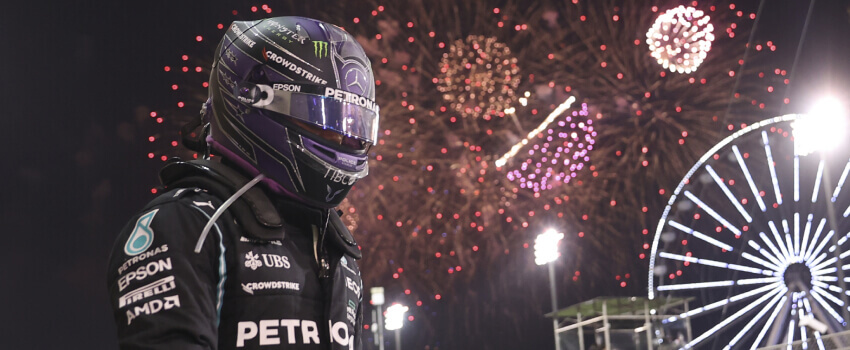 Formula 1 is a sport that gains new fans daily. Besides the classic race tracks, countries like Saudi Arabia invested billions into their own track. As a result, F1 fans in this part of the world can see their favourite pilots in action.
Regarding pilots, Nostrabet.com reveals that Lewis Hamilton is leading the chart with 103 F1 Grand Prix wins. The living legend from the United Kingdom is widely regarded as one of the best F1 pilots of all time. "A lot of people may not agree with the latter, but there is no arguing Lewis Hamilton is special. He has been part of the Mercedes-AMG PETRONAS F1 Team for many years and won almost everything possible. Consequently, he will go down in history as one of the most successful F1 pilots ever", said Kristiyan, part of Nostrabet's Editorial team.
Lewis Hamilton is a 38-year-old UK racing driver who has accumulated 4606.05 career points (as of October 2023). Like most other F1 stars, Lewis started his career in Karting. In fact, Hamilton became the youngest winner of the British cadet karting championship when he was just 10 years old.
In terms of his F1 career, Hamilton started competing in 2007 when he had to race alongside Fernando Alonso. Over the next couple of years, Lewis won tons of different rewards, including the most consecutive podium finishes from debut and more. Sadly, things were not going well between Hamilton and Alonso, which resulted in a contract termination. This allowed Hamilton to stay with McLaren until 2012. He joined Mercedes in 2013 and has been a part of it ever since.
As impressive as Hamilton is, he is not the only one that deserves more attention. There are several other world-class F1 racing drivers, so let's learn more about them.
---
Michael Schumacher – 91 wins
Even though Schumacher has fewer wins than Hamilton, a lot of people agree that he will go down in history as the GOAT in F1. The 54-year-old hasn't been active since 2012, but at the time of his retirement, Schumacher had the most wins, podium finishes, pole positions, the highest number of fastest laps, as well as a total of 7 World Drivers' Championship titles.
Michael Schumacher is a living legend when it comes to Formula 1. Even some of the biggest magazines, such as Slate, recognized his abilities by saying he was the ultimate driving machine. That's why it shouldn't be surprising that every F1 driver now is compared to the legendary German pilot.
In terms of his professional career, Schumacher started in 1991 when he played for the Jordan-Ford team. Schumacher's first victory came in 1992 when he won the Belgian Grand Prix, whereas his last was in 2006 when he lifted the trophy during the Chinese Grand Prix.
The German racing driver has been a part of several big teams, but people will always associate him with Ferrari. The latter has always been one of the best F1 teams, but it had problems at that time, and Schumacher was exactly what they needed.
Sadly, just one year after he retired, Schumacher had an awful skiing accident in 2013. He received a severe head injury and underwent tons of treatment over the years. As of 2023, the player hasn't appeared in public since the accident.
---
Sebastian Vettel – 53 wins
Even though the gap between Hamilton and Schumacher and the Number 3 on the list is huge, there is no arguing Vettel is special. With 53 wins, the 36-year-old German racing driver is another living legend that deserves attention. He was a professional F1 driver between 2007 and 2022 and played for various teams. The list includes BMW Sauber, Aston Martin, Red Bull, Ferrari, and Torro Rosso.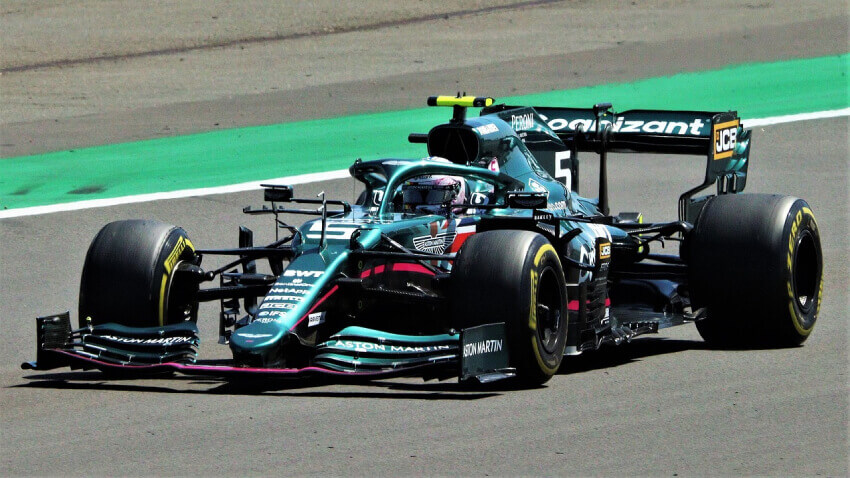 There are a lot of exciting things about Vettel. Schumacher heavily inspired the German driver. In fact, he even said in an interview that the "Three Michaels" (Jordan, Schumacher, and Jackson) were his childhood heroes.
Regarding his F1 career, Vettel still holds a record when it comes down to the youngest World Champion. Following his impressive career, the German pilot ended it in 2022. The last time we saw him in action was during the Abu Dhabi Grand Prix, whereas his last win was in 2019 when he took part in the Singapore Grand Prix.
---
Alain Prost – 51 wins
All of the names mentioned so far have been active in the last couple of years. However, this does not mean there aren't old-school F1 drivers that also deserve to be on the list, such as Alain Prost.
The retired French racing driver accumulated 51 victories and won the F1 World Drivers' title 4 times. He even held the record for the most Grand Prix victories from 1987 until 2001, when Schumacher surpassed him.
Prost is a really interesting person who started his professional F1 career in McLaren in 1980. Although he had high hopes for the team, Prost left just one year after he joined because of mechanical problems and the fact the team was blaming him.
After McLaren, Alain Prost played for Renault for 2 years before joining McLaren again. This happened in 1984, and he had the chance to play with Niki Lauda, who already had 2 world championships. Aside from McLaren, Prost was part of Ferrari and retired after playing for Williams.
---
Max Verstappen – 50 wins
Despite being just 26 years old, Max Verstappen is one of the world's best Formula 1 racing drivers of all time. What's impressive about Verstappen is that he already has 50 victories, which means that he has everything needed to surpass the likes of Schumacher and Hamilton.
Max Verstappen is the son of Jos Verstappen, another popular racing driver who was also a part of Formula 1. As expected, Verstappen's racing career started with Karting, and it wasn't until 2014 that he became an F1 driver. The exciting thing about it is that he had to replace Jean-Eric Vergne.
Verstappen was the youngest to participate in an F1 race at just 17 years and 3 days. After taking part in this race, Verstappen eventually joined the Red Bull Junior Team. However, his first official F1 race was in 2015, when he became a full-time driver for Toro Rosso alongside Carlos Sainz. This broke the previous record for the youngest pilot, which belonged to Jaime Alguersuari.
After spending one year with Toro Rosso, Max Verstappen joined Red Bull Racing, where he had to replace Daniil Kvyat. Although there were some controversies regarding his driving style and the fact that he was too aggressive, Verstappen quickly established himself as one of the best F1 pilots in the world.
Today, Verstappen already has 3 Championships (in 2021, 2022, and 2023) and 94 podiums, so it's probably a matter of time until he becomes one of the best of all time. Following his progress in the next couple of years will be interesting.
---
Ayrton Senna – 41 wins
The last person we want to talk about is none other than Ayrton Senna, one of the biggest names in motorsports. The Brazilian racing driver has won the F1 World Drivers' Championship 3 times and is regarded as one of the best of all time. Unfortunately, Senna passed away in 1994 after a crash while competing in the San Marino Grand Prix.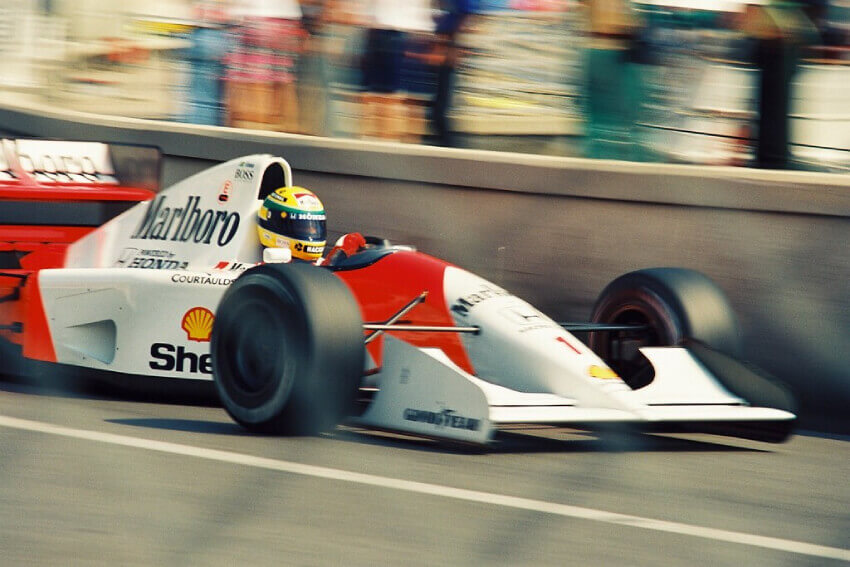 Senna began his professional F1 career in 1984 when he was a part of Toleman Motorsport. In the next few years, he played for Lotus, Honda, McLaren, and Williams Renault. The Brazilian superstar left a deep mark in McLaren's F1 history, which is one of the reasons why the car brand decided to name one of its newest hypercars after him.
---
Betting on Formula 1 – What do you need to know?
Betting on Formula 1 is something that is becoming more popular every year. Although not all iGaming websites had enough options for the sport before, the situation is different nowadays. You can find various options for betting on F1, and thanks to our reviews, you do not need to look for a website with all of them.
Many bookmakers will provide the same markets for wagering on F1, but there are differences in the features and bonuses. Since F1 is a dynamic sport, some brands will offer special kinds of live betting markets and unique short-term bonuses. Others are yet to provide those perks, so you need to check the promotional section of all iGaming sites before you start wagering.