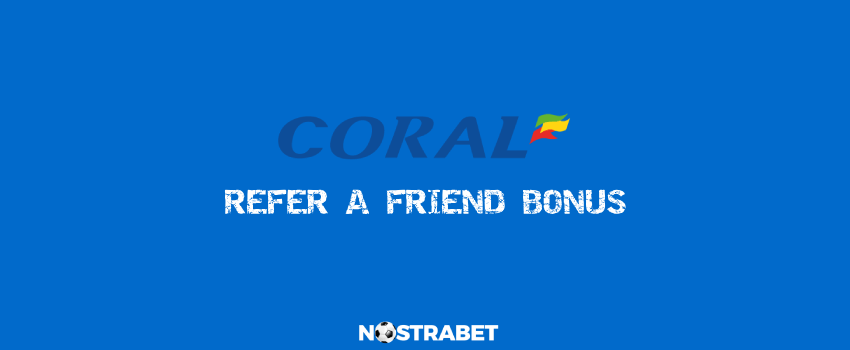 Ad disclosure
Commitment, professionalism and trustworthiness are the core values of NostraBet (NB). We manage to deliver cutting-edge betting products to our readers thanks to our affiliate business model. It is true that NB uses affiliate links to drive traffic to bookmakers. What you must know is that these are free for you to use. Their main purpose is to earn us commissions that will ultimately be invested in the betterment of our product. Visit our
Ad Disclosure
page to learn all the details.
Playing at Coral can be thrilling, and playing alone will not be as fun. Invite your friends to Coral and have fun together. To do so, explore the Coral Refer a Friend promotion and get a bonus for inviting a friend over.
To shed more light on this programme, we have discussed it in detail in this review.
---
Coral Refer a Friend Step-by-Step Guide
Coral works hard to ensure that you and the friends you refer find the referral process easy. Below is a guide for you.
First, identify a potential friend who would be a perfect referral. Convince them to join Coral.
Secondly, find the Refer a Friend application form in your Coral account. Fill out the form with all the details, including your friend's information.
Immediately, your friend will get a notification from Coral that you referred them.
Next, Coral will contact the friend you referred and allow them to join the platform.
Finally, you will receive a unique token from Coral if the friend joins the bookmaker.
---
Refer A Friend On Coral Key Terms and Conditions
Coral's Refer a Friend programme is like any other promotion. Thus, there are specific terms and conditions to adhere to.
First, you need to meet the minimum age requirement of 18 years.
All the friends you intend to invite should have attained the legal gambling age in the UK.
Additionally, they should open an account and fund it.
---
Is There a Coral Refer a Friend Bonus?
The Coral Refer a Friend is a special offer for you when you bring new players to Coral. Through the offer, you will get a reward for spreading the word to your friends.
When you qualify for this bonus, you will get a Refer a Friend voucher, one of the most popular vouchers available at Coral.
Coral Referral
When you refer a friend to join Coral, locate the refer a friend form in your account and fill in the details of the friend you wish to refer. Once done, the friend will be notified so that they can join the bookmaker.
Afterwards, you will get the offer, provided your referral meets the requirements discussed in this review.
---
Common Issues
Although referring your friend is a simple process, some issues may arise. Some of the problems that might arise include:
Referral not getting SMS: If the friend you referred does not get an SMS, contact Coral customer support and verify the friend's contact details.
Reward not arriving: A delay in rewarding may arise if the friend you referred has not signed up yet. Also, it could happen if they have not funded their account with the minimum amount required. You should check with them to ensure they meet all terms.
Referrer cannot withdraw offer: Contact support to know why you cannot withdraw your reward.
---
Coral Refer a Friend Compared to Other Bookmakers
In this saturated gambling market, many bookmakers have developed referral programmes to attract punters. However, each bookmaker packages its referral programme uniquely.
Compared to other bookmakers, the Coral Refer a Friend programme rewards players greatly. The terms are lenient, and the claiming process is easy. Furthermore, you can attract an unlimited number of friends to join the bookie.
---
Final Say
Coral is a popular gambling site that has proven to offer quality and fun-filled gambling products. You have a reason to enrol and enjoy the great betting markets and bonuses available. Better still, existing customers can earn rewards through vouchers by inviting their friends to gamble on the platform. Due to the nature of the rewards, you may want to try this referral Coral program.
---
FAQ
How long does the referral process take?
The referral does not have a fixed time. It depends on how fast your referrals join Coral.
How many friends can I refer?
You can refer to as many friends as possible.
Is Coral trustworthy?
Coral is a legit bookmaker licensed by the United Kingdom Gambling Commission.
Do the bonuses grow with the number of referrals I have?
Yes, the more the referrals, the better the bonus.
Is the bonus a recurrent one?
No, you earn the Refer a Friend bonus once the referral joins the bookmaker.