Ad disclosure
Commitment, professionalism and trustworthiness are the core values of NostraBet (NB). We manage to deliver cutting-edge betting products to our readers thanks to our affiliate business model. It is true that NB uses affiliate links to drive traffic to bookmakers. What you must know is that these are free for you to use. Their main purpose is to earn us commissions that will ultimately be invested in the betterment of our product. Visit our
Ad Disclosure
page to learn all the details.
Affiliate marketing is one of the fastest-growing businesses in the world, and it affects almost every industry, including iGaming. Things like the Betway affiliate program allow people to make a living by advertising the operator and its services. Becoming one of the affiliates does not take long; once that happens, users have to figure out how to gain more customers.
Of course, being a successful affiliate marketer is easier said than done. It all starts with choosing the right program for you, which is why we will go over Betway's affiliate network and why it stands out.
---
Betway Affiliate: Revenue & CPA
One of the key things you must know about the Betway affiliate program is that it offers two types of commissions – Revenue and CPA (known as cost per action). Those who decide to use the Revenue Share will earn a commission based on the revenue generated by the referred players. The commission is in the form of a percentage and is as follows: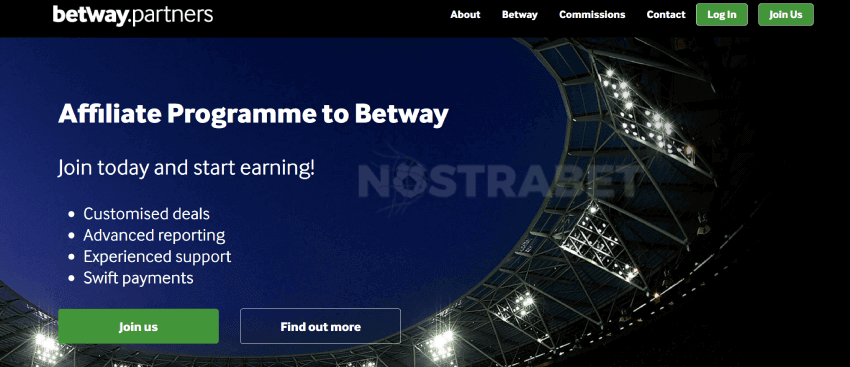 Between 0-10 players, you get 25%
From 11 to 40 players, you get 30%
Accumulating between 41-100 players will grant you 35%
If you bring over more than 101 players, the commission goes up to 40%
Those not interested in the Revenue Share option can go for the CPA. The latter pays a flat fee for every qualified player. Of course, the amount depends on what the specific person bets on.
---
How Does it Work?
All Betway affiliates who go through the specific steps will have the chance to earn revenue by attracting new players. The idea behind Betway's affiliate option (as well as every other betting affiliate program) is for people to advertise the given operator using different things. For example, affiliates often have special links, HTML mailers, and even banner ads.
Once someone clicks on those things, goes to Betway and opens an account, the affiliate will earn a commission. As mentioned, the latter can be a flat CPA payment or a revenue percentage.
Betway's affiliate program is successful because it encourages people to give everything they have to attract new users. Those interested in becoming one of the Betway affiliates have to do the following: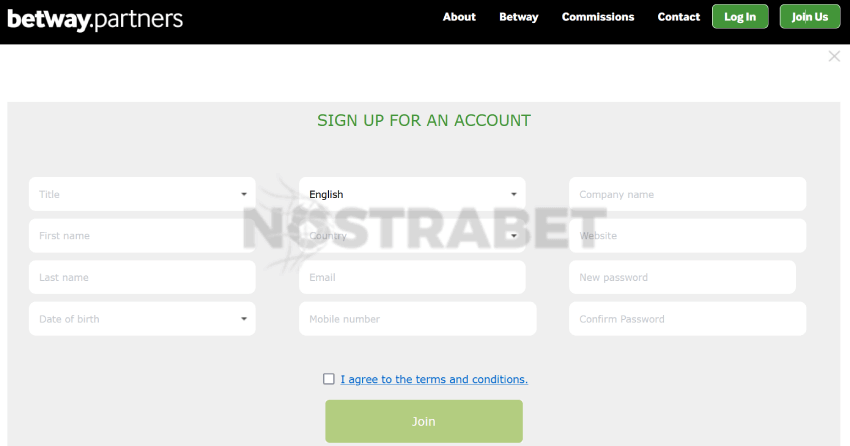 Go to Betway Partners, the company's affiliate page.
Select "Join Us" and complete the process.
Once you fill in the application, Betway needs to review it and approve you.
Talk to the affiliate team and start advertising the company.
---
Betway Partnership Program Requirements
Joining the Betway partnership program is not difficult, but this doesn't mean there aren't any special requirements. In fact, every affiliate must adhere to many conditions before and after joining the affiliate network. Here are some of them:
Affiliates can't feature marketing materials to users under 18 years of age.
The marketing materials can't condone any form of discrimination.
When advertising Betway's services, you should not portray excessive or irresponsible gambling, as this could lead to financial difficulties.
There are many other rules affiliates must adhere to, so skim through the Code of Conduct.
---
Official Betway Partnerships
Besides the Betway affiliate program, one of the world's leading betting operators has partnerships with many other companies and organizations. Some of them include the following:
West Ham United
Brighton & Hove Albion
Cheltenham Festival
Ninjas in Pyjamas
SA20
Aside from its partnership deals, Betway has some relationships with the world's leading responsible gambling authorities. Needless to say, it also has a permit from numerous top-notch gambling commissions.
---
FAQ
What software does Betway Affiliates use?
Betway uses one of the most advanced affiliate software in the business. The company provides unique links and even has a stand-alone affiliate team.
How does Betway pay its Partners?
Betway pays its affiliates differently, depending on whether the partners have chosen the Revenue Share or CPA models.
What are Betway's Affiliates' contact details?
What's the difference between refer-a-friend and affiliate?
The difference between Betway Refer-a-friend and the affiliate program is that the latter allows you to make more money. Besides the fact that you don't have a limit to the number of people who can sign up via your affiliate link, the Revenue Share allows you to earn more than what you can get from the Refer-a-friend bonus.