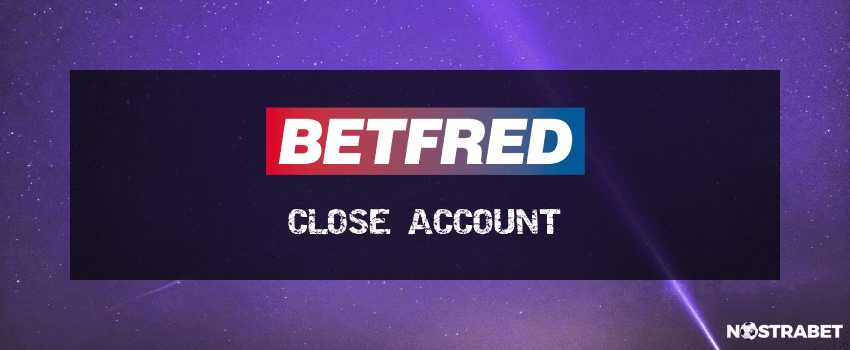 Ad disclosure
Commitment, professionalism and trustworthiness are the core values of NostraBet (NB). We manage to deliver cutting-edge betting products to our readers thanks to our affiliate business model. It is true that NB uses affiliate links to drive traffic to bookmakers. What you must know is that these are free for you to use. Their main purpose is to earn us commissions that will ultimately be invested in the betterment of our product. Visit our
Ad Disclosure
page to learn all the details.
Betfred has been created since 1967. Due to its rich experience, it has been a go to-choice for many horse racing and other sports punters. As with many bookmakers, creating a betting account here is a walk in the park. But is deleting your account an easy thing to do as well?
It might be easy or challenging, depending on your approach. In this article, you will learn how to delete the Betfred account. But before that, we need to know why you could close your Betfred account.
---
Why Close Betfred Account
Before you decide to have your Betfred account closed, you have valid reasons. These reasons may vary from one punter to another.
Some of the most prominent reasons why you may close your account include:
Too much gambling results in a loss of self-control and addiction.
Limited or no bonuses at the bookmaker. Sometimes you may find a better bookmaker with sweeter offers.
Excess marketing emails may bother you at times.
Besides, you may not have experienced the above, but you just need a break from gambling.
Finally, payment methods restrictions that affect depositing and withdrawing.
---
How to Delete Betfred Account
Betfred understands that you may play at it only for a while, giving you room to delete your account. Therefore, the bookie goes on to answer your most obvious question, 'How to close my Betfred account' by offering you the below alternatives:
Via Chat
This is the simplest method of closing your Betfred account. Log into your account and open the live chat. After starting a conversation with one of the customer support agents, request them to close your account.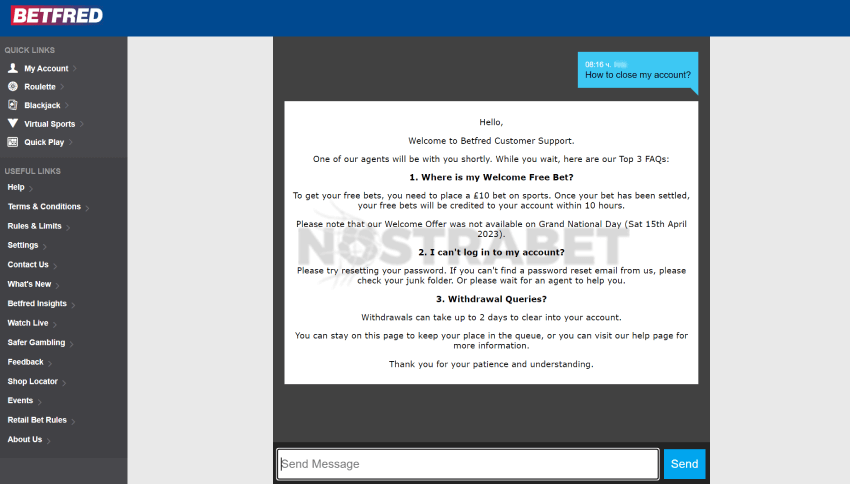 But, you must give a reason and answer the required identification questions the customer support may ask to verify the account.
Via Email
If not by live chat, you can use the email option to close your Betfred account. This requires you to write an email to [email protected]. In the mail, express your wish to close your account and explain why.
For example:
Hi Support,
Kindly assist me in closing my Betfred account. I feel addicted to gambling and wish to take a break.
Regards
By sending such a request to the customer service team, they will ask you to verify if it is your account by checking personal details and then help close it.
Via Phone
Betfred ensures you have all methods possible to contact its customer service team. They have given the number 0800 028 7747 for UK callers and +44 (0)1925 878269 for punters outside the UK.
If you wish to close your account by phone, call any of the two numbers. For example, you can call, request support to close your account and give a reason.
After proving the account is yours, they will help close it.
---
Alternatives to Closing a Betfred Account
Instead of having your Betfred account closed, think about other available alternatives. These alternatives will help you retain your budget but control your gambling habits. A few of these alternatives include self-exclusion and setting deposit limits.
Let us look at each of these in detail.
Self-Exclusion
Self-exclusion is a responsible gambling method of self-restriction that keeps you off gambling for a while. At Betfred, you can choose between 6 months and 5 years. After this period lapses, you can request Betfred to reopen your account.
To self-exclude, go to the 'My Account' section and select the option. Remember to choose the self-exclusion period and apply. After evaluation, your request will be made, and you cannot re-access your account.
Alternatively, you can request self-exclusion via phone, email or live chat from Betfred customer support.
Setting Deposit Limits
Setting deposit limits helps control how much gambling you can do at Betfred. The lower the amount, the less gambling that you do. Betfred allows you to set responsible gambling measures on how much you can use to gamble daily, weekly, or monthly.
To set a deposit limit, log into your Betfred account and go to the 'Staying in Control' link at the bookmaker's footer. Next, choose 'Deposit Limits' and then set how much you wish to spend on gambling a day, a week, or a month.
---
Why Has my Betfred Account Been Closed
Although you get the luxury of closing your account, sometimes Betfred can close your account without warning. Such happens mostly when you violate the terms and conditions in the following ways:
If you try to log into your account too many times. This raises suspicion hence closure.
If you do not prove your identity, age, and address by submitting all the required documents.
Your account will be closed for engaging in any fraud.
If Betfred closed my account for a valid reason, like violating terms, the account will never be reopened. However, if it was by mistake and no violation was made, then I can contact customer support to recover the account.
---
Conclusion
We have seen that Betfred offers its players a chance to stay in control of their betting through several methods. This is a good sign of caring to prevent punters from sliding into an addiction to gambling. However, Betfred can also close your account, and we have seen the answers to questions like why has my Betfred account been closed. With this, you can control how much you can gamble, but there is a need to observe Betfred's terms and conditions.
---
FAQ
What happens to my money if I close my Betfred account?
If you close your account at Betfred, you will have the money sent to you by Betfred.
How can I be a more responsible gambler?
Know when and how much to gamble and always take gambling as fun and not a winning affair.
Should I delete my account?
If you wish to take a break, you can use self-exclusion. However, if you feel highly addicted, you could delete Betfred account.
Can I set my deposits to control my gambling habits?
You can set how much to spend daily, weekly, or monthly.
What is the answer to how to close my Betfred account?
You can contact customer support by phone, use live chat or email to close your Betfred account.