Ad disclosure
Commitment, professionalism and trustworthiness are the core values of NostraBet (NB). We manage to deliver cutting-edge betting products to our readers thanks to our affiliate business model. It is true that NB uses affiliate links to drive traffic to bookmakers. What you must know is that these are free for you to use. Their main purpose is to earn us commissions that will ultimately be invested in the betterment of our product. Visit our
Ad Disclosure
page to learn all the details.
Introduction
Betfred offers easy access to its Virtual Sports section via two separate links. The first is located on the drop-down menu to the left under the Quick Links section, while the other is located on the main menu at the top of the page just off to the right from the centre., Its virtual sports categorised with dedicated tabs located on the menu bar to the left of the page. These include:
Virtual World
Dash Horses
Greyhounds
Football
Darts
Rush Go
On Demand
Results
Promotions
Quick Links
Useful Links
Despite its true origins lost to the mists of time, guessing that Sportsbetting is pretty much as old as humanity itself would probably not be too far from the truth. In contrast, Virtual Sports became a fairly recent entry to the world stage.
Virtual Sports is an amalgamation of three gaming genres (video games, online slots, and sports betting) and was initially developed to meet the growing demand for all forms of online gambling entertainment, which in part was aimed at providing additional sports betting opportunities for existing patrons of online gambling entertainment venues.
After the wide-spread adoption of Virtual Sportsbetting as the standard fare at most online bookmaking venues, the industry saw a rapid reversal in the number of millennials joining and becoming part of those who enjoy sports betting. The numbers were such that Virtual sports became one of the fastest growing market segments. Despite its phenomenal performance in the gambling sector, virtual sports is still very much a struggling industry and its development have certainly not followed a linear path to success.
Virtual sports, despite having a strong visual resemblance to many of the actual athletes, sports stars, football teams found in FIFA and many other represented sports organisations do not correlate with the performances of their real-life counterparts. That is due to one fundamental difference, in contrast to real-life competitions a specialised software algorithm called a Random Number Generator (RNG) is the only factor responsible for determining the results of all virtual sports events. That ensures continual fairness across the board in all game results at all times.
As a result, Betfred established itself as one of the industry's most preferred online entertainment venues with its gaming range predominantly centred on its sportsbook product. In the company's drive to entrench itself in the online world as a premier provider of virtual products Betfred's range markedly elevates itself above those on offer from most its peers by featuring a surprisingly extensive range of unique sports types with each containing a massive number of betting markets and options.
With some sections offering a customisable menu bar to the top and others providing access to a host of submenu items.
---
Virtual Football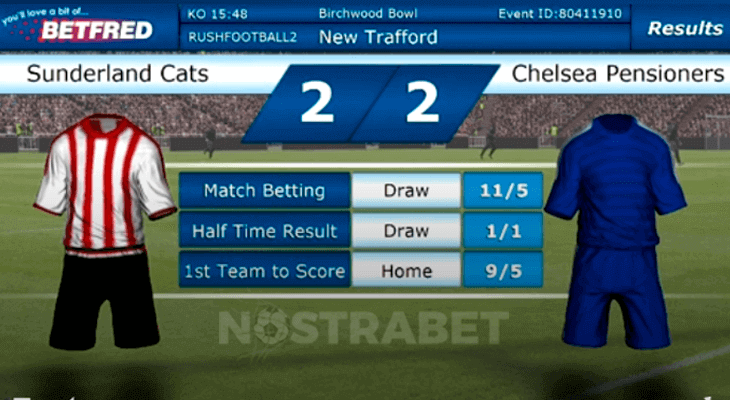 Excellent graphics and the full range of betting markets offered by Betfred's Virtual Football certainly pays an accordant level of tribute to the world's most televised and viewed sports. One of the key factors setting it apart from most industry peers is the sheer number of football products on offer, which includes options such as Scheduled and On-Demand matches.
Competitions
Scheduled events take on a club-league type format that sees 16 teams divided into regional and international clubs with regional clubs such as Manchester Reds, East End Utd, matched against each other at club level, while international matchups pit the likes of Sweden, Argentina, England facing off in exciting displays of superior footballing skill.
Match duration
Each game last 3 minutes and is divided into two 1 minute 30 seconds halves each separated by a 30-second half-time break with match highlights and results featured for 30 seconds at the end of each game, leaving punters with 1 minute to place bets during the 4 minutes separating the start of each scheduled match kick-off. As the name suggests On Demand football matches follow similar timeframes for each match, but matches follow no set schedule and occur only on punter demand.
Betting options and markets
In keeping with the overall product quality, Betfred football events offer betting markets and opportunities similar to those provided in real-life games. These include Total Goals, 1X2 bets, Correct Score, Both Teams to Score, Over/Under 2.5, Half Time/Full Time, as well as Half Time Correct Score.
---
Virtual Tennis
Betfred's Virtual Tennis promises to provide punters with round the clock betting action on all virtual matches played on Fred's Court. Graphics closely simulate the spectators, grounds, players, and court surfaces of any the real world's best tournament standard grass courts. In each match innovative audio acoustics allow punters to hear a typical grunt of exertion that would precede and accompany each strike of the ball. In contrast to football events, Virtual tennis matches follow a strict pre-set schedule and offer no On Demand option. The rules also limit gameplay to singles without extending an opportunity for punters to bet on doubles matches.
Betting options and markets
Tennis betting markets exclude most of the modern-era betting markets to leave punters with the exceedingly simple task of selecting from just the most essential betting options such as Total Points, Correct Score, and Player to Win.
Duration of match
Four minutes separate the start of each match, with gameplay requiring just 1minute 30 seconds from the beginning of any given Virtual Tennis match to its finish. Virtual Tennis matches, as with virtual football events, limits video coverage to recapture only the compressed highlights and goals scored during each match.
---
Virtual Horse Racing
The inclusion of a Virtual Race card in an online Sportsbook has become one of the hallmark ways to identify a top-quality online virtual sports product. As such, Betfred went the extra mile to include both scheduled and on-demand events which assure punters of the continuous availability of a horse racing event for them to bet. Punters can access On Demand races via Inspired's top-quality Rush Horses GO! brand label, which ensures a host scheduled events remain available 24/7/365 directly from the virtual sports homepage. Virtual Horse races generally see a randomised number of 8 up to 16 runners competing in each race on tracks such as 3000 m long Birchwood Downs and Dash valley.
Betting options and markets
Virtual Horse racing betting markets cover a standardised set of abbreviated betting options for both On Demand and Scheduled events. These include only Forecast, Tricast, and Winner or Each Way. A further factor turning the tables into a more positive profit-making situation for punters is that Virtual Horse racing events commonly offer significantly improved odds over those in real-life events.
Duration of race
Three minutes separate the start of individual Virtual Horse Racing events, with races usually lasting 1 minute each gives or take a few seconds either way. At the end of each race, the video feed showcases race highlights and results for 30 seconds before the start of a 2-minute between race interlude.
---
Virtual Greyhounds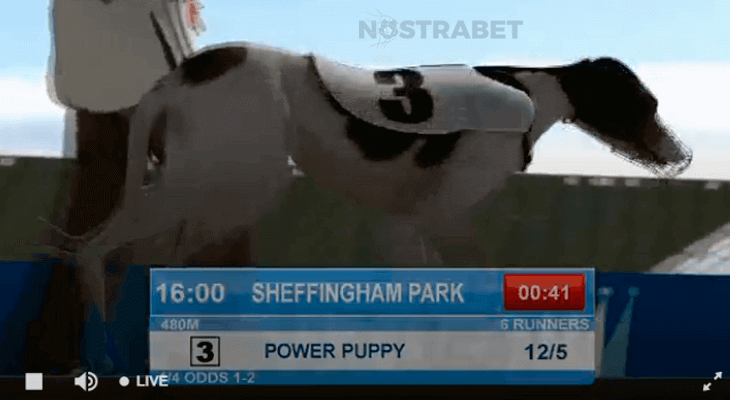 Betfred's Virtual Greyhounds expands its range of available racetrack action sports, which despite sporting completely different visuals features gaming mechanics and graphics quality that remains quite similar to those of its excellent Virtual Horse racing product. Once again, the bookmaker spoils its members with an offer of round the clock scheduled dog races as well as Inspired's excellent On-Demand Virtual Rush Dogs GO!. Races take place on virtual tracks like Nothing field and Sheffingham Park dirt ovals where up to 6 dogs vie for top-honours in each race.
Betting options and markets
Virtual Greyhound races offer Betfred's three featured racing bet markets cover betting options to include both scheduled and on-demand races. These include Forecast, Tricast, and Win or Each Way. Due to the dynamic nature of these markets, the odds can vary significantly but overall keep in line defeating any similar real-life offer.
Duration of race
A new race kicks off every three minutes, with each race requiring 40 to 45 seconds from start to finish at the end of which race results occupy the screen for 30 seconds. The screens will then transition to display details of the competitors in the next race for the next two minutes.
---
Virtual Darts
Professional competitive darts have over the years risen in stature from a typical smoky barroom pastime to a branded sponsored product regularly featured on mainstream television. As such, it garnered the support of millions of loyal fans and people interested in the sport. Despite still being a relatively new entry into the virtual sports betting market punters have shown great interest in wagering on the sport and Betfred as one of the world's leading virtual sportsbooks naturally just had to include it in their offering.
Betfred's Virtual Darts contestants closely resemble current and former real-life professional darts players. The animation simulates and mimics athlete activities, and actions to such a high-level, viewers could, at times, mistake the virtual product for a real game.
Betting options and markets
The bookmaker features a range of betting markets remarkably similar to those found in real-life darts sportsbooks, with options ranging from Outright Winner to Player's First Three Darts. The full list of betting markets includes 180 In Leg, Leg Winner, Player's First Three Darts, Winning Checkout, Winning Double, Winning Double Colour, and Winner Checkout Double. Specialised software computes the odds to ensure the company maintains fair odds in all of its virtual sports products across the board.
Duration of game
A Virtual Darts game lasts roughly 90 seconds from the throw of the first dart to the winning double, where after the screens will feature a showcasing of match results that lasts for 30 seconds. The screens will then switch to showcasing details of each of the competitors featured in the upcoming game for one minute.
---
Virtual Boxing
In the Virtual Sportsbetting world boxing has to date been one of the lesser featured sports, Betfred once again assumed a leading role in bringing the sports to the fore, assisting the sport in taking its rightful place in this hotly contested arena. It is, after all, a sport that enjoys a fervent following that numbers in the high millions and has traditionally been a favourite at main street betting shops around the world.
Surprisingly lifelike 3D animations aided by High-quality graphics allow the boxers to convey an unmatched sense of realism during bouts that are quite exciting to watch, further bolstered by a soundtrack replete with live commentary and jeers and shots from the attending virtual crowd in the arena. As the name would suggest the creators simulated the virtual boxers around real-life professional boxers such as the famous "Iron Mike Tyson". The theme employs Mike Tyson's character as the main protagonist matched against several challenges against whom he must endure and survive for 90 gruelling seconds.
Betting options and markets
Betting markets featured in Virtual Boxing have nothing comparable in real-life, and instead of punters attempting to predict the final winner or loser, betting markets focuses on predicting the length of time each challenger would survive against Mike Tyson. These betting markets include Seconds Survived Under/Over 40, 50, 60, 70, 3 Way, Method of Victory, and Seconds Survived, as well as Method of Victory Combo Bet.
Duration of fight
The duration of each fight is directly related to the betting markets listed above with fight durations based on the betting market survival periods listed above. Meaning fights can last as short as 10 seconds, or a fighter can survive for the full 90 seconds. At the end of each bout, the screen will showcase the results for a further 30 seconds and logically serve as a simple summation of an overview of each match. An introductory period of 1-minute precedes the start of each bout.
---
Virtual Cycling
Virtual Cycling further expands Betfred's number of available choices and options for punters who love betting on racing events. Virtual Cycling races feature somewhere from 6 to 9 cycle racers sprinting around the 750 m Tour de Fred velodrome track. In the real-life velodrome, racing has become well-known amongst its supporters for quickly generating crazily heated sprints which seems to have transferred its particular brand of superheated action directly into the virtual world.
Betting options and markets
Similar to Betfred's other racing products, the same three standardised betting markets apply to Virtual Cycle races which include Forecast, Tricast, and Each Way, or Winner. The small number of contesting athletes makes for decidedly favourable betting odds on correctly predicting a win or any other selection.
Duration of race
Competitors complete a virtual cycle race in approximately 30 seconds where after a recap of race highlights and results will feature for another 30 seconds before switching to the upcoming race. A 2-minute window separates all races.
---
Virtual Speedway
Virtual Speedway allowed Betfred to load its virtual sports range with one for the bikers and its features four racers speeding around the 800 m dirt oval of Flag Park. As in energised real-life races, Betfred's virtual product simulates the same high-speed action where at times one could measure the difference between the first and second place finishers in thousands of a second.
Betting options and markets
Due to the reduced number of competitors in each race Virtual Speedway offers just two betting markets, namely Forecast and Outright Winner. The reduced number of competitors in each race has a similar effect of improving your odds on selecting a winner.
Duration of race
Virtual Speedway races generally last around 30 seconds apiece, while the results will remain or another 30 seconds followed by a break of two minutes before the start of the next race.
---
Virtual Motor Racing
Virtual Motor Racing features cars and tracks closely resembling those found in American IndyCar race series and is the final betting entertainment weapon in Betfred's racing arsenal. Here punters have the option of placing bets on the 12 race car drivers as they speed around two laps of the oval at the virtual Hammerdown racetrack. A mood enhancing audio track featuring the commentator's commentary, jeers, and cheers from the attending crowd, as well as the scream of tortured racing engines provides a fitting accompaniment to all racing action.
Betting options and markets
Virtual Motor Racing offers punters the opportunity of placing bets on betting markets such as Forecast, Tricast, Each Way, and Outright Winner. As with all Betfred's virtual betting products, a dedicated software program calculates a fair range of odds to deliver the most significant element of fairness across all competitors.
Duration of race
Virtual Motor races generally last for around 30 seconds give or take one or two seconds before the racers dash across the finishing line, for the next 30 seconds the screen will showcase highlights and the results of each race. After the end of each race, the screens will refresh to introduce the next competition and its competitors where punters can use the 2 minutes 30 seconds break between races to get their betting affairs in order before the start of the next race.
---
Virtual Sports Provider
Inspired Entertainment Inc. established itself as one industry's leading games technology companies well-known for its supply of high-quality SGB 3D Animated Virtual Sports and Mobile Gaming product solutions to over 100 of the market's foremost entertainment venues located in over 35 regions across the globe.
Betfred chose the UK-based company as its sole preferred supplier of virtual betting products Betfred wanted the UK-based file on the quality of its products, and it's capacity to deliver, deploy, and its ability to maintain said services and products. That allowed Inspired to incorporate its ingeniously designed range of quality games into the bookmaker's website to the benefit of all.
---
Live betting on Virtuals
Despite its astonishing array of Virtual Sportsbetting products, Betfred offers no Live In-Play betting options on any of its virtual sports. That is through no fault or oversight of the company; due to the extraordinarily condensed and abbreviated timelines of virtual sports events, this sports format does not lend itself well to the art of adaptation to any form of a practical in-play betting product. Essentially the problem is the human factor; we are too slow to see, recognise, and place a bet on a profitable in-play opportunity before the event has come to its natural conclusion.
---
Betfred Virtual App
Betfred's apps and highly polished virtual version or mobile portal condenses all the conveniences and features experienced in the full website and offers access to all its casino entertainment, sports betting products, as well as all banking and finance methods via the mobile smart device held in the palm of your hand. Besides, mobile users will enjoy all these products and services after it had undergone a complete remodelling to optimise all features and controls to fit the reduced size of your mobile screen best and maximise the user-friendliness afforded by a touch screen sensitive device.
These optimised for mobile smart device applications allows members to finally, entirely sever the very necessary umbilical to their laptop or desktop device that was so necessary to maintain and nurture until the recent advent and availability of powerful consumer spec mobile smart devices.
---
Virtual Sports Welcome Bonus
Betfred remains one of the few providers of online virtual sportsbook products who design its range of virtual sports important enough to attract newly joining members by offering them a Welcome Bonus. The generous amount provided is a further indication of its complete commitment towards its amazing virtual sports product.
Betfred extends one of the warmest virtual welcoming hands in the industry to members wanting to play its range of virtual sports by offering newly signing members a full £30 as a Welcome Bonus should they place a single first-time wager of just £10 on any of Betfred's Virtual Sports Betting products offering odds of 2.0 or better.
Members who claim the Welcome Bonus offer and make the subsequent £10 qualifying wager will receive a credit of £30 paid into their new member account within 24 hours of settlement of their qualifying wager.
New customers from UK & Northern Ireland. Stake £10 or more at odds of Evens (2.0) or greater on your first bet. £30 free bet credited in 48 hours of your first bet being settled. 7 day expiry. E-Wallet restrictions apply. Max 30 Free Spins on selected games. Full T&Cs apply.
Other offers
In a further most generous show of its commitment to maintaining a generous level of happiness amongst all its members, the bookmaker features a host of other promotional bonuses and special offers explicitly aimed at keeping its Virtual Sportsbook fans happy. In contrast to its market peers, many of whom fail even to feature one promotional offer, Betfred features no less than 5 Promotional Bonuses and special offers explicitly aimed at extending the entertainment hours for members on its virtual products alone.
Members can freely claim other offers for use on virtual products, these include:
A £30k Summer Cash Spectacular where every £5 wagered on a virtual product will provide you with the chance to walk away with part of a prize pool totalling to £30,000 in Summer Cash.
Get A £20 Free Bet On Virtual Sports promotion requires members to opt-in and invest a minimum cumulative stake of £100 on any Dash racing events to receive £20 in Free Bets.
Bet £10 Get £5 Cash promotion requires participants to try their hand at any On-Demand virtual sports if they wager at least £10 on any On-Demand virtual sports type to receive an instant £5 reward in Cash!
Fred's Big Free Bet Club will pay you Up To 5% of your losses back as free bets totalling to a maximum of £200!
Enjoy Up To 5 X The Odds-on Virtual Dogs & Horses whenever you hit a winner on Lucky 15s, 31s & 63s.
---
Available Payment options
Betfred, as one of the U.K's most preferred suppliers of premium online sports betting entertainment products and services, offers a wide variety of finance and banking methods equal to its position in the marketplace. Its comprehensive range includes a large variety of the most popularly trusted electronic payment options in the UK and internationally, we provide further details on each in our table below.
| Payment Method | Deposit Minimum | Deposit Maximum | Time for Deposit | Minimum Withdrawal | Withdrawal Maximum | Time for Withdrawal |
| --- | --- | --- | --- | --- | --- | --- |
| PayPal | £5.50 | £45,000 | Instant | £5 | £5000 | 48 Hours |
| Skrill | £5 | £45,000 | Instant | £5 | £6,500 | 48 Hours |
| Neteller | £5.50 | £45,000 | Instant | £5 | £4,500 | 48 Hours |
| Ukash | £5 | £5,000 | Instant | | | |
| Debit Cards | £5 | £5,000 | Instant | £5 | £9,999 | 48 Hours |
| Visa | £5 | £5,000 | Instant | £5 | £5,000 | 48 Hours |
| MasterCard | £5 | £5,000 | Instant | £5 | £9,999 | 48 Hours |
| Maestro | £5 | £5,000 | Instant | £5 | £9,999 | 48 Hours |
| Bank Wire Transfer | £85 | £45,000 | Instant | £25 | £25,000 | |
| Paysafe Card | £5 | £45,000 | Instant | £5 | - | |
---
FAQ
If I encounter a problem with any of my bets on virtual sports who do I contact?
You still contact the supports team via all the usual channels as provided on the Betfred website. That includes the 24/7 Live Chat option or at the international telephone number +44 (0) 1925 878269 for members from outside the UK, or via it UK landline number 0800 028 7747, or lastly via email at support@betfred.com.
When I try to access some of the virtual sports products a "Location Blocked" message appears on my screen, yet I experience no such issues when entering other products. How do I correct this?
Since Betfred delivers its services to numerous regulated international areas across the globe, some members may experience such problems due to local licencing restrictions apply only to the country they currently reside. Without breaking the law, there is simply no way around such issues.
I want to use my phone to check on the results of a wager is placed on a Virtual Horse race via my laptop, and I cannot find the Betfred app in Google's Play Store. Where can I find the app?
Due to the numerous restrictions Google imposes on app developers and owners, Betfred does not list any of its apps on the Play Store. Instead, you can access the Betfred.com website using the mobile device you wish to install the app on and download it directly from Betfred itself.
Does it affect the outcome of a virtual sports event if I happen to lose cellular data communications while watching a virtual sports match I placed a wager?
No, disconnecting while watching an event you wagered on will not affect whatsoever on the outcome of any given match since a dedicated piece of specialised software called a Random Number Generator is responsible for determining the results of virtual sports events of all types and formats.
How often will the Cash out option appear during a virtual sports match I wager on?
Firstly, The Cash out option only becomes available for events supporting Live In-Play bets and is a system generated offer so there is no way to predict how often or when it will appear for qualifying wagers. Secondly, the Cash out option unlikely to ever appear on any of Betfred's current crop of virtual products since none of then supports Live In-Play betting.
How do I go about cancelling a bet placed on a virtual sports event?
You cannot cancel any bet once it has registered and confirmed as having been placed.
Will Betfred allows me to use my proceeds from playing casino games to place wagers on virtual sports?
Yes, you can since Betfred places no restrictions on how you utilise or allocate the funds in your personal Betfred account.
The video covering the action of an event I wagered on does not want to play on my mobile. How do I fix this?
First ensure you successfully applied all the latest round of updates to your mobile device, including support for Adobe's Flash player. If you still experience issues, please contact customer support via Betfred's integrated Live Chat function.
---
Final thoughts and Rating
After spending a copious amount of time entertaining myself via Betfred's extensive range of virtual sports betting, it is without a doubt one of the largest fields of top-quality products in the industry. Also, all its virtual sports feature HD quality graphics made even better by life-like animations and immersive audio that adds character and realism to the virtual backdrop of all its products, which incidentally come from an acknowledged supplier of high-end products to the industry. The wildly unexpected extensive range of promotional offers aimed at specifically entertaining even the most avid of virtuals enthusiasts provides the final feather in its cap. As a result of its commitment to across the board excellence, we rate Betfred's Virtual Sports product a 9.9/10.
Last updated: