Ad disclosure
Commitment, professionalism and trustworthiness are the core values of NostraBet (NB). We manage to deliver cutting-edge betting products to our readers thanks to our affiliate business model. It is true that NB uses affiliate links to drive traffic to bookmakers. What you must know is that these are free for you to use. Their main purpose is to earn us commissions that will ultimately be invested in the betterment of our product. Visit our
Ad Disclosure
page to learn all the details.
Introduction
Sportingbet, in an effort to provide a full featured gaming portal, has chosen to include, in addition to its online sportsbook and casino, a comprehensive section dedicated to virtual gaming. The virtual sports section offers a variety of simulated sports that are based on real-life sports. Those it features include greyhounds, velodrome cycling, football, tennis, horse races, greyhounds, motor racing and speedways. The fascinating aspect to the virtual racing section is each offers a new race or match every few minutes, and that keeps the action never-ending.
The virtual section at Sportingbet has been specifically designed to be well-organised with each virtual sport having its own dedicated section. The design furthermore has been structured to allow for easy navigation for each event, thereby making the locating of additional information about each event a simple process. All matches or races are simulated in high definition and include information pertaining to odds and the available betting options offered.
Accessing the Sportingbet virtual section is a simple process that requires you only open your web browser of choice, visit the Sportingbet website and then navigate to the 'Virtuals' tab where a menu bar will provide direct links to each of the available virtual sports.
---
Virtual Football Centre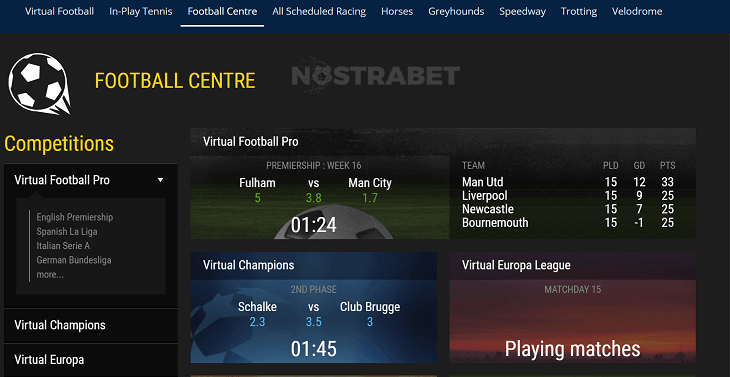 There is a multitude of ways one can engage in virtual betting at Sportingbet. Taking into consideration the popularity of football, it stands to reason that it has a strong presence in the virtual sports lineup. As such, the virtual football centre presents two main sections; Instant Football and Virtual Football. As with its general navigational options, the football centre is divided into related leagues such as Virtual Europa and Virtual World Cup, and within each, a list of upcoming matches, respective odds and relevant information pertinent to those teams participating in the forthcoming game.
The section dedicated to Instant Football provides instant access to on-demand virtual football matches. Unlike the other sections, the events are not pre-scheduled but are instead instant, and therefore punters preferring this style of virtual betting will have the ability to select preferred teams and then receive the respective odds for their selections. Additionally, before the commencement of the pending virtual match, recent performance histories and odds (decimal, fractional or American) will be displayed thereby allowing the option to make selection changes should you deem it appropriate.
Competitions
Sportingbet's Virtual league is offered in addition to its instant football matches. It provides matches based around sixteen top teams which are modelled after traditional league play for home and away matches. All games within this category are scheduled daily and present a list of participating teams bets can be placed on. Each game includes video streams of the daily matches and provides the ability to toggle back and forth to view individual events. Furthermore, Sportingbet includes updated standings and additional resources to assist you in your endeavour to pick teams that will generate successful results.
Match duration
Football matches are run consistently throughout the day with games being offered every 2 minutes. Match durations for instant play football are concluded within 1 minute, 45 seconds, while virtual league matches are 4 minutes in length not including the 20 seconds for the half time break.
Betting options and markets
Each virtual match provides comprehensive betting options. This includes Double Chance, 1X2, Over/Under Total Goal, Half Time/Full Time, Match Total Goals, Both Teams to Score, Full-Time Exact Score, Half Time Exact Score, Asian Handicap and Full-Time Results. As an added feature, Sportingbet allows the option to view odds in American, decimal or fractional.
---
Virtual Football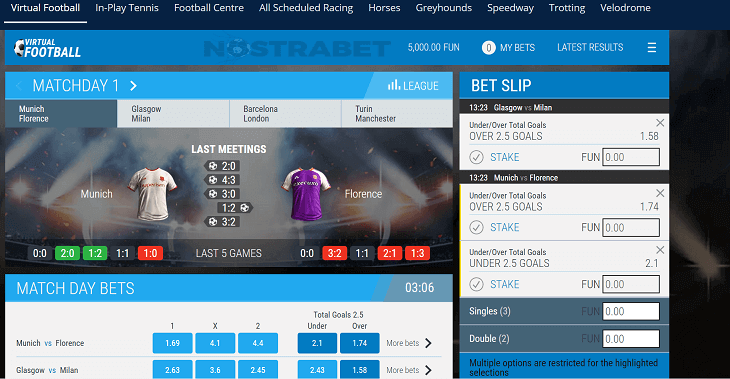 With football being the world most popular sport, it is not difficult to see why Sportingbet's decision to include multiple virtual options is a positive step forward. The virtual football section offers a selection of football tournament and league matches and presents them in a high definition video simulation of an actual match. As a tool to assist in the placement of bets, options are provided to allow punters a variety of betting options, view the latest meetings between each opposing teams and view their average ages, weight and height.
Competitions
The competitions consist of teams that are from each continent that are then divided into individual sections that include Virtual Champions League, Virtual Football Pro, Virtual Europa League, Virtual Soccer and Virtual World Cup. All outcomes are determined using random number generating software with results proportionately applied to apply fair odds after each team's strengths and weakness are considered.
Match duration
Virtual football matches take place 24 hours a day with four games running simultaneously. Matches are offered every 3 minutes, 30 seconds and include related information about odds, past team results and player averages.
Betting options and markets
To ensure ease of use, Sportingbet provides punters with the opportunity to place bets on a variety of markets for each game and view their respective potential outcomes before the start of any match. Featured betting options include Win/Draw/Lose, Correct Score, Over/Under, Half Time, Full Time, Asian Handicap First Goalscorer, Both Teams to Score, Match Total Goals, Half Time Exact Score and Full Time Results.
---
Virtual Tennis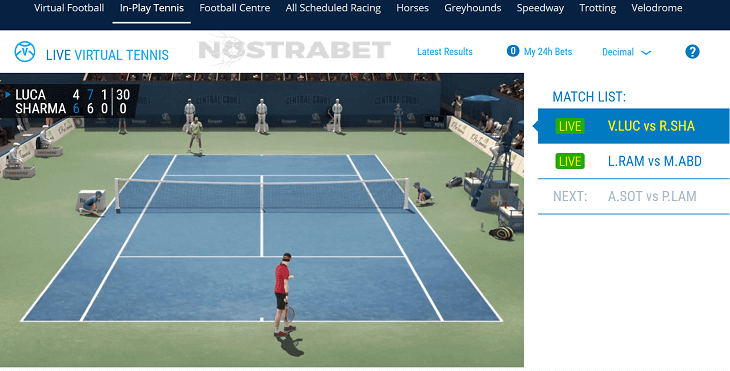 Sportingbet, in a quest to provide a fair and complete virtual tennis experience, features an impressive selection of virtual tennis matches. All match results are based on the outcome of using a random number generator that is designed to factor in odds based on competing players. As with its other virtual sporting events, tennis matches at Sportingbet are streamed via high definition video thereby allowing the ability to view each of the three concurrently running games simultaneously, see the latest results and select odd viewing preferences.
Betting options and markets
All betting markets and options allow the ability to view statistical information and odds for upcoming matches. While tennis is a different sport, its betting options are similar to Total Games, Match Winner, Winner, Set Betting, Correct Score and Point Winner being offered. To assist in punters desire to maximise betting results, multi-bets are also provided to allow for increased odds.
Match duration
Virtual Tennis matches feature three matches being played simultaneously every 3 minutes, 24 hours a day with time allotted between matches being twenty seconds. This allows time for the viewing of the latest results in preparation for the next game.
---
Virtual Horse racing
Sportingbet's virtual racebook replicates real-life horses racing events on-demand. As with its other virtual sports, results are RNG generated based on applied proportional odds and are steamed via high definition video. Races are run at a variety of world-renowned race tracks to give a genuine horse racing experience.
Betting options and markets
The most notable difference when placing bets on virtual horse races is the limited betting markets, with only Win, Place and forecast being offered. All races are on-demand and feature four to sixteen horses. Additionally, each includes statistical information about each horse, their respective odds and previous race results.
Race duration
Virtual horse races are available 24 hours a day. Races run for 45 seconds with the time separating races being determined by punters. This is due to races being on-demand and events only commencing when the start button is selected.
---
Virtual Greyhounds
Similar to Sportingbet's virtual horse racing, the virtual greyhound races use high-quality video products that mimic real-life greyhound races. To ensure accurate random race results are achieved, each race is determined through the use of random result generating software. As with the virtual horse racing, greyhound races offer up to 16 greyhounds and are available on-demand.
Betting options and markets
Similarly, the betting markets for greyhound races mimic those for horse racing with Win, Place and Forecast bets being the available betting options. Due to the on-demand nature, each event is new and includes new dogs and relevant information about each respective dog entered into each individual race.
Race duration
All virtual greyhound races are on-demand, meaning they are available on-demand 24 hours a day. As a result, specific scheduled race times do not apply and break periods are determined by the individual punter. Races run for 30 seconds at which time a short replay of the run will be broadcast, as will race results.
---
Virtual Velodrome
The quality of the Virtual Velodrome races is equal to other virtual betting products offered by Sportingbet, and as such, it features high definition fast-paced bicycle racing broadcasted in high definition with race results being RNG determined to ensure honest and fair race results.
Betting options and markets
Velodrome betting options, as with greyhound and virtual horse racing, are limited to Win, Place or Forecast with odds viewable in decimal, fractional, and American. All potential outcomes with their respective odds are provided based on up to eight participating riders.
Race duration
Each virtual velodrome race has a duration time of 45 seconds. Unlike other virtual products such as football, each race is on-demand and therefore scheduled race times are not offered, and only take place upon the selecting of the start button.
---
Virtual Speedway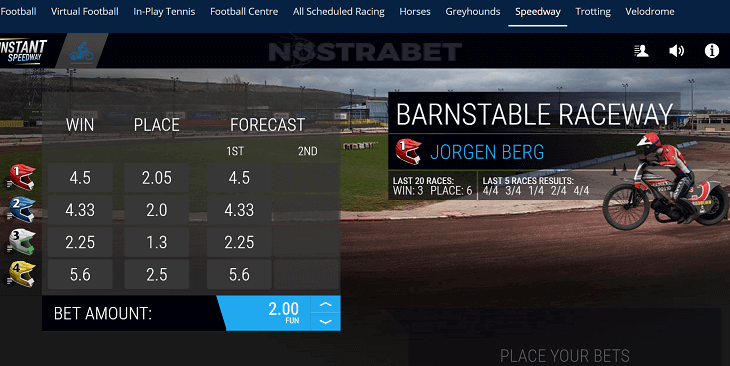 To increase its virtual betting opportunities, Sportingbet also caters to those with a passion for motorsports by offering virtual speedway racing. Displayed in high definition graphics, each race features four bikes with each offering separate odds while race results are determined through the use of certified RNG software.
Betting options and markets
In conjunction with other similar styled virtual products, speedway racing affords punters three betting opportunities consistent with the determining of race results. Each betting option includes specific odds based on the chosen entries with Win, Place and Forecast bets being accepted. The option to display odds in fractional, American or decimal is available, and additional pre-race information includes the last twenty race results to assist in making calculated betting decisions.
Race duration
Each virtual speedway lasts for a period of twenty seconds, not including the video replay of when riders cross the finish line. As an on-demand virtual race, the time between races is determined by the punter.
---
Virtual Trotting
In its continued efforts toward commitment, and its goal in proving the very best in virtual gaming by providing the highest quality possible, Sportingbet includes virtual trotting to meet the demands of punters with a preference for niche sports. All virtual trotting events emulate those seen on real trotting tracks, and as with its other virtual racing sports, its outcomes are the result of proven and sophisticated random number generating software.
Betting options and markets
With all trotting races being on-demand, those who opt to engage in betting will be able to enjoy all the action at their convenience. Each race offers options for Win, Place or Forecast, as with other virtual sports, odds can be viewed in American, Decimal, and Fractional. Additionally, those wishing to bypass the action can, at their discretion, select to skip the race and proceed straight to the race results.
Race duration
Virtual horse races showcase eight horses & buggies with individual events lasting 55 seconds each, with new runs start times being determined by the length of time each punter requires to place new bets before starting a new race.
---
Virtual Racings
Sportingbet's Virtual Racings is a collection of everything a punter could wish for when in need of instant on-demand virtual betting. Selecting the All Scheduled Racing tab will direct you to a virtual racing homepage where each upcoming race is listed. This includes speedway, trotting, cycling, greyhounds and football, each displaying the time that the next race is due to start, participants in each respective race and their respective odds.
---
Virtual Sports Providers
Sportingbet has chosen to partner with Leap Gaming as its preferred virtual betting supplier. Known for its cutting-edge technology and strong reputation, it provides a wonderful collection of high definition 3D virtual sports. Leap Gaming was established in 2014 and has grown its reputation based on delivering consistently realistic graphics with life-like results. Their status within this specialised form of betting has seen its growth include major betting platforms such as Sportingbet, bet365 and Bwin.
---
Live betting on Virtuals
Beyond that of virtual tennis, there are no other options relating to in-play betting when referencing the available virtual sports offered at Sportingbet. This is, for the most part, due to race times being condensed to provide the most valuable experience possible. As a result, all other sports are restricted to pre-match bets only.
---
Virtual Sports Mobile Betting
Sportingbet focuses on providing full access through multiple channels, and in doing so, offers mobile betting options that include dedicated mobile iOS and Android apps along with an equally capable mobile web browser version for those with a preference not to download apps to their mobile devices.
---
Virtual Sports Offers
While a strong proponent for promotions, Sportingbet believes strongly in providing its promotional offers to all its betting markets equally and therefore does not offer bonuses directed specifically towards virtual sports. However, they do include multiple promotions such as a weekly free bet club whereby bettors placing five Acca bets of $5 or more using their mobile devices, and for active punters, the ability to win a $250 wager if they crowned the one who places the most mobile bets.
---
Deposits and Withdrawals
To ensure an experience that is appealing to all its audiences, Sportingbet provides a generous range of options for the funding of player accounts. This includes those that are internationally trusted such as Neteller, PayPal and Skrill, to debit cards, and an assortment of other e-wallets. The list of options is designed to cater to a global audience and is protected using the latest encryption technology approved by leading licensing authorities such as Gibraltar Gambling Commissioner, which indecently, is who Sportingbet is licensed by.
Deposit Methods
Withdrawal Methods
| Payment Method | Deposit Minimum | Deposit Maximum | Time for Deposit |
| --- | --- | --- | --- |
| Visa | £10 | £50,000 | Instant |
| Bank Wire Transfer | £10 | £50,000 | 3 – 5 Bank Days |
| Neteller | £10 | £50,000 | Instant |
| Skrill | £10 | £5,000 | 24 Hours |
| Paysafe Card | £1 | £4,000 | Instant |
| MasterCard | £10 | £50,000 | Instant |
| PayPal | £10 | £50,000 | 24 Hours |
| CLICK2PAY | £10 | £50,000 | Instant |
| Maestro | £10 | £50,000 | Instant |
| Ukash | £1 | £1,000 | Instant |
| Laser | £10 | £50,000 | Instant |
| Delta | £10 | £50,000 | Instant |
| Payment Method | Withdrawal Minimum | Withdrawal Maximum | Time for Withdrawal |
| --- | --- | --- | --- |
| Visa | £10 | £100,000 | 1 – 5 bank days |
| Bank Wire Transfer | £10 | £100,000 | 1 – 3 bank days |
| Neteller | £10 | £100,000 | 1 – 5 bank days |
| Skrill | £250 | £2,500 | 1 – 5 bank days |
| Paysafe Card | - | - | - |
| MasterCard | - | - | - |
| PayPal | - | - | - |
| CLICK2PAY | £10 | £100,000 | 1 – 5 bank days |
| Maestro | £10 | £100,000 | 1 – 5 bank days |
| Ukash | - | - | - |
| Laser | - | - | - |
| Delta | £10 | £100,000 | 1 – 5 bank days |
---
FAQ
Are virtual sporting events at Sportingbet based on real-life sports event performances?
No, each result for any of the virtual sports featured at Sportingbet are determined using a random number generator, thereby allowing it to replicate the performance of actual sports events
If accidentally made a virtual bet, I did not want to place. Am I able to cancel it?
Unfortunately, no. Due to the limited time between virtual races, the cancelling of bets is not permitted. This is regardless of which virtual sport the bet was placed on.
I tried placing a virtual bet using my mobile phone but ran into difficulties. How do I contact support to get assistance with this?
Initially, you visit the help centre and select from its menu of available topics. Alternatively, if the problem you are experiencing is not listed. You can contact the support team by sending an internal email via the help centre or call Sportingbet directly at 0800 0280348 if located in the United Kingdom, or 1-800-246-0716 if in Canada.
I work a variety of shifts in my professional life. Am I able to place bets on virtual sports at any time, or are they only available during specific time periods?
All virtual sports are available 24/7. Therefore placing a bet at a time convenient for you, regardless of the time zone, based on your free time is never a problem. Simply log into the Sportingbet site with your account details, select the virtual sport you are interested in, and a new game will begin within a short period of time.
I noticed several virtual sports do not state when the next race will begin. Why is that?
This is due to many of the virtual sports offered being on-demand. This means that you only need to make your selections and then select "start" for the race to begin. This applies to Instant Football, Horses, Greyhounds, Speedway, Trotting, and Velodrome.
Am I able to test the virtual sports before playing for real money, so I know for sure that I like it?
Yes, all virtual sports allow you the opportunity to try each for free before the funding of your account and the placing of real money bets.
---
Conclusion and Rating
The range of virtual sports found at Sportingbet is impressive. This is even more so when comparing it to some other sportsbooks in so far as the selectable virtual sports, betting options and overall navigation. It is that ease of navigating throughout each of its offerings that have helped cement Sportingbet as a serious contender, not only in the world of virtual sports betting but also with its other betting products, namely its sportsbook and casino. Having the ability to quickly determine odds, toggle between races, place bets and navigate quickly between the different virtual sports is a valuable asset for both Sportingbet, and more importantly, you as a punter. The graphics are as good as one could ask for and that goes hand-in-hand with the overall quality most have come to expect from Sportingbet. To that end, we rate Sportingbet's virtual betting a 9 out of 10.
Last updated: