Top Slovakia Bookmakers
Here you will find out which are the leading online betting sites in Slovakia.
Best Bookmakers in Slovakia Ranked
The Situation With Betting in Slovakia
Slovakia is located in Central Europe and was a part of the Soviet Union. Despite that, people have always liked sports, so it shouldn't be surprising that sports betting is prevalent. Nowadays, some gambling fans also like casino games, which explains the high number of online and land-based casinos.
Although the country has its own regulating authorities, most people prefer using international betting sites in Slovakia because of their advantages. That's why we will look at some of the potential offers, features, payment methods, and other things available to punters in Slovakia.
Betting in Slovakia – Six Facts You Should Know
Before checking the Slovakia betting companies, let's go over some of the interesting facts you should be aware of.
Most iGaming fans in the country prefer international betting platforms
Despite having a regulating authority, online punters prefer using an international gambling operator. Usually, these sites offer more markets/casino games and better odds.
Some of the non-licensed betting websites might be blocked
In an attempt to encourage people to use the local iGaming operators, the government blocked some of the international brands. However, people can usually use a VPN to access them.
Only people over 18 years of age can participate in gambling activities
Underaged gambling is not allowed anywhere, and Slovakia is not an exception. You have to be at least 18 if you want to punt on sports or play casino games.
The currency in Slovakia is EUR, which means online bettors can use it
EUR is one of the leading currencies regarding iGaming, so punters will be able to use it.
The gambling law has undergone several changes over the years
Like other countries, Slovakia has gambling laws that were changed a couple of times.
Punters in Slovakia can use a wide range of payment options
Since the country uses EUR as its currency, most of the popular online payment solutions are accessible to bettors from Slovakia.
The Gambling Laws in Slovakia

Although gambling has been legal in Slovakia since 1992, the first law regarding betting came to life in 2005. It was in place until 2019, when the government decided to change some things. Before the changes, the Ministry of Finance was responsible for the betting operators. Still, now, there is a new regulating body called the Office for the Regulation of Gambling.

Apart from the Slovakia betting sites, the new law allows EU companies to obtain a permit and operate legally within the country. Needless to say, most brands haven't done this yet because they have licenses from other places.
Seven of The Best Online Betting Websites in Slovakia
Check these seven brands before deciding which iGaming operator to put to the test.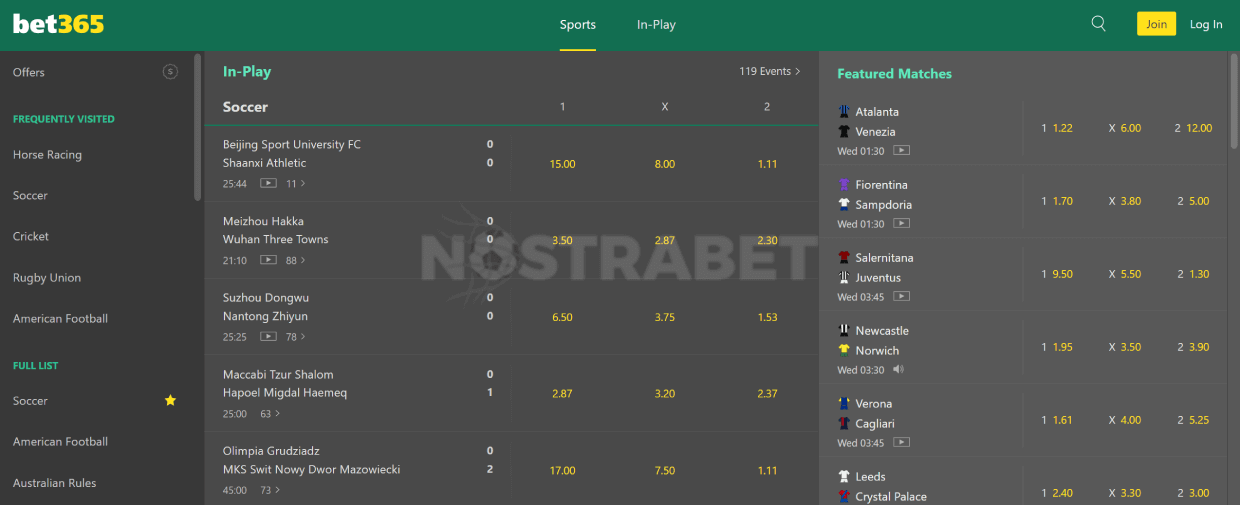 Pros:
An industry-leading sportsbook
Various promotions
Cool betting features
Cons:
No betting guides for inexperienced sports punters
Pros:
Futuristic design
Interesting promo section
Various slots created by the most popular casino software companies
Cons:
The website is not regulated by Slovakia's betting authorities
Pros:
Punters can wager on live sports events and play live casino games
There are loads of payment options to choose from
The iGaming company supports different charities
Cons:
Despite offering loads of things, the design of this brand is not that appealing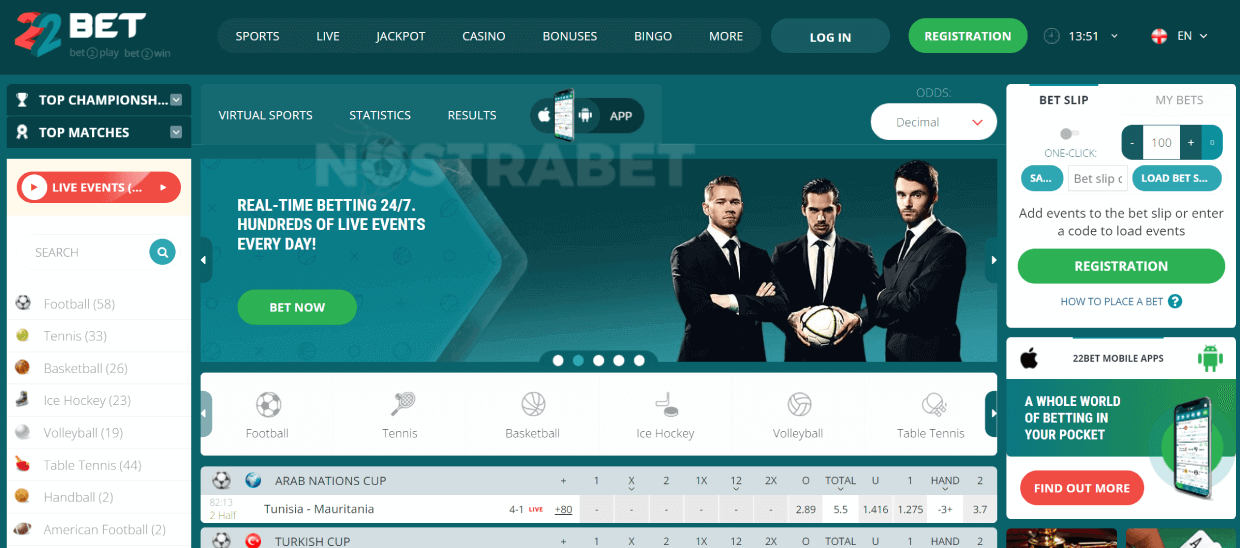 Pros:
Many world-class betting sections
High-quality mobile services
Top-notch customer support department
Cons:
The site's design doesn't seem as innovative as the one found on other operators.
Pros:
A good selection of betting sections
Punters in Slovakia can use a blog
Several betting features make this site stand out
Cons:
The bookmaker doesn't have a license from Slovakia's regulating commission
Pros:
A wide selection of casino titles
Interesting sportsbook
Bettors can use some of the industry-leading betting features
Cons:
The site lacks some of the betting sections found on other operators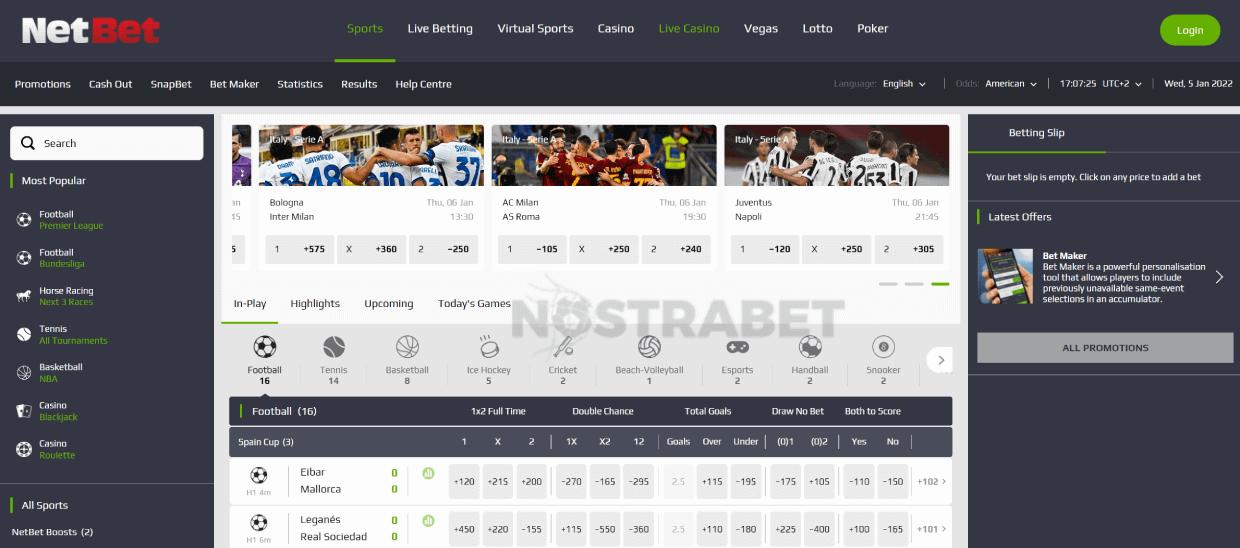 Pros:
A wide range of betting options
Punters can use several online payment solutions
Netbet has an interesting design
Cons:
Some of the betting sections might not be accessible to punters in Slovakia
The Competition Between Online Bookmakers in Slovakia
There was a time where one of the companies had a monopoly over the online sports betting market in Slovakia. However, thanks to the legal changes, every iGaming company can apply for a permit from the local regulator. These brands also have to compete against international bookmakers, which means none has a monopoly.
Can Online Bettors in Slovakia Use Bonuses While Wagering?

Yes, online bettors in Slovakia can use bonuses while wagering. Although some iGaming companies don't offer many options, the best betting site in Slovakia is known for providing reload promotions, free spins, free bets, and even cashback rewards. Some of these proposals are only available to new customers, whereas others can be accessed by registered punters.

It is essential to know that the bonuses for sports betting are usually more innovative. In addition to everything mentioned above, some brands provide different benefits for those who wager on multiple events. Sometimes, gamblers can even utilize no deposit bonuses, which don't require spending any money. Speaking of the devil, most offers have a minimum deposit requirement and other important rules you must adhere to.
The Options and Features You Can Use in a Slovak Bookmaker
Here is a quick overview of some of the popular betting features you will come across.
Cash Out
Nowadays, this is one of the standard features you can find in every respectable bookie. Once you look at the best betting sites in Slovakia, you will see that most of them allow you to sell your bet at your convenience. In other words, Cash Out lets you settle your bet before the actual event is over.

 

Multi Builder
This is an innovative feature that is not as common as Cash Out. Yet, it has many fans because it lets punters combine markets from multiple events to get better odds. Although some markets can't be used together, the feature allows bettors to come up with all sorts of combinations.

 

Live Betting
Since people can get bored of placing pre-match bets, some of the best iGaming sites in Slovakia offer a live betting option. Usually, this feature includes all of the sports found in the regular sportsbook. However, the number of live events depends on the day of the week, so you may not have access to many options.

 

Live Streaming
In most cases, this option is available inside the live betting section because it lets you monitor some events. Some of the most prominent betting companies in Slovakia feature a respectable number of live matches that you can also bet on. If live-streaming is not available, some operators offer different live graphics.
Which Payment Options Are Available to Bettors in Slovakia?
The payment options available to bettors in Slovakia depend on the bookmaker they're using. Most popular iGaming companies offer bank transfers, e-wallets, and credit/debit cards. Usually, people can use all of these options, but some banks might block the transfers to certain operators. That's why the most innovative betting sites allowed in Slovakia use cryptocurrencies, such as Bitcoin and Ethereum.
Like other European countries, Slovakia uses EUR, which means every online bookie and casino offers this option. However, people should check the payment section before choosing one of the alternatives. Specific options might require bettors to pay additional fees.
---
Is Mobile Betting Available in Slovakia?
Mobile betting is available in Slovakia because almost every punter uses a smartphone or a tablet. The companies that operate in this European country are aware that their clients are interested in betting on the go. Hence, they offer them a fully-functional mobile website and a mobile app for Android and iOS.
These two things usually offer the same sections, bonuses and payment options. However, some applications might provide bettors with additional features, such as the ability to receive notifications.
Online Casinos in Slovakia
Online casinos are almost as popular as betting on sports in Slovakia, which probably will surprise some of you. Although some people in the country prefer land-based casinos, online ones have many advantages. Besides offering bettors more bonuses, they usually give them access to significantly more games. People who like online casinos in Slovakia can play slots, table games, poker, and even casino games with real dealers. The latter will allow gamblers to feel as if they are in a real casino.
The Leading Sports That People Bet on in Slovakia
Here are some of the sports you should check out after skimming through the best Slovakia betting tips.
Football
Football is the leading sport in Europe, so it shouldn't surprise that it plays a significant role in Slovakia. Soccer fans usually wager on the big European competitions in the UK, Spain, and Italy. However, some people are also interested in Slovakia's top-tier football league called Slovak Super Liga.
Ice hockey
Ice hockey is not the most popular sport in some European countries, but Slovakia is an exception. This is a place where online bettors have the chance to stake on some of the hottest matches in the world. Of course, most of them take place in the NHL, but this doesn't mean there aren't any local events to punt on. In fact, the Tipos Extraliga is among the most prestigious competition on the continent regarding ice hockey.
Tennis
Tennis is often regarded as one of the best individual sports when it comes down to online betting. It offers a variety of exclusive markets that people can't access anywhere else. Hence, many punters in Slovakia are happy when they have the chance to bet on different tournaments in the country and the Grand Slam competitions.
Volleyball
The men's volleyball league of Slovakia always offers interesting matches that local punters can bet on. Although the Extraliga might not be the most prestigious volleyball competition globally, some Slovak bookmakers often provide better odds for it. Of course, this doesn't mean that volleyball fans can't wager on events that take place all over the world.
Cycling
Cycling is a popular sport in Slovakia, but some of the top-rated bookmakers don't offer that many markets. Fortunately, the popular iGaming operators in the country give punters access to the most sought-after cycling competitions in the world. They may not offer as many options, but the odds are what makes this sport popular in the online betting industry.
---
The Slovak Bettor
Most bettors in Slovakia use online gambling operators because they offer more things than their land-based counterparts.

However, some people prefer to visit local casinos and betting shops, which is why those places have many fans. Although casino games are popular, most Slovak iGaming fans wager on sports.
---
FAQ About Betting in Slovakia
Is online betting legal in Slovakia?
Yes, online betting is legal in Slovakia.
Are there any taxes for Slovak players on their winnings?
No, there are no taxes for Slovak players on their winnings.
Which is the main betting currency for betting in Slovakia?
The main betting currency for betting in Slovakia is EUR, but iGaming sites offer other options as well.
Are there any betting restrictions for Slovak players?
Yes, some international betting operators might be blocked in the country.
Can mobile bettors in Slovakia wager on the sport they like?
Yes, mobile bettors in Slovakia can wager on the sport they like.
Which is the best online betting operator in Slovakia?
The best online betting operator in Slovakia is the one that offers loads of options.
---
Final Verdict
Betting in Slovakia is legal, so people have to decide which brand they want to use. Some of the operators have a permit from the local authorities, whereas others are registered elsewhere. Both types of iGaming platforms have their share of pros and cons, so it comes down to personal preferences. The good news is that every company available in the country offers plenty of betting sections and exciting promotions. As a result, you can have a memorable online betting experience, regardless of the brand you go for.