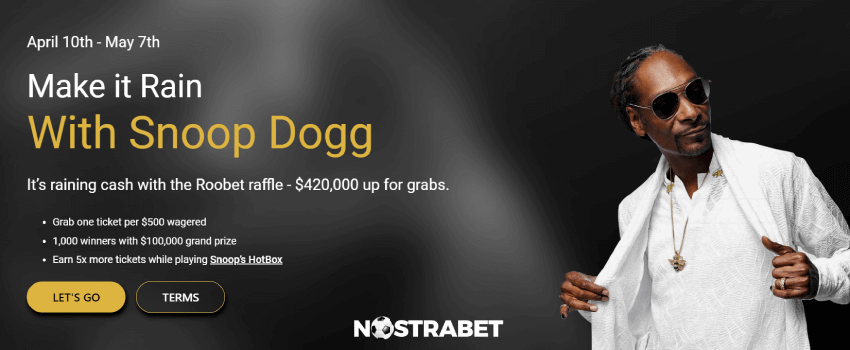 Ad disclosure
Commitment, professionalism and trustworthiness are the core values of NostraBet (NB). We manage to deliver cutting-edge betting products to our readers thanks to our affiliate business model. It is true that NB uses affiliate links to drive traffic to bookmakers. What you must know is that these are free for you to use. Their main purpose is to earn us commissions that will ultimately be invested in the betterment of our product. Visit our
Ad Disclosure
page to learn all the details.
Don't Miss Roobet's Biggest Raffle Yet!
You've probably heard already that everyone's favorite mob of crypto kangaroos has ganged up with the one and only Snoop Dogg! Together, they have made an effort to bring you their biggest prize pool yet in the upcoming 420 Make it Rain with Snoop Dogg raffle!
From the 10th of April to the 7th of May
Roobet's biggest prize pool yet – $420,000
Grand prize of $100,000
A total of 1,000 lucky winners
Earn a raffle ticket for every $500 wagered on any game
Play Snoop's HotBox, and get 5x tickets for $500 wagered
Starting on the 10th of April, every Roobeter will have an opportunity to play their favorite games from the ever-growing selection of Crypto's Fastest Growing Casino slots or any other game. Doing so will earn you a raffle ticket for every $500 wagered on any of the games throughout Roobet.
Don't worry if you're more of a sportsbook player, as the same rules will apply wherever you choose to play. Land or water, ball, or brawl, it's totally up to you as every sport is a fair game! Combined and single bets on any sportsbook event will earn you a raffle ticket every time your total amount wagered is increased by another $500.
You'll have all the way until the 7th of May to collect and stack on as many of the tickets as you can. Each of those will increase your chances of being one of 1,000 raffle winners to share the $420,000 prize pool, or maybe, if you collect enough of them, stand a chance at the grand prize of no less than $100,000!
---
Smoke the competition in Snoop's HotBox
Don't worry if you're a bit late for the party; you can still catch up by grabbing the tickets at Snoop's HotBox at an increased rate! In case you're not familiar with it, it is the latest, exclusive game, made in collaboration with the world's famous rapper, available only on Roobet!
Those of you that have previously played Crash will be able to jump in and enjoy this game immediately, as both share the same concept at their cores. What's different is that Snoop's HotBox is much more colorful, funny, and adds a new character: none other than Snoop Dogg himself.
Playing Snoop's HotBox, and wagering $500 on it will earn you not one but five tickets for the 420 Make it Rain with Snoop Dogg raffle, allowing you to catch up with the rest of the contenders.
If you still haven't had a chance to visit, now would be a pretty good time to do so. Between Snoop Dogg coming on board, a new, exciting promotion every now and then, and the biggest raffle that Crypto's Fastest Growing Casino has ever seen, there never seems to be a dull moment at Roobet. See you there!