Where can we bet securely and which are the leading bookmakers in Ireland?
Irish bettors will be pleased to find out that they can place bets at some of the best online bookmakers in the world. In the table below, we provide our choice for the leading betting websites in Ireland.
Best Betting Sites in the Republic of Ireland Ranked
---
Introduction
Betting is incredibly popular in Ireland and has been for a long time. The government is relatively lenient compared to some others, and all forms of gambling are legal, making it easy and safe to access. Although the country is turning more and more to online gambling, brick and mortar establishments still enjoy relative popularity.
Interesting Facts about Betting in Ireland
1 in 10 underage children partake in illegal gambling activities, usually lotteries or horse racing
In Ireland, gambling is more popular in wealthier social groups
Ireland has the third-largest gambling losses in the world – over €2.2 billion annually
Approximately 44% of all adults gamble regularly, with most buying lottery tickets each week
The most common form of gambling in the country is lotteries and scratch cards
€10,000 is bet every minute in Ireland
Gambling Legislation and Laws

Gambling in Ireland primarily regulated under two laws: the Gaming and Lotteries Act 1956, and the Betting Act of 1931. The Gaming and Lotteries Act prohibits casinos, however, providers are technically allowed to operate members-only clubs, which operate as mini-casinos. Thus punters can still get their fix. The Betting Act of 1931 legalized sports and was amended in 2015 to allow the provision of legal offshore sports bets as well. This bill also focuses on the protection of citizens, by only allowing licensed and registered companies to offer betting services to Irish bettors, to protect their safety.

Online gambling is explicitly legal in Ireland, using both domestic and offshore companies. Punters can easily access both sports and casino betting online, with no fear of legal repercussions.

/td>
Top Online Betting Sites in Ireland
The market for online betting sites in Ireland is so vast, and it can be difficult for newcomers to know what sites are good, and which to avoid. Here are some of the safer, more popular options for punters: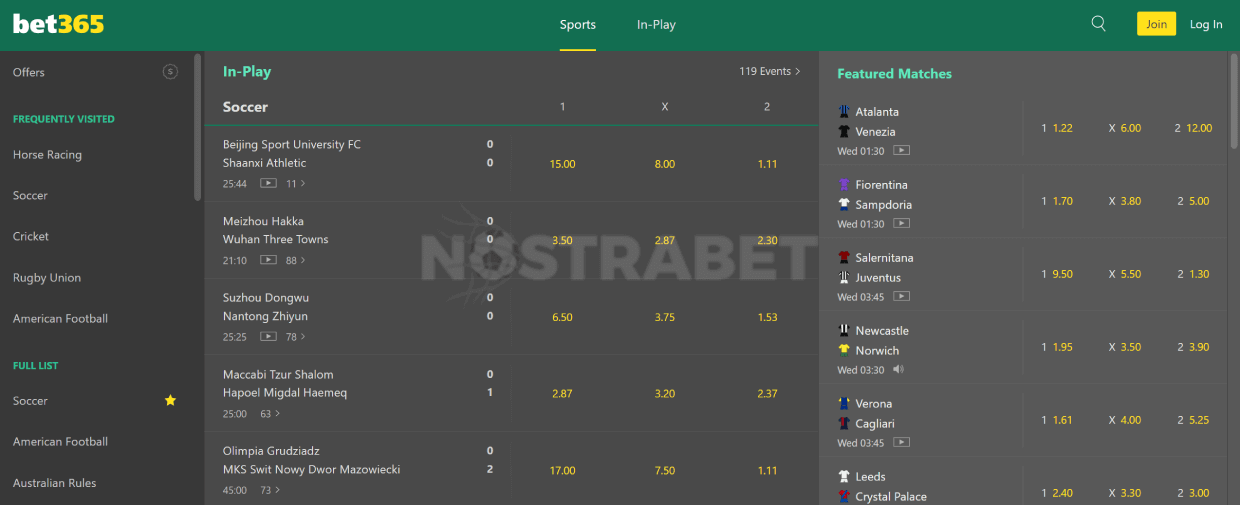 Competition between Operators
Due to the relatively lenient legal status surrounding gambling, there are no monopolies when it comes to the provision of these services. There are over 299 online betting sites that offer their services to the Irish population, and although the number of physical casinos is small, they independently owned.
The only monopoly to exist is that of horse racing. Almost all horse race betting done in brick and mortar establishments is done through Tote Ireland Limited. This monopoly has existed since 1929 but does not exist for any other form of sports betting.
Bonuses from Irish Bookmakers

Several different promotions are available to punters who play on sites that licensed in Ireland. When players initially sign up to a betting site, they will offer a welcome bonus. Most sites offer a casino bonus or a sports bonus, so you can choose which one you would prefer. The bonus itself is usually free bets or double the amount of your first deposit so that you can bet straight away.

There are also promotions available for existing customers so that there is motivation to continue playing on the site. These types of bonuses and promotions are often constantly changing, so there is always something new and exciting, even for old players.

Some different sites will also offer bonuses to Irish players that are betting using the mobile app, instead of the desktop version of the website. These bonuses can include free bets and improved odds.
Betting Features and Options in the Irish Bookmakers
Irish bookmakers are constantly looking to improve their services and create the best experience for users. It means that sites are constantly being updated with the latest features and options available, and punters can take advantage of this competitive market by shopping around until they find what they are most comfortable. Standard features and options of Irish bookmakers include:
Live Streaming
Live streaming allows punters to watch the casino or sports event that they have bet on, and they can see the results in real-time. Often sites will only allow punters who have bet on a website to watch a live stream, but the betting minimums are usually quite low. It will enable punters to watch events that might not otherwise be televised and adds a social aspect to online betting that is often lost when you are betting alone.

Live Betting
This feature allows users to continue to bet even when the event has started. Not only does this mean that punters can bet based on what is happening as the game or event unfolds, but also they can bet using odds that change in real-time, increasing their chances of winning, and winning big.

Bet Builder
This feature has many different names on different sites but is essentially the same thing. A bet builder allows you to combine several bets, and increase the odds for all of them. Most sites will give punters some freedom to create their bet builder, by choosing the number of bets, and what kind of bets. If all of the bets are successful, then the punter wins more than if they had one separate bets, increasing their opportunity to win big.

Cash-out
Cash-out is another feature that helps to reduce the risk of losses. If a punter chooses, they may exit a bet before the event is over, and take their winnings based on the odds at that point, regardless of the outcome. Many sites offer partial cash out options as well, and also automatic cash out when odds hit a certain point that is specified by the bettor.

Live Casino
Many sites offer a live casino feature, which allows bettors to play against real opponents in real-time. This feature aims to mimic the effects of playing with other people in a brick and mortar casino, allowing online betting to feel a little more social.
Available Payment Methods
Some different approved payment methods can be used to make deposits and withdrawals from betting sites. Irish punters can use all major credit cards and debit cards, such as Visa, MasterCard and American Express. Many websites also offer a range of different e-wallets, such as Skrill, Neteller, and PayPal. Since there are numerous various e-wallets on the market, if punters are interested in using any of these to gamble, they should check specific sites to see which ones can be used, and which ones cannot. All of these payment options are generally instantaneous and free, however many sites will also offer payment methods such as bank transfers, that can take up to a few business days, and may incur a charge.
Punters should note that the majority of sites state that money must withdraw the same way that it deposited, it cannot be withdrawn using a different form.
The main form of currency in Ireland is the euro (EUR). Almost all reputable sites will accept EUR as a form of currency which used to bet. Therefore punters do not need to go through the struggles of having to exchange it and pay extra fees.
---
Mobile Betting in Ireland
Mobile betting is one of the fastest-growing forms of betting, and most large sites are catering to the demand from punters. Almost every site offers mobile apps to download for free on both Apple and Android devices so that punters can bet anywhere, any time. Some websites will also provide some different apps, depending on what you wish to bet on, for example, there might be a specific sports betting app, and another one just for casino betting, both from the same company. That allows users only to have to navigate through betting markets that they are interested in, and nothing unnecessary.
As already previously mentioned, many sites also offer bonuses and promotions for downloading the apps or placing bets on them instead of using the desktop version of the website. If bettors know that they are likely to bet using mobile devices, they may wish to register with a site that will offer them bonuses and promotions for doing so.
Online Casinos
Online casinos are legal in Ireland, and there are several different companies that are licensed to offer services to Irish punters. All forms of casino betting are legal and available, including poker, slots, and live table games. Many sites will offer bonuses that are specific to the casino section of their website, so if this is the betting that people like, they are not limited at all in terms of what they can access.
Leading Sports for Betting in Ireland
Sports betting has a long history in Ireland and continues to be one of the most common forms of betting to engage. Here are the sports that the Irish market bet on the most:
Football
Because football is so popular internationally, almost all reputable bookmakers offer extensive coverage of the site, including local Irish games as well as international ones. Some betting sites also provide coverage of Gaelic football, which is more popular than traditional football within the country. Punters can enjoy betting on the sport in all of its popular forms.
Horse Racing and Greyhounds
Some of the oldest forms of sports betting, horse racing and greyhounds remain popular sports to bet. Many sites offer betting on both local and international competitions, ranging in size and importance.
Basketball
Ireland is part of FIBA Europe, the governing body that manages the sport for the continent. FIBA Europe games receive full coverage on betting sites both local and international, but so do other national, professional games.
Tennis
Tennis is popular within Ireland, and betting on the sport increases the most during Wimbledon. Some national tournaments within Ireland receive extensive betting coverage on local betting sites, as well as sites that are from the wider Great Britain.
Rugby
With the national team currently ranked at number three in the world, the Irish have long been fans of the sport. The national team participates in Six Nations Championship each year, a tournament they have won 14 times. Betting sites fully cover these games, as well as offering bets on provincial games, so that punters can support their favourite teams at all levels of the game.
Boxing and MMA
With the meteoric career of MMA fighter Connor McGregor, it is no surprise that the Irish demonstrate their patriotic love of the sports star. Because the sport is gaining traction internationally, Irish punters have plenty of options to choose from when it comes to finding sites that offer betting on MMA, as well as other contact sports.
---
The Profile of an Irish Bettor
Irish punters are most likely to be male, and younger rather than older. As with most other countries, online gambling is the sector of the market that is growing the fastest, with people engaging on desktops as well as on mobile devices. As well as engaging with the international market, some punters exclusively bet on local sports and matches. That is seen most obviously with the popularity of betting on Gaelic football, but also with local horse races, due to the country's long history with the sport and the animals.
---
FAQ
How to find the best online betting site?
Several factors should consider when trying to find the best betting site, as it can be difficult to wade through the sheer number of companies that offer their services to the Irish market. But firstly, punters should only use sites that are licensed to operate in Ireland. Secondly, they should make sure that the site has a privacy policy concerning their private data, and the latest in technology to prevent any security breach of their accounts. Finally, punters should look for a site that suits their preferences. Whether this based on the types of bets offered, the promotions, the way that the site looks and functions, punters should look around until they find one they are comfortable.
Is online gambling legal in Ireland?
Yes, it is legal for Irish people to gamble using online sites. There are over 200 options to choose from, both local and international.
Are there any taxes for Irish players on their winnings?
No, punters are not taxed on any potential winnings they may receive, because the government does not perceive betting to be a form of income, rather it is seen as complete luck.
Which are the best football betting sites in Ireland?
There are many different high-quality football betting sites available to Irish bettors, but one of the best is consistently Betway. They offer bets on Irish games, as well as international matches, so there is always a game for interested punters. Aside from its vast options, it is known to be a safe site, with a good reputation for looking after its' customers. The site has an extensive privacy and safety policy, so punters know the risk of their private data being breached is minimal.
Are there any betting restrictions for Irish customers?
No, there are no betting restrictions for Irish customers. They can access all types of betting, from a range of different vendors that are both local and international.
Are there any Irish betting sites?
Yes, several betting sites come from Ireland. One of the largest and most successful is Paddy Power, offering both sporting and casino betting.
---
Our Verdict
Ireland has a large betting culture, but it is easy to see why. The government has made the pastime accessible, while still ensuring that it is safe. As a result of this, there are some reputable brick and mortar establishments as well as online sites, that offer all forms of betting possible. There are no taxes on winners, and the market is diverse enough to encourage competition from vendors, who work hard to maintain their audience by providing consistently high-quality services.
Some might say that the betting industry in Ireland is too lenient, which is leading to an increase in cases of gambling addiction, especially in younger demographics. The losses in Ireland are also some of the worst in the world, suggesting that there is some issue. However, the government and several betting sites dedicated to ensuring that all of their players are safe, and arguably the vast majority of punters continue to gamble responsibly.