Top Online bookmakers in the Czech Republic
Find out which are the best betting sites in the Czech Republic and their offers. Learn more about their pros/cons and main features in the text below.
Top Betting Sites in the Czech Republic Ranked
---
Introduction
The Czech Republic is a central European country that shares its borders with Germany, Poland, Austria and Slovakia. As a country, the Czech Republic is made up of thirteen regions and is home to a population of 10.7 million people.
As a result of its liberal gaming laws, locals are free to wager at land-based casinos and online betting sites. Our best betting sites in the Czech Republic will explore the countries gambling and taxation laws. Moreover, we provide information about the top 5 betting sites in the Czech Republic and include bonuses and other interesting facts.
Interesting facts about betting in the Czech Republic
A country like the Czech Republic is steeped in tradition and full of interesting facts. While these range from historical facts to social and economic points, betting facts are also prevalent. It is only natural considering the country legalized betting in 2012, so here are a few we found interesting.
One year after the 2012 Gambling Act, the number of casinos in the Czech Republic was 180, and by 2017, the number rose to 299.
The revenue generated in 2017 by licensed betting establishments in the Czech Republic was €250 million. By 2019, that figure rose to €1.3 billion.
It is estimated that 44% of the population in the Czech Republic between the ages of 15 and 65 placed one or more bets in 2019.
The city with the largest number of casinos, and the countries capital city, is Prague. As of 2021, there were 21 casinos licensed to operate within city limits.
Due to problem gambling initiatives, only 2% of the population in the Czech Republic seek counselling for addictive gambling behaviour.
In order to be licensed in the Czech Republic, offshore betting companies must pay 19% tax on corporate earning. This is above the 23% for sports and lottery games and 35% tax on revenue generated from casino games.
Gambling Legislation and Laws in the Czech Republic

Since gaining independence in 1993, the Czech Republic has enacted several laws that legalise gambling within its borders. The first was in 2012 when the countries legislature passed the 2012 gambling act, and the other was in 2017 when it amended the act to include online gambling. The act permits operators to offer games of chance, poker, bingo, sports betting, fantasy betting, and lotteries.

All operators within the country must be licensed by the Ministry of Finance and comply with the regulatory laws. Resultant of the gambling act, operators must obtain licenses for each gambling service they offer and are subject to the relevant taxation. Currently, this includes a 23% tax on sports and lottery games, a 35% tax on casino games and a 19% tax on corporate profits.

In addition to the legalisation of gambling in the country, the gambling act restricts player winnings to 270,000 CZK per day. In addition, the act requires operators to ensure age verification, include self-restricting measures, and prevent access to any players barred from playing by the Ministry of Finance.
What are the Top 5 Online Betting Sites in the Czech Republic?
The top online betting sites in the Czech Republic are iFortuna, TipSport, Librabet, Cyber.bet, and Matchbook. Considering the diversity of games and unique features of each betting site, a short introduction about each is provided below.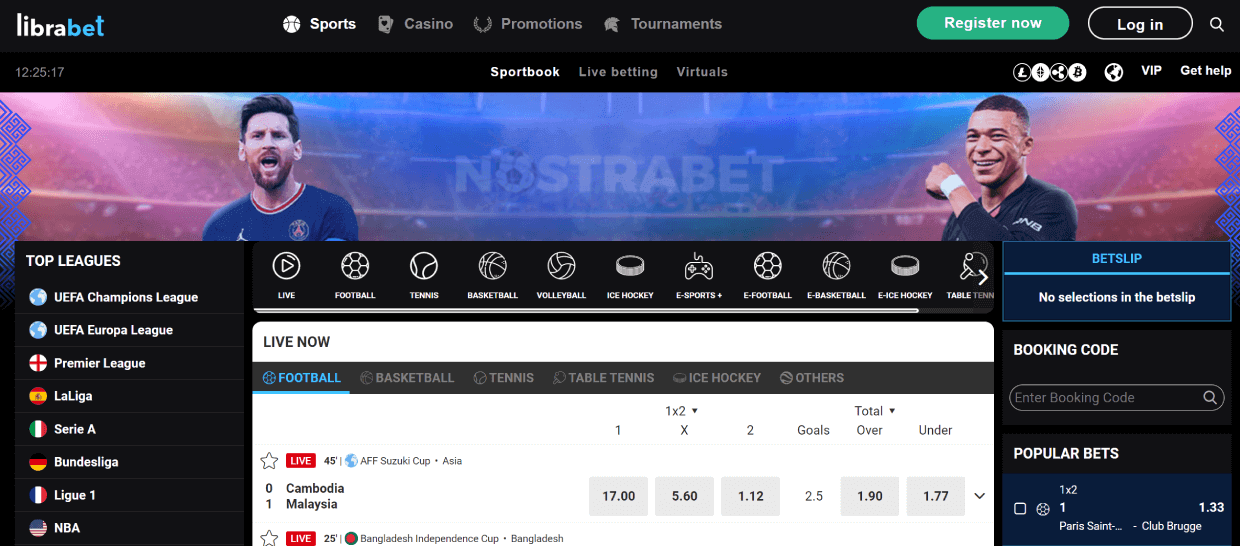 Librabet Pros
Live streaming and in-play betting for 25+ sports markets
Generous market coverage for international football
Excellent casino with more than 5,000 games
Librabet Cons
Website is outdated
Cyber bet Pros
Features a mobile website and Android betting app
Include casino and esports betting
Access to betting rules and competitive odds
Cyber bet Cons
Live streaming only available for eSportsated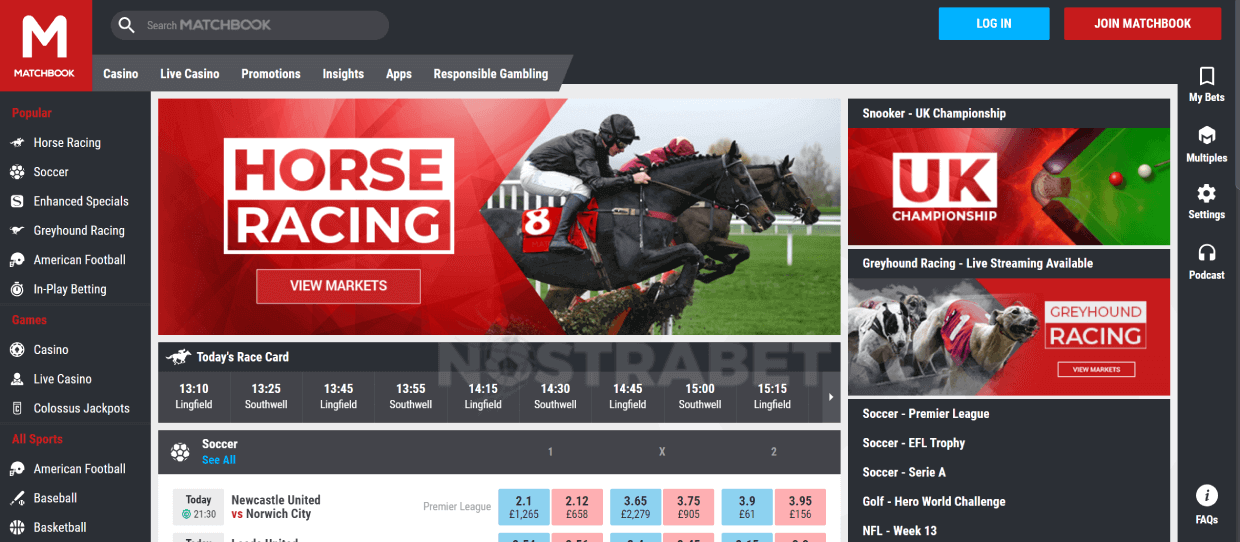 Matchbook Pros
Live streaming for horse racing and greyhounds
Nicely appropriated casino and live casino
Includes mobile apps for iOS and Android
Matchbook Cons
A limited number of sports
iFortuna Pros
Coverage for 20+ sports and multiple eSports markets
A large number of betting markets for football
Features a betting school and bettors dictionary
Live streaming and in-play betting
iFortuna Cons
A limited number of odds markets are available
TipSport Pros
Access to analytical information and a results page
Generous promotions for sports betting
Live betting, streaming and mobile compatible
TipSport Cons
Does not offer promotions for the casino
Competition between Operators
After the Czech government regulated its land-based and online gaming in 2012 and 2017, competition amongst operators became a mute topic. The lack of competition between operators is directly correlated to the countries gambling laws. Specifically, the gambling act heavily taxes operators to the tune of 23% for sports and lottery and 35% for casino betting. In addition to a 19% corporate profits tax, the act limits player daily winnings to a maximum of 270,000 CZK.
Resultantly, bookmakers and casino operators are limited in their ability to offer promotions. The removal of competitive themed promotions has muted land-based competition. However, competition has resulted in bookies providing various promotions for online operators. Most come without restrictions and include reduced wagering, increased deposit bonuses and free bets.
Bonuses from Czech Bookmakers

Bonuses from Czech bookmakers operating land-based operations are minimum and often limited to player rewards. However, for bonuses from Czech bookmakers online, they vary from bookmaker to bookmaker and include deposit and reward themed bonuses. A sample of the bonuses punters can avail of include odds boosts, free bets, best odds guaranteed, and reload bonuses.
Betting Features and Options from Czech Republic Bookmakers
Similar to other central European countries, Czech bookmakers' betting features and options are superb. Many are meant to enhance the overall usability and betting experience for sports punters. However, similar to the options, the range of features punters demand most has resulted in bookies favouring the following features:
Cash Out
This is the most valuable betting feature as it is tied to punters ability to manage their active bets. The cash out option is used to mitigate losses by cashing out bets prior to a sporting events natural conclusion. If optioned, a punter will receive a pro-rated portion of their bet returned to the account bankroll.

 

Live Betting
Live betting has grown to become an industry standard for online sports betting. As a feature, live betting lets punters bet in real-time while the sporting event is live. Punters can access betting markets and real-time odds as part of the live betting platform.

 

Live Streaming
Live streaming remains a popular feature for bookies as it is closely tied into live betting. Depending on the bookmaker, live streaming options will be included for sporting events, horse racing and greyhounds. More importantly, live streaming is a complimentary service when punting on sports.

 

Best Odds Guaranteed
While best odds guaranteed are often seen as a promotional incentive, they are a feature for those who frequently bet at online bookmakers. Best odds guaranteed are ideal when combined with live betting as they ensure bettors get the best odds on select matches. This is also a perfect feature that can be combined with a bet builder feature.
What are the available Payment Methods in the Czech Republic?
The available payment methods in the Czech Republic range from credit cards, ewallets, local prepaid cards and cryptocurrencies. The most popular payment method with an online bookie is credit cards in the Czech Republic, while prepaid cards follow closely behind.
The main attraction to credit cards is the absorption of transactional fees and the ability to fund accounts using the Czech Koruna. This reduces the unnecessary need to absorb conversion fees when depositing. However, withdrawing by credit cards with Czech bookies does come at the cost of 10 Czech Korunas per transaction.
The alternative for Czech players is ewallets and cryptocurrencies. Similar to credit cards, e-wallet transactional fees are covered by the bookie. However, transactional fees via cryptocurrencies are not covered. Nor are withdrawal transactional free for crypto, although e-wallet withdrawals fees are usually covered.
---
What are the Mobile Betting options in the Czech Republic?
As a country with advanced mobile networks, the mobile betting options in the Czech Republic range from apps to mobile websites. Both options operate using the latest mobile technology and provide advanced security protocols to ensure safe access.
For mobile users interested in betting apps, they are accessible online via app store retailers or bookmaker sites directly. The same relevance applies to mobile sites, except they are browser-based and accessible only via a compatible mobile browser.
In terms of their services, users will find they emulate those delivered via desktop applications. Resultantly, mobile users have access to a full range of betting services, functions and usability features. Moreover, the use thereof is free of any operational fees.
Are Online Casinos available in the Czech Republic?
Online casinos are abundantly available in the Czech Republic and have been since amendments to their gambling act in 2017. Czech players have access to the Ministry of Finance licensed casinos operated by land-based and online operators. The scope of available casino services ranges from traditional games of chance such as card and slots, bingo, and poker. In addition, online casinos are free to offer scratchcards, instant win games and live dealer games.
What are the Leading sports for betting in the Czech Republic?
The leading sports for betting in the Czech Republic are Football, Ice Hockey, Basketball, Volleyball, and Handball. The popularity of the leading Czech sports for betting is not surprising considering the country is located in central Europe. Resultantly, we explore each sports history by providing brief explanations below:
Football
As a European nation, football is the most predominantly favoured sport in the Czech Republic. Its history in the country dates back to 1890, when the Czech Republic was part of the Austro-Hungarian empire. In the latest 20th century, the sport is played nationally in local leagues and internationally by the countries national team.
Ice Hockey
Ice Hockey is another sport that established its popularity in the Czech Republic in 1908. Fast forward to modern times, ice hockey is played by the national team at an international level and throughout the country in local and house leagues.
Basketball
A major contributor to basketball being a leading sport in the Czech Republic is the combination of its national men's and women's professional basketball leagues. Basketball is also widely played at the state school and college level.
Volleyball
Volleyball is widely seen as a leading sport in the Czech Republic. It has since the forming of the Czech Volleyball Federation. As part of its sports popularity, the Federation overseas the Czech national teams and oversees local clubs throughout its regions.
Handball
Handball is another of the leading sports that have been similarly popularized due to forming the Czech National Handball team.
---
The profile of a Czech Bettor
Since introducing its gambling laws, the Czech Republic has taken a proactive stance towards controlling addictive gambling. On average, 43.3% of residents have identified as active gamblers. In comparison, 41.4% of those opted to bet at land-based venues, while 11.9% opted for online venues.

Regarding game popularity for the average Czech bettor, 38.6% preferred gambling machines (slots, video poker), while 38.6 % preferred scratchcards and lottery tickets. The remaining bettors opted for sports betting, with 51% of active gamblers being men and 35.8% being women.
---
FAQ about betting in the Czech Republic
Is online betting legal in the Czech Republic?
Yes, online betting is legal in the Czech Republic and has been since 2017.
Are there any taxes for Czech players on their winnings?
No, the Czech Republic does not tax players' winnings. However, licensed operators are responsible for paying various taxes, including corporate profits and taxes based on gross gaming revenues.
Can I open an account and play in CZK?
Yes, operators licensed to offer gaming services in the Czech Republic offer the CZK as an accepted currency.
Are there any betting restrictions for Czech Republic players?
No, Czech players do not face any betting restrictions.
What is the minimum age requirement to legally gamble in the Czech Republic?
The minimum age requirement to legally gamble in the Czech Republic is 18.
Are Czech betting sites safe?
Yes, all Czech betting sites are licensed and regulated by the Ministry of Finance.
Do Czech betting sites accept cryptocurrencies?
Yes, some betting sites accept Bitcoin, while others do not.
---
Our Verdict and final thoughts about betting in the Czech Republic
The recent changes to the Czech Republic Gambling Act have positively impacted gambling within the country. The resultant regulatory measures taken has ensured bettors are playing with legitimate bookmakers and casinos, who play a part in contributing to the countries tax role.
Looking towards the future, the country will continue to offer a player-friendly environment without over-regulation. Likewise, with a strong commitment to player safety and self-exclusion initiatives, the Czech Republic is leading the way in responsible gaming, much to the benefit of Czech bettors.