Best Betting sites in Colombia
Here you will find a table with the best online bookmakers for Colombian players.
Top Betting Sites in Colombia Ranked
Introduction
Land-based and online betting in Colombia is a favourite pastime for over 55% of the population. As a progressive gambling country, Colombia was the first in South America to legalize gambling. It was also the first to use gambling proceeds to fund its public health care services.
In our best betting sites in Colombia guide, we include everything you need about land-based and online gambling in the country. We also include interesting facts about gaming in Colombia, gambling legislation, and a list of the top bookmakers in Colombia.
Interesting facts about betting in Colombia
The country of Colombia is home to numerous exciting facts about betting. As the first South American country to legalise gambling, we felt it appropriate to include some gambling trivia about Colombia. Here is a list of six we found interesting:
An estimated 55% of people in Colombia regularly wager at land-based or online casinos at least once a month.
The revenue generated as a result of gambling activities in Colombia is estimated at over $1.4 billion per year.
Online casinos operating in Colombia in 2020 accounted for more than $3 million in revenue for the state.
The city of Bogota is home to 24 gambling establishments, while Medellin is home to 17 gambling establishments.
The largest casino in Colombia is Pereira and features over 400 gaming machines and more than 20 gaming tables.
In 2017, Colombia blocked over 320 websites offering unlicensed online gambling services.
Gambling Legislation and Laws in Colombia

In 2001, the Colombian National Congress formally legalized gambling after passing Law No.643/2001. The passing of Law No. 643/2001 authorized the state-owned Coljuegos to set new rules, issue decrees and grant contracts to gaming operators. Resultant on Law No. 643/2001, roughly 25 commercial casinos operate legally in the country, with the majority being in Medellin and Bogota.

As the Colombian National Gaming Authority regulates the gambling industry, it has the sole right to award third party concessions versus standard operating licenses. This has led to a semi-state monopoly whereby most gaming established are operated by two companies, CIRSA and the Codere Group. All third parties issued concessions are not required to pay taxes on revenue but must pay royalties used to fund public health services.

Under provisions in Law No. 643/2001, gambling companies operating in the country can offer various betting services. This includes regional lotteries, horse racing, and games of chance such as slots and table games. The law also allows offshore gambling companies to apply for and receive licenses with a local presence. Under the provisions of law No.643/2001, they are permitted to legally offer the same type of games to those over 18. However, unlike land-based casinos, offshore companies must pay a 15% tax and pay both variable and fixed regulatory fees.
Which are the top 6 Online Betting Sites in Colombia?
Colombia's top 6 online betting sites are Codere, Rivalo, Pinnacle, BetWinner, Librabet, and Melbet. As the options for online bookies are continually increasing, our list of top 6 online betting sites deserves closer attention. As such, we have included a short explanation below about each.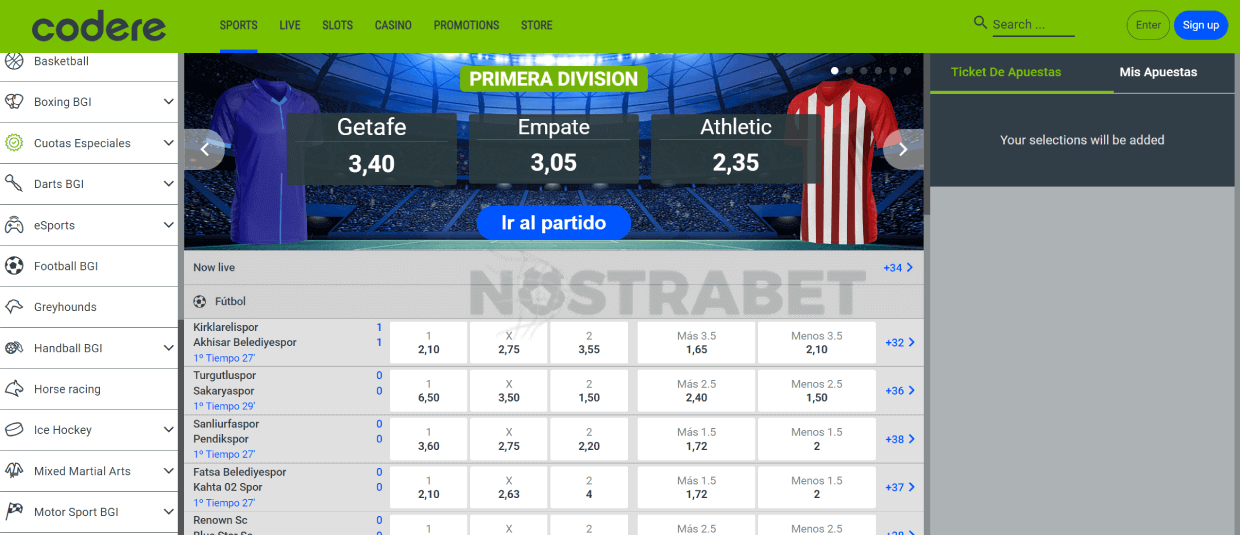 Pros
Features over 25 sport types and hundreds of daily events
Easy access to scoreboards and statistics
Competitive odds for pre-match and live betting
Cons
Does not accept cryptocurrency transactions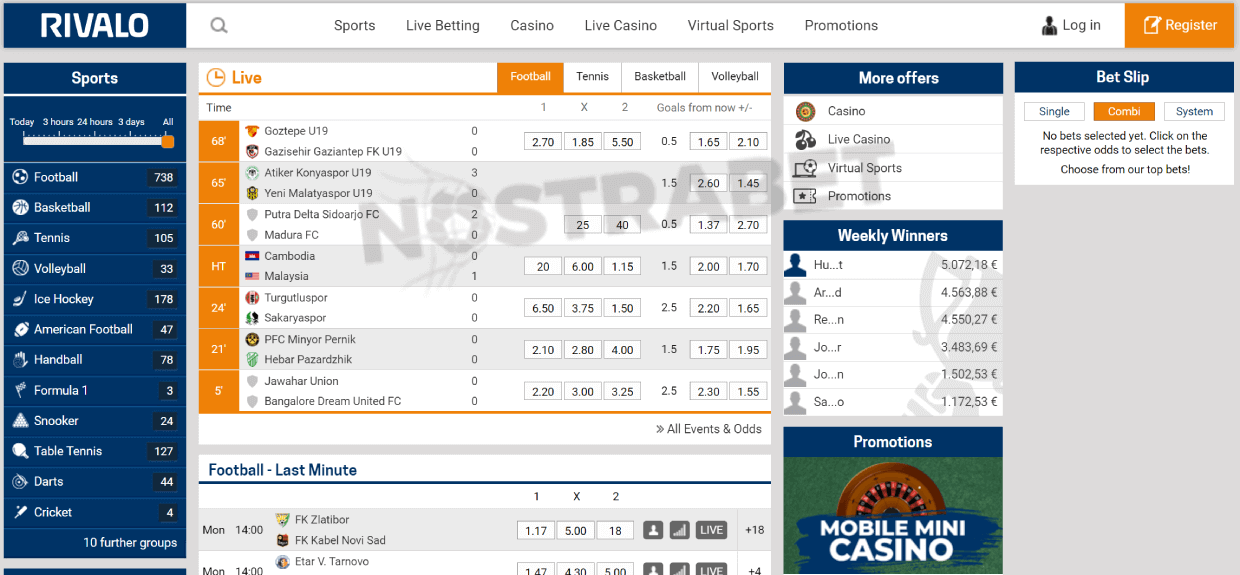 Pros
Features over 25 sport types and hundreds of daily events
Easy access to scoreboards and statistics
Competitive odds for pre-match and live betting
Cons
Does not accept cryptocurrency transactions
Pros
Access to over 1,000 per-match and live events each week
Features an extensive betting glossary for new players
Offers single, combi and system bets
Cons
Does not offer live streaming
Pros
Live previews and options for live betting
Access to up-to-the-minute results
Includes a large number of odds formats
Cons
Does not accept the Colombian Peso
Pros
Features over 1,0000 daily events for pre-match and live betting
Live betting bonuses and Accumulator boosts
Access to free live streaming services
Cons
Odds formats limited to Decimal, Fractional and American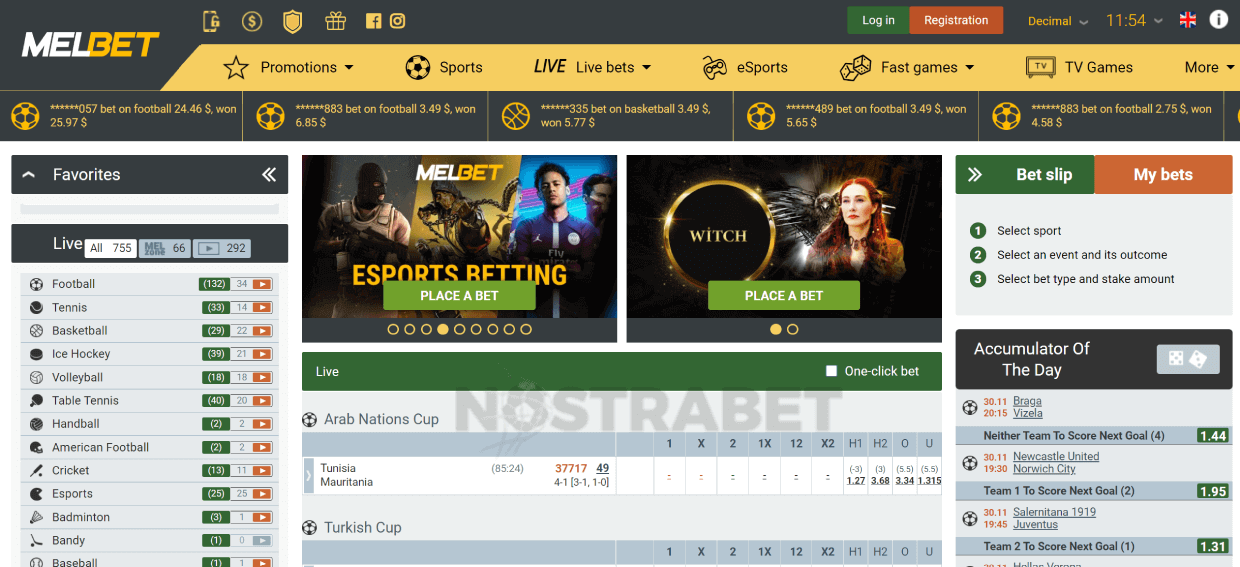 Pros
Features live betting and streaming
Includes competitive odds for local and international sports
Post-match and live event results
Cons
Does not offer a Bet Builder feature
Competition between Operators
Competition between operators in Colombia is stiff and remains a focus of attention for most betting establishments. In part, competition stems from the countries two largest operators, CIRSA and the Codere Group. Both have substantial representation in the country and essentially operate as a monopoly.
However, the introduction of offshore betting licensed has only fueled competition between online and land-based operators. For the most part, this is generating a favourable climate for punters as operators routinely offer perks in the hope of attracting and maintaining customers.
Unfortunately for operators, competition will remain consistent due to land-based and online licensing differences. This results from the Colombian National Gaming Authority issuing concessions for land-based and licenses for a while online operators.
Bonuses from Colombian Bookmakers

Bonuses from Colombian bookmakers are often as unique as the bookmaker and share commonalities. Most bonuses punters will have at their disposal centre on new player bonuses, reload bonuses, and odds boosts. While others such as accumulator bonuses are offered, bookies will complement these with exclusive offers and other perks.
Betting Features and Options in the Colombian Bookmakers
To complete and attract Colombian punters, most online bookmakers will offer various betting features. These are purposely designed to enhance the sports betting experience and increase overall usability and punter satisfaction. As most betting features are similar, we have included summary explanations about each below.
Cash Out
One of the most frequently offered betting features among Colombian online bookmakers is cash out. This feature is appealing as it offers the option to cash in bets partially or fully before the conclusion of a sporting event. Its purpose is to allow punters to manage their bets when results are less favourable.

 

Bet Builder
The bet builder feature is another common option bookmakers offer for bettors who prefer to submit multi's as a single bet. All bets are calculated and include all related payouts based on the combined odds.

 

Live Betting
Live betting remains one of the most sought-after betting features, and therefore it is offered by most bookies. Since its introduction, it has become a preference for most punters as it allows access to hundreds of in-play sports events.

 

Live Streaming
Next to live betting, many Colombian bookies offer live streaming as a complementary service. This allows bettors to stream sporting events live to their mobiles or desktop while simultaneously placing live bets.
What are the available Payment Methods in Colombia?
The available payment methods in Colombia are cryptocurrencies, debit cards and credit cards. The most frequently used payment method for Colombians is cryptocurrencies, while debit cards rank close. The main reason for the crypto appeal is the exchange costs and many bookies not accepting the Colombian peso.
Another topic of interest relating to payment methods for Colombian bookmakers is the deposit and withdrawal minimums. Generally, these resemble the same minimums as are offered in other jurisdictions. However, for bookies not offering crypto payment methods, the deposit minimum is usually equal to $10. As for withdrawals, these are generally slightly increased to a USD 20 minimum.
---
What are the Mobile Betting options in Colombia?
The mobile betting options in Colombia include mobile websites and betting apps. This is resultant of sports and casino betting being legal in the country. As such, Colombian bettors have the freedom to punt via an app or mobile website. While both offer a similar secure betting platform, the most commonly chosen between the two is mobile apps.
It is important to note, online bookmakers do not charge for downloading apps or their use. The same applies to accessing mobile betting sites and processing payments. As both operate as an extension of their online platforms, the usability and user experience is identical.
Are online casinos available in Colombia?
After the passing of Law No. 643/2001 and the provisions added for online casinos, they are available and legal in Colombia. Online casinos licensed in Colombia provide abundant gaming options, from live casino games to slots and table games. In addition to the traditional game selections, Colombian online casinos include other gaming categories such as poker, scratchcards, and online bingo.
The popularity as an alternative to traditional land-based casinos is growing amongst Colombian bettors. A significant reason for this is the removal of the monopoly held by land-based operators in the country. Another factor responsible for growth in the online casino sector is the higher payouts and game quality. As online casinos are not limited to floor space, the online casino industry delivers a superior betting product in a regulated environment.
What are the leading sports for betting in Colombia?
The leading sports for betting in Colombia are football, cycling, martial arts, motorsports and basketball. As these are the most popular and most often wagered on sports, we understand their popularity.
Football
Similar to other South American countries, football is seen as a national and leading sport for betting in Colombia. This is due to football having a strong representation at the university level and the multiple football leagues in Colombia.
Cycling
With the Colombian climate being favourable for cycling, it is high on the list for betting amongst Colombian punters. Part of its attraction is the large cycling tourism industry, while another is the competitive nature of international cycling events.
Martial Arts
Martial arts are widely represented throughout Colombia as a form of physical activity. Beyond the popularity of the UFC, Colombians favour the sport as a form of self-defence for adults and children.
Motorsports
Motorsports has a long history of being popular with bettors who enjoy Formula 1 and other open seat racing series. The most popular motorsport for betting is Formula 1, while Indy Car ranks second.
Basketball
The sport is widely played at the college level. Resultantly, it ranks high with bettors who are fans of local and international college basketball and the NBA.
---
The profile of a Colombian Bettor
The profile of a Colombian bettor is somewhat muted as limited information is available. While exact demographical information is unpublished, the average for active gamblers in the country is quite diverse. Unfortunately, there isn't age-specific data relating to bettors other than they range between 18 and 65.

What is known is the majority of bettors are males, and their betting preferences lean towards sports betting versus casino gambling. On the same scale, women in Colombia are more prone to playing games of chance, accounting for nearly 55% of all gaming revenue.
---
FAQ about online betting in Colombia
Is online betting legal in Colombia?
Yes, online betting has been legal in Colombia since 2001.
Are there any taxes for Colombian players on their winnings?
No, Colombia does not tax gambling winnings but tax revenue generated by online casinos.
Can I open an account and play in Colombian Peso?
Yes, but this largely depends on the sportsbook or casino.
Are there any betting restrictions for Colombian players?
No, Colombian's are free to bet on sports, games of chance, horse racing, virtuals, esports and other forms of gambling.
Are the odds at Colombian sportsbook competitive?
Yes, odds at Colombian sportsbooks are comparable to land-based sportsbooks and available in multiple odds formats.
What is the minimum age requirement for gambling in Colombia?
The minimum age requirement for gambling in Colombia is 18.
Are Colombian online sportsbooks licensed and regulated?
Yes, all online sportsbooks are licensed and regulated by the Colombian National Gaming Authority.
---
Final Thoughts about betting in Colombia
As a South American country with a divided past, it is refreshing to adopt a liberal attitude towards legalized gambling. While there is a monopoly in the land-based sector, online monopolies are non-existent. Ultimately, the industry is regulated, provides employment opportunities, and contributes to health care funding. Taking such a liberal approach has seen wide acceptance of the industry. Its continued regulation is good news for Colombian bettors.