Ad disclosure
Commitment, professionalism and trustworthiness are the core values of NostraBet (NB). We manage to deliver cutting-edge betting products to our readers thanks to our affiliate business model. It is true that NB uses affiliate links to drive traffic to bookmakers. What you must know is that these are free for you to use. Their main purpose is to earn us commissions that will ultimately be invested in the betterment of our product. Visit our
Ad Disclosure
page to learn all the details.
1xbet allows users to view their betting history. 1xbet history can be helpful when planning your next betting activity, as it provides detailed information on previous winnings, lost bets, and unsettled bets.
1. Log in to the Official 1xbet Website With Your Betting Account
On the top right corner of the 1xbet landing page, you can find a 'log in' button. Enter your account credentials like your signup email address and 1xbet password, and proceed.
---
2. Visit My Account Section from the 1xbet User Panel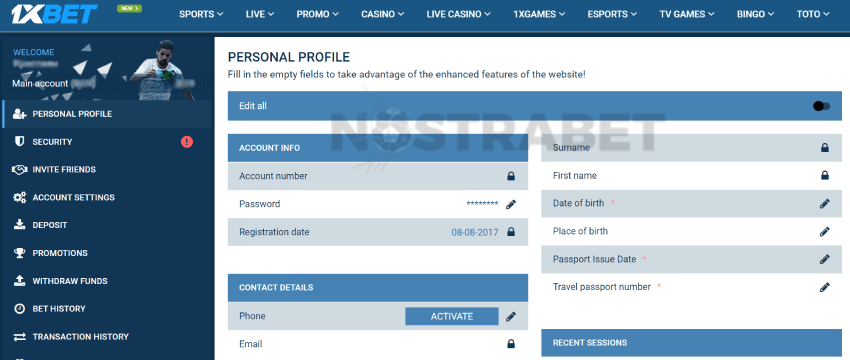 Once you've logged in, you can easily access the "My Account" tab at the top right corner of the home screen.
---
3. Find the Bet History Menu in the Account Panel of 1xbet
You need to select the ' Bet History ' option while you're in the 'My Account' dropdown menu.
---
4. Apply Filters to Audit the 1xbet Betting History

Select the bet type and use the various filters to sort the specific bet history. Next, enter the date and select "Request History". 1xbet sportsbook will email you an HTML file of the requested bet history.
---
What Is 1xbet Bet History?
Bet history is a system that archives information on your wagering activity with 1xbet. The 1xbBet site automatically saves bet slips so that you can determine the total betting costs, total wins and which bets were most profitable.
When opening the 'Bet History' tab, you can request all betting history by applying filters to select specific information. You can choose a time frame and select the following categories:
On the website: Choose from the following filters: sports, live, settled or unsettled, and bet type. You can also select the time of the bet, bet amount, odds or status.
TOTO: The TOTO selection features the following filters: TOTO-15, Correct score, basketball, football, ice hockey, and FIFA (esports). You can sort these by unsettled bets or choose a time and bet amount.
In Betting Shops: You can sort these coupons by the time of bet, status or the bet amount. This section has the following filters: live, sports, settled or unsettled bets, or bet type.
Unsettled Bets: Here, you can view all your bets with no current outcome.
Baseline Odds: Search using the following filters: open, successful, or canceled.
How does 1xbet hold records of the betting history of players?
1xbet holds a record of all your betting actions and has no limit on the betting history given. Once you have deleted previous bet information, it will not show when requesting a bet history list.
If you want to view previously deleted bet history, you can request a renewal by contacting 1xbet customer support. Ask for a 'Bet History' renewal and indicate the specific time frame. State a reason for requesting the renewal and provide your 1xbet account number and a scanned copy of your passport.
What is the Importance of 1xbet Bet History to Bettors?
The importance of 1xbet bet history for a player is that it can analyze their betting actions. The data can help you identify the pros and cons of the betting strategy. Bet history is a great tool to improve your subsequent wager actions.
The 'Bet History' section provides vital information for any player in the world because it helps to determine winning patterns. Every bettor should analyze their betting history to develop a solid money management strategy.
The date of the bet can show you if you're successful during the week or weekend, while the number of your wagers can determine if you're a disciplined bettor or not.
How to Download Your 1xbet Bet History?
Once you have requested your 1xbet bet history, the bookmaker will email you the data in an HTML file format. You can download this file and save it on your desktop or mobile device.
What information does 1xbet Betting History store?
You can find the following information when opening 1xbet betting history:
The exact date of each betting activity.
Sporting event date, time and results.
Bet type.
Bet and winning amount.
Status of bet: won or lost.
Does 1xbet Betting History Show the Winnings and Losings Balance?
Yes. 1xbet betting history shows the status balances. However, please note that this information only applies to specific bets, not overall win/lose amounts.
Last updated: