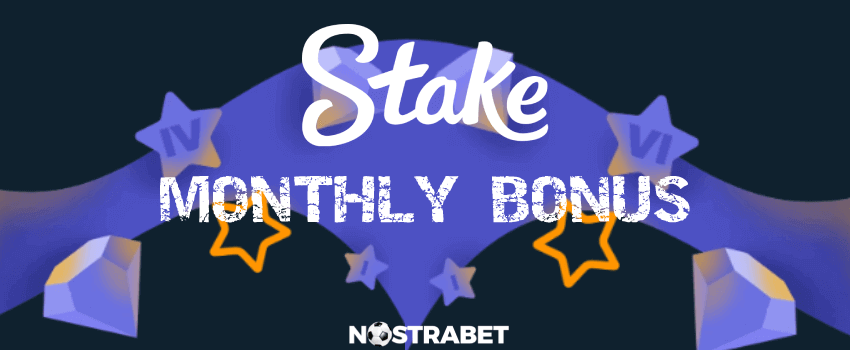 Ad disclosure
Commitment, professionalism and trustworthiness are the core values of NostraBet (NB). We manage to deliver cutting-edge betting products to our readers thanks to our affiliate business model. It is true that NB uses affiliate links to drive traffic to bookmakers. What you must know is that these are free for you to use. Their main purpose is to earn us commissions that will ultimately be invested in the betterment of our product. Visit our
Ad Disclosure
page to learn all the details.
The Stake monthly bonus is an incentive-based bonus that has changed how VIPs are rewarded for their gameplay. Simply put, the monthly bonus is indicative of the generosity Stake bestows upon its eligible VIP players.
Given as an extra bonus, the monthly bonus is a valuable incentive and an amazing way to maximise your VIP rewards. Not only is this based on your VIP level, but the more you wager at Stake, the more you are rewarded. It is a fully cashable bonus that can be wagered or withdrawn, making it one of the most valuable bonuses under the Stake VIP program.
---
What is The Stake Monthly Bonus
The Stake monthly bonus is awarded to all players with VIP status who are eligible to receive the Stake promo code based on their activity in the preceding month. To qualify for the monthly bonus, Stake does not impose any deposit or wagering restrictions. Still, it does require members to meet specific eligibility requirements.

One of the eligibility requirements is that members must have registered a valid email address that has been verified. Moreover, eligibility is resultant of each member's account being in good standing and Stake being able to reach members without any bouncing errors.
Lastly, eligibility for the Stake monthly bonus requires that VIP members not breach any of Stake's terms and conditions. Those VIPs who meet the above eligibility requirements will receive an email once a month with a link they can click to navigate to and claim their bonus.
---
Stake Monthly Bonus Calculator
To ensure every VIP receives a fair bonus, the Stake monthly bonus is calculated on your VIP level and wagering activity over the last 30 days. Essentially, the more active you are at Stake, the higher your VIP level, and the more likely you will receive a higher bonus than those whose VIP level is lower and whose activity is less.
Based on this, the Stake monthly bonus calculator uses a mathematical formula that includes a base bonus for your VIP level and % of the amount you wagered in the preceding thirty days. For example, if your wagered $300,000 during the month and you received 0,05% additional bonus, your wagering bonus using the Stake monthly bonus calculator would be:
$300,000 x 0.05% = $150 + the Base Bonus for your VIP level
In addition to the calculated bonus based on wagering, a VIP level bonus will be added. Unfortunately, this formula for the VIP level bonus is not published, but often, it is at a minimum of $20-$30 for Bronze level members.
---
How to Claim it and When Does it Arrive

The steps to claim the monthly bonus when it arrives are not complicated, but it requires several complete steps for VIPs. The first step to claiming the Stake monthly bonus is verifying your email address. After that, claiming the Stake monthly bonus 2022 results in you:
Joining the Stake.com VIP Program and Reaching the Highest possible level you can.
Checking your email or waiting for notification from Stake that you have received a monthly bonus.
Click the link embedded within the email to claim your monthly bonus.
Log in and follow the prompts.
---
Stake Monthly Bonus Reload System
The Stake Monthly Bonus Reload System is an extension of its monthly bonusing program calculated on the previous week's wagering. Unlike the monthly bonus awarded once a month, the monthly reload bonus is divided into certain intervals that can be claimed every ten minutes, hourly or daily, over the course of a few days.
Depending on your weekly wagering, VIP players will receive a minimal amount they can use to wager within the sportsbook or casino. Usually, the reload bonuses require punters to make a deposit.
As an alternative to the monthly reloads bonus, some VIPs whose wagering was shy of the threshold will receive a one-time reload bonus coupon. This form of bonus works like other deposit-based bonuses and will be governed by Stake's bonus terms and conditions. It can be used on various gaming options on the website, and we recommend reading our Stake Dice tips to increase your chances of success.
How to Claim the Monthly Reload Bonus?
One of the nice sides to being a VIP player at Stake.com is how easy it is to claim a monthly reload bonus. Vip members can claim the monthly bonus once every ten minutes. hourly, or daily, and, at their discretion, either wager the bonus or let it accumulate over the 72-hour activation period. In case you are not a VIP or recently were invited to join the Stake VIP program, here is how you claim the monthly reload bonus.
Log into your Stake account.
Click on the Account icon in the top right corner.
Select VIP from the menu options.
Click "Reload" and choose your preferred currency.
Lastly, click "Claim" to activate your bonus.