Ad disclosure
Commitment, professionalism and trustworthiness are the core values of NostraBet (NB). We manage to deliver cutting-edge betting products to our readers thanks to our affiliate business model. It is true that NB uses affiliate links to drive traffic to bookmakers. What you must know is that these are free for you to use. Their main purpose is to earn us commissions that will ultimately be invested in the betterment of our product. Visit our
Ad Disclosure
page to learn all the details.
With around three decades' worth of experience, Parimatch knows a thing or two about betting. Their expertise has allowed them to expand into various countries and made them a global brand. They have no player shortage but are always looking to increase their numbers. This is where Parimatch affiliates come in.
---
Parimatch Affiliate Program Overview
An affiliate program is quite a simple concept. A brand seeks to attract partners who can help them promote said brand and get new customers. The benefit for the brand is that they must pay partners who bring money into the business. A partner must attract new customers to ensure a positive balance to pay. This is also the case if the players they refer to win money.
For the partners, the advantage is that these schemes are free to join, so there is no real risk on their part. It also creates the opportunity for passive income, which many find appealing.
In the case of the Parimatch scheme, the main objective for affiliates is to encourage prospective new customers to register and deposit. But affiliates can also encourage other partners to join the program. In doing so, they will earn a small percentage of any 'sub-affiliate' money.
Each scheme will have its terms, but below, you will find the key information about the Parimatch affiliate program.
| | |
| --- | --- |
| 🏅 Official Website | pmaffiliates.com |
| ⚡ Commission Types | Revenue Share, CPA & Hybrid |
| ☝️ Sub Affiliates? | Negotiable |
| 💸 Payment Frequency | Monthly |
| ✅ Payment Methods | Bank transfer, Skrill, WebMoney, Bank card |
| ➡️ Negative Carryover | Yes |
| 💰 Base Commission | 25% |
---
Parimatch Partners Requirements
Before signing up to join Parimatch partners, there are specific key terms to be aware of: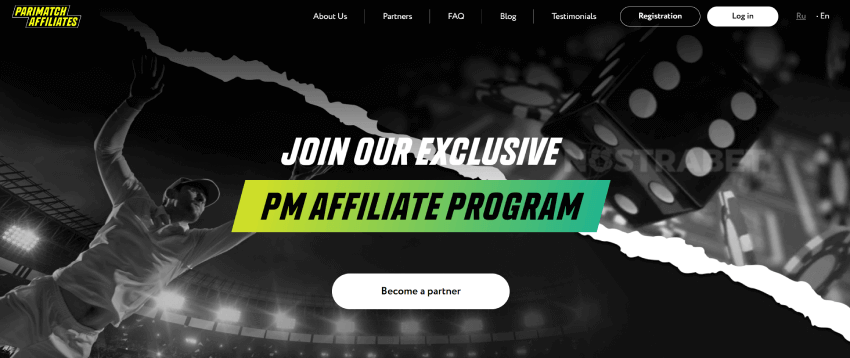 Partners must be at least 18 years old.
They cannot be from the US, France, Curacao, or the UK.
The affiliate program accepts traffic from Ukraine, Belarus, Kazakhstan, Azerbaijan, Tajikistan, Kyrgyzstan, India, Brazil, Nigeria, Tanzania, Australia, Canada, Myanmar, and Uzbekistan.
Partners must have some means of promoting Parimatch (website, social media channel), which will be done at their own expense.
No specific software/operating system requirements exist to become a Parimatch affiliate.
Partners must only use links and banner codes provided by Parimatch. These must be unmodified unless Parimatch gives consent otherwise.
They must only have one account, and it is not permitted to re-register accounts.
Partners should not sign up themselves using their own link nor get any relatives to do so.
Be aware that the following terms relate to the global Parimatch scheme (PM Affiliates). Still, the brand does sometimes run localised affiliate programs. Parimatch.co.uk, for example, has its own partner program (https://affiliates.parimatch.co.uk), which has different affiliate Parimatch terms and a different sign-up form.
---
Parimatch Types of Partnerships
One of the standout features of the Parimatch affiliates system is the range of commission payments available. There are several different ways to earn here. The scheme can be tailored to your preferences after a discussion with your account manager.
Sub-Affiliate
Parimatch does not openly state their going rates for sub-affiliate payments (between 2% and 10% is standard within the industry), and it is something likely to vary depending on performance. Many affiliates are not interested in promoting the scheme to other potential partners, so they can ignore this element of the program. Instead, they will purely focus on attracting new customers.
If you want to dabble in both, though, discuss this with your account manager for more information.
Revenue Share
Revenue share is the most common form of a commission payment. With this, you will earn a share of the (positive) revenue any player you refer brings in.
The calculation for this is:
Income = (Player's bet – Gain from this bet – Bonus) * commission fee amount
The base rate of commission at Parimatch is 25%, and it increases based on performance.
Referred player activity is tracked monthly, so payments will fluctuate. If referred players win more money than they lose, affiliates will have a negative balance. Affiliates are not liable to pay this, but it will be subtracted from any future positive earnings.
CPA
With a CPA model, affiliates are paid a fixed fee for getting players to register and deposit at Parimatch. The advantage of this is that it guarantees money for every successfully referred player. And it can always leave an affiliate with a negative carryover. On the downside, though, earnings are capped and cannot hit the same potential highs of a revenue share approach.
Parimatch's offer for their CPA plan will depend on the affiliate, but their upper limit is $100 per new customer.
Hybrid Model
With a hybrid model at Parimatch affiliates, you will be on both revenue share and CPA. You may think this must be the best option, but there is a catch. With a hybrid plan, the revenue share element is less than if solely going with revenue share. Similarly, CPA payments are smaller than with a standalone CPA model. Therefore, a hybrid plan lets affiliates enjoy the perks of revenue share and CPA, but to a lesser extent.
---
Commission Types & Percentages
Parimatch affiliates operate very much on an individual basis. Commission plans are tailored to each affiliate's desires, performance and geographical focus. This has been selected, favouring a fixed structure that lists commission rates based on specific volume thresholds.
Due to this, there is no table of commission rates to share with you. But we will reiterate that revenue share begins at 25%, and CPA payments can be up to $100.
---
Promo Materials & Tools
To help promote the Parimatch name, affiliates are supplied with an extensive library of clickable banners and other promotional material. These include both generic Parimatch branded images and those related to specific sports and offers. In addition, affiliates can track their performance through their account, allowing them to analyse where traffic is coming from.

---
Parimatch Accepted Payment Methods
Parimatch affiliate program payments are sent on a monthly basis providing balances are above the minimum amount of $100. There is no stated upper limit for payments.
Affiliates can choose to be paid by either WebMoney, Skrill (USD), Bank transfer (EUR) or Bank card (UAH). If exchange rates apply, the rate will be taken on the day of the payment, which should be the 20th of the month. Payments on the 20th are for the performance of the previous calendar month.
---
Reasons to Join the Parimatch Partnership
Joining the Parimatch affiliate scheme offers several benefits compared to alternative programs. For one, Parimatch is a genuinely popular brand, operating in several countries, with a strong casino, sports and esports offering. This makes it easier to promote. Furthermore, you know who the Parimatch owner is, and that builds trust in the brand to partner with him. Secondly, many other schemes do not offer a range of commission models, so Parimatch's flexibility stands out. Lastly, Parimatch has a committed attitude towards affiliates via their account managers. This can really help boost performance and partners' income.
---
Joining the Parimatch Affiliate Program
Joining the affiliates' Parimatch program is very straightforward. Just head to the site and open the registration form. On the short form, follow the steps below:
Enter your email address, phone number, primary traffic sources and main traffic countries.
Create a username and password (this is separate from a customer Parimatch account you may have).
Enter your Telegram, Skype or other messaging platform username if you have one.
Click to confirm you agree to the terms and conditions. This will enable you to click 'Sign Up' at the bottom of the page.
You should receive a response within three working days. If you wish to speed up the process, write an email to contact@pmaffiliates.com and outline your credentials. These would include relevant experience, websites owned and so on.
If approved, you will be given a unique tracking code. This will enable Parimatch to track which new customers you are responsible for. This tracking code can feature within links of images/banners and can be used in numerous different locations/pages of your website(s).
Parimatch updates the tracking statistics regularly, allowing affiliates to assess any changes in approach.
---
Conclusion
All things considered, the Parimatch affiliate program is a great one to join. It is a trusted scheme from a trusted brand, so expect regular payments and accurate tracking. Excellent help is on hand, too, should you require it, and this can help boost earnings from the competitive commission plans available.
---
FAQ
What game types can I choose from?
You can choose from Casino, sports betting and Esports.
Is Parimatch's affiliate program worth it?
As it is free to join and good commission rates are available, it is a program many deem worth it.
Who are the official Parimatch partners?
Chelsea FC, Leicester City FC and Parimatch League.
Who do interested partners Parimatch email if they have a question?