How to Gamble Responsibly and Risk Less with Bookmakers
Bookmakers started back in the 1790s with Harry Ogden who first placed his odds at a track in the United Kingdom, and now we have so many bookies online and offline.
The online bookmakers with the best bonuses are known for giving out some promotions that you can use for more risk-less play. When you first start with a gambling site, all of the bonuses can be used to figure out which strategies work best for you.
There are some things to consider when applying for bonus codes or promo codes. You can come up with low-risk strategies by using this bonus cash while gambling, but there are also some tips and tricks to understand. Continue reading to find out more.
As a disclaimer, we can't promise or guarantee that you'll become more successful while using these strategies and gambling techniques. We can only state that you'll have a better chance of more responsible wagers with lower risk.
Gamble Responsibly
Consider these betting strategies if you are 18 years old or older. Consider the risk and bet responsibly.
begambleaware.org
---
Understand the Terms and Conditions of Bonuses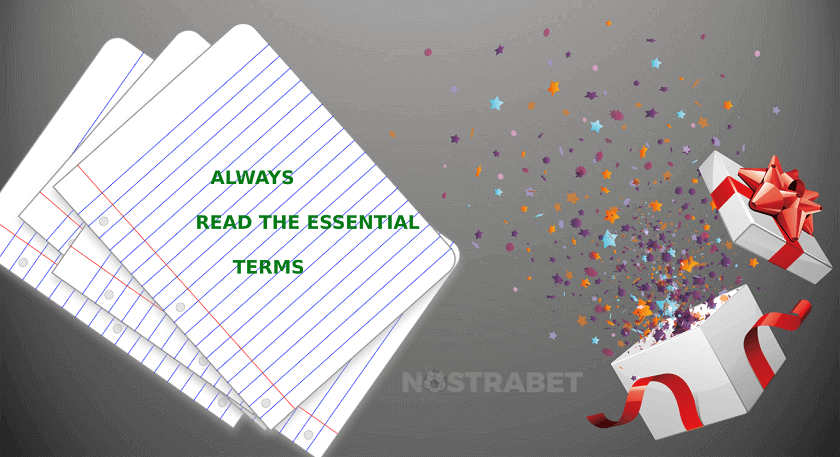 All gambling sites have terms and conditions. There's usually some indication that you can only bet on certain things with the bonus cash, which goes towards your wagering requirements, in the terms and conditions for some bonuses.
When licensed gambling sites give out bonus cash, they often link a wagering requirement, also known as a rollover. This means that you have to bet a certain amount to be able to withdraw your winnings.
If the bonus is specifically for the sportsbook, then it's likely to have regulations on which sporting event you can bet on, based on odds. If you don't bet on these sporting events, then you'll have to wager even more to be able to withdraw.
The requirements can range from 10 times the bonus cash amount, all the way up to 50 times. It should clearly state the wagering requirement in the terms and conditions of the bonus codes.
Why is this critical information to know? When you're looking to make a profit with gambling, you're going to want to be able to bet and take out your money as soon as possible. Wasting your free bets for sports or games that don't apply to the wagering requirement will mean that you have to deposit more money to meet it.
---
Use Matched Betting
Now that you have your riskless bonus cash, you know where you should bet, and you understand the wagering requirement. Put otherwise, you're ready to start betting. You should bet in a specific way in order to take advantage of the most riskless strategy.
Gamblers consider matched betting to be a low-risk betting strategy. When used with free cash, it's a 0% risk betting strategy, which means that you won't lose any of your actual money. You're likely to risk less because you spend nothing.
It's a process with a lower risk which makes it a responsible way to bet. You have to place more than one wager, which minimises the risk because your losses are covered no matter what the outcome of what you're betting on is.
You'll use an accumulator tool online to figure out the best matched betting sporting events and sportsbooks. First, you place a bet with one sportsbook, which gamblers call a back bet. Then you make an opposing bet with a betting exchange, which punters call a lay bet.
You can ensure the amounts you bet will cover each other by using the tool. Thus, you will risk much less.
When you do this with bonus cash that doesn't require you to risk any of your real money. Matched betting is legal, and many people use this betting. You can continue doing this type of bet until you reach your wagering requirements, and then you'll be able to withdraw your winnings. Remember, though, that certain bookmakers frown upon matched betting strategies. So be careful when you use them.
---
Arbitrage Betting
Arbitrage betting is another low-risk betting strategy that gamblers can use with their bonuses. This is when you simultaneously bet on all of the possible outcomes of a sporting event that has odds that offer a value bet.
Gamblers use sporting events with two outcomes with this betting strategy. For example, a tennis match only has two results; either this player will win, or that player will win. You need some math skills to bet this way.
Similar to matched betting, this betting style is entirely legal, but still frowned upon by operators. When you bet this way with your bonus cash, you'll be risking less without spending any of your real money.
---
So, Is it possible to Risk Less when Going against a Bookie?
The answer is yes, and no. It depends on how much time you put into your strategy preparation. Plus, you will also need to consider the many bonus code promotions that bookies have to offer.
These betting strategies can take some time to understand. It's possible to make a mistake, which can result in a loss. Continue doing research and speaking to other gamblers who bet this way for their guidance.
Once perfected, you may enjoy lower risk wagers. It's possible to make an excellent riskless bet doing this, but it does take some hard work and time.
---
The Bottom Line
We recommend doing this when you have some free time on your hands and want to gamble as responsibly as possible. Thus, you can make low-risk bets.
Use other punters' knowledge and expertise to your advantage. Once you fine-tune your practice and understand how this type of betting works, you're likely to have some risk-less bets.