Ad disclosure
Commitment, professionalism and trustworthiness are the core values of NostraBet (NB). We manage to deliver cutting-edge betting products to our readers thanks to our affiliate business model. It is true that NB uses affiliate links to drive traffic to bookmakers. What you must know is that these are free for you to use. Their main purpose is to earn us commissions that will ultimately be invested in the betterment of our product. Visit our
Ad Disclosure
page to learn all the details.
If you have been thinking about becoming a Bet9ja agent, you have landed on the right page. Here, we focus on all aspects of becoming an agent for one of Nigeria's leading betting brands, Bet9ja. This popular bookmaker has enjoyed much success with its franchise model, allowing enthusiastic entrepreneurs to open up Bet9ja shops around Nigeria.
---
What are Bet9ja Agents
Bet9ja agents are simply individuals approved by Bet9ja to set up and run their own Bet9ja shop. Agents are people that want the challenge of running their own store and are happy to take on the risks involved because there is plenty to gain if all goes well. Success is not guaranteed when becoming a Bet9ja agent, but it is a popular role that suits many who sign-up.
---
Advantages of Being a Bet9ja Agent
If you are interested in becoming a Bet9ja agent, one important thing to know is not only how to start a Bet9ja business but what are the advantages of doing so. To give a summary, these are as follows:
Positives
You will benefit from brand recognition as Bet9ja are already a very well-established and popular name.
You will have regular access to help and support from a dedicated team at Bet9ja.
You can earn commission payouts linked to performance.
Bet9ja agents do not carry the liability for bets themselves, so they are in no danger if a customer at their shop wins big.
There is a huge number of sporting events available for your customers to bet on.
---
Commission
Two questions that are often asked by people interested in this program are how much does Bet9ja pay their agents? And how much do Bet9ja agents earn monthly?
There is no fixed answer to these questions because the Bet9ja agent commission is linked directly to individual performance. This means some Bet9ja agents earn a lot more than others. It is all a matter of volume because agents earn a cut of every single bet placed in their shop. They also enjoy commission for any online/mobile bets placed by customers who complete the Bet9ja Registration process at their store.
Commission rates are linked to how many legs feature in a bet, so a single bet pays out at 1%, a treble pays out at 5%, and 6/7/8 folds pay 9%, rising to 20% for 26+ selections.
---
Requirements for Becoming an Agent
There are both personal and financial requirements for any Bet9ja agent.
Knowledge of sports betting and related terminology.
Some knowledge of how to run a business and how to attract customers.
Strong customer service skills.
An available ₦50,000 (approx) to cover the registration fee.
Additional money to rent (or buy) a suitable shop, ideally one that is aesthetically pleasing, plus all necessary equipment.
---
Bet9ja Agent Registration Steps
To start the registration process, interested candidates simply need to access the registration form on the Bet9ja site. From this point, follow the steps below.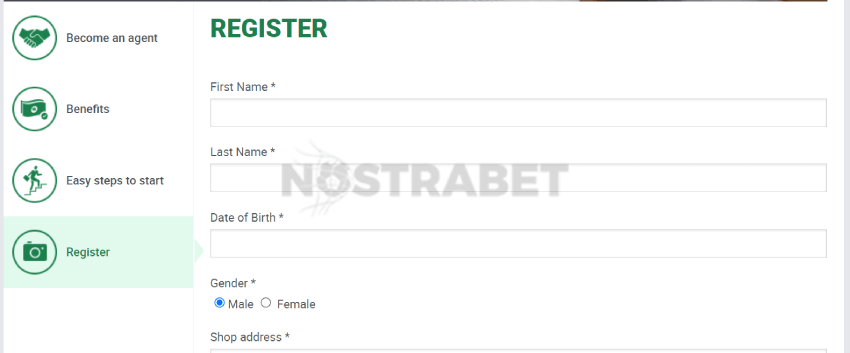 Complete the application form, inputting details such as your name and address. All fields are mandatory except a description of your proposed business.
Submit the form and then wait for a member of the Bet9ja team to contact you for an introductory conversation, which will be something like an informal interview.
If the discussion goes well and you are deemed suitable for the scheme, your proposed shop premise will undergo a physical inspection.
If the shop passes the inspection, you can begin signing papers and completing your registration.
---
How to Open Bet9ja Shop
You need to consider many things when thinking about how to open a Bet9ja shop account to be ready for customers. In addition to a suitable premise, which will have already been sorted by this stage, your location also needs items like PCs, electricity supply, fans, flat screen TV, sufficient seating and reliable internet. Bet9ja will provide betting slip printers and branded banners.
Although equipment and utilities are likely to cost a six-figure sum, they own anything an agent buys for the store. Once everything has been purchased, Bet9ja agents must wait for official approval before opening.
---
Existing Bet9ja Agents
There are lots of Bet9ja agents currently actively operating their shops, with the most popular area being Lagos. Shops do tend to come and go, so no list of agents will be up-to-date for very long, but the below list gives you an idea of just some of the agent-run shops that exist:
Abuja
62 Adetokunbo Ademola Crescent, Wuse 904101
16B Sambruno Street, Central Business District, 900211
Abia State
51 Old Express Road, Abayi 453111, Aba
8 Asa Road, Aba
2 Nwanguma Street, Aba 450103
21A Umuoba Road, Ogbor Hill, Aba 450221
Lagos State
266C Ahmadu Bello Way, Victoria Island 106104
21 Akerele Street, Surulere 101241
350-360 Ikorodu Road
14 Oshodi Street, Lagos Island 102273
24 Moshalashi Street, Ikoyi 106104
156 Corporation Drive, Dolphin, Ikoyi 106104
Shop B12, 23 Raji Rasaki Road, Festac Access Road, Amuwo Odofin
11 Egan Road, Igando
31 Martins Street, Idi Oro 102215
16 Makinde Close, Yaba 009234
49 Bamgbose Street, Lagos Island 102273
Rivers State
5 Pipeline Road, Off Air Force Road, Rumodome, Port Harcourt
131 Akwaka Road, 500102, Port Harcourt
680 Ikwerre Road, Umuibo 500102, Port Harcourt
Enugu State
91 Ogui Road, Achara 400102
199 Amechi Road, Gariki 400108
13 Kenyatta Street, Uwani 400105
4 Savage Crescent, Enugu GRA 400102
---
Contacts
For further information about becoming a Bet9ja agent, call 01-2796660 (7 days a week, 8:00 to 21:00) or email agents@bet9ja.com.
If you are already an agent and have a question, you should use the email address as@mybet9ja.com instead.
---
FAQ
How to become a Bet9ja agent in Nigeria?
Follow the steps outlined in this guide, starting with the registration form.
How to become a Bet9ja agent if you live outside of Nigeria?
You can only set up at the Bet9ja shop in Nigeria, so if you live outside, you will not be able to sign-up to become an agent.
How much do Bet9ja pay their agents?
Agents are paid on a commission-based model, so earnings vary significantly. Some agents earn in excess of ₦500,000 per month, while the worst performers may only earn a figure like ₦15,000.