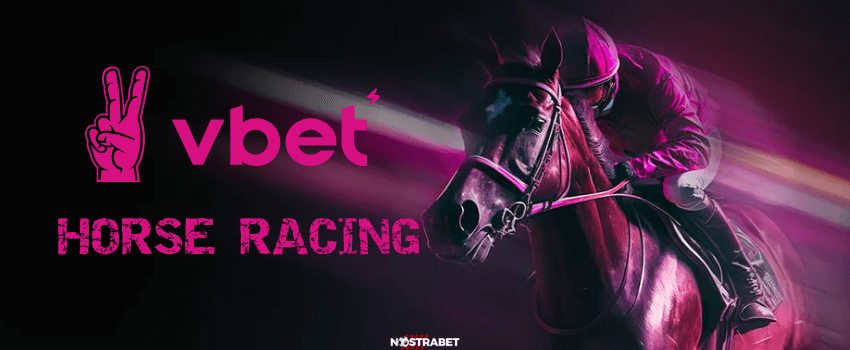 Ad disclosure
Commitment, professionalism and trustworthiness are the core values of NostraBet (NB). We manage to deliver cutting-edge betting products to our readers thanks to our affiliate business model. It is true that NB uses affiliate links to drive traffic to bookmakers. What you must know is that these are free for you to use. Their main purpose is to earn us commissions that will ultimately be invested in the betterment of our product. Visit our
Ad Disclosure
page to learn all the details.
A lot of gambling websites seem similar because of what they have. However, some places are different, and Vbet is one of them. This unique-looking iGaming site has many betting options, including one of the world's most in-depth horse racing sections. The sport gains new fans daily, so it is time to ski through the Vbet horse racing options.
---
Vbet Horse Racing Overview
Horse racing is a unique sport that has loyal fans from many different parts of the world. Although people always bet on it, the sport is way more popular in certain countries. Consequently, you can expect to find more Vbet horse racing options from those places, such as more race tracks to punt on.
There are many reasons why fans like this sport, one of which is the odds. Even the favorites have higher odds than usual, allowing players who predict their bet to maximize what they win. Nevertheless, the sport is difficult to predict, so you must have experience.
Vbet Horse Racing Betting Markets & Odds
Whether you are an experienced horse racing fan or don't know what to expect, Vbet will provide you with all the options you need. Instead of visiting the sportsbook, you can check all Vbet horse racing options by visiting the special category. Once there, you will find races from all over the world, such as:
USA
Chile
Australia
United Kingdom
Argentina
Republic of Ireland
Each country provides at least a couple of active races to bet on. Vbet's separate horse racing category even allows you to check the races for tomorrow as well as for two days after that. Consequently, you can prepare for what is to come and wager on what you like.
After selecting a specific race, you can check the horses' names, their weight/age, previous odds, and more. The Vbet horse racing section even offers forecasts, which can help those unsure of what to wager on. As for the odds, they are as competitive as those in the regular sportsbook.
---
Vbet Live Horse Racing
Despite the advantages of the Vbet horse racing options, some people aren't interested in the regular section. Instead, they prefer to punt on live horse racing. That's why Vbet has plenty of good options for those kinds of people.
Besides visiting the Vbet horse racing section, you can check all available options by going to the "Live" category. It is advisable to visit the specific category first because you will see all upcoming races, giving you an overall idea of what you'll find.
Like other live betting options, horse racing has unique markets and even higher odds. The latter is also dynamic, which means they will change in real time. Sometimes, you may even have the opportunity to watch the races using the live-streaming option.
---
Vbet Horse Racing Bonuses
In addition to the various Vbet horse racing options, the company has plenty of fans because of its bonuses. There are multiple perks, some of which are available for all sports, including horse racing. However, the company often provides special horse racing deals, such as free bets that you can get on a weekly basis.
Depending on when you visit Vbet, the latter could also offer cashback deals, as well as better odds for specific races. It is worth knowing that Vbet changes its deals often, so you need to watch the promotional section for more details.
---
How to Bet on Horse Racing at Vbet
To bet on horse racing at Vbet, you need to know what you are doing, so here's an overview of each step.
The only way to place bets at Vbet is if you have an account. Start by selecting the "Register" button and complete the signup procedure. Registered users can simply login.
Once ready, you must check if you have enough cash in your balance. If the answer is no, choose a deposit option and add funds.
A bonus step is to check the promotional section for any Vbet horse racing bonuses.
Once done, go to the Horse Racing category and take a good look at everything that's available.
After you find a race, check the options and choose those you want to wager on.
If you look on the right side of your screen, you will see the betslip. This is where you can add the amount you wish to Stake, and Vbet will reveal your possible win. If you like what you see, choose the amount you wish to wager and select "Bet Now".
---
Final Verdict
Although Vbet is a lot more than a horse racing platform, it has some of the best options in the business. Instead of covering only the most popular races, Vbet includes many other alternatives from many countries. Therefore, you can always find something new to put your luck to the test. Overall, we were more than happy with the available alternatives for this sport.
---
FAQ
How do I calculate odds for horse racing bets at Vbet?
You can use the calculator built into the betslip. Simply add the markets you want, followed by the amount you want to bet with, and you can see your potential winnings.
Can I use the Vbet mobile app to bet on horse racing?
Yes, you can bet on horse racing using the app of Vbet.
Is there a minimum or maximum amount I can bet on horse racing at Vbet?
Yes, but it is the same as the minimum/maximum bet for the entire sportsbook. Please check the Terms and Conditions because Vbet could change this rule.