Check out the latest 22BET Kenya Promotions
Offer type
Details
Promo Code
→ 22BET Kenya Sports Welcome Bonus
100% up to 15,000 KES

22_1541

Copy

→ 22bet Promotion Code

22_1541

22_1541

Copy

→ 22BET Casino Welcome Bonus
1100% up to 35,000 KES

22_1541

Copy

→ Friday Reload Bonus
100% up to 12,000 KES for Sports

22_1541

Copy

→ ACCA of the Day
10% higher odds

22_1541

Copy
An online gambling provider's list of promotional offers can make or break its site. Many players are drawn to bonuses and free offers, and who can blame them! In this regard, 22Bet is an excellent choice for Kenyan punters. The following review takes a look at its latest offers for both new and existing players.
How to Use Bonus Code Kenya
One such 22Bet Kenya bonus is its welcome deal, which will match your initial deposit on the website entirely up to 15,000 KES. If you use 22_1541, the 22Bet22bet bonus code in Kenya, when you sign up, you'll be able to increase the terms of this offer even further.
Most deals don't require you to use a promo code on 22Bet. However, you can use one when you create your account.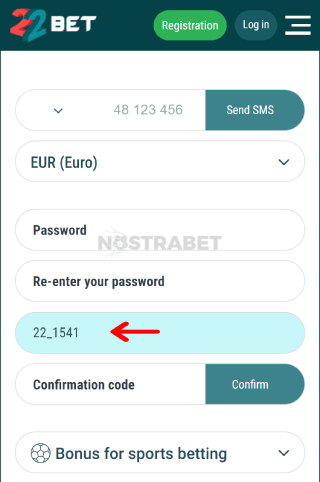 To do so, you must first select the green button that reads "Registration" on the right side of your home screen.
Doing this will prompt you to put in your contact information, including a valid phone number and your preferred currency type.
At the bottom of this page, enter

22_1541

, the 22Bet Kenya bonus code, and you'll be good to go.
You'll also find a box marked "I do not want any bonuses" in your account menu. If this box is selected, your account will be flagged ineligible for any and all promotional offers on 22Bet. Make sure you've double-checked this before making a deposit, or you risk missing out on your bonus.
---
22Bet Kenya's New Player Package
If you've never created an account on 22Bet as a player from Kenya, you'll be able to access its sports welcome bonus. The bonus details of this offer include a 100% first deposit match up to 15,000 KES.

For your account to qualify, you'll need to deposit at least 100 KES; the bonus amount will be accredited to your account instantaneously afterwards.
You can utilize this sports bonus or alternatively have access to its Casino First Deposit Bonus, discussed later on in this article; you'll have to choose which bonus account to have this amount given to at the time of account creation.
If you're using this welcome offer towards sports betting, you'll need to wager 5x the bonus amount on accumulator bets. These accumulators must contain at least three legs; if you add more than three legs, only three of them must adhere to the minimum odds requirement of 1.40.
---
---
Friday Reload and Daily Accumulator Features
Another excellent deposit bonus Kenyan players can receive outside of this welcome offer is through 22Bet's Friday Reload feature. This deal will once again 100% match a deposit you make, but only on Fridays.

Players who take advantage of this deal can reload their accounts with up to 12,000 KES every week. You'll need to deposit at least €1, (or the equivalent of ~132 KES) and spend the entire bonus amount within 24 hours of receiving it. You can spend this amount on accumulator bets and are required to stake 3x this amount on games with odds of at least 1.40.
In addition to this weekly reload, you'll have access to its Daily Accumulator games. These are hand-picked by 22Bet staff as the most exciting and most likely events of the day to bring you a profit; these accumulators will have built-in boosted odds of 10%.
---
22Bet Kenya Casino Perks
When you're creating an account with 22Bet Kenya, you'll be able to select which bonus account to have your rewards disbursed into. If sports aren't your cup of tea, you may be swayed by its Casino First Deposit Bonus.

The minimum deposit amount required to meet the requirements of this deal is 100 KES. The maximum bonus amount you can receive from this offer is 35,000 KES to be used exclusively in its casino.
After your account is loaded with your bonus amount, you'll need to wager 50x this amount within seven days. If you choose to wager on select 22Games, a subsection of titles on its site, your stake will be counted as double.
22Games that don't count towards fulfilling the terms of this deal are:
PF CS: GO
African Roulette
Roulette
Balls 49
PF Dice
Greyhound Racing
Monkeys
Crown & Anchor
PF Roulette
PF Pokerlight
Lucky Wheel
Derby Racing
---
Extras from 22Bet Kenya
The deposit-based promotional offers and Daily Accumulator boost mentioned above are the only ones that 22Bet offers for its Kenyan player-base. Kenyan players can access these deposit bonuses both at the beginning of their time gambling on 22Bet and every Friday after that. The Accumulator boost will be available every day.
Its site also features 1,000s of events daily which you can use these bonuses on. These range from the English Premier League and the National Basketball Association to esports. 22Bet Kenya features both live and traditional versions of sportsbook betting.
Regardless of how many deals a site may have, however, make sure to set your own limits. The burden of responsibility will ultimately fall on your shoulders; play safely, and be clear on all terms and conditions before putting down money.
---
22Bet Kenya FAQ
Do you still have any burning questions regarding 22Bet Kenya and its promotional offers? Read below to find our frequently asked questions list.
What are the benefits of using our bonus code for Kenyan players?
Using the code 22_1541 when creating an account on 22bet, you'll be able to get your welcome bonus for sports betting.
Does 22Bet Kenya offer No Deposit bonuses?
No. Any bonus to your account with 22Bet will require a deposit. This includes its Accumulator of the Day feature, as you must place a bet on the accumulator first before unlocking the 10% boosted odds. Check back at a later date for an update on its no deposit offers.
Are there 22Bet Kenya bonuses exclusive to the app?
No. You won't be able to receive any app-exclusive bonus offers from 22Bet Kenya. Don't worry, as you'll still be able to use all of its other promotional offers, including deposit bonuses and daily accumulators, directly on the app.
---
Pros & Cons
Handy pros and cons lists can go a long way if you're stuck between a few options as a Kenyan gambler. Use the following to compare 22Bet and its offers to your other top sites.
Pros
22Bet features various deposit bonuses that can help you get started and reload weekly.
You can receive an extended welcome offer for sports using 22_1541 when you sign up as a new customer.
Using its mobile app on both Apple and Android devices gives you the bonus of withdrawal and deposit access while you're away from the computer.
22Bet provides both live and traditional odds for 1,000s of sporting events every day. This list includes more niche game categories like badminton, darts, and esports.
It accepts payment in all conventional methods and some that aren't, including crypto. Some examples of cryptocurrencies accepted on 22Bet.com are Bitcoin, Dogecoin, and Litecoin.
Cons
Nearly all of its promotional offers are related to sports, outside of the casino welcome bonus.
22Bet Kenya doesn't offer account points or an online shop to spend them in. Keep an eye out for this to potentially change in the near future.
---
22Bet Kenya – Conclusion
If you're a gambler from Kenya, you're no stranger to how challenging it may be to find an online casino or sportsbook with exclusives for Kenyan players. 22Bet not only offers exclusive deals for its Kenyan player-base, but it's also dedicated to making sure something is exciting for both old and new customers.
22Bet achieves this through its deposit bonuses, weekly reloads and daily boosted odds games. It truly features something for everyone and is growing rapidly. We'd rate the bonuses and promotional details from 22Bet Kenya with a good rating, with room for improvement.