Indibet is an Indian betting company founded in 2018 by St. Lucia Zouks in Mumbai, Maharashtra. A betting site dedicated to sports betting, with an emphasis towards cricket, Indibet provides a balanced betting environment that features casino and esports as complementing betting platforms.
Due to Indibet placing an emphasis towards cricket, this Indibet cricket review will compare the pros and cons of its cricket betting platform. Simultaneously, we include information relating to Indibet's cricket bonus, its cricket betting odds, available markets, competitions and events, mobile apps and deposit and withdrawal options.
---
Pros & Cons of Indibet Cricketbook
Indibet.com has developed a unique platform with special features like a cricket book, football book and sports betting exchange. While impressive, it's beneficial to look at the bookie's pros and cons for additional insight about the bookie.
Pros
Dedicated cricket book
Competitive cricket betting odds
Exclusive promotions for cricket
24/7 support
Cons
Limited withdrawal options
---
How to Bet on Cricket at Indibet
If you are interested in cricket betting at Indibet India, our step-by-step guide will explain how to get started. First and foremost, you will need to click the Indibet sign-up tab to open an account, verify your mobile phone number and make a deposit. Here are the steps outlining what the steps entail.
Navigate to Indibet and click "Sign Up".
Enter the requested details (Username, password, mobile number etc).
Check your phone for an SMS Message.
Enter the code sent by SMS in the field provided.
Click "Register".
After opening an account and verifying your mobile number, the next step is to open the cashier and make a deposit. The steps below are an explanation of the depositing process at Indibet.
Click the "Deposit" tab.
Select a payment method and enter the amount you want to deposit.
Click "To Payment" and enter your Net Banking details.
Click "Make Payment".
Finally, to place your bet on cricket events, follow the steps below:
Open the Indibet Cricketbook.
Click on the odds of markets you wish to add to the bet slip.
Enter the amount you want to bet.
Confirm your bet.
---
Indibet Cricket Betting Bonus

Indibet has created a unique cricket bonus for first-time depositors that combines a 200% Cricket bonus and a 200% Casino bonus. To claim the Cricket betting bonus, log in and proceed to the cashier to deposit 100 INR or more. Once deposit confirmation is received, the Cricket Betting Bonus will automatically activate within 24 hours.
Terms and Conditions
This offer is for newly registered depositing members only.
A qualifying deposit of 100 INR or greater is required.
The cricket bonus amount must be turned over 20x.
Only real-money wagers count towards wagering terms.
---
---
Are the Indibet Cricketbook Odds Competitive?

Compared to other Indian and non-Indian bookmakers, the odds at Indibet online are competitive. Generally, the payouts for pre-match cricket and live betting are 97% or greater. Although this is dependent on the particular event, league and market bets. As for odds formats, they can be displayed in American, Malay, Hong Kong or Decimal.
---
Available Markets
The available markets for cricket at Indibet are expectantly similar to the availability of markets with other bookies. However, the most popular markets for cricket betting at Indibet are Top Batsman, Match Winners, and Top Wicket-Taker. A brief explanation for each is included below.
Top Batsman
Top Batsman is a famous market for cricket betting whereby the objective is to back a batsman you predict will score the highest number of runs. Other markets similar to top batsman include top batsman per team and top batsman per inning.
Match Winner
Match winner is a relatively self-explanatory market whereby the goal is to predict which team will win the match. This market is suitable for beginners and bettors whose research and knowledge of the game have an advantage.
Top Wicket-Taker
Top Wicket-Taker is banking on a player who they believe will have the most wickets at the end of a match. This type of bet is typically seen as a value bet and is reversed for more experienced bettors who understand pitch conditions and other important factors.
Other
Along with top batsman, match winner and top-wicket taker, a few other cricket markets frequently offer and worth considering at Indibet include Innings Runs, Fall of Wicket, and Runs In Over.
---
Competitions & Events for Cricket Betting at Indibet
Famous throughout the world in countries like the UK, Sri Lanka, and India, cricket has become an internationally recognized sport. Subsequently, it has created multiple competitions, such as One Day Internationals, Test Matches and T20s.
One Day Internationals
One Day Internationals are reserved for cricket teams with international status. Held every four years, One Day International is a one-inning match played by List A teams with a fixed number of overs (50). Referred to as the highest level of competition for List A teams, each team is comprised of 11 players, and each match lasts up to 9 hours. Some of the more prestigious ODI's held include the ICC Cricket World Cup Super League, ICC Men's Cricket World Cup Qualifier, and the ODI World Cup.
Test Matches
Test matches are played by national cricket teams accredited by the International Cricket Council (ICC). Since becoming an official format, test matches consist of up to five two-inning matches by 11 member countries, such as India, England, Bangladesh, West Indies, New Zealand, Zimbabwe, and Australia. Several popular Test Match for 2023 include the West Indies Tour of Zimbabwe, the England Tour of New Zealand and the Ireland Tour of England.
Twenty20
Twenty20s are a reduced format form of cricket that revolves around single-inning matches played by two teams. Each match has a restriction of twenty overs, and both teams get to bowl and bat in each inning. Introduced by England and Wales Cricket in 2003, this form of cricket is played at the professional level, with typical T20 innings lasting 60 to 70 minutes. Several popular T20's for 2023 include the Big Bash, the International League T20 and the ICC Women's T20 World Cup.
---
Available Betting Features at Indibet
Indibet has categorically created a betting environment with a unique set of internal features. Similarly, they offer a select number of betting features. While those offers include bettor-favourites like live streaming and early cashout, others like Bet Builder have yet to be introduced.
Live Streaming
Whether punting via the desktop, mobile or android app, Indibet allows watching live streams via the red live icon. This feature lets you simultaneously use the stream to strategically place bets.
Live Betting
Indibet bettors can opt to navigate to the live betting section and place in-play bets on a wide variety of sporting events. Similar to pre-match, markets and their respective odds are conveniently displayed, as is the simulated video and up-to-date match information.
Cashout
Cashout is a feature at Indibet that allows bettors to cash out their bets in advance of a game's natural outcome. If optioned, payouts are reduced and based on real-time odds, not the odds at the time of the original bet.
Bet Builder
Bet Builder is a feature that is absent at Indibet. Unfortunately, bettors wanting to build a bet will need to manually add it to their bet slip. If added by Indibet in the future, an update will be provided.
Statistics
Indibet offers various statistics from previous events and real-time data for live sporting events. These can be viewed in the Cricket Book, Football Book and Betting Exchange.
---
5 Betting Strategies to Win with Indibet Cricket
While professionally played in a small number of countries, the game of cricket is one of the most watched sports in the world. The game also generates much interest amongst sports bettors, who need to be more aware of incorrect cricket betting strategies. While we may have some of the answers, the betting strategies below are among the top five for cricket.
1. Analysing the Weather and Pitch Conditions
More than any other sport, the weather and condition of the pitch where a match is to be played are vital in giving a strategic edge. The reality in cricket betting is the pitch and weather always changing, and knowing these variables can assist you in making analytical decisions.
2. Analysing a Player or Teams Form
Like analysing the pitch and weather conditions, analysing a team or player's form helps formulate an effective betting strategy. Ultimately, the team with a better record is more likely to identify an opposing team's weakness. Likewise, individual player forms also play an important analytical role as they can positively impact the performance of their teammates.
3. Understanding the Psychology of a Cricket Team
Understanding the psychology of a cricket team is a vital betting strategy that is often overlooked. Similar to other sports, the philosophies of cricket teams differ. Understanding those differences and how they impact a team can help you make better analytical decisions when a team is under pressure.
4. Know the Different between Series and Match Betting
A strategic bettor will always know the difference between series and match betting. Make sure you understand the difference and factor this into your betting strategies when placing a bet, especially if punting on Test Matches.
5. Bet on a Games Top Performers
Another betting strategy that can pay dividends is betting on a game's top performers. Ultimately, they play an integral role in a team's success, and identifying and betting on the top performers should be a factor when punting on cricket.
---
Indibet Virtual Cricket

While Indibet virtual cricket may not be as exciting as betting lives on a cricket match, it does offer some great opportunities. The Virtual Cricket betting section extends the Cricketbook. It provides the option to bet on 5 Overs, 20 Overs, Hit or Miss, and Big Hitter matches. Similar to regular cricket matches, virtual matches offer various betting markets and competitive odds.
---
Indibet Android App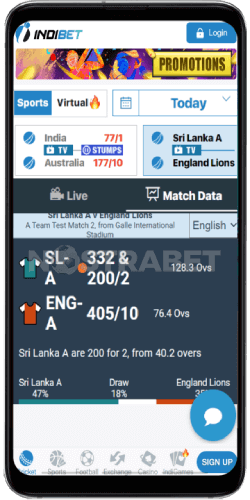 The Indibet app for Android is the perfect solution for bettors who want to punt on cricket via their mobile devices. Downloadable via the Indibet apk download page, the app is easy to download. With a flexible layout, the app is easy to use and designed with the same betting features as the desktop site. iOS users wishing to bet via their devices do not have the option to download an app. Still, the mobile site equivalent is more than suitable and includes the same features as the Android app and desktop site.
---
What is the Payment Method for Deposits & Withdrawals
The Indibet website is primarily an India betting site that naturally offers payment methods that favour the preferences of Indian bettors. Similarly, they also provide a variety of alternatives that are favoured in other markets. Please refer to the table below for a list of those methods and to learn more about the Indibet withdrawal time.
Deposit Methods
Withdrawal Methods
| Payment Method | Deposit Minimum | Deposit Maximum | Time for Deposit |
| --- | --- | --- | --- |
| Bank Wire Transfer | ₹100 | N/A | Instant |
| Paytm | ₹1,000 | ₹25,000 | Instant |
| UPI | ₹1,000 | ₹25,000 | Instant |
| PhonePe | ₹1,000 | ₹25,000 | Instant |
| GooglePay | ₹1,000 | ₹25,000 | Instant |
| MuchBetter | ₹100 | ₹50,000 | Instant |
| Skrill | ₹100 | ₹500,000 | Instant |
| Neteller | ₹100 | ₹500,000 | Instant |
| Bitcoin | ₹100 | ₹100,000,000 | Instant |
| BitcoinCash | ₹100 | ₹100,000,000 | Instant |
| Ethereum | ₹100 | ₹100,000,000 | Instant |
| Tether | ₹100 | ₹100,000,000 | Instant |
| Payment Method | Withdrawal Minimum | Withdrawal Maximum | Time for Withdrawal |
| --- | --- | --- | --- |
| Bank Wire Transfer | ₹1,000 | N/A | 1 - 3 banking days |
| Paytm | ₹1,000 | ₹100,000,000 | up to 30 min |
| UPI | | | |
| PhonePe | | | |
| GooglePay | | | |
| MuchBetter | | | |
| Skrill | | | |
| Neteller | | | |
| Bitcoin | ₹1,000 | ₹100,000,000 | up to 30 min |
| BitcoinCash | ₹1,000 | ₹100,000,000 | up to 30 min |
| Ethereum | ₹1,000 | ₹100,000,000 | up to 30 min |
| Tether | ₹1,000 | ₹100,000,000 | up to 2 min |
---
FAQ
Does Indibet allow betting on the IPL?
Yes, Indibet is the official IPL betting site and does allow betting on the IPL via live and pre-match betting.
What is the difference between Fancy and Fixed betting?
The difference between the two is Fixed betting is for fixed odds, while Fancy betting offers continually changing odds with the options to Back or Lay.
Can I place live cricket bets from my mobile phone?
You can place live cricket bets at Indibet from your mobile phone.
Can I watch the cricket games live?
Yes, unless they are not available due to television broadcasting rights.
Can I bet in Rupees via my mobile at Indibet?
Yes, the rupee is an accepted currency at Indibet.
What is the minimum age requirement at Indibet?
The minimum age requirement at Indibet is 18.
---
Final Words
After a thorough analysis of Indibet Cricket, the impression our Indibet cricket review gave us was positive. It became clear to us that Indibet has put a lot of effort into differentiating itself from similar betting platforms, and evidence of that is its dedicated cricketbook, and the value for bettors from India is immeasurable. Overall, this has a substantial impact on our rating of Indibet of 4.5/5.
Last updated: