Betano Mobile App
A multinational, top-ranking sportsbook Betano NG has all the bells and whistles to get you playing for hours on end, including support for mobile gaming. You can place live and pre-live bets for actual and virtual sports using your smartphone. Mobile bettors can also access betting features, like cash-out and bet builder, which give you full control of your account.
Read on to learn more about the Betano mobile site and the availability of Betano Nigeria mobile apps for iOS and Android users. Find tips and strategies that you can use to make the most out of your mobile gaming experience!
---
Is There a Betano Android App?
Unfortunately, Betano has yet to include a fully functional Betano mobile app for Android users. However, this will not affect your experience in the slightest. The sportsbook has a mobile website (in-browser) that is fast-loading, easy-to-use, and clutter-free, thus suitable for both expert and first-time punters.
Users also benefit from freeing up more ram space, as you don't need extra storage to complete the Betano app download process and installation. Even so, keep your eyes peeled in case the bookie launches a Betano app Android. At the moment, Nigerian bettors can add a web app on their screen to ease account accessibility.
What Are the Steps to Add Betano to the Home Screen of Your Android Device?
Adding the Betano web app to your home screen will go a long way in delivering an app-like mobile gaming experience and tick-off the easy access factor to your betting account. This can be accomplished in a few steps, as highlighted below:
Open your favourite browser.
Load the Betano Sportsbook.
Wait for the pop-up asking you to add Betano to your home screen.
Give consent allowing the inclusion of the Betano Web app on your home screen.
Click the web app and begin Betano mobile betting.
---
Is Betano iOS App Available?
Likewise, a Betano Nigeria mobile app for iOS users has yet to be made available! However, bettors can still access the bookmaker via the tailored mobile website on an up-to-date browser. With the mobile site, iOS bettors get all the functionality native to the desktop site at the palm of their hands, meaning they can place live and pre-live bets on the go or claim the available Betano NG promotions.
While this provides a great alternative to the missing iOS app, punters keep watch, as the bookmaker might release a Betano iOS app any time! In the meantime, take maximum advantage of the Betano web app, an option that grants a mobile app-like gaming experience.
What Are the Steps to Add to the Home Screen on iPhone?
Whether on iPhone 12, iPhone 13, or iPhone 13 pro, adding Betano to the home screen of your iOS device couldn't be any easier. All you need to do is follow these simple steps:
Open your trusted browser, e.g. Safari, Mozilla, or Chrome.
Load the Betano mobile website on the tabs.
Wait for the site to prompt you to add a shortcut on your home screen.
Accept Betano web app.
Continue to place bets conveniently.
---
Is Betano Mobile App For iOS and Android Free?
As mentioned earlier, the bookmaker has yet to include a Betano app Nigeria. However, if it was available, there is a high chance that the Betano betting app would be free, as with other sports betting sites. Thus, beware of sites purporting to sell genuine Betano Nigeria apps. Only trust/download mobile applications from the official website.
---
How is the Betano Mobile Website Version for Nigeria?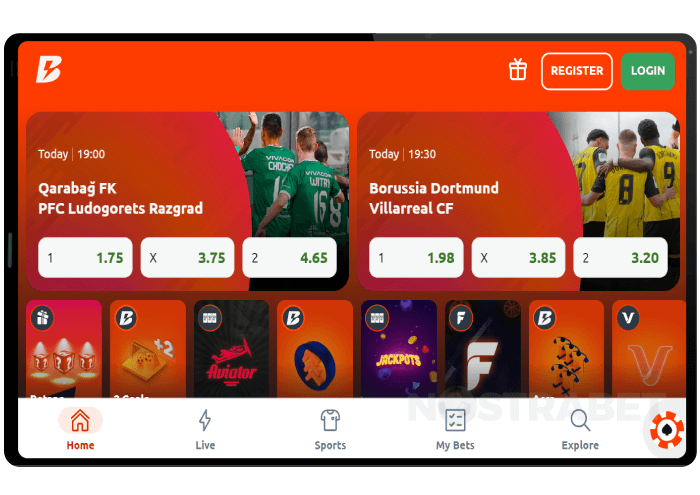 Betano has one of the best mobile websites for Nigerian punters. With mobile gaming accounting for a 50% share of revenue in what will be a $470 billion gaming industry by 2030, it is easy to see the emphasis/immaculate design placed on the Betano mobile website (in-browser) version.
Overall, users get an Orange themed interface and a dark foreground sitting above a white background. The layout is impeccable, with the main menu at the top, a detailed secondary menu below, and a list of betting matches at the centre, giving it a neat finish.
Navigation is seamless courtesy of multiple controls, including buttons, tabs, dropdown menus, and clickable links. Everything fits perfectly, creating an operational and visually pleasing platform.
---
What Are the Steps to Register and Verify Your Account?
Opening a Betano NG mobile betting account is effortless, especially on your smartphone. All you need to do is visit the site using a trusted browser, click the 'Register' button, choose to register with your email and apply the following steps:
Share your email address, name, surname, and date of birth.
Choose your state of residence, as your country will be detected automatically.
Enter a valid telephone number.
Provide a unique username and create your password.
Key in our exclusive Betano promo code:

NGBONUS

, in the space provided.
Check the boxes and submit the information to create an account.
Once you have registered, we advise you to verify your account. The process is rather quick and will not take you a lot of time. To pass the KYC process, you will have to confirm you are the person you are pretending to be. In order to do that, you must send a picture of your ID card, along with a copy of a utility bill.
After you verify your account you will be able to deposit and withdraw funds.
---
What Are the Pros and Cons of Using Betano from your mobile device?
Placing bets/wagers from your mobile has multiple advantages, but not without a few cons. We have lined up the major highlights for each, and here are the pros and cons of using Betano from your mobile device:
The mobile website is fast loading
Quick access to your Betano betting account
Live betting services supported
Betting features, like cash out and bet builder avail.!
Easy to keep up with Betano promotions
No time wasting completing Betano download app process
Betano mobile apps are not available
---
How Are the Sports on Mobile?
Even with the missing Betano mobile app, Android and iOS users still have complete access to the full list of sports. Using your smartphone, you can scroll through the endless catalogue of live or pre-match football, basketball, baseball, futsal, volleyball, and tennis matches, among other sports disciplines.
This also extends to tournaments like the AFCON, Serie A, English Premier League, and MLB. With over 100,000 monthly pre-live events and several live betting matches, your only challenge is deciding which event to bet on with your mobile.
---
What Are the Available Mobile Features?
With the accessibility of the sports betting section verified, punters get a handful of betting features that give them absolute control of their sports betting accounts. These features include:
Live betting
Nigerians can comfortably bet on live matches of different sports. The live section covers sports like tennis, volleyball, baseball, badminton and table tennis events. Live matches have live odds, which keep changing as the match progresses. Note that you can only bet on active markets and not closed ones.
Cash out
Using your phone, you can withdraw your stake from an active bet, thus making the selection independent of the outcome. The cash-out feature allows you to maximise profits or reduce losses significantly. If you successfully cash out your stake, the amount you get depends entirely on the odds at that particular moment.
Bet Builder
Betano makes accumulator betting effortless, even on your phone. The operator added a bet builder function making it easy to compile a list of selections into one. With the feature, you save more time than you would have wasted trying to find the right match combination. But then, bet builder is only available on select matches.
---
What Are the Tricks To Maximise Your Betano Mobile Experience?
There are various ways you can increase your Betano NG mobile betting experience. This is by maximising every opportunity granted by the bookie. Here are some of the main tricks and how to apply them:
Set Realistic Goals
While wins are not guaranteed, as sports betting is a form of gambling (game of chance), the objective is to always rake in some significant prizes. While this might be the case, punters can avoid unnecessary disappointments by setting realistic goals. For instance, instead of solely focusing on massive wins, celebrate small wins and enjoy every payout.
Keep Track of Your Bets
Keeping track of your bets is one of the main halls of keeping your gambling habits in check. To iterate, take note of the winning and losing bets and come up with the best strategies. Documenting your bets will also help you manage your money by avoiding approaches that have failed in the past.
Research Your Bets
Betano Mobile offers Nigerians match statistics for a reason. Use the information to do in-depth research on both teams. Take note of the players' form, the teams' previous matches, and whether key players will be playing the game. Researching your bets before making them will increase your chances of bets punning out.
Take Advantage of Promotions
You can access Betano promotions with your phone, including the welcome bonus, accumulator boost, and 2 goals ahead. Take full advantage of the promos by utilising them to place bets. These play a great role in helping you increase your betting frequency while spending less. You can also use Betano offers to try out new strategies.
How Is Betano Sportsbook on Mobile?
With a compact view and adaptive design optimised to fit your display, Betano Sportsbook offers a wholesome gambling experience akin to the native desktop site. Despite the missing dedicated Betano mobile app for punters, Nigerians can place live and pre-live bets on the move. Punters get the full list of supported sports disciplines and thousands of matches to wager on, each with plenty of betting markets.
---
Deposit and Withdrawal Methods via Mobile at Betano Nigeria
Like the desktop site, the Betano Nigeria mobile website has similar banking options, including MasterCard, VISA, PayStack, Monnify, Flutterwave, and Bank Transfer. The minimum deposit acceptable is
₦50.00
, whereas withdrawals start at
₦2,000.00
. All deposits and withdrawal services are free unless stated otherwise. Check the table below for more information:
| Payment Method | Deposit Minimum | Deposit Maximum | Time for Deposit | Minimum Withdrawal | Withdrawal Maximum | Time for Withdrawal | Taxes |
| --- | --- | --- | --- | --- | --- | --- | --- |
| Credit Cards | ₦50.00 | ₦300,000.00 | Instant | N/A | N/A | N/A | Free |
| Debit Cards | ₦50.00 | ₦300,000.00 | Instant | N/A | N/A | N/A | Free |
| Paystack | ₦200.00 | ₦500,000.00 | Instant | N/A | N/A | N/A | Free |
| Monnify | ₦100.00 | ₦500,000.00 | Instant | N/A | N/A | N/A | Free |
| Flutterwave | ₦200.00 | ₦500,000.00 | Instant | N/A | N/A | N/A | Free |
| Fast Bank Transfer | N/A | N/A | N/A | ₦2,000.00 | ₦40,000,000.00 | Up to 2 hours | Free |
---
How is Betano Mobile App and Site Compared to Other Popular Bookies?
While Betano NG may lack dedicated apps for punters to take advantage of, the bookmaker provides one of the best mobile websites that will make the missing Betano Nigeria mobile apps hardly noticeable. Outlook-wise, the Betano mobile site is clutter-free, covers 30+ sports with thousands of betting matches, and provides punters with betting features like cash-out and bet builder. All these are a delight to behold, making Betano compete favourably against other prominent bookies.
---
1xbet
Betway
22Bet
Betano
Melbet
Betwinner
More Bookmakers
---
Betano Mobile FAQs
Does Betano have a dedicated app for Android in Nigeria?
No! Betano lacks a dedicated app for Android bettors in Nigeria. However, users can turn to the Betano mobile website to place bets on the move.
Is the Betano iOS app available in Nigeria?
No! Unfortunately, Betano has yet to include an iOS app for Nigerian bettors. However, users can place bets on the go using the Betano mobile website.
Can I Use Betano mobile website to make deposits and withdraw money from my account?
Yes, you can use the Betano mobile website to transact online. The mobile website supports MasterCard, Flutterwave, Monnify, and PayStack, among other payment solutions.
Does Betano Mobile offer live streaming services?
Yes, Betano Mobile offers live streaming services on select sports matches. Keep up with your favourite game/match on the move.
Do I need new login details for the Betano mobile website?
No, you do not need new login details for Betano mobile website. You can use your current login information to access your account on mobile.
Is cash out available on Betano mobile website?
Yes, Betano mobile website has a cash-out feature, which you can use to withdraw your stake from an active bet.
Can I sign up for a Betano account using my phone?
Yes, you can register for a Betano account using your phone. The Betano mobile website has a register button that you can click to display the account registration form.
---
Betano Final App Rating
With mobile gambling at an all-time high, Betano does well to include a mobile website (in-browser) that punters can launch and use to place bets on their handsets. Its simple design, access to the complete list of sports, including live and pre-match events, and the bonuses section make it a delight to have.
Use the cash-out, live streaming, and bet builder functions for an immersive betting experience. All these highlights bundled together make Betano mobile betting worthwhile!
Last updated: 27 Sep, 2023 at 02:02